A roundup of 10 Healthy Popsicle Recipes You Can Make at Home and your kids will love.
Pin 10 Healthy Popsicle Recipes You Can Make at Home for later!
So often when I sit down to write a post, I struggle with getting started. The fact is, most of my days look something like this... drop kids off at school, test recipes/write posts, pick Cam up from Pre-School, fix lunch, play, pick Cooper up from school, cook dinner, put kids to bed, collapse on bed and watch trash TV.
Wasn't that a scintillating read, lol!
The fact is, while I LOVE being home with my kids and am so thankful for the opportunity to be able to do so, life can get a little, well.. routine.
Not TODAY!
Today, Joe and I are dropping the kids with Mimi and Poppy and we are headed to Mexico! Naturally, getting ready for the "big event" has taken no less than 163 hours and 278 loads of laundry, but as of 3:00 today, I will be "OUT OF OFFICE!"
For the first time ever, I will be taking a real break from Simply Sissom.
A real break, as in there are no posts scheduled, no phone/computer/camera attached to me at all times Although, naturally.. there will be pics❤️.
Normally, I schedule posts to go out even when we are out of town, but the truth is, even if they were inventive and delicious recipes, my heart is going to be more into the sun-bathing, beach-going situation than in a  pre-scheduled post. The result would have been your interest being smushed by the fact that I was being so blas-eh about things.
So even though taking a break is tough for someone who is as "all or nothing" as myself, I'm confident the blog will stay afloat despite - no new posts, no new content, no anything. Instead I'm going to focus on spending time with my husband, resting, and getting re-inspired with some new recipes (most likely with a Mexican flair)
If you need something yummy to make this week, may I suggest that you try one of these 10 healthy popsicle recipes that you can make from home?
Healthy Whole Food Breakfast Popsicles: Simply Sissom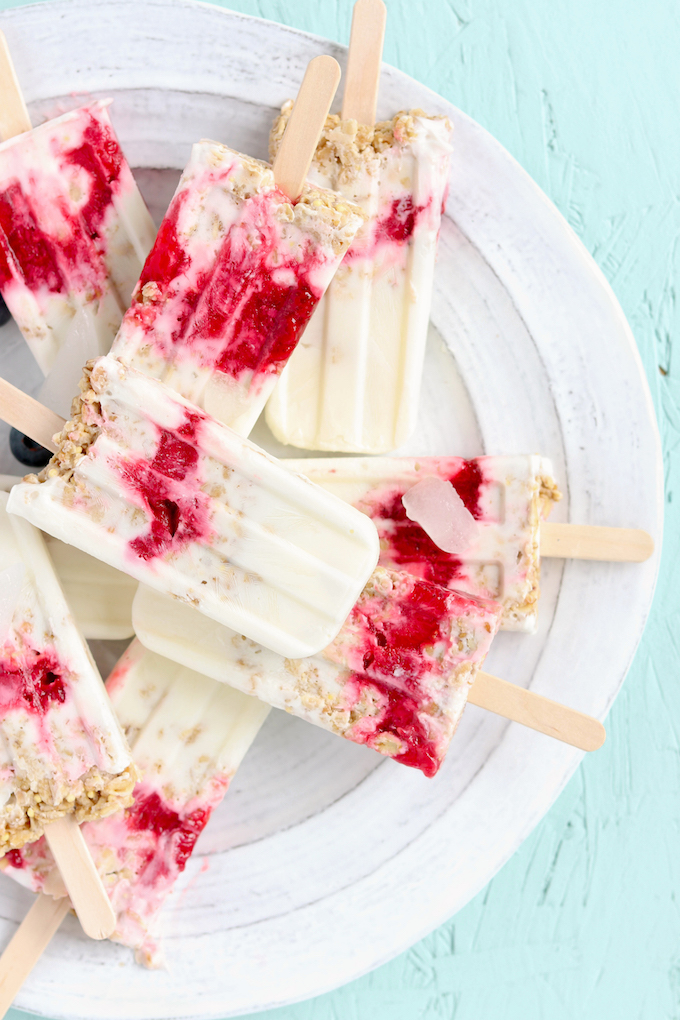 Easy Mango Electrolyte Popsicles: Live Simply
5-Ingredient Watermelon Chia Pops: Real Food Whole Life
Mango Green Tea Pops: Minimalist Baker
Peach Tea Popsicles: Naturally Ella
Creamy Iced Coffee Pops with Espresso + Cacao Nib Crunchies: With Food and Love
Raspberry Greek Yogurt Popsicles: The Lemon Bowl

Healthy Layered Popsicles: Detoxinista
Blueberry Salted Caramel Popsicles: The Healthy Maven
Let's Be Friends:
Posts like 10 Healthy Popsicle Recipes You Can Make at Home:
10 Healthy Whole Food Overnight Oat Recipes:
10 Healthy Whole Food Crockpot Recipes:
Simply Sissom's Best of April: