Ohhhhkay... we need to talk.
This 30 Minute BBQ Chicken Pizza topped with homemade BBQ sauce, perfectly seasoned chicken, juicy tomatoes, and a combo of melted cheeses is the real deal.
This pizza has lots of little short cut options, because busy people like you and me.. we need options. If you are the culinary goddess type (<-- it's a thing) you can go for option #1 - homemade everything. If your kitchen skills are less than stellar or you'd just prefer cozying up on the couch and binge watching Netflix to spending hours in the kitchen, well then, you are an option #2 kinda gal. Let's discuss.
Whole Wheat Pizza Crust - Make it in 30 minutes OR buy a pre-made 100% Whole Wheat Pizza Crust (make sure to check for funky ingredients). I have found farmer's markets are PERFECT place to purchase homemade dough that you don't have to make at home! I usually stock up in the Summer months when the market is open and freeze it for use throughout the Winter.
BBQ Sauce - Make it in 25 minutes. You guys.. I hate to be the bearer of bad news, but I just can't recommend that you buy the BBQ sauce. Pre-made BBQ sauces are full of sugar, additives, and giant words that you can't pronounce. This one's worth taking the DIY route. I recommend doubling or tripling the recipe and then freezing. Next time.. "pre-made BBQ sauce."
Seasoned Chicken - Make it in 30 minutes OR buy a pre-cooked rotisserie chicken.
If having the homemade version of one of the above items isn't important to you, go ahead, make a swap. Options.
The recipe includes all the things you need to know to make the whole recipe without swaps. More options.
This pizza can come into existence in you very own kitchen. Make it happen.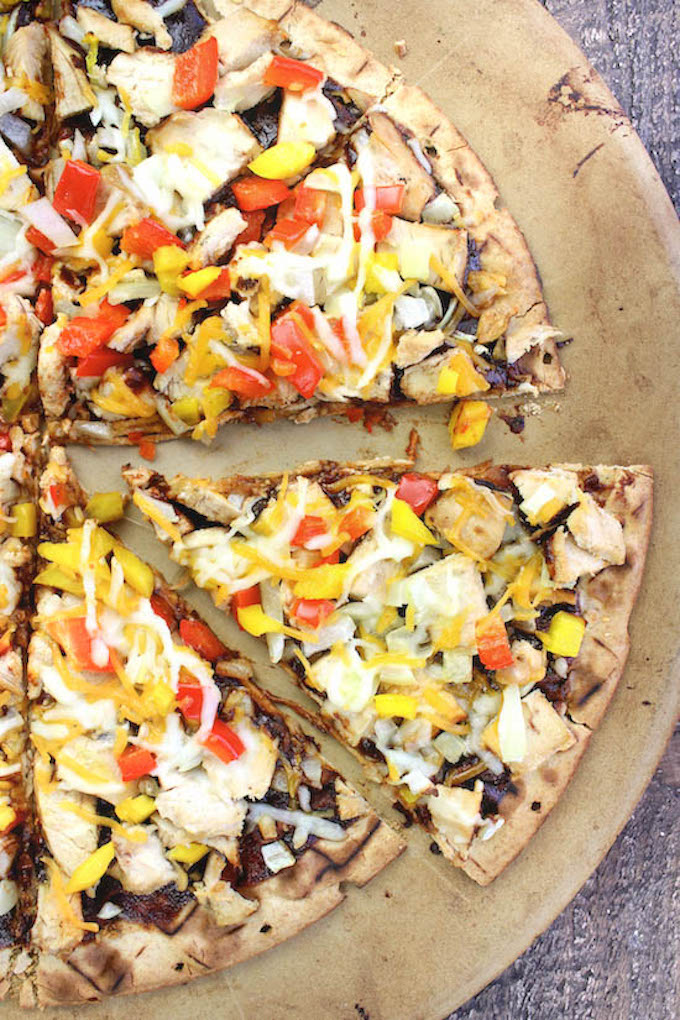 Time Saving Tips and Tricks:
Prep: Take the time to prep, and this recipe can be table ready in no time. Pre-make the BBQ sauce. It can be stored in the refrigerator in an airtight container for several weeks, or frozen for later use for months. Additionally, you can cook/chop the chicken, dice the veggies, and grate the cheese.
Make Ahead: This is my favorite option. Assemble the recipe according to directions, but don't bake. Instead, place pizza on a baking sheet and cover with plastic wrap. Store in the refrigerator until needed. To bake, remove plastic wrap and pop pizza into a 450 degree oven for 12-15 minutes, or until pizza is golden brown.
Freezer: Assemble the recipe according to recipe directions, but don't bake. Instead, place pizza on a baking sheet and place into the freezer for 1-2 hours or until pizza is completely frozen through. Remove pizza, wrap in plastic, return to freezer. It can hang out in there for several months! When you need pizza, just pop it in the oven. Reduce temperature to 425 and allow the pizza to bake a bit longer than suggested in the recipe since it is frozen.
Print
30 Minute BBQ Chicken Pizza
Author:

Prep Time:

10 mins

Cook Time:

15 mins

Total Time:

25 minutes

Yield:

1

pizza

1

x
---
½

lb. chicken breast
Salt/Pepper to taste
Garlic Powder

1

Whole Wheat Pizza Crust

1 ½ cups

BBQ sauce

1

tomato, diced

½

sweet onion, diced

¾ cup

shredded white cheddar (you could sub mozzarella)

¾ cup

shredded cheddar
---
Instructions
CHICKEN: Heat Oven to 350. Season chicken generously with salt, pepper, and garlic powder. Place chicken in a shallow baking dish and place in the oven for 30 minutes, or until no longer pink in the center. Remove from oven. Allow to cool for 5 minutes. Dice chicken, toss with ½ cup of BBQ sauce and set aside.
Raise oven temperature to 450 degrees.
PIZZA CRUST: Get recipe under Helpful Hints section at the bottom of this post. You may need to adjust cooking temperature and or time according to the baking directions of your pizza crust.
BBQ SAUCE: Get recipe under Helpful Hints section at the bottom of this post.
PIZZA ASSEMBLY. Roll out pizza crust according to recipe instructions. Top crust with remaining cup of BBQ sauce (you can use less if needed). Spread chicken in a single layer over the top of the sauce. Top chicken with tomatoes and onions. Sprinkle cheeses over the top of the pizza. Bake at 450 degrees for 12-15 minutes or until crust is golden brown and cheeses are bubbly.
Allow to cool 5 minutes before eating.
---

Helpful Hints:
When I don't have the option of using whole wheat pizza crust that is purchased from the farmers market, I like to use  THIS RECIPE from Cookie and Kate.
BBQ Sauce Recipe - Just follow the sauce section of the recipe.. no need to make the whole BBQ chicken sandwich?.
Chicken should be purchased organic when possible.
It is an annoying.. but necessary step to grate your own cheese. Pre-shredded cheese contains gross additives that keep it from sticking together (think yoga mat material). Dairy should also be purchased organic when possible.
Let's Connect:
Looking for more healthy whole food recipes? Check out Simply Sissom on Pinterest. If you like it, follow!  New pins are added daily from my favorite bloggers from around the web!
Simply Sissom is on Instagram! Get sneak peaks of upcoming recipes, meal prep tips and advice (with photos), and a behind the scenes look at what's happening in my kitchen!
Similar Recipes: