Baked Eggs In Avocado are simple to make, requiring just 4 ingredients and 5 minutes to assemble. A Fast and Nutritious Low-Carb Breakfast.
Pin Baked Eggs In Avocado for later!
If you follow along with me on Instagram you know that I'm giving a program called Faster Way To Fat Loss A Try. I've got about 12 lbs. of baby weight I'd like to take care of before Spring gets here and I liked the Whole-Foods + Non-Extreme approach of this particular program.
Initially it was pretty complicated to figure out, but as I head in to week 3 I'm feeling more confident. One of the hardest parts for me has been the low-carb days + high fat days. I grew up in the 90's .. AKA, eat carbs not fat. Although I haven't counted calories or followed a fad diet in quite some time, old habits die hard I guess and eating the amount of fat the diet requires 2 days a week has been challenging.
These Baked Eggs in Avocado have been really helpful (and unbelievably delicious) for getting my low-carb/high-fat days started out right.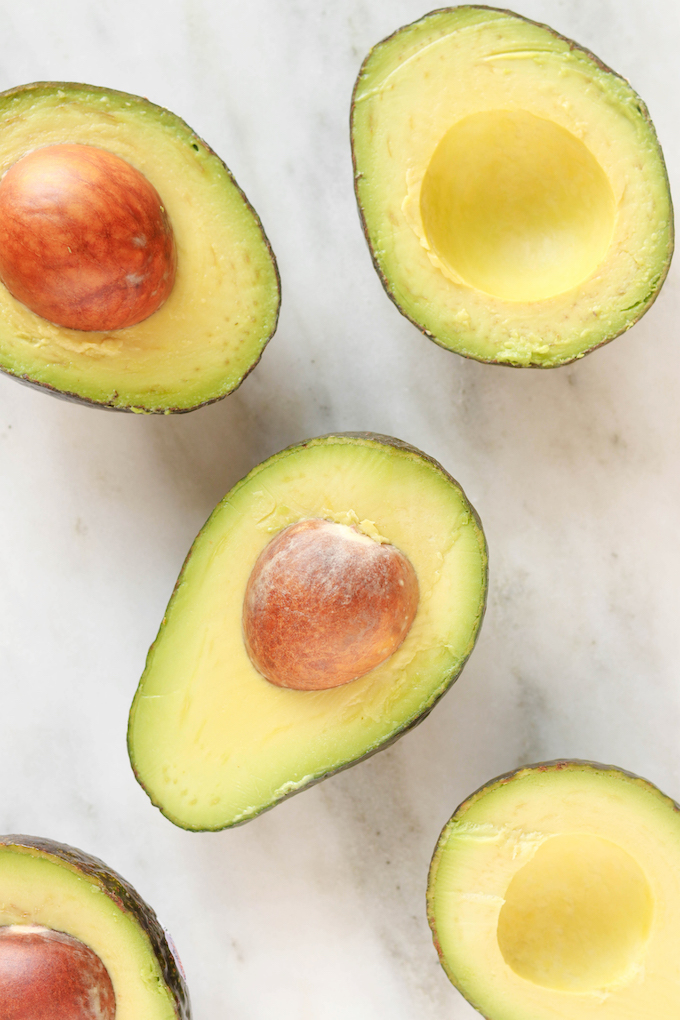 The first time I made these guys they turned out tasty, but oh man.. they were uuuugggglllyyy!! In fact when I first pulled them from the oven I actually assumed that they were destined for the trash can. The eggs ran All. Over. Everything. Fortunately (since avocados = $$$) I was able to scoop the egg white back inside the avocado and we ate them up.
That said.. the goal here is for the eggs to bake IN the avocado. I did a bit of practice and came up with some tips to make your first go at this recipe more successful than mine.
Select Avocados that are ripe and room temperature. I initially thought it would be fine to use an avocado that was firm and from the fridge since it would be baking in the oven..  it didn't soften.
Don't skip on scooping out the Avocado. The egg needs to fit neatly inside. When scooping, go wide not deep. It takes the egg too long to cook if you dig a deep hole. I remove about 1 ½ TBS.
If your avocados are "wobbly" stabilize them by balancing them over the cup of a muffin tin when baking.
Instead of cracking the egg straight into the avocado, crack it into a small bowl. Use a spoon to add the yolk to the avocado and then spoon the perfect amount of egg white into the avocado.
Make sure to use large eggs. X-large will overfill the eggs and they will just slide right out of the avocado.
Since the top of the egg yolk is getting the most heat, it will develop a thin "skin." You may think the egg is really hard at first.. don't stress. When you poke the yolk with a fork it will be perfection.
Time Saving Tips and Tricks:
Prep: I like to make the bacon ahead of time for this recipe, it just makes the morning go so much more smoothly. If you don't have time to prep bacon.. just skip it or use pre-cooked sausage instead (I like Applegate's Peppered Turkey Sausage).
Make Ahead: To get the pics for this post, I made 6 Baked Eggs In Avocados. Obviously I didn't want to throw them away so we ate them the following morning. They were a quick, edible breakfast option and sometimes that good enough. That said.. these are better fresh from the oven.
Freezer: Not this time.. wouldn't that be nice!
Print
Baked Eggs In Avocado
Author:

Prep Time:

5 Minutes

Cook Time:

15 Minutes

Total Time:

20 minutes

Yield:

2

Servings

1

x

Category:

Breakfast

Method:

Oven
---
Description
Baked Eggs In Avocado are simple to make, requiring just 4 ingredients and 5 minutes to assemble. A Fast and Nutritious Low-Carb Breakfast.
---
1

Avocado, pitted and sliced in half lengthwise

2

large eggs

1

slice of prepared bacon cut into fourths (I like to undercook it a bit since it will continue baking in oven)
Everything But the Bagel Seasoning (you can sub salt and pepper)
---
Instructions
Heat oven to 425 degrees. OPTIONAL: Line muffin tin cups with foil to help reduce clean up.
Use a small spoon to remove about 1 ½ TBS of avocado from each half. Create a whole that is more wide than deep. This will help the egg cook evenly.
Balance the hollowed out avocado over a muffin tin cup that's been lined with foil. This will help prevent it from tipping over in the oven.
Place bacon into the each avocado's well.
Crack an egg into a small bowl. Use spoon to place the yolk into the well you created in the avocado. Spoon in additional egg white until the hole is filled, but not over-flowing.
Bake the avocado for 15-20 minutes, or until egg yolk reaches your desired consistency. Remember, the top of the egg yolk will appear deceptively hard, don't stress. Top with Everything But the Bagel Seasoning and  serve immediately.
---
Notes
Don't throw away the extra avocado you scoop.. make guacamole or serve it on the side of the Baked Eggs In Avocado.
Larger avocados work best for this recipe.
Let's Connect:
You can  find Simply Sissom on Instagram where I share even more recipes (some that aren't on the blog), behind the scenes pics and videos AND tips and tricks to make healthy eating realistic for your busy family.
Recipes Like Baked Egg In Avocado: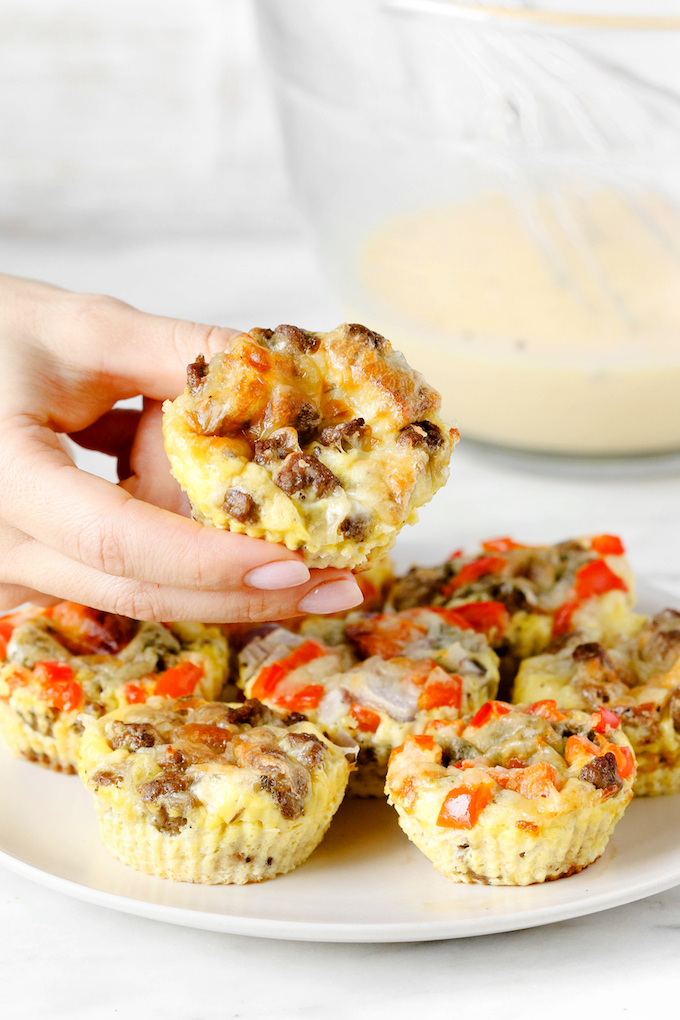 Baked Cauliflower Pizza Crust: