Best of August, a round-up of August recipes and happenings at Simply Sissom.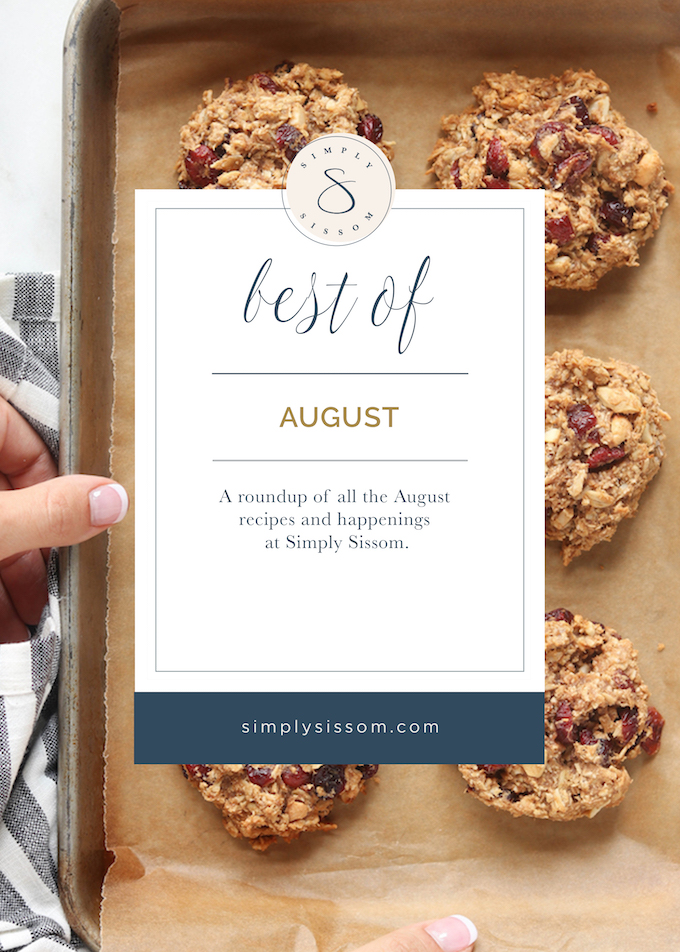 Well, hi friends! It's already early September (how????) and we meet again! ❤️
August was a month of back to school, rigid schedules and early bedtimes. Don't I sound like a life of the party type gal!!
My life is now controlled by homework, soccer, parent meetings AND my least favorite of all... pick up lines. On a happier note, both boys are in school full time for the first time in 7 years, so until baby #3 makes his arrival in mid-October...I get 6 whole hours per day to work uninterrupted!
One development that I should share with you is my newfound obsession with Emily Ley's Book - A Simplified Life . You should buy it and read it soon.
ONE OF MY FAVORITE TAKE-AWAYS FROM A SIMPLIFIED LIFE: SOCK MANAGEMENT
I threw away ALL. THE. KIDS. SOCKS. Yep.. every single one. I bought each one of them a pack of 8 pairs socks. They are white, but each boy has a unique brand/look. Every single sock in each boys pack is identical (aka.. you don't have to search for matches when doing laundry). You guys.. it has been life changing. I'm not joking when I tell you that every single time I do the laundry and match ALL the socks with ease AND deliver them to the correct bedroom, well .. I feel like I'm killing this whole mom thing (for just a minute anyway) .
In other news, my cooking style this month can best be described as fast, easy and make-ahead friendly.  I'm kinda keeping it in my mind that there is a baby on the way and that getting dinner on the table may be a bit challenging for a time. But, uh.. well, we keep eating my freezer stash on nights that I'm too lazy to whip up something fresh. Annnnd,  if I'm being honest, this happening more and more lately as I approach the end of this pregnancy. I don't remember being so tired with my other 2. Perhaps being pregnant at 35 vs. 25 is just not the same!
Let's take a look at what HAS been going on in the kitchen..
MATERNITY LEAVE, BLOG POSTS, AND MY THOUGHTS:
In an effort to minimize what I think will be a disorienting, sleep deprived, un-showered time I've decided to reduce the amount I am posting during my maternity leave. I've also decided not to stress myself out between now and then by trying to create 2,873 recipes and posts in advance.
I'm keeping things simple (white sock if you will) and working like normal until the baby comes, taking a leave and then showing up strong just in time for Whole 30 January. There will still be things happing on the blog. I plan to shoot for posting about 1x per week, but the activity level isn't going to be the same as usual.
I am also planning to let you guys know with a post on the blog when baby Brody Joseph makes his arrival, and you can always follow along on Instagram which is @simplysissom.
SEPTEMBER CRAVINGS:
September recipes are MY FAVORITE! As we head into the Fall season you can expect to see LOTS of fall-themed cooking (aka.. pumpkin spice, baked apples, soups, crock-pot/Instatnt Pot) happening on the blog. I'm looking forward to sharing homemade comfort food that comes together quickly and utilizes real-food ingredients.
LET'S CONNECT:
Want more? Follow Simply Sissom on Instagram for behind the scenes kitchen action, tips and tricks to make cooking real food easier, AND recipes that don't make it to the blog
Posts Like Best of August 2018: