Chewy Carrot Cake Granola Bars with crunchy pecans, toasted oats, coconut and cranberries. 8 ingredients, naturally sweetened and so delicious!
Pin Carrot Cake Granola Bars for later!
This is it!!
The first official recipe brought to you by the basement kitchen. You know, the kitchen that we have had for all 5 years that we have lived here, but that we have never so much as microwaved a bag of popcorn in.
FUN FACT.. the microwave actually wasn't even plugged in.
Buuuuut... when your kitchen looks like this... you have to make a few adjustments.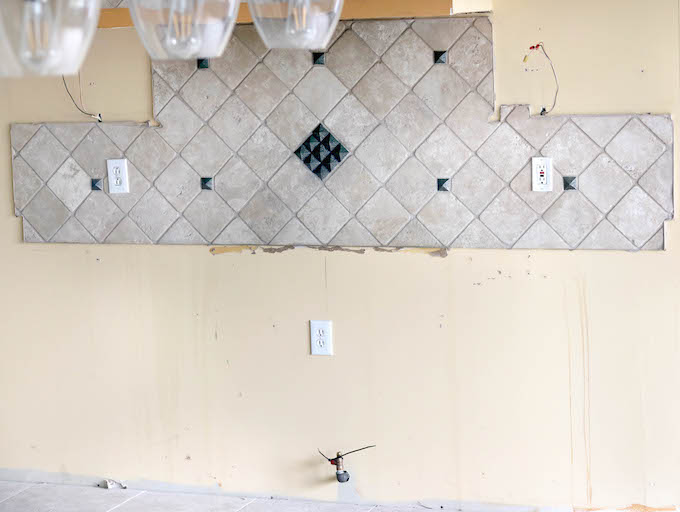 I've never done a home renovation before, but so far.... not on my list of favorite things.
While the granola bars took ME about an hour to make (and 689 trips up the basement stairs to our pantry .. aka dining room), you should be able to get these guys into the oven in under 15 minutes. Other than mashing bananas and measuring peanut butter, they are basically a dump and mix recipe.
These are my current favorite bars for a couple of reasons.
There is NO added sweetener. Not even honey or maple syrup. This is unusual and puts these bars in a class of their own in the health arena. The banana (the browner the better), carrots and cranberries make adding anything else unnecessary.
I already mentioned, but.. you can't beat 15 minute prep time.
Making your own granola bars saves SO. MUCH. MONEY. Bars are expensive if they are made with high quality ingredients.
They are prep-able, make-aheadable, and freezer friendly!
Most importantly.. they are REALLY REALLY good! I would describe the taste as a mix between banana bread and carrot cake, fitting huh?
Time Saving Tips and Tricks:
Prep: - When I make a batch of granola bars I like to double the dry ingredients and save ½ in a large jar in the pantry for the next time I make granola bars. This can be a huge time saver!
Make Ahead: Yes! It's one of the great things about these bars. Since you don't serve them warm, they are actually made to be "make-ahead." I like to make a batch (sometimes a double) on Sunday and then use them for breakfasts and/or lunch boxes throughout the week. They taste just as great on Friday as they do on Monday.
Freezer: You bet. I actually store store my bars in the freezer most often. They will keep for up to 1 month! To thaw, remove from freezer and allow them to come to room temperature on the counter or they can thaw overnight in the fridge!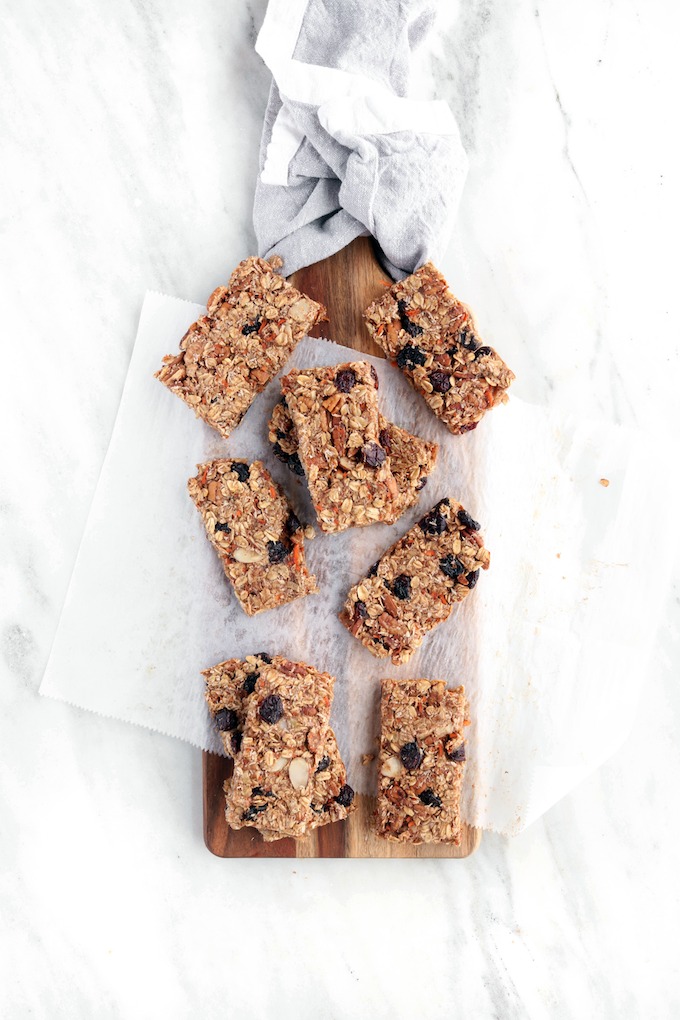 Print
Carrot Cake Granola Bars
Author:

Prep Time:

15 mins

Cook Time:

20 mins

Total Time:

35 minutes

Yield:

16

servings

1

x
---
Description
 Chewy Carrot Cake Granola Bars with crunchy pecans, toasted oats, coconut and cranberries. 8 ingredients, naturally sweetened and so delicious!
---
2

bananas

1 tsp

vanilla

¼ cup

almond butter

2 cups

rolled oats (glu

ten

free if needed)

¾ cup

cranberries

1 cup

pecans

½ cup

coconut

¼ cup

sliced almonds

1 tsp

cinnamon

½ tsp

sea salt

½ cup

carrots, finely chopped (or food processed)
---
Instructions
Heat oven to 350.
Lightly oil a 9x13 inch pan and line with parchment paper.
In a large mixing bowl, use a fork to mash bananas into a puree. Add vanilla and almond butter. Stir to combine. Add oats, cranberries, pecans, coconut, almonds, cinnamon, sea salt and carrot. Mix well.
Dump mixture into prepared baking dish. Use a rubber spatula to spread evenly. Press firmly to ensure that the bars don't crumble.
Bake for 20-25 minutes or until edges are golden brown. Do not overcook or bars will be dry.
Remove baking dish from oven, allow to cool and slice into 16 bars. Store bars in the refrigerator, individually wrapped in plastic wrap.
---
---
Nutrition
Serving Size:

1 Bar

Calories:

139

Sugar:

3g

Sodium:

63.6g

Fat:

8.9g

Carbohydrates:

13.5g

Protein:

3.4g
Helpful Hints:
Since this recipe doesn't use honey, maple syrup, etc. for sweetness you REALLY need to use brown bananas. The older the better, lol.
To make chopping the carrots easier, I buy the sliced carrots and then use my chopping knife to get them into tiny little pieces. You can also throw roughly chopped large or baby carrots into the food processor and get the same effect.
When purchasing almond butter, look at the nutrition label, you don't need any ingredient other than almond! If your almond butter does contain salt, you can skip adding the ½ teaspoon of salt that the recipe calls for.
Let's Be Friends!
Posts like Carrot Cake Granola Bars.
Peanut Butter Chocolate Protein Bars:

No Bake Cereal Bars: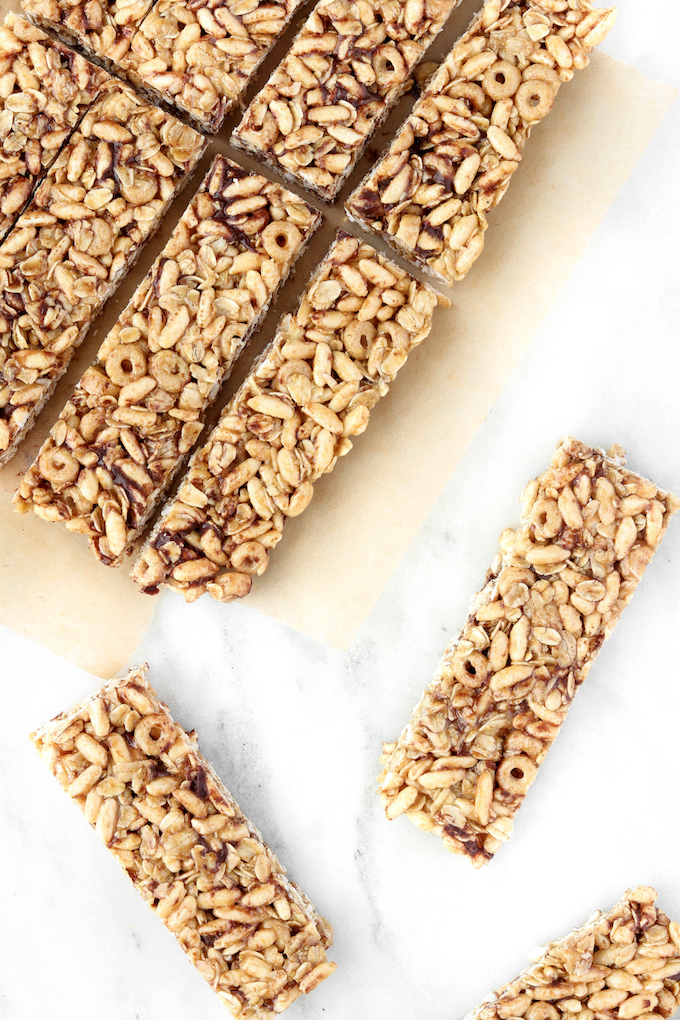 Blueberry Matcha Granola Bars: