Creamy Pineapple Mango Whips (V/GF) are sweet, creamy, citrusy, loaded with vitamin C and require just 4 ingredients and 5 minutes prep. #Vegan #Gluten-Free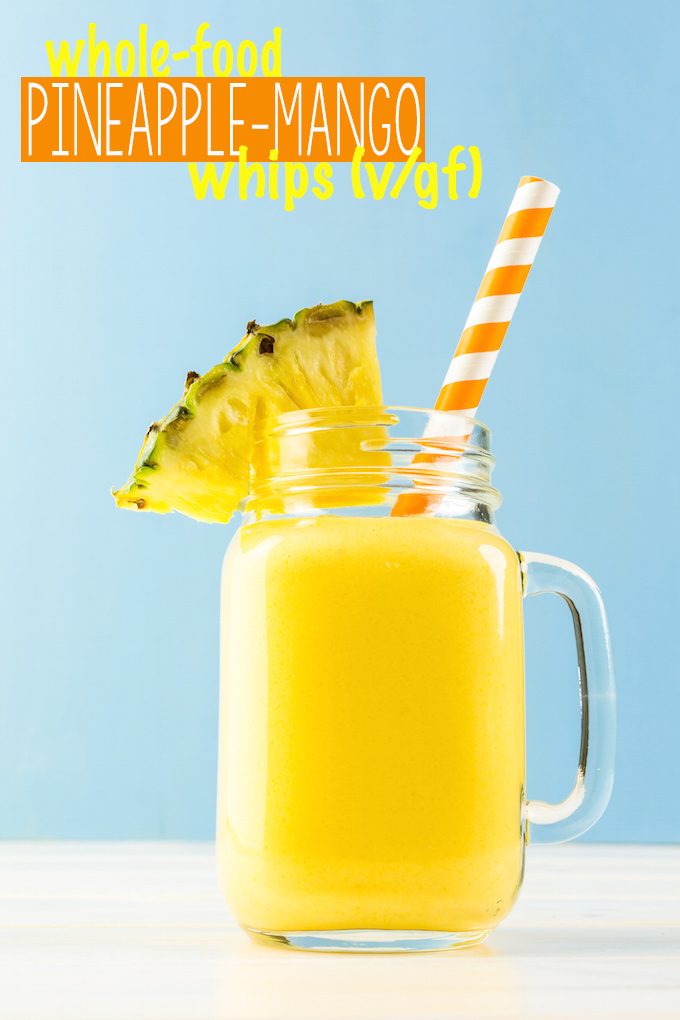 You know those times that you NEED dessert. Like Really. Need. Something. Sweet. but don't necessarily want to ingest 3,876, 234 calories. This. This Creamy Pineapple Mango Whip - it's everyone's BFF. 4 NORMAL everyday real food ingredients, 5 minutes prep and 1 dirty blender. That's it.  You've got yourself a sweet, creamy, frozen yogurtesque (<-- it's thing) dessert that is loaded with good for you stuff that leaves you feeling all healthy and glowy.
So Winter weather definitely messes with my head. Am I the only one? Seriously, when the sky is gray and the temperatures are freezing (which they have been this week), I spend my day fantasizing about thick sweaters, thicker socks, warm food and my bed. When it's sunny... my energy level quadruples and I instantly become the very best version of myself. I make ridiculously far-fetched grand plans (i.e. relocating to a farm, running marathons, organizing a huge garage sale, family bike trips, etc.) Anything seems possible, and it's all because of the sun.
That's kinda how I feel about this recipe. The last few weeks of weather has been WHAAA, but then ... last week on vacation, the sun showed it's face and I transformed. I traded boots for flip-flops, moisturizer for sunscreen and warm and comforting stews  for seafood and perhaps most shocking of all... morning coffee for smoothies/whip type situations.
So here we are, early April and now that I have "seen the light" there is no going back. I'm making these delightful tropical Summer treats(yeah.. it's a bit early but just let me) and life just feels so right.
Time Saving Tips and Tricks:
Prep: Prep is one of the most important steps of making smoothies/whips. Using fruit that is pre-chopped and frozen allows you skip on ice cubes and prevents a watered down taste. I like to keep bananas that have been quartered and wrapped in cellophane and giant bags of frozen fruit in my fridge at all times.
Make Ahead: A lot of people don't realize that smoothies can be made ahead of time and stored in a mason jar in the refrigerator for a day or 2. Often I make an entire blender full of smoothie and the boys and I don't finish it. You can pour the leftovers into a mason jar with a lid and pop it in the fridge.. it will be ready when you are.
Freezer: There are 2 options when freezing smoothies/whips. You can A) follow the recipe exactly and store the finished product in a freezer safe mason jar in the freezer (just remove from freezer and bring to room temp to eat) or B) create freezer packs. Frozen smoothie/whip packs are my favorite of the 2 options. Simply combine all ingredients (except for the coconut milk) in a ziplock bag and pop it into the freezer. When you are ready to make the smoothie, empty the contents of the bag into the blender and add the coconut milk. It's. So. Easy. Note.. it is helpful to label the Ziplock bag with the date and the ingredients/measurements that need to be added.
Print
Creamy Pineapple Mango Whips (V/GF)
Author:

Prep Time:

5 mins

Total Time:

5 minutes

Yield:

2

large glasses

1

x
---
1 cup

frozen mango, chopped into

1

" cubes

1 cup

frozen pineapple, chopped into

1

" cubes

1

frozen banana, sliced

1 ¼ cup

coconut milk

½

-

1

TBS of agave (vegan) or honey **OPTIONAL**
---
Instructions
Combine ingredients into a high speed blender. Blend until smooth.
---
Helpful Hints:
You can use fresh pineapple and mango (if it is in season and available) or purchase the pre-chopped and frozen fruits from the freezer aisle. I will be the first to admit that the fresh tastes better, but for me... it's not enough to justify the time to chop and freeze my own. The frozen bags are just to convenient!
Originally this recipe had the title of Pineapple Mango Smoothie.. but when I was testing the recipe I realized that I preferred the creamy frozen yogurt type texture that was achieved with using less coconut milk. To achieve a texture more ice-cream like.. use less coconut milk. If you want something more straw friendly you might want to add a bit more.
I have a Blendtec Blender, which can pulverize just about anything. It struggled with these whips. I had to remove the top and move things around a couple of times before everything was fully combined. If you do not have a high speed blender I suggest that you chop the frozen fruit to ½" slices and make sure to thinly slice the bananas.
I feel obligated to write this disclaimer.. this recipe is more of a dessert type situation than a healthy meal replacement. While every ingredient is non-processed .. every ingredient is high in fructose (nature's sugar). If you are looking for a healthy smoothie that is loaded with greens and other good for you stuff .. check out this Green Monster Smoothie instead.
Let's Connect:
Looking for more healthy whole-food recipes? Check out Simply Sissom on Pinterest. If you like it, follow! New pins are added daily from my favorite bloggers from around the web!
As always, if you try out this recipe, let me know! Leave a comment, rate it, and don't forget to tag a picture #simplysissom Instagram or Twitter . I'd love to see what you come up with?
Other Whole Food Desserts You Might Like: