This recipe is sponsored by Nature's Own Life®. They make the most delicious 7 Sprouted Grains bread with 16 grams of whole grains per slice! 
Easy Chickpea Salad is simple to make, requiring just 10 minutes hands on prep and NO cooking. Loads of protein and veggies make this a perfect plant-based lunch option.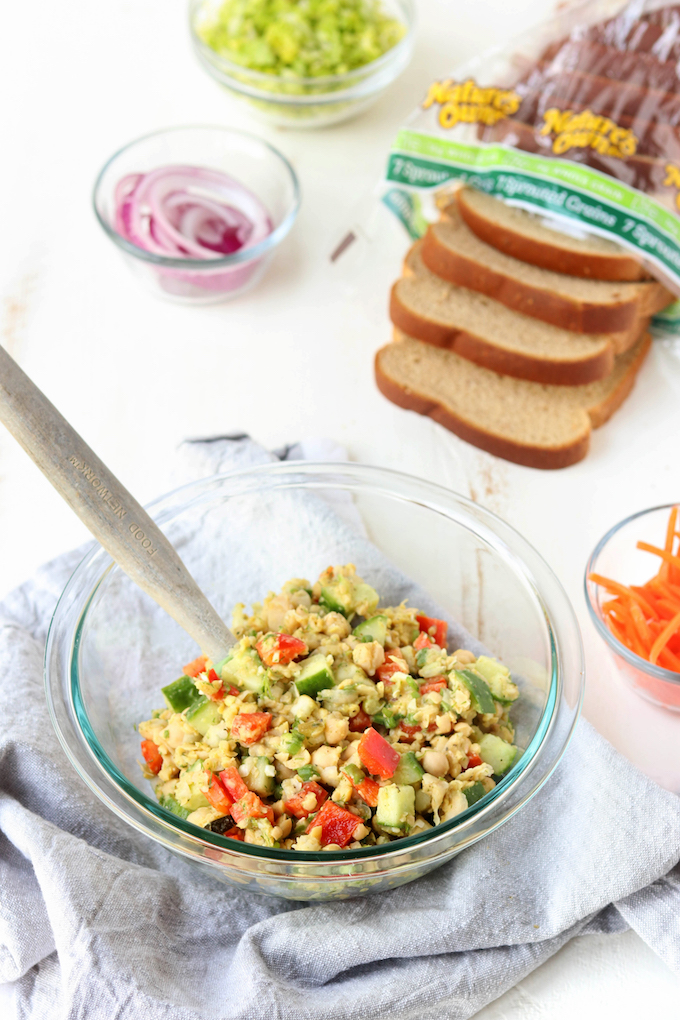 The older Cooper and Campbell get, the more apparent it becomes that if I want to spend time with them.. well, I'm going to have to get a little bit dirty. They're not into shopping, pedicures, playing dress up or any other delightful (non-messy) activities. My guys like to be outside rain or shine, aannnnd... the dirtier the better.
I'm going to level with you.. outdoor activities have never really been my thing. Sure.. if it's 72 and sunny, I'm all about a nice bike ride or walk, but all said and done, I'm really more of a hang indoors type of girl.
So let me assure that when I suggested that we go hiking and pack a picnic lunch (it is national picnic day after all) nobody was more pleasantly surprised than Joe. As for the boys, they really didn't care whose idea it was, they were in!
Now before you go getting all judgy about my lack of enthusiasm for the great outdoors, you should know, this will be our SECOND time hiking. That's DOUBLE the amount of hiking I did in my first 34 years. I'm really trying here. Our first outing was pleasant enough for the first hour or so, but you guys.. how did I not get the memo that hiking is hard work. Hard work requires sustenance, and that my friends is where our previous expedition went terribly wrong.  We just jumped out of the car all willy nilly, with a jug of water for the 4 of us.
Can you imagine how disappointed my kids were when after walking for 90 minutes we reached the overlook where all the other families were perched on giant rocks happily munching away all things "picnic -y?" Yep, it was a Mom fail, the cost.. grumpy kiddos The. Whole. Way. Back.
I'd be lying if I said I wasn't viewing today's outing as a bit of an opportunity for redemption. I put together a picnic lunch that Joe AND the kids are going to LOVE. Chickpea sandwiches for Joe and I, peanut butter and jelly roll-ups for the boys.
Yep.. I'm going with 2 separate meat free lunches (heat + meat = no good). I want a happy fun day, and full disclosure, the idea of convincing my picky boys to eat chickpea salad is exhausting. Gotta choose your battles.
For both  sandwiches I used Nature's Own® 7 Sprouted Grain Bread. This bread = the moment when everyone in your family eats wholewheat flour, sorghum, rye, millet, oats, barley, brown rice AND likes it.  No artificial preservatives, colors or flavors, and NO high fructose corn syrup and most importantly, NO complaints.
The peanut butter and jelly roll-ups couldn't be easier and they feel just a little more special than a regular sandwich. Making them is simple, just cut the crust off your bread, apply a thin layer of peanut butter followed by a little jelly and roll.
The easy chickpea salad came together really quickly as well. Flaked chickpeas give this salad a texture similar to shredded chicken or tuna. It's LOADED with Summer veggies, fresh herbs, spicy mustard, and zesty lemon vinaigrette. Chickpeas provide protein and the fiber, while the raw veggies take care of the vitamins and minerals side of things.
Time Saving Tips and Tricks:
Prep: There is really no need to prep this dish. You just throw all the ingredients into a bowl. 10 minutes tops, start to finish.
Make Ahead: Of course it can be made ahead. It's for lunch?. I have kept this salad in my fridge for the better part of 5 days. It stayed delicious the entire time!
Freezer: Nope, not this time. Fresh veggies + freezers isn't a good pairing!
Print
Easy Chickpea Salad
Author:

Prep Time:

10 mins

Total Time:

10 minutes

Yield:

6

servings

1

x
---
1

15 oz can of chickpeas

2

green onions, chopped

½

bell pepper, chopped

¼

english cucumber, chopped

¼ cup

dill pickle

¾

TBS of fresh dill, chopped

1

garlic clove, minced

2 tsp

spicy brown mustard

1

lemon, juiced

½

TBS olive oil

¼ tsp

salt
pepper to taste
---
Instructions
Rinse and drain the chickpeas. Using a potato masher or fork, smash the chickpeas until they are flaky (don't overdo it).
In a large bowl, combine chickpeas and all other ingredients. Mix. Refrigerate for 30 minutes prior to serving.
---
Helpful Hints:
Nature's Own Life® is a new line of breads that give you solutions to address a variety of health and wellness needs (Wheat + Protein, Double Fiber Wheat, 100% Whole Grain Sugar Free, 40 Calories Honey Wheat, 7 Sprouted Grains and 40 Calories Wheat). They are available in grocery stores across the country. To learn more about Life® breads visit www.naturesownbread.com/life.
Let's Be Friends:
Recipes like Easy Chickpea Salad: