Simple, Freezer-Friendly Whole Wheat Gingerbread Waffles that are crisp on the outside and tender inside. A perfect healthy, quick and festive breakfast.
Thank you Stonyfield for sponsoring this post! Check out their full line of products at stonyfield.com.
Pin Freezer-Friendly Whole Wheat Gingerbread Waffles for later!
Happy Accidents are the absolute best.
If you've followed along with Simply Sissom for any amount of time, you know that baking + ME usually doesn't have a happy outcome. Anybody remember the the great pumpkin muffin catastrophe of 2016 that resulted in 150 (<-- non-exaggeration) muffins of various textures and taste covering my kitchen countertops? Yeah, baking is super precise, and precision is NOT my forte.
So when I set out to create a holiday themed, gingerbread reminiscent, waffle batter.... I was fully prepared for a LOOOOOONG day in the kitchen. But you guys.. these Whole Wheat Gingerbread Waffles, well... they are a REAL LIFE CHRISTMAS MIRACLE!
One batch. That's all it took. These guys are crispy on the outside and soft in the middle with just the right amount of spice. PLUS ... they are freezer-friendly AND both of my boys devoured them.
FACT: Martha + Rachel = MATCH
These Freezer-Friendly Whole Wheat Gingerbread Waffles were inspired by a combination of Martha Stewart's and Rachel Ray's take on gingerbread waffles. I looked to Martha for the spice blend and used Rachel's recipe as a jumping off point.
I started by making a few simple switches:
Whole Wheat flour instead of white (this can be swapped at a 1:1 ratio)
I subbed coconut sugar for brown sugar (1:1 ratio)
Rachel's recipe called for 1 cup of pumpkin puree.  I swapped this out for plain whole-milk yogurt because, well.. if you haven't tried baking with yogurt, you're missing out. The result is a a perfect waffle that literally melts in your mouth (without the added fat/calories of oil or butter).
TIP: Yogurt is a great substitution for things like oil, mayo, sour cream and butter.  I always keep a quart of organic plain yogurt in my fridge and use it in all different types of recipes (particularly if I'm trying to lighten them up).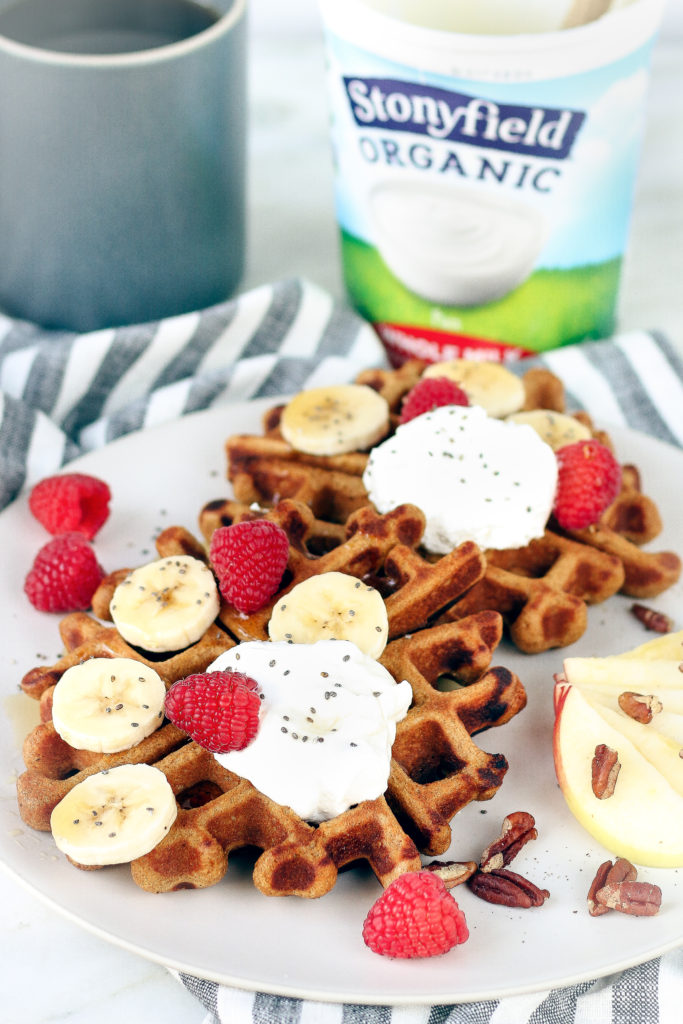 Time Saving Tips and Tricks:
Prep: Whole Wheat Gingerbread Waffle batter can be made the night before and stored in the refrigerator. Since the baking powder may lose some of its potency overnight, add a little extra. If the first waffle doesn't rise enough, sift a little extra into the batter and gently stir it in.
Make Ahead: These waffles can be made ahead of time and stored in the refrigerator for up to 2 days. That said.. I prefer freezing to refrigeration. The waffles get crispier this way!
Freezer: That's the idea. To freeze waffles, cook according to recipe directions. Allow waffles to cool on a cooling rack. Arrange in a single layer on a baking sheet that has been fitted with a silicon liner or freezer paper. Place baking sheet in the freezer for 3-4 hours, or until waffles are completely frozen through. Break waffles into small pieces and store in an airtight zipper bag in the freezer for up to 3 months.
Print
Freezer-Friendly Whole Wheat Gingerbread Waffles
Author:

Prep Time:

10 minutes

Cook Time:

20 minutes

Total Time:

30 minutes
---
3 cups

whole wheat flour

4 tsp

baking powder

2 tsp

cinnamon

1 ¼ tsp

ground ginger

¼ tsp

cloves

½ tsp

nutmeg

½ tsp

salt

4

large eggs

⅔ cup

coconut sugar

1 cup

Stonyfield Organic Smooth and Creamy Whole-Milk Plain Yogurt

1 ¼ cup

milk

½ cup

molasses

½ cup

butter, melted
---
Instructions
In a medium sized mixing bowl, combine flour, baking powder, cinnamon, ginger, cloves, nutmeg and salt. Mix.
To the bowl of a stand mixer fitted with the paddle attachment, add the eggs and sugar. Mix until combined.
With the mixer on low, add yogurt, milk, molasses and butter. Once mixed, slowly add the dry ingredients to the wet mixture. Mix until just incorporated, don't overdo it.
Brush the waffle iron with a little melted butter or spray with cooking spray. Cook waffles according waffle iron instructions. Serve immediately with your choice of toppings (I love mixing a little honey or maple syrup with plain yogurt and topping with berries).
---
Notes
For this recipe I used Stonyfield Organic Smooth and Creamy Whole Milk Plain Yogurt. Stonyfield Yogurt is made with organic and/or organic compliant ingredients. I like to purchase organic because it keeps things simple. I know that there are no pesticides, artificial hormones, antibiotics or GMO's.
Let's Be Friends!
Posts Like Freezer-Friendly Whole Wheat Gingerbread Waffles: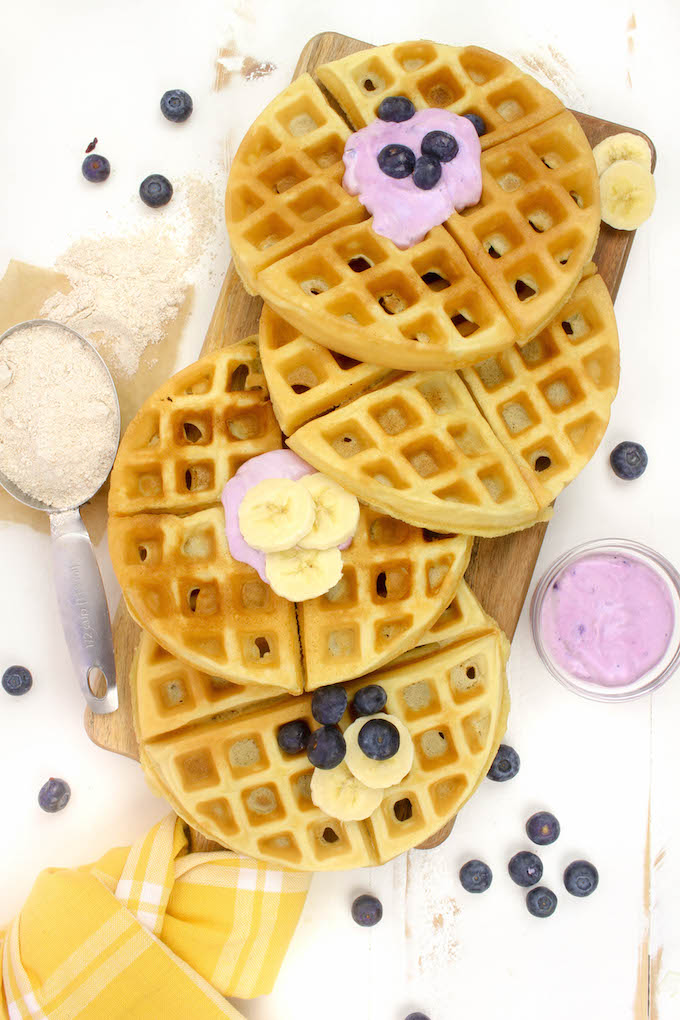 Freezer-Friendly Breakfast Burritos: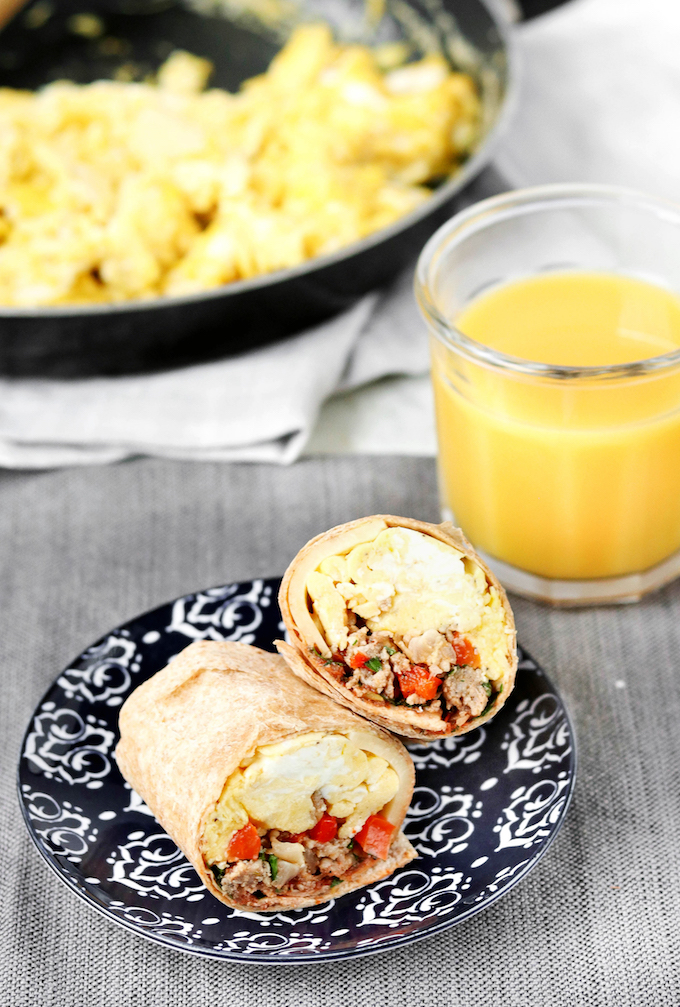 Freezer-Friendly Breakfast Cookies: