How To Host a Meal Swap Party: A step-by-step guide to planning a fun and efficient meal swap with friends.
Pin How To Host A Meal Swap Party: A step-by-step guide for later!
If you're looking for a DONE FOR YOU approach to hosting a meal swap party.. check out THIS POST instead!
Ok, friends.. going a little rogue on you today, but you NEED to know about this.
For the past month or so I have been a part of a meal swap group and it's been LIFE CHANGING. I know I have a tendency to be a little dramatic, but you guys.. you've gotta at least take the time to read about this.
What is A Meal Swap:
In short, it's a dinner solution that allows you to spend time with friends, while checking this week's dinner off your mile long to-do list.
Here's how it works:
Get a group together.

Assign everyone a recipe. Each person is responsible for creating 4 "meal-kits" for their specific recipe.

A "meal-kit" is a fancy way to say that you shop, measure and chop the ingredients.
Get together and swap your prepped meals. This can be a simple or as fancy as you like. My group has traded in the parking lot of our kid's school, met with kids and tow for coffee at my house, and even did a "girls" night complete with wine and a recorded episode of the Bachelorette. It's flexible.
I know, I know... you have concerns.
I'm going to guess that you just read "meal swap" and immediately thought, "nope, I'm not taking on 1 more thing." Your time is your most valuable asset and there isn't room in your life for any extra commitments.
What if I told you that you that you won't spend more than 25-30 minutes per week assembling your recipes AND you'll save TONS of money on groceries. I spent $33.00 preparing my recipe kits last week (1 recipe, 4x). When I prepared 4 separate meals on a week my swap group didn't meet, the total was $78.00.
Is that enough to get your attention?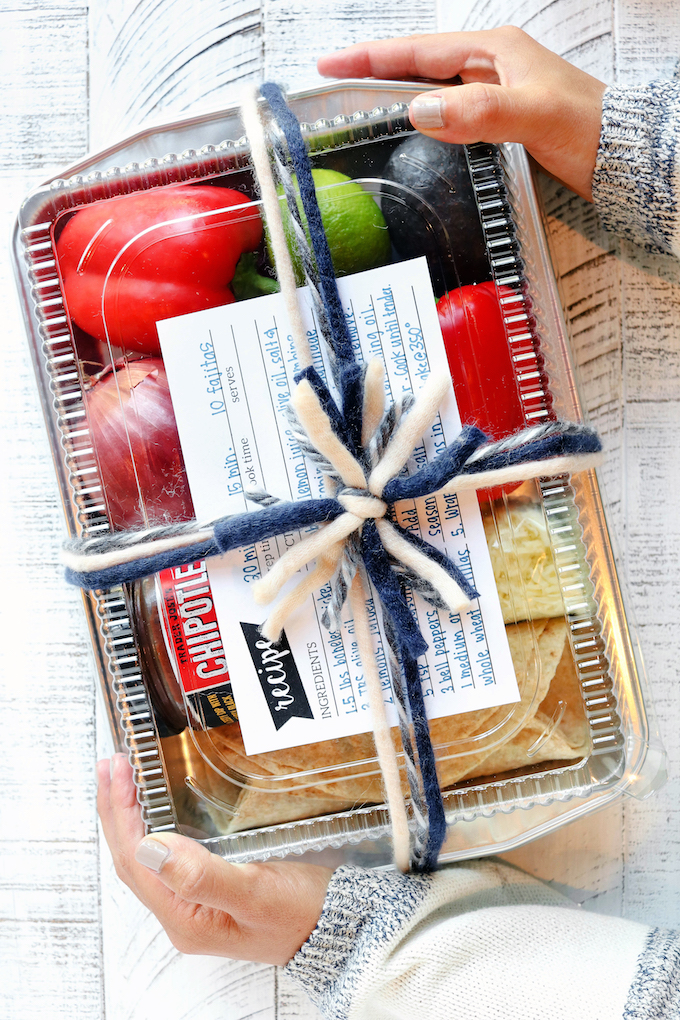 What Makes A Meal Swap different than freezer swaps or prep parties?
You don't get together and prep meals. I've tried this. It's messy, hard to find babysitters, and quite frankly exhausting. Instead each person preps their assigned recipe at home and brings 4 "meal-kits" to the swap to trade.
Meals ARE NOT "fully-assembled." You don't have time to do that for 4 families! Instead you prep your assigned recipe (shop, chop, measure - Hello Fresh Style) 4x. You'll save time and money by creating the same meal multiple times as opposed to making 4 totally separate meals.
Quick and easy recipes only. - No fancy ingredients or complicated directions allowed. Meal Swap recipes should be quick, simple and fuss-free.
Fresh NOT Frozen. This is NOT a 1970's style freezer swap. Fresh, seasonal ingredients only
Step-by-Step Directions for Planning Your Meal Swap:
1. Get A Group Together:
Our swap group has 4 members. With hectic schedules, most families don't eat at home 7 nights a week, so we have found that having 4 prepared meals is enough to get us through the week without wasting any of the meal kits. When selecting people to invite to your swap look for people that have similar family sizes and dietary restrictions/preferences. A family with 3 teenage boys will require a lot more food than a family with a toddler and an infant. Pick people that you genuinely enjoy spending time with. One of my favorite things about meal swaps is that I get to spend time with my friends.
2. Establish Expectations: When I shop for groceries, I purchase organic meats and dairy, my sister (who is in my swap group) does not. I don't think that one way or the other is right or wrong, but setting up expectations for the quality of ingredients is important. You will also need to discuss how "prepped" you expect the meal kits to be. For example, my group has agreed that onions and garlic DO NOT need to be sliced or chopped inside the kits. Nobody want to chop onions/garlic for 4 families. Bottom line, we use common sense and courtesy when preparing our kits. We prep as much as we can with the idea being to make dinner as simple as possible.
3. Assign or Pick Recipes: We have found it helpful to have 1 person pick the recipes for the week. We refer to this person as the host and we rotate responsibilities. By having 1 person select all 4 recipes you can avoid overlap situations (all chicken, 3 Mexican style meals, etc.). The host should select recipes that their family loves and that are simple to make. I do not recommend selecting recipes for the group that you haven't made previously. In our group the host simply assigns each person a recipe, but you could allow your members to pick for themselves if you prefer.
4. Assemble Meal Kits AT home. (You can watch me assemble a meal kit on Instagram Stories. It's saved under MEAL SWAP in my highlights.) Each person should shop for their ingredients (you will be shocked how inexpensive this is), measure EVERYTHING, chop produce (unless doing so may cause it to go bad more quickly (example.. herbs) and assemble 4 meal kits. We use disposable aluminum baking dishes with lids that we reuse from week to week to pack up our kits, but you could use tote bags or grocery bags as well. All ingredients are packaged using plastic zipper bags, saran wrap and parchment paper. When possible we rinse and reuse the plastic bags to help cut down on waste. Don't forget to include instructions on how to prepare the meal kit.
5. Plan Your Swap: Your swap can look like whatever you want it to. I'm a stay-at-home Mom, as are the members of my swap group. We often get together in the mornings and enjoy coffee while the kids play. Sometimes we make it 45 minutes before the kids start melting-down and sometimes we just drop and swap. We keep things flexible because, well... kids. A friend of mine does a swap group with her co-workers. They skip the "party" component completely. Instead everyone just brings their prepared meals to work, pops them into the office refrigerator and everyone just grabs 1 of each kit before heading home. Be creative!
Let's Wrap This Meal Swap Talk Up:
When you have meals hanging out in the refrigerator that are already planned and prepped, dinner will happen. It will be fresh, it will be healthy and you won't be stressed. The 90 minute ordeal of deciding what to make, gathering ingredients, prepping and cooking turns into a simple 10-15 minute situation. Getting together with friends, well.. that's just an added bonus.
Resources for Hosting A Meal Swap Party:
Follow Simply Sissom on Instagram for posts, videos, and extra information about meal swaps.

Recipes that would be perfect to include in your Meal Swap:
Let me Know How Your Meal Swap Goes:
If you try a meal swap.. let me know! Tag a photo of your party or your prepped meals meal kit on social media. Use #simplysissom or @simplysissom (which ever applies). Hearing from you makes my day!