Thick, soft and chewy iced gingerbread bars are studded with dark chocolate chunks and topped off with a simple glaze and hint of lemon. Perfect for the holidays!
Pin Iced Gingerbread Bars for later!
Most likely you haven't noticed, buuuuuut.. this post is super late. I would love to say that I have a valid excuse. You know, family emergency, flu outbreak, emergency trip to the E.R. .. ummm, not so much. Which by the way, I'm grateful for. But the reason for my tardiness.. well, to be completely honest. Little embarrassing.
As I dropped Campbell off for preschool this morning, I noticed all the children carrying in a Christmas bag or two with festive tissue, colorful bows and homemade Christmas tags.
Campbell, well.. Campbell had a coat AND his backpack (which is no small feat I might add).
You guys.. I didn't buy teacher gifts.
Probably relevant to note here.. I am BEYOND grateful for Campbell's teachers. They are The. Best. This was simply an oversight. The kind of oversight that starts to get you really concerned about memory loss and rapid aging. Craziest part, I DID purchase gifts for Cooper's teachers which I delivered a full week ago at his Christmas party, festive tissue paper and all. It was just a serious brain lapse. The start of Christmas break used to seem so far off! The month of December is crazy like that.
All this to say, my original intent was to bake, photograph and write a post for these DELICIOUS iced gingerbread bars this morning while Campbell was at school. Instead,  I baked the bars, loaded them into cute little mason jars with red ribbon and twine and ran out the door with them. No time for photos.
On the positive side.. I made them again (which gave me a chance to make a few little tweaks) and have them ready for you tonight!
No judgements on the fact that this is my Friday night activity.. I used to have a life, I swear!!!
These Iced Gingerbread Bars are great because they are really festive, really easy and made from whole-food ingredients (minus the glaze, which you can omit or go light on..buuuut, it's Christmas, so I vote, GLAZE EM). These bars are adapted from Ina Garten's Recipe for Hermit Bars. I made quite a few changes, but baking a cookie recipe in bar form?? Brilliant! You can find here original recipe HERE.
Time Saving Tips and Tricks:
Prep: You can prep the dough ahead of time. It will keep in the refrigerator for a day or two.
Make Ahead: These bars are a great make ahead recipe! If stored in an airtight container they will stay moist and chewy for up to 5 days!
Freezer: Of course. Just follow recipe directions. Once bars have cooled, arrange them on a baking sheet and freeze for 2-3 hours. Once frozen, store in an airtight labeled bag for up to 2 months.
Print
Iced Gingerbread Bars
Author:

Prep Time:

20 mins

Cook Time:

20 mins

Total Time:

40 minutes

Yield:

20

bars

1

x
---
Description
Thick, soft and chewy iced gingerbread bars are studded with dark chocolate chunks and topped off with a simple glaze and hint of lemon. Perfect for the holidays!
---
1

stick unsalted butter, room temperature

1 cup

coconut sugar

1

large egg

¼ cup

honey

2 cups

+

2

TBS spelt flour

2 tsp

baking soda

2 tsp

ground ginger

1 ½ tsp

cinnamon

1 tsp

ground cloves

½ tsp

salt

½ cup

chocolate chunks (optional)

1 cup

confectioner sugar (optional)

6

-

8

teaspoon milk (optional)
grated lemon zest (optional)
---
Instructions
Heat the oven to 375. Line a sheet pan with parchment paper.
Cream butter and coconut sugar in the base of a stand mixer with the paddle attachment. With mixer on low, add egg. Once egg is incorporated, scrape sides and add honey.
In a medium sized mixing bowl, combine flour, baking soda, ginger, cinnamon, cloves and salt. Stir to combine. With the mixer on low, slowly add the dry ingredients. Mix until just combined. Add chocolate chips if desired, stir to combine.
Cover the bowl with plastic wrap and refrigerate for 30 minutes.
Lightly flour a cutting board or counter, form dough into a disk and cut in half. Roll each half into a log that is exactly 12" long. Place logs 3 inches apart (or more) on the baking sheet. Bake for 18-20 minutes.
While bars bake, whisk together the confectioner sugar and milk to create a thin glaze.
Once the logs are removed from oven, drizzle with glaze and top with lemon zest while warm (optional).
Allow to cool completely. Cut into 1 ½ inch bars.
---
Notes
Do NOT place dough on a greased cookie sheet, parchment paper or a silicon baking sheet is essential to keeping these bars from spreading.
Don't skip on refrigerating the dough for 30 minutes. Again... undesired spreading will occur.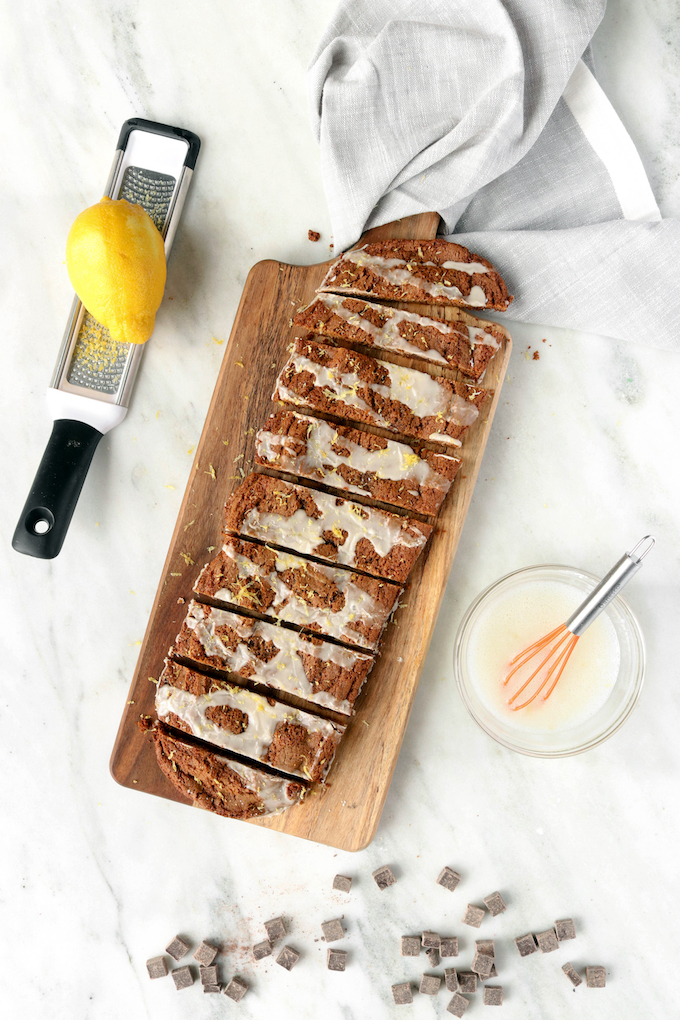 Helpful Hints:
Spelt flour is becoming much easier to find. I used King Arthur's Organic Spelt Flour and was able to pick it up at my neighborhood grocery store(<-- not sponsored, just trying to be helpful).
When I use dark chocolate in a recipe (which is quite often), I look for a variety that is at least 72% cacao and that doesn't have tons of funky ingredients. AKA.. I recognize Every. Single. One. Sometimes it's hard to find chocolate chips that meet these requirements so I purchase a bar of chocolate and use a meat mallet to break it apart.
The glaze contains powdered sugar, which is refined. If you don't want to eat this... skip it! The cookies are still moist and delicious!
Let's Be Friends:
Recipes like Iced Gingerbread Bars: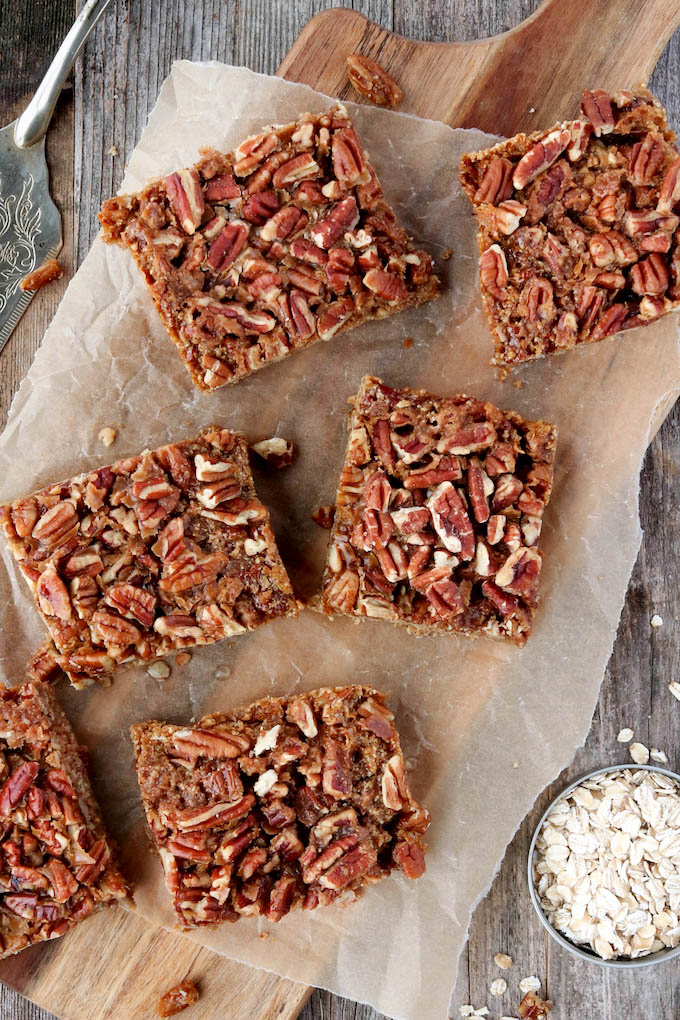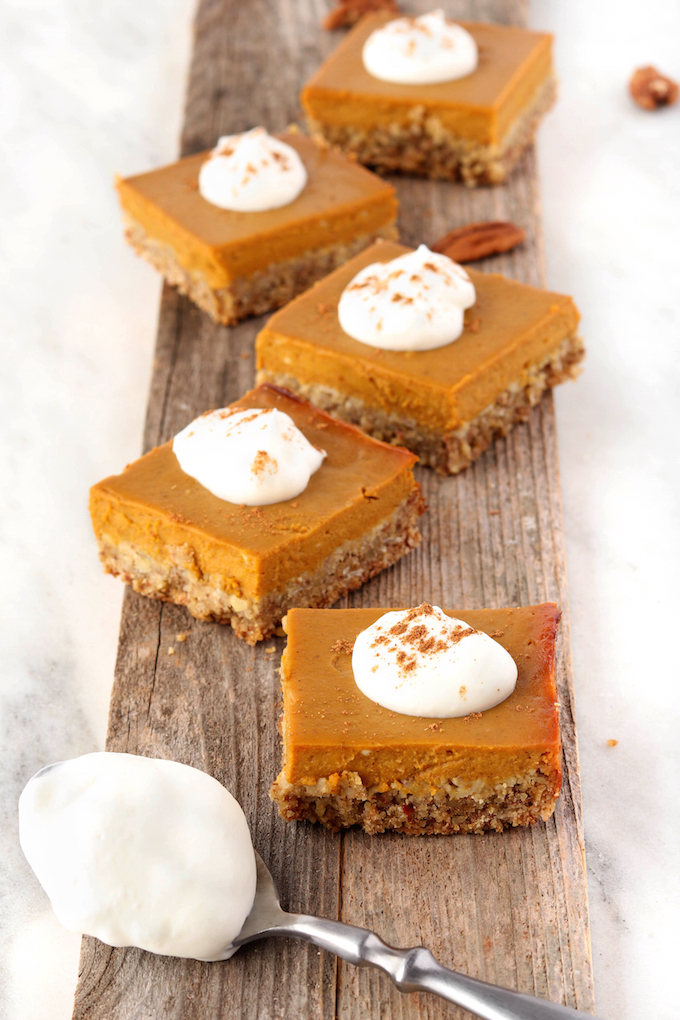 Pumpkin Whoopie Pies with Maple Spice Filling:
Dye Naturally: Free Downlaod
How to Make Natural Food Coloring for Christmas Baking + Whole Food Christmas Cookie Recipe.