Homemade Breakfast Sausage is simple to make and so much healthier than it's store-bought counterpart. Freezer-friendly and preservative and gluten-free!
Pin How to Make Homemade Breakfast Sausage for later!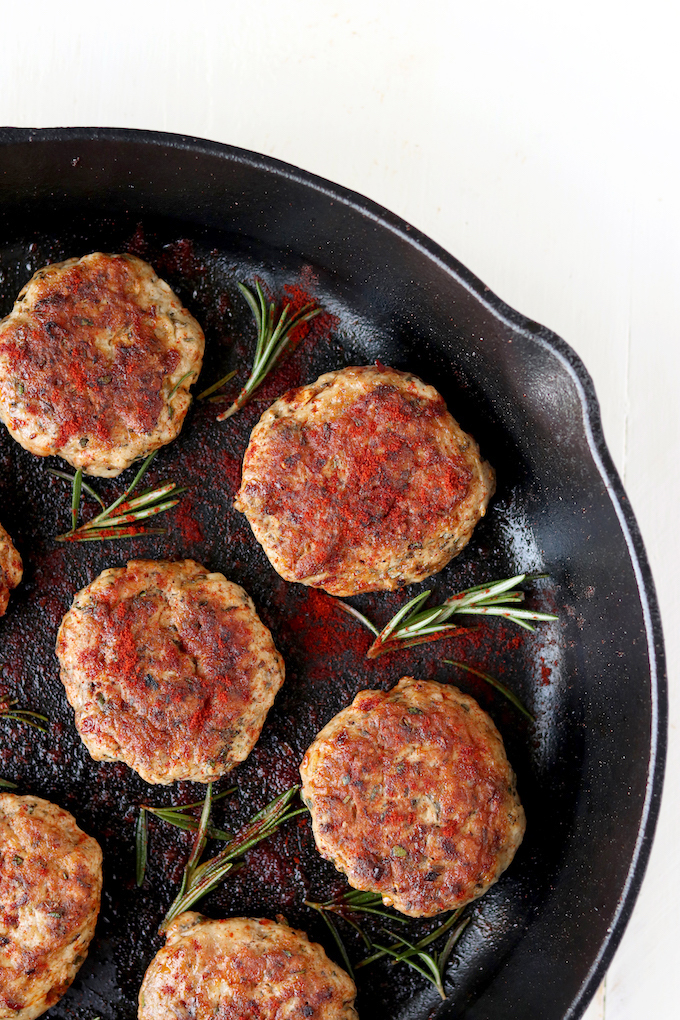 I've been all about cooking with sausage lately as evidenced by exhibit A, B, and C.
My reasoning is pretty simple, sausage has so much flavor that you can pair it with pretty much anything and it comes out to be absolutely delightful. Nope, no complicated thought process going on here, just pure laziness.
Glaring obvious problem with cooking with sausage 3 nights in a row.. weeeelll, if I'm being completely honest with myself, sausage is probably not the healthiest of choices. Ok, ok.. no probably to it. Chicken and turkey are going to out rank the stuff Every. Single. Time.
Except today. You guys.. it took 3 test batches, but I made homemade breakfast sausage out of ground turkey! Before you get too super excited, let's take a moment and manage our expectations. It's good. Really really good. Buuuuuut.. if you try to secretly swap out my homemade version for it's fatty pork counterpart, you're gonna get busted. Just felt I should give fair warning, not trying to ruin any Easter morning brunch action.
Sooooo, bottom line. If you are making a dish with sausage for a special occasion, company or just because you feel like indulging, use the real thing.
This version is PERFECT to add to your daily breakfast sandwich, make-ahead sausage egg breakfast casserole or even when you are making a sausage based pasta dish. It's got all the flavor and WAAAAAYYY less calories and fat. You're going to love this!
This recipe is 1-bowl and super simple to throw together. Since dumping 2x or even 3x as much of something doesn't take any extra effort, I like to batch prep these guys. You can either store it in the freezer in bulk or go ahead and form it into pre-made patties. Follow your bliss, lol.
How to Make Breakfast Sausage VIDEO:
Time Saving Tips and Tricks
Prep: There really isn't any reason to spend time prepping this homemade breakfast sausage, it comes together in a snap!
Make Ahead: Cooked breakfast sausage stores well in the refrigerator for up to 3 days. Fair warning, it definitely tastes best fresh off the skillet!
Freezer: Raw homemade breakfast sausage can be stored in the freezer for up to 3 months. To thaw, remove from freezer and allow to thaw in the refrigerator overnight.
Print
How to Make Homemade Breakfast Sausage
---
1

lb. ground turkey, chicken or pork

2

TBS fresh rosemary, chopped

3

garlic cloves, minced

2 tsp

smoked paprika

1 tsp

coconut sugar

1 tsp

sea salt

1 tsp

dried thyme

1 tsp

dried oregano

1 tsp

dried sage

½ tsp

red pepper flakes

¼ tsp

black pepper
---
Instructions
Combine all ingredients in a medium size mixing bowl. Use hands to mix spices into the meat. Mix until just incorporated, don't overdo it.
Scoop scant ¼ cup of meat mixture and press into a sausage patty. Repeat until no meat mixture remains.
Heat a skillet coated with olive oil over medium-high heat. Once oil is heated, place sausage patties into skillet. Cook 3-4 minutes per side or until golden crust forms and meat is no longer pink in the center.
Remove from heat. Serve immediately.
---
Notes
You can use ant ground meat but my favorite was ground chicken.
If possible, organic meat is always best.
These sausage patties have a little bit of heat. If you are serving kids may want to half the red pepper flakes or even eliminate all together.
Let's Be Friends!
Posts like How to Make Homemade Breakfast Sausage:
Make Ahead Sausage Egg Casserole:
How to Batch Prep Breakfast Sandwiches:
SaveSave
FREE WHOLE30 COOKBOOK
12 Family Friendly Whole30 Compliant Recipes from Simply Sissom.