A simple One Bowl Chocolate Chip Pumpkin Bread that's easy to make, super most and hearty and perfectly sweet thanks to maple syrup and honey. 
Pin One Bowl Chocolate Chip Pumpkin Bread for later! 
9 Ingredients. 1-Bowl. 20 minutes. Let's do this.
You may remember my recipe for Whole Grain Pumpkin Muffins. It's one of Campbell's absolute favorites of all time. Yep, All. Time. Want me to let you in on a little secret?? This one bowl pumpkin bread has the Exact. Same. Base. Recipe. Before you label me as the laziest food blogger of all time .. hear me out.
This is a good thing.
This recipe has options. 2 loaves of 1 bowl pumpkin bread or... 1 loaf of chocolate chip  pumpkin bread and 12 whole grain pumpkin muffins topped with cinnamon sugar crumble.
You got it. 1 batter.. 2 totally separate festive recipes. Watch out all you super-fancy, complex baking, Martha Stewart clones of the world.. Fall. Is. Mine.
Ok. Ok.  That came out a little more confrontational than intended. But seriously.. let's talk about how to make this happen.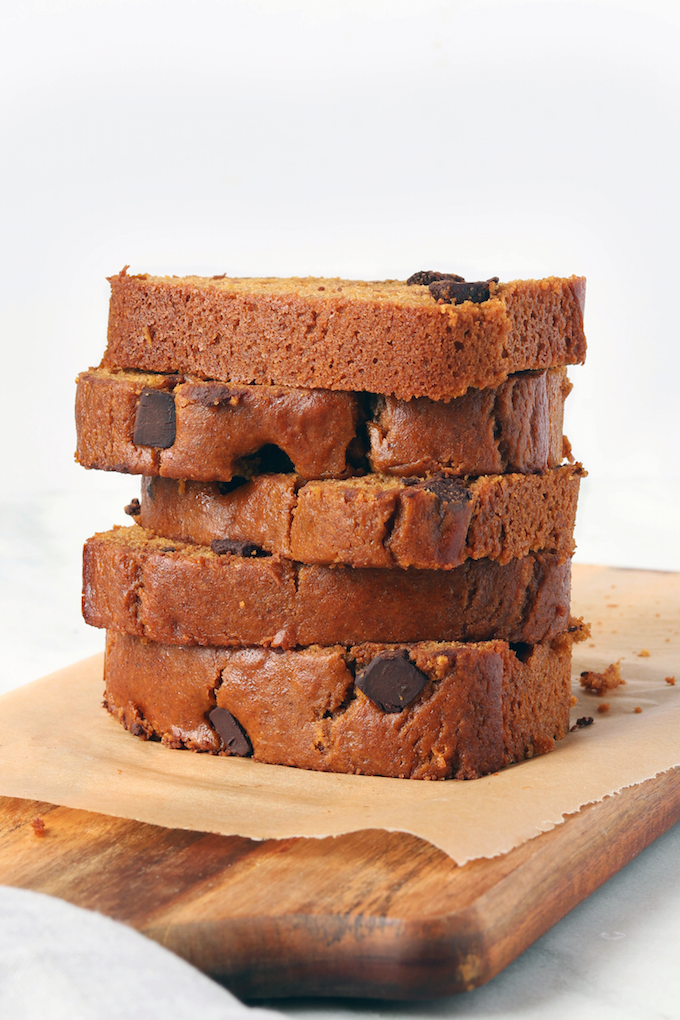 Make the batter as described below. DON"T add the chocolate chips. Before pouring into loaf pan, split the batter in half.  Add chocolate chips to 1 half. Stir to combine. Pour into loaf pan and bake as directed.
With the reserved half of the batter make Whole Grain Pumpkin Muffins. (<-- link to recipe: follow steps 3 and 4 complete muffins).
Gonna channel my inner Ina Garten now.. "How Easy is That"
Time Saving Tips and Tricks:
Prep: Both recipes are so simple that there really isn't any reason to prep ahead. This is a good thing!
Make Ahead: The pumpkin bread and the muffins are great make ahead options. I like to store them in the refrigerator (they stay fresh longer). They will keep for a minimum of 3 days. Quite honestly, they probably won't last that long.
Freezer: Of course! To freeze the bread or muffins, just arrange on a baking sheet. Place baking sheet into freezer for 2-3 hours. Remove baking sheet and place bread and/or muffins in an airtight labeled Ziplock bag. They will keep for up to 3 months. To thaw, remove from freezer and allow to come to room temperature.
Print
One Bowl Pumpkin Bread
Author:

Prep Time:

20 mins

Cook Time:

55 mins

Total Time:

1 hour 15 minutes

Yield:

2

loafs

1

x
---
3 cups

whole-wheat flour

3 tsp

pumpkin pie spice

½ tsp

salt

1

15 oz can pumpkin puree

4

eggs

1 cup

low-fat plain yogurt (I used Stonyfield)

1 cup

maple syrup

1 ¼ cup

honey
---
Instructions
Heat oven to 350. Spray loaf pan with non-stick spray.
Into the bowl of a stand mixer, combine flour, 3 teaspoon pumpkin pie spice and salt. Mix. Use fingers to dig a well in the center. Into the hole, add pumpkin, eggs, yogurt, maple syrup and honey. Mix until well combined.
Bake at 350 for 50-55 minutes or until a toothpick inserted into the center of the bread comes out clean. Allow bread to cool before removing from pan.
---
Helpful Hints:
Silicone Baking Cups and Silicone Loaf Pans are My. Favorite. Thing. They make removing the bread and the muffins so simple. In my humble opinion they are definitely worth the investment.
This recipes uses yogurt in place of butter. When baking keep this substitution in mind. It gives the bread a moist texture and cuts down on calories and fat big time. I use Stonyfield's GrassFed Organic Plain Yogurt.
Let's Connect:
Recipes Similar to 1 Bowl Chocolate Chip Pumpkin Bread:
Pumpkin Whoopie Pies with Maple Spice Filling:
Pumpkin Spice Granola: