This shop has been compensated by Collective Bias, Inc. and its advertiser. All opinions are mine alone.
#SamsClubMag #CollectiveBias
Flavorful, filling, 30-minute Southwestern Quinoa Salad with Roasted Tomato Vinaigrette and garden fresh veggies. #vegan #glutenfree #wholefood
Pin Southwestern Quinoa with Roasted Tomato Vinaigrette for later!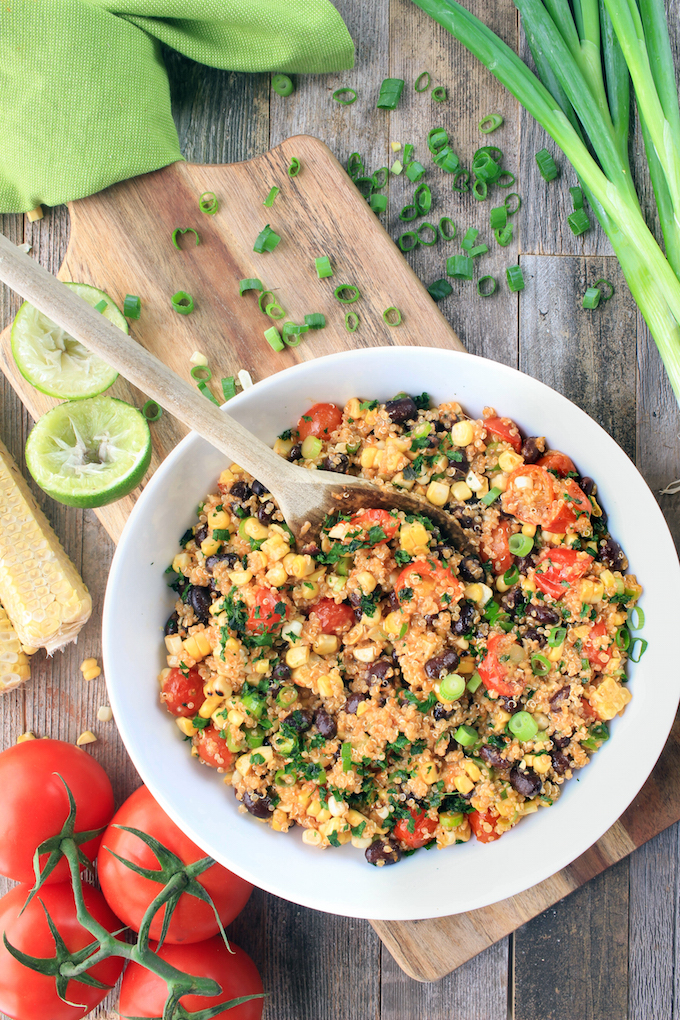 Southwestern Quinoa with Roasted Tomato Vinaigrette.. for a BBQ? Who am I?
As of late, I've definitely been shifting my diet in a plant-based direction. Quinoa is not something that I would normally make for a Memorial Day shin-dig because A) 90% of the time I make a pasta salad, and B) Southwestern Quinoa with Roasted Tomato Vinaigrette sounds like something from the pages of Martha Stewart. Anyone who reads this blog on a regular basis knows I'm less about fancy and all about simple.
When it came time to create a dish for a Memorial Day cookout I knew I wanted to make something plant-based and gluten-free (so everyone could enjoy), make ahead friendly and most important of all.. fast and easy.
I needed to spark my creativity, so I did what I always do.. took to the internet and started clicking through Healthy Living Made Simple. It's my go to online magazine when I need inspiration to channel my inner fresh, clean eating, dinner-making self. Each issue, HLMS puts a different ingredient in the  "SuperFood Spotlight," .. this month, tomatoes.  Once I read about all the nutritional benefits (think disease prevention and youthful glow) packed into this fresh juicy produce, it took me about 3 seconds to determine that they definitely needed to play a starring role in my recipe. Once I decided on tomatoes, it was a no brainer to go with a Southwestern vibe. Tomatoes + Tex/Mex + Summer = Match (it's a scientific fact) annnnnd, lets be honest.. making spaghetti sauce out of fresh, juicy, bright red tomatoes is a waste of their potential. Not to mention, who brings spaghetti to a BBQ?
So, being the "all or nothing" type of person that I am (it's a blessing and a curse), I headed straight to Sam's Club and STOCKED up on tomatoes and  all things fresh, healthy and Southwestern.
And then... Southwestern Quinoa with Roasted Tomato Vinaigrette was born.
I'm going to let you in a secret.
I know that roasted tomato vinaigrette sounds fancy, but it's super simple to make. When I say simple, I mean REALLY simple. Simple as in 1 bowl, 7 ingredients (2 of which are salt and pepper).
The limes add just the right amount of acidity while the roasted tomatoes and olive oil add a silky richness. You guys, it's just really good.
Toss this vinaigrette with whole-grain quinoa, crunchy veggies, protein packed black beans and fresh herbs and you've got yourself a nutrient dense side dish that comes together in 30 minutes, but is impressive enough to give the illusion that you spend the afternoon slaving away in the kitchen. Is there anything better?
Time Saving Tips and Tricks:
Prep: Prepping is definitely advised for this recipe! The corn can be blanched and cut from the cob in advance and the veggies can be chopped.  You can also roast the tomatos if you are feeling really on top of life. All prepped items can be stored in the refrigerator for up to 3 day in a sealed container.
Make Ahead: This salad gets better with time (within reason). I like to make it the night before I am going to serve it so that all of the flavors get a chance to meld a bit. SO good.
Freezer: The actual salad is not freezer friendly, too many veggies. However, you can cook quinoa and then freeze it in airtight ziplock bags to be used later if you have extras.
Print
Southwestern Quinoa with Roasted Tomato Vinaigrette
Author:

Prep Time:

20 mins

Cook Time:

12 mins

Total Time:

32 minutes

Yield:

4

servings

1

x
---
Description
Flavorful, filling, 30-minute Southwestern Quinoa Salad with Roasted Tomato Vinaigrette and garden fresh veggies. #vegan #glutenfree #wholefood
---
10 oz

. cherry tomatoes, halved

2

ears of corn, shucked

2

limes, juiced

⅓ cup

olive oil

1 tsp

cumin

1 tsp

chilli powder

½ tsp

black pepper

½ tsp

, salt

1 cup

quinoa, prepared according to package directions

1

can black beans, rinsed and drained

½

red pepper, diced

2

green onions, diced

¼ cup

chopped cilantro
---
Instructions
Heat oven to 425. Roast tomatoes for 15 minutes or until tender and blistered. Remove tomatoes from heat and set aside to cool.
Mist grill pan with cooking spray. Heat over medium-high heat. Grill corn until tender crisp (about 3 minutes/side). Remove corn from heat. Once corn has cooled, use a sharp knife to cut the kernels from the cob. Set aside.
To the bowl of a food processor or blender, add lime juice, olive oil, cumin, salt, pepper and ½ cup of roasted tomatoes. Pulse or blend until fully combined. Vinaigrette should be smooth.
In a large bowl, combine quinoa, corn, remaining roasted tomatoes, beans, red pepper, green onions, cilantro and the roasted tomato vinaigrette. Mix gently.
Allow quinoa salad to chill for at least 30 minutes prior to serving.
---
Helpful Hints:
Quinoa can be kind of difficult to cook properly. I like to use frozen pre-cooked. It saves time and tastes great.
Fresh corn definitely tastes best.. especially when grilled. However, using frozen saves time. Do what you gotta do?.
If you don't have cherry tomatoes on hand, regular tomatoes will work completely fine. Simply dice the tomato into 1" chunks and follow recipe as written.
Looking for recipe inspiration? Check out HLMS magazine. You can find tons of healthy recipe ideas and resources. Added bonus.. Mario Lopez (AKA.. AC Slater is on the cover this month? ).
Sams Club isn't just a great place to find healthy ingredients. They also provide FREE health screenings on the second Saturday of each moth. You can check with your local Sam's Club to see if they offer this service!
Take The ⅓ Plant-Based Challenge:
Join over 200 people and take the ⅓ Plant-Based 7 Day Challenge!! CLICK HERE for more info.

Looking for more healthy whole-food recipes? Check out Simply Sissom on Pinterest. If you like it, follow! New pins are added daily from my favorite bloggers from around the web!
You can also find Simply Sissom on Instagram, Twitter and Facebook . Check it out and if you like what you see.. follow?!
Other Whole Food Side Dishes You Might Like: