Creamy Strawberry N' Oat Breakfast Smoothie - A quick grab n' go breakfast option you can feel good about.  Made with yogurt, oats, flax seed and fresh organic strawberries.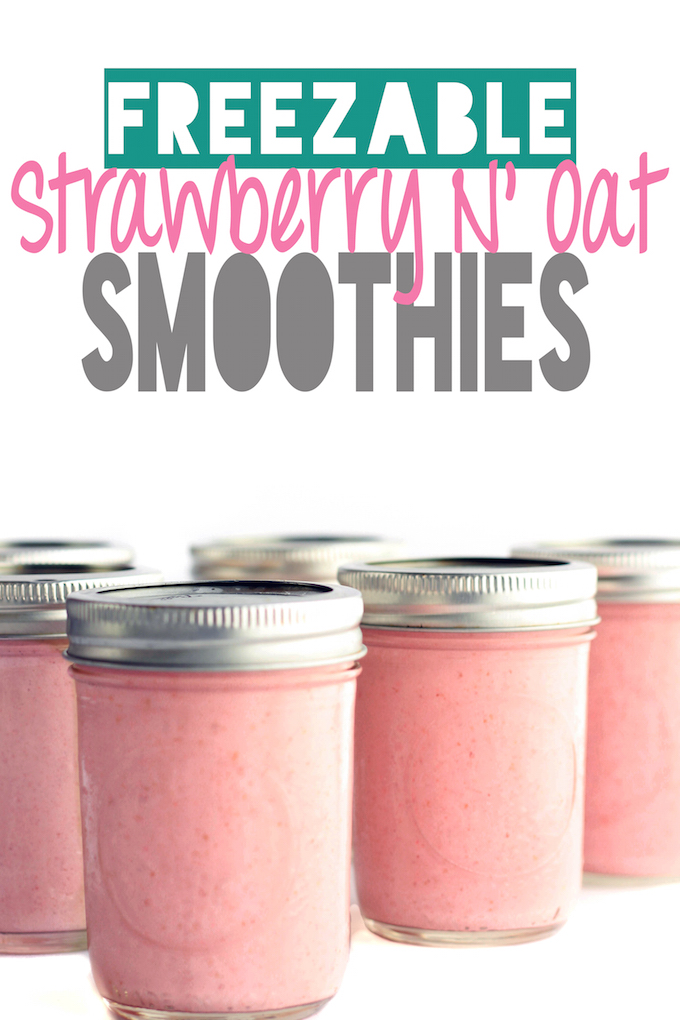 My boys and I drink smoothies like it's my job to make them. Which it is, sometimes, sort of.
The end of Sumer (aka.. start of a new school year) is quickly approaching. It seems only appropriate to get your and my wheels turning about some great smoothie - grab-n' go- make-ahead-types- of ideas for back to school breakfasts. I want you to know that nutritious breakfasts and easy-non-stressful-early-mornings can in fact co-exist. It comes in the form of this Freezable Strawberry N' Oat Breakfast Smoothie.
Delicious. Practical to make and freeze now, while Summer produce is crammed into every corner of the grocery store and organic strawberries don't cost $1,298, 356 dollars for per pint. Plus.. how domestic diva-like will you feel with a freezer loaded down with healthy breakfast options for your kiddos. Nobody has to know that you threw it all together in under 30 minutes?.
Time Saving Tips and Tricks:
Prep: The fruit MUST be frozen for this smoothie. You can use store-bought frozen fruit, but if it's in season.. fresh tastes SO. Much. Better. To prep strawberries for the freezer, hull and roughly chop the strawberries and place them in an airtight ziplock bag.
Make Ahead: Smoothies will keep in the refrigerator for up to 2 days when sealed in a mason jar.
Freezer: This strawberry n' oat breakfast smoothie can be assembled as a smoothie pack and stored for up to a month in the refrigerator. I usually make 5-10 at a time. Keep in mind that each bag will make 2 servings. Directions: In a gallon Ziplock bag add oats, strawberries, ice, honey, cinnamon and flax seeds. Remove all air, and seal the bag. When you are ready for a smoothie, dump the bag into your blender. Add 1 cup of yogurt and 1 cup of milk. Hit Blend. Done.
Smoothies that have been blended can be stored in the freezer as well. I use mason jars that are labeled "can or freeze." They can be stored for up to 2 weeks. The night before you want the smoothie just remove it from the freezer and put it into the refrigerator. It will be perfectly thawed in time for breakfast.
Print
Strawberry N' Oat Breakfast Smoothie
Author:

Prep Time:

5 mins

Total Time:

5 minutes

Yield:

2

servings

1

x
---
1 cup

ice

1 ½ cup

frozen strawberries

½ cup

old fashioned rolled oats (purchase gluten-free if necessary)

1 cup

whole milk yogurt

2

-

3

TBS honey (depending on level of sweetness desired)

1 tsp

cinnamon

2 tsp

flax seed (optional)

1 cup

milk
---
Instructions
Add all ingredients to a blender and blend until fully combined.
---
Helpful Hints:
If you would like to make this smoothie dairy-free or vegan friendly, sub out the yogurt for 1 frozen banana and use almond milk in place of regular. Agave can also be substituted for honey.
Using fat-free yogurt can be tempting to save on calories. When brands remove  fat, they have to use more sugar, salt and additives to make the food taste better. I use this Grassfed Organic Plain Yogurt from Stonyfield. It contains only cultured organic whole milk and pectin. I purchased mine at Whole Foods.
If you skip the flax seed.. the smoothie will still taste great. However, it's a great way to add some additional protein, vitamins and minerals to your smoothie. Bonus.. it adds a mildly nutty flavor to the smoothie which tastes really good with fresh strawberries.
This smoothie contains A LOT of frozen stuff. Aka.. it can be a bit tough to blend. I use and recommend a high-speed blender. It's a bit of an investment, but it's something that you can use Every. Single. Day. I use a  refurbished Blendtec. This knocks about $120 off the total cost. The only thing that is refurbished is the inside of the actual blender. When the blender arrived it was wrapped in plastic and the jar and base were brand new.
Let's Connect:
Other Smoothie Recipes You Might Like: