Savory, 10-ingredient Sun-Dried Tomato Basil Hummus with garlic, lemon, and paprika. A creamy, flavorful dip that's perfect for Spring.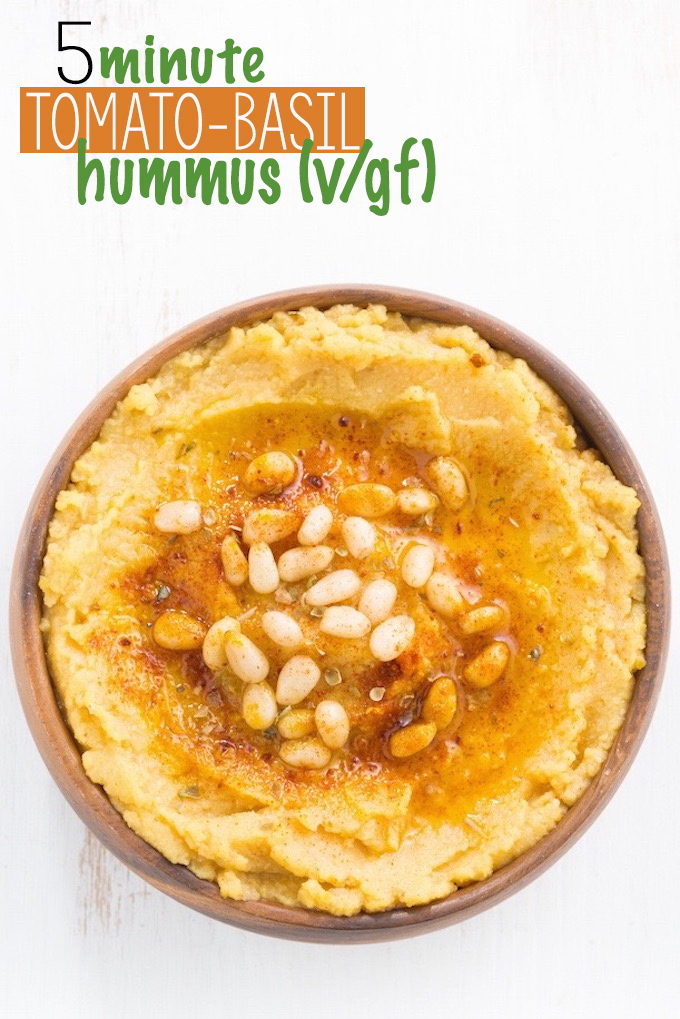 Exactly 15 years ago myself and my 3 "besties" loaded up the car with our swimsuits and a bag containing a loaf of bread, Pop Tarts and a jar of peanut butter. It was my first Spring Break without chaperones and we were beside ourselves with excitement. For reasons that are more obvious to me now that I have children.. our parents were against our plan (which meant no funding?), but we were not to be deterred.
We pooled our money and found a motel in Panama City for $35.00 per night. We calculated that we could stay 3 nights as long as we didn't eat out and were careful not to use too much gas once we got to Florida.
Thinking about the motel makes me laugh to this day. It smelled of rotten milk and was so run down that you could literally see outside through a spot in the wall that had been poorly patched. There was one double sized bed (which we all shared) and a small "kitchenette" with a mini fridge and a microwave that didn't work. The carpet was an odd shade of green and the outdoor pool area consisted of a few broken lounge chairs and a twisty slide that was missing 3 of it's steps. We were in heaven!
15 years later.. Spring Break 2016 is upon us, and man.. times have changed!  The destination is still Florida, but this is no "girls trip".. it's a 16 hour road trip with me and my boys.  A swimsuit and a bag with peanut butter and jelly sandwich fixings isn't going to cut it. I have been packing and planning for a week! We have diapers, bottles, Easter paraphernalia, flotation devices, sand toys, etc. And food. So. Much. Food.
In a moment of what can only be considered to be "pure insanity" I decided that in addition to packing everyone's suitcases and creating a "portable Easter celebration" I am going to pack our meals and snacks so that we wouldn't be stuck eating fast food and gas station snacks all the way down to Florida. Once we are driving, I have no doubt that I will be glad that I put the time into prepping meals, but in this moment.. I'm overwhelmed?. For that reason, I am keeping our snack/meals simple and am "double dipping" by posting the recipes that I use to the blog this week.
Up first.. if you have similar Spring Break plans, might I suggest a healthy snack that is road worthy as well? This Sun-Dried Tomato Basil Hummus takes 5 minutes to whip up and tastes SO much better than anything that you can buy at the store. Added bonus, no preservatives! Annnnd... no bean soaking.. because, who in the world has time for that?
Time Saving Tips and Tricks:
Prep: This recipe comes together so quickly that there really isn't any reason to prep the ingredients ahead of time. You could pre- cut your veggies for dipping if you are really feeling productive.
Make Ahead: Yes! Of course. It wouldn't be a very road worthy snack if it wasn't make ahead friendly. Hummus will keep in the refrigerator for up to a week (although it doesn't ever last that long around here). Just store it in an airtight container and you are good to go! I am going to pop ours into the freezer along with some carrot sticks, celery and pita chips.  If the texture becomes too thick just allow it to sit at room temperature for about 30 minute or add a little bit of olive oil or water.
Print
Sun-Dried Tomato Basil Hummus
---
⅓ cup

tahini

2

lemons, juiced

2

garlic cloves, peeled and crushed

1

15 oz can of garbanzo beans

⅓ cup

sun-dried tomatoes

¼cup

basil

1 ½ tsp

fine grain sea salt

2

tbs water

2

TBS olive oil
---
Instructions
Place tahini and lemon juice in bowl of food processor that has been fitted with a steel blade. Process 1 minute.
Had garlic, process 20 seconds.
Add the rest of the ingredients and process until the hummus is coarsely pureed. Taste for seasoning.
Serve with whole wheat pita chips or veggies.
---
Helpful Hints:
If you want hummus that has a super creamy texture, you need to peel the skins off of the chickpeas. I'm not going to sugarcoat it.. this is annoying and time consuming. Full disclosure.. I do not do this when I am feeding Joe and the boys. They just aren't appreciative enough of 1 texture vs. the other. Consider your audience when making a decision about this step?
The order that you add the ingredients to the food processor matters. Tahini and lemon juice go in first. Before you add any additional ingredients, turn on the food processor and let it run for a minute.
Let's Connect:
Looking for more healthy whole-food recipes? Check out Simply Sissom on Pinterest. If you like it, follow! New pins are added daily from my favorite bloggers from around the web!
As always, if you try out this recipe, let me know! Leave a comment, rate it, and don't forget to tag a picture #simplysissom Instagram or Twitter. I'd love to see what you come up with?.
Other Road Worthy Snacks and Meals: