Creamy mashed avocado combined with lemon and lime citrus juice, tomato, onion, fresh cilantro, spicy jalapeno and seasoning.. Yep good ol' Super Simple 5-Minute Guacamole! 
Last night's dinner... and late night snack. Annnnd this morning's toast topper...
This Guacamole.
I make it all the time. I put it on all kinds of things. I spoon feed it to myself straight out of the bowl.
So it's only appropriate that I get this astonishingly easy, totally amazing Super Simple 5-minute Guacamole up on the blog. Creamy avocado, zesty lemon lime juices, baby tomatoes tomatoes, fresh cilantro and spicy jalepeno, all mashed together and perfectly seasoned. Add a healthy sprinkle of cilantro to amp up the citrus factor annnnd.. you guys, it's just REALLY REALLY good.
Best part, it requires little to no culinary skills.. if you can stir, you've got this!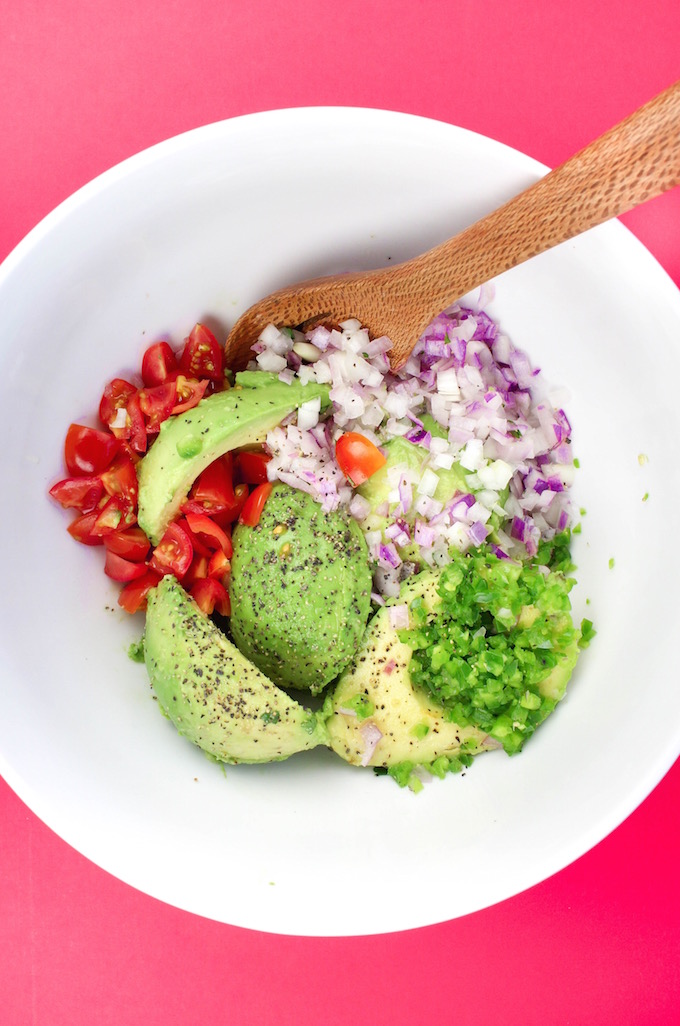 Time Saving Tips and Tricks:
Prep: This guacamole comes together quickly without any prep, but if you are doubling or tripling the recipe to feed a crowd sometimes it's nice to get a bit of head start. To save a bit of time you can pre-chop the onions, jalapeño, tomatoes and cilantro. Don't stress about storing them in separate baggies. They are all going to end up together in the guacamole anyway! Store in fridge.
Make Ahead: If you are serving to guests this is a definite don't... it will turn an ugly brown. However.. the taste is still delightful if you can get past the funny color!
Freezer: DISCLAIMER.. I HAVE NOT TRIED THIS... however, I did find THIS article from avacodocentral.com that says, drumroll.... YES! If you try this method, let me know what you think! Fresh guacamole just hanging out in the freezer, can you even imagine??
Print
5-Minute Guacamole
Author:

Prep Time:

5 mins

Total Time:

5 minutes

Yield:

3 cups

1

x
---
3

avocados

½

red onion, finely chopped

½

lemon, juiced

½

lime, juiced

½

-

1

whole jalapeño, seeded and chopped (I used

½

- guac was NOT spicy.. which I LOVE)

⅓ cup

grape tomatoes, chopped
Kosher salt and freshly cracked black pepper to taste
---
Instructions
Cut the avocados in half lengthwise. Remove the pit. Use a spoon to gently remove the avocado flesh from the skin and put into a medium sized mixing bowl.
Add onion, lemon and lime juice, jalapeno, tomatoes, and salt and pepper. Use a fork to mash, make sure to leave some lumps! Taste and add salt and pepper as needed.
Serve immediately with toasted pita bread, veggies or tortillas chips.
---
Helpful Hints:
There is nothing worse than breaking into an avocado only to find a slimy brown mess. To make sure you have one that is worthy of becoming guacamole remove the cap from the top of the avocado. If it comes off easily and is green underneath.. you're good to go! If the stem is brown, it is likely that the avocado is as well. Too complicated? You can always go with the tried and true method of giving it a little squeeze. It should give a bit when given a firm squeeze (not too hard... you will bruise the flesh!).
Don't skip on using the lemon and the lime suggested in this recipe.. it's the secret!
Let's Be Friends:
So this is kinda exciting.. Simply Sissom is on Snap Chat ? ? ? ! Handle simplysissom. Unedited, behind the scenes photography shoots, recipe development, and of course..  everyday life!
If you are looking for more whole food recipes, check out Simply Sissom on Pinterest. If you like it, follow! New pins from my favorite bloggers from around the web are added daily?.
Other Game Day Recipes: