Whole Food Hot Wings with Yogurt Ranch Dip/Veggies and Fruit
Rockin 5-Ingredient Sweet Potato Chili
Rainbow Stir-Fry with Garlic Ginger Sauce and Brown Rice
Refried Bean Chicken Enchiladas with Homemade Enchilada Sauce
Chicken Pesto Pizza
Whole Food Hot Wings: From Simply Sissom
I know.. it's a bit of a stretch to call Hot Wings dinner, but SO good (and simple)... please let me?.
These Whole-Food Hot Wings combine spicy cayenne pepper sauce with a homemade BBQ blend and honey for an extra bit of sweetness! It's a healthy and delicious twist on an American classic.
The kids don't like the sauce, so I always make sure to leave it off of some the wings. They are totally happy to just dip their wings in yogurt ranch dip (see below).
Yogurt Ranch Dip: From A Couple Cooks
 A wholesome, natural ranch dip that's incredibly flavorful and nearly as quick to make as the processed version. It's the perfect addition to whole food hot wings and veggies!
Rockin 5 Ingredient Sweet Potato Chili: From Pinch of Yum
Just a simple, creamy, spicy, sweet potato base with ground turkey and onions and garlic and black beans. Lotsa protein included. A filling, happy, super easy dinner!
Rainbow Stir-Fry with Garlic Ginger Sauce: From Simply Sissom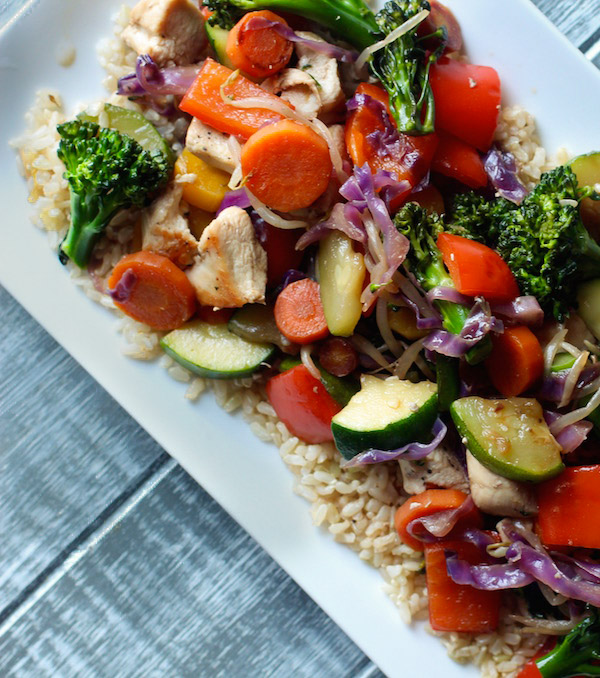 This rainbow stir-fry is stunning, delicious, and loaded with veggies tossed in a delicious clean eating Chinese brown sauce. No more takeout!
Refried Bean Chicken Enchiladas with Homemade Enchilada Sauce: From Ambitious Kitchen
To make this recipe healthier, Monique, from Ambitious Kitchen used chicken breast in place of rotisserie chicken, reduced amount of cheese, used refried beans to increase protein, and made homemade enchilada sauce in place of using store bought! Yum:)
Chicken Pesto Pizza: From Simply Sissom
I love pizza made with crazy combinations and swanky food stuff, but in real life, homemade pizza is kinda abhorrent to make. This pizza has lots of opportunity for lil short cuts because I 1000% believe that practical, realistic, ready in 30 minutes recipes are the best kind.
Want to give this meal plan a try? Download grocery below!
Click Here To Download Grocery List
Follow Simply Sissom on Instagram, Pinterest, Facebook, or Twitter for more great recipes, healthy school lunch ideas, weekly food prep tutorials, and more!
If you give this meal plan a try, let me know! Leave a comment and rate it, and don't forget to take a picture and tag it #simplysissom on Instagram so I can see! Your photos make my day! Happy Sunday!