Simple Whole-Food Apple Sausage Stuffing with 2 types of bread, tart granny smith apples, spicy sausage and plenty of fresh herbs!
Pin Whole-Food Apple Sausage Stuffing for later!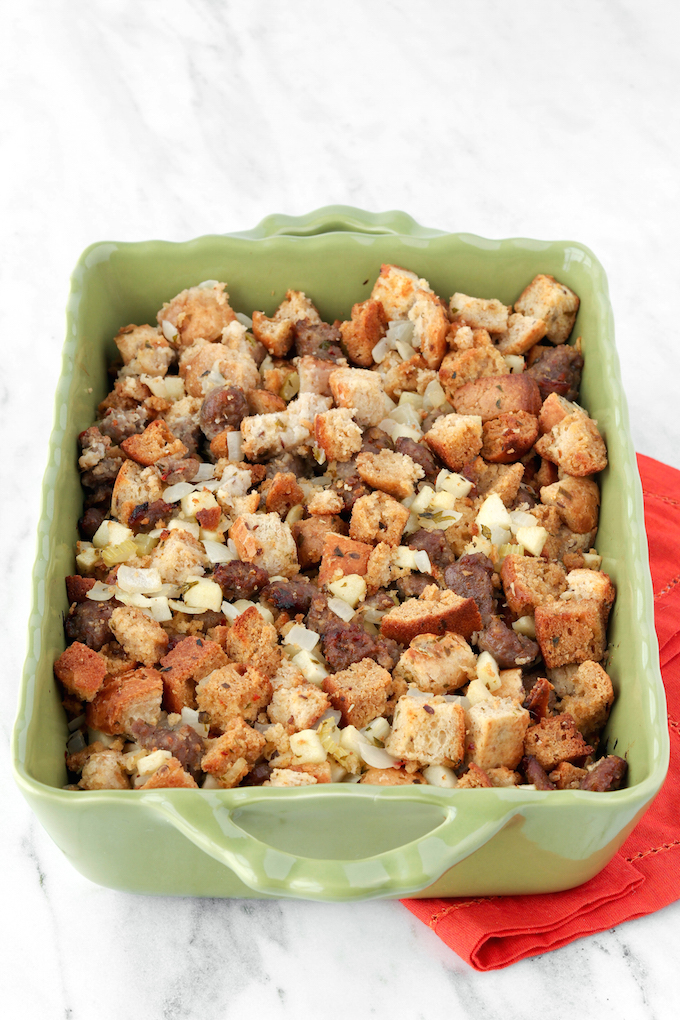 You probably haven't been able to tell yet, but I have made it my goal to load you guys up with TONS of whole-food Thanksgiving options over the next week and a half. I'm going to be sharing some sweet recipes too, not just the savory stuff! I'm all about eating lean meats and tons of fresh veggies, and there is definitely a place for those items on the day of the big feast... but seriously,  there MUST be a pie (or two, or three)!
Keep in mind, these recipes will ALL be made from whole-food ingredients and will be free from any white flour, refined sugar and oil, and ANY processed ingredients. However, this does not mean that they are low-in calorie.... it's Thanksgiving people!
Expect a round-up post with all of my favorite whole-food Thanksgiving recipes from around the web next week, but in the mean time you can get a sneak peak by following Simply Sissom's Thanksgiving Board on Pinterest! I'm adding new pins daily!
Until then, let's talk about this whole-food apple sausage stuffing, which just happens to be my favorite stuffing of all time!
My favorite thing about it is that it is super simple to make. In the perfect world you would let the bread dry out for a couple of days before making the stuffing but if you are anything like me.. that amount of planning is not going to take place. I just popped the fresh cornbread and French Bread into an oven set to 200 degrees for about 90 minutes before making the stuffing. Once you've crisped the bread and cooked the sausage it's really just chop, dump, stir, bake.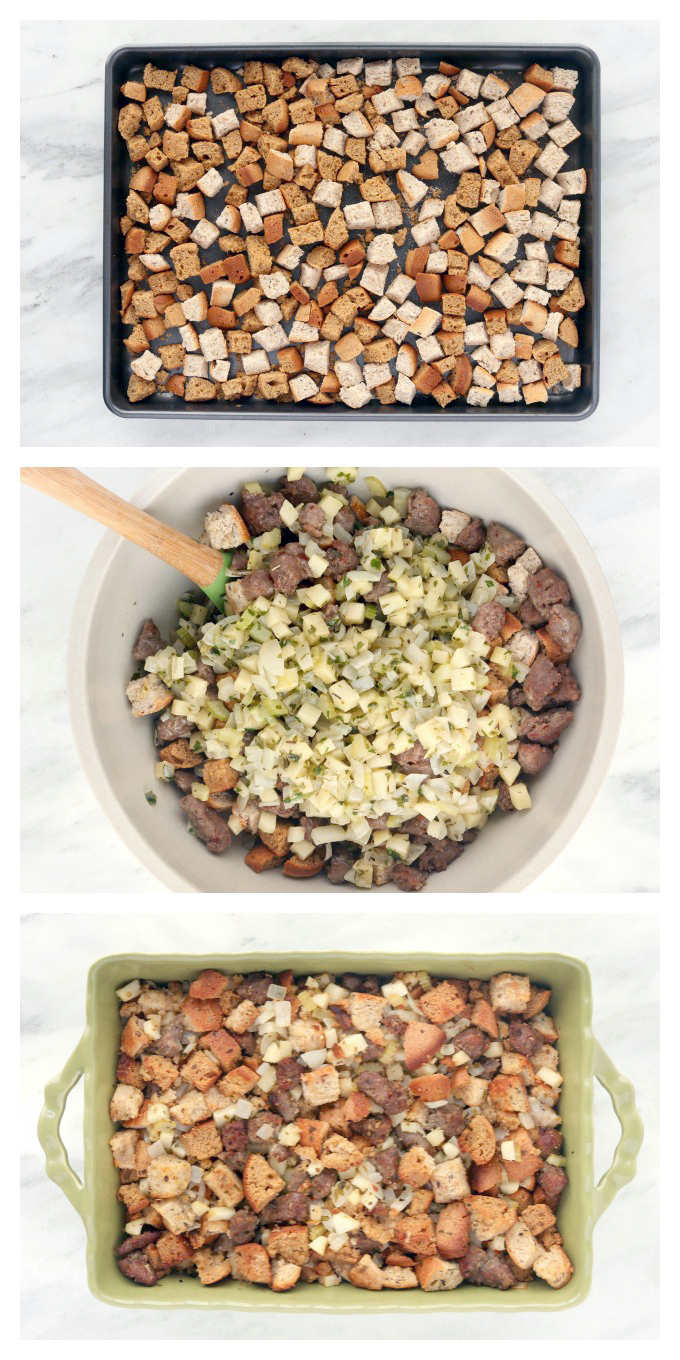 This recipe is adapted from the Pioneer Woman's Thanksgiving Stuffing/Dressing recipe. It's hearty, flavorful, moist on the inside, with a perfectly crunchy top layer - just like any stuffing should be! My favorite thing about Ree's recipe is that she uses multiple types of bread. Cornbread Vs. Sourdough debate.. why should anyone have to choose?
While her version isn't made entirely from whole-foods, I've subbed out traditional breads for whole wheat varieties, added spicy Italian chicken sausage, tangy granny-smith apples, and tweaked the spices to include sage, because.. in my opinion, it's not stuffing without sage! The result was beyond my expectations.. a definite must for any Thanksgiving Day feast!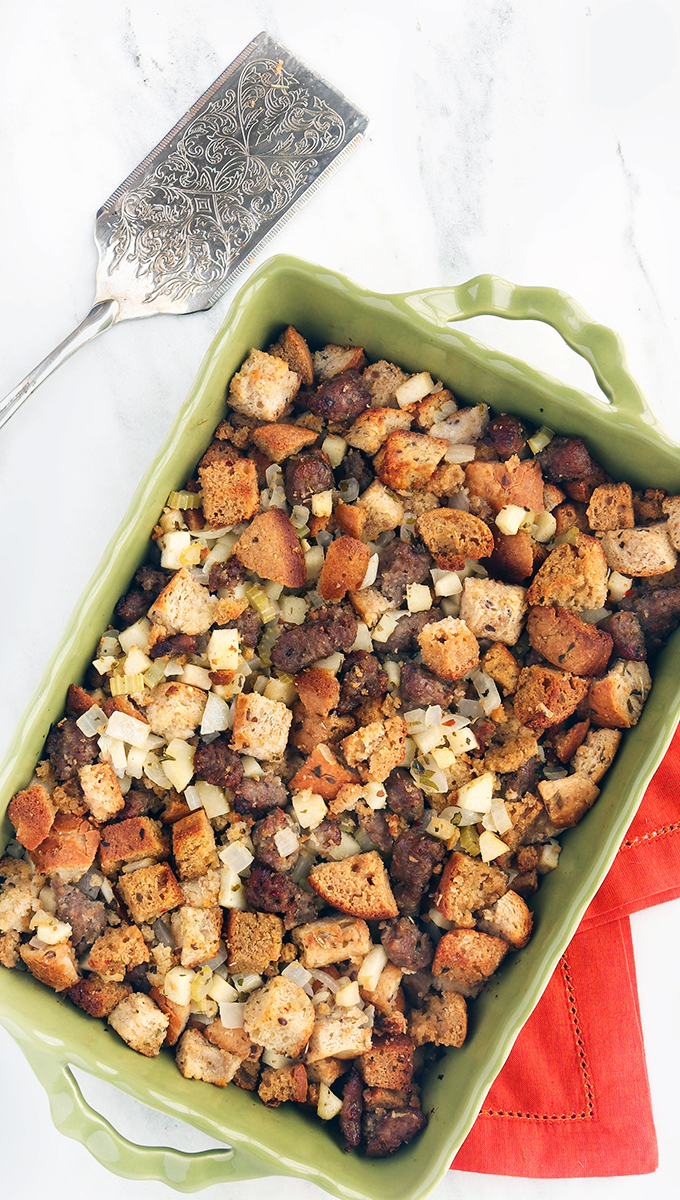 Time Saving Tips and Tricks:
Prep: It's Thanksgiving… recipes that can be prepped ahead are a MUST! This one fits the bill.
3 days before Thanksgiving – Make whole-grain skillet cornbread. Purchase whole wheat ciabatta and French bread. Cube bread into ½ inch pieces and arrange them in a single layer on a baking sheet. Set them out of the way and allow them to get really dry – this is super important or you will have mush instead of stuffing!
1-2 days before Thanksgiving- Chop the onions, celery, and herbs. Cook the chicken sausage. Assemble dish according to recipe instructions, but DO NOT add chicken broth. Cover and store in the fridge until 1 hour before turkey time.
Thanksgiving Day: Add chicken broth, toss stuffing and bake it.
Make Ahead: This recipe actually tastes really great the next day (and even a few days after that). With that said.. it's Thanksgiving, probably best to bake it fresh the day of
Freezer: I haven't tried it. At bare minimum, you could definitely begin collecting leftover breads from dinners and freezing them in a Ziplock bag. You will be all that much closer to stuffing on Turkey Day!
Print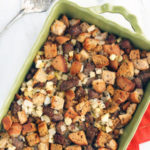 Whole-Food Apple Sausage Stuffing
Author:

Prep Time:

25 mins

Cook Time:

45 mins

Total Time:

1 hour 10 minutes

Yield:

10

servings

1

x
---
4 cups

cornbread

4 cups

whole-wheat French bread

1

lb. spicy Italian Chicken sausage, casings removed

½ cup

butter

1

small onion, diced

½ cup

celery, diced

1

granny smith apples, peeled and diced

2

TBS of parsley, chopped

2 tsp

rosemary

¼ tsp

. basil

¼ tsp

. sage
Chicken Broth – 2 -3 cups (ish)
Salt and Pepper
---
Instructions
Cut all the bread into 1-inch cubes and lay them out on sheet pans. Cover with a dish towel and let them dry out for 48-72 hours until they're dry and crisp, OR bake in oven at 200 until dry and crispy (about 90 minutes).
In a skillet, over medium-high heat, brown sausage. Set aside.
Melt the butter in a large skillet. Add the onions, celery, and apples. Cook for 3-4 minutes. Add the parsley, rosemary, basil, and sage. Continue cooking until veggies and apples are tender but not mushy.
In a large mixing bowl, combine the bread cubes, cooked sausage, and butter/veggie mix. Toss to combine. Season with salt and pepper to taste. Add chicken broth a little bit at a time. Toss as you go. I used 2 ½ cups and ended up with a very moist stuffing (which I like). If you prefer a little bit dryer... stick to 2 cups. Taste and add more seasoning or broth if desired.
Pour mixture into a large casserole dish. Bake at 350 degrees for 30 - 45 minutes or until liquid is absorbed and the stuffing has a golden crust.
---
Helpful Hints:
Whole-wheat ciabatta and French bread can be difficult to find. If you see some.. buy it! Store in the freezer until closer to Thanksgiving. I made my whole-grain skillet cornbread, so I didn't have to look for a store bought whole-grain version. I suspect that would be easier said than done.
Don't skip on letting the bread dry out. It's important. If you don't have enough time to get it all the way dry you can bake bread at a low temperature in the oven to speed up the process.
Let's Connect:
Looking for more simple whole-food meals? Check out Simply Sissom on Pinterest. If you like it, follow! I add new pins from my favorite bloggers around the web daily.
You can also find Simply Sissom on Instagram, Twitter and Facebook . Check it out, if you like what you see.. follow.
More Posts You Might Like: