The Ultimate Hot Chocolate is  luscious, creamy and made with whole milk, cocoa powder, cane sugar, and vanilla. Serve warm with whipped cream and homemade marshmallows.
Pin Ultimate Hot Chocolate for later!
Couple things that I just want to get right out into the open before I get going on this post.
Ultimate Hot Chocolate is made from real food ingredients. The homemade marshmallows, candy canes and whipped cream, weeeeelllllll... did I mention that the hot chocolate only requires 4 ingredients?
You control your own destiny.. I'm not trying to be your Mom. Don't want to top your hot chocolate with "all the things." Don't. If it feels festive and fun, go for it! It's Christmas.
I'm a real sucker when it comes to holiday traditions. In fact, if someone told me that it was customary to make chicken liver and cabbage soup on February 7th, whelp.. chicken liver and cabbage soup it would be. Seriously. I don't joke around with holidays and food.
With that said, I associate rich mugs of steaming hot chocolate filled to the brim with homemade whipped cream, fluffy marshmallows and peppermint trimmings with Christmas Eve. It's what I've always done, and quite honestly.. I want my kids to also!
As a general rule, when we splurge we try to do it on the things that aren't full of funky processed ingredients and dyes. Both the candy canes and the marshmallows pictured are colored with beet juice instead of traditional red coloring (but do contain sugar). Wait! Wait! Wait! Don't leave! Stick with me on this.
Beets don't taste bad. You CANNOT tell the difference.
I don't say this lightly. I put these candy canes and marshmallows through a stringent series of  tests.. I fed them to my kids kids.  Even Campbell. I think we can all agree that toddlers have a unique ability to discern even the smallest switch in their food. You guys, he loved them.
Yes I was shocked, but honestly I'm not sure why... it's marshmallows and peppermint!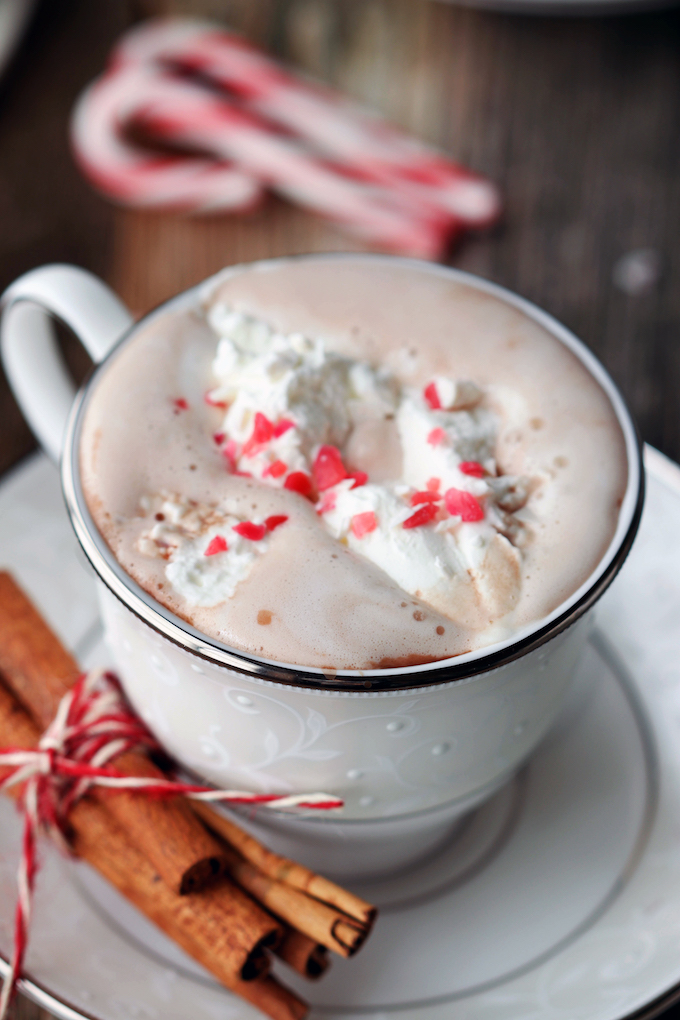 This hot chocolate is my ABSOLUTE favorite for a couple of reasons. 
A) It's such a simple recipe, it's almost not even a recipe.
B) It has WAAAAY less junky ingredients than this hot chocolate packets that you can buy at the store. I'm not exaggerating.. check this out.
The following is the list of ingredients in a 1 oz, individual package of Swiss Miss Milk Chocolate Flavor Hot Cocoa Mix :
sugar, modified whey, cocoa (processed with alkali), hydrogenated coconut oil, nonfat milk, calcium carbonate, less than 2% of: salt, dipotassium phosphate, mono- and diglyderides, artificial flavor, carrageenan. 
Let's Break that down a bit...
Cocoa - Ok, fine.
Nonfat Milk - I'd prefer whole milk, since it's less processed, but ok.
Calcium Carbonate - AKA.. ground up shells (nuff said).
Dipotassium Phosphate - Seriously, my spell check doesn't even recognize that one.
Mono and Diglydereides - emulsifiers that hold hydrogented fat together
Artificial Flavor - Nobody really knows what this means nor seems interested in holding "big food" accountable for filling us in.
Carrageenan - It's a thickener aannnnnd, a known carcinogen.
All that to say.. a little sugar in your cocoa or some whipped cream topping, well... not sounding like such a big deal at this point.
Bottom line, if you're going to make hot chocolate, it's one of those things that's really worth doing from scratch. Especially because it really is SUPER simple.
Time Saving Tips and Tricks:
Prep: There really isn't any reason to prep this hot chocolate. There are SO few ingredients. I do like to give some thought to "toppings." Homemade marshmallows are a favorite around here (so much fluffier) along with mini candy canes and whipped cream if I'm feeling extra festive!
Make Ahead: Hot chocolate is just better, well... hot. You can make it ahead, but since it comes together so quickly (and re-heating it takes the same amount of time as the actual recipe), I generally just make it fresh.
Freezer: Nope, not this time. Unfortunately hot chocolate just doesn't belong in the freezer!
Print
The Ultimate Hot Chocolate
Author:

Prep Time:

5 mins

Cook Time:

5 mins

Total Time:

10 minutes

Yield:

1 cup

hot cocoa

1

x
---
Description
The Ultimate Hot Chocolate is  luscious, creamy and made with whole milk, cocoa powder, cane sugar, and vanilla. Serve warm with whipped cream and homemade marshmallows.
---
1 cup

whole milk

1 Tbsp

unsweetened cocoa powder

2 tsp

raw cane sugar

⅛

th teaspoon pure vanilla
Optional: Whipped cream, marshmallows and candy canes
---
Instructions
Add milk to a small pot and heat until really hot (do not boil).
While milk is warming, add cocoa powder and sugar to your mug of choice.
Pour warm milk into mug, stir to combine.
Lastly, add in your vanilla and top with whatever makes you heart feel happy.
---
Helpful Hints:
I made the marshmallows using THIS recipe. I used peppermint extract and added beet juice as "food coloring."
I used Lake Champlain Organic Unsweetened Cocoa Powder. I found mine at Whole Food's but it can be ordered online as well. Whatever cocoa you use, just make sure to check the ingredients. You should be able to recognize All. Of. Them.
Let's Connect:
Posts Like Ultimate Hot Chocolate:
Iced Gingerbread Bars:
How to Make Whole Food Christmas Cookies: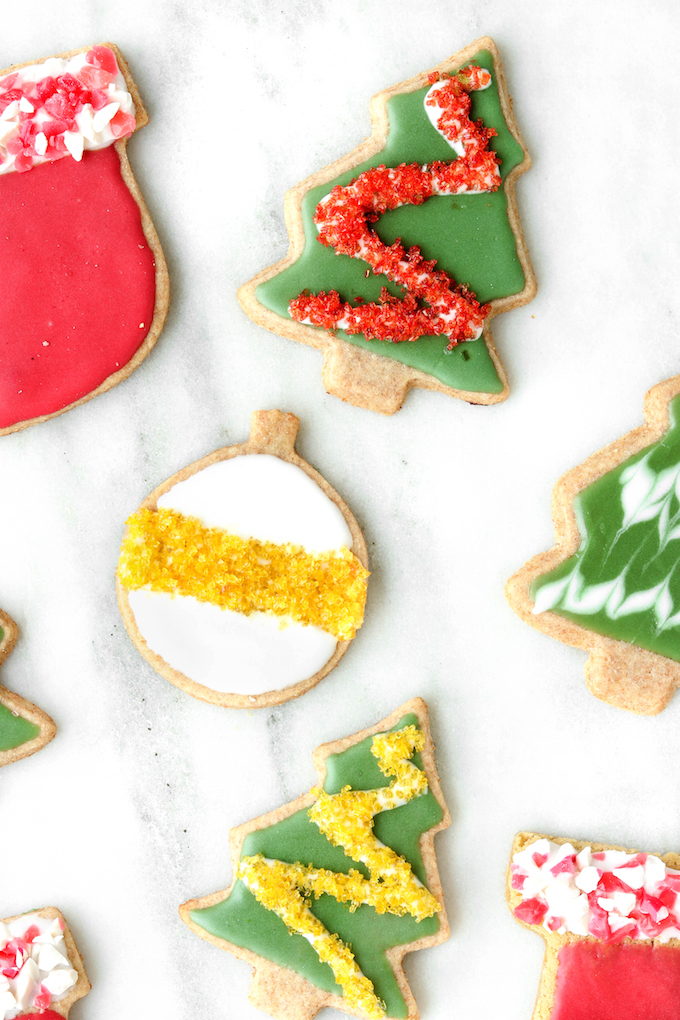 Dye Naturally: Free Downlaod
How to Make Natural Food Coloring for Christmas Baking + Whole Food Christmas Cookie Recipe.