Spaghetti Squash with Meat Sauce is a great alternative to high-calorie, high-carb traditional spaghetti and meatballs and is Whole30 compliant.
Pin Spaghetti Squash with Meat Sauce for later!
This recipe appeared as a part of Simply Sissom's Whole30 January. To download a FREE recipe eBook containing my favorite Whole30 complaint recipes click here.
FACT: I LOVE creative healthy food trades. You know, cauliflower instead of rice type stuff.
FACT: My family isn't always appreciative of my "creative culinary skills" when it comes to dinner time.
Sooo.. when I find a HEALTHY recipe, (you know.. the kind that are made with All. The. Veggies.) and they eat it (even if under duress), well... I count it as a WIN! Annnnd if said recipe fits into my Whole30 January Plan, well... I proceed to make it All. The. Time.
In short, I kinda have a thing going with spaghetti squash. How can you not love a vegetable that tastes like pasta?
With only 42 calories and 10 carbs in a 1-cup serving of cooked spaghetti squash, this vegetable is definitely "resolution friendly". The texture is tender, the flavor is subtle... and most importantly, it looks like spaghetti (crucial when attempting to "trick" a 4 year old into eating spoonfuls of veggies).
"Spaghetti" squash with meat sauce is the perfect weeknight meal when you want something healthy and not too heavy. The meaty marinara gives "staying power" and the squash itself is loaded with fiber.
Pasta like Veggie + Homemade Meaty Marinara = Match (it's science).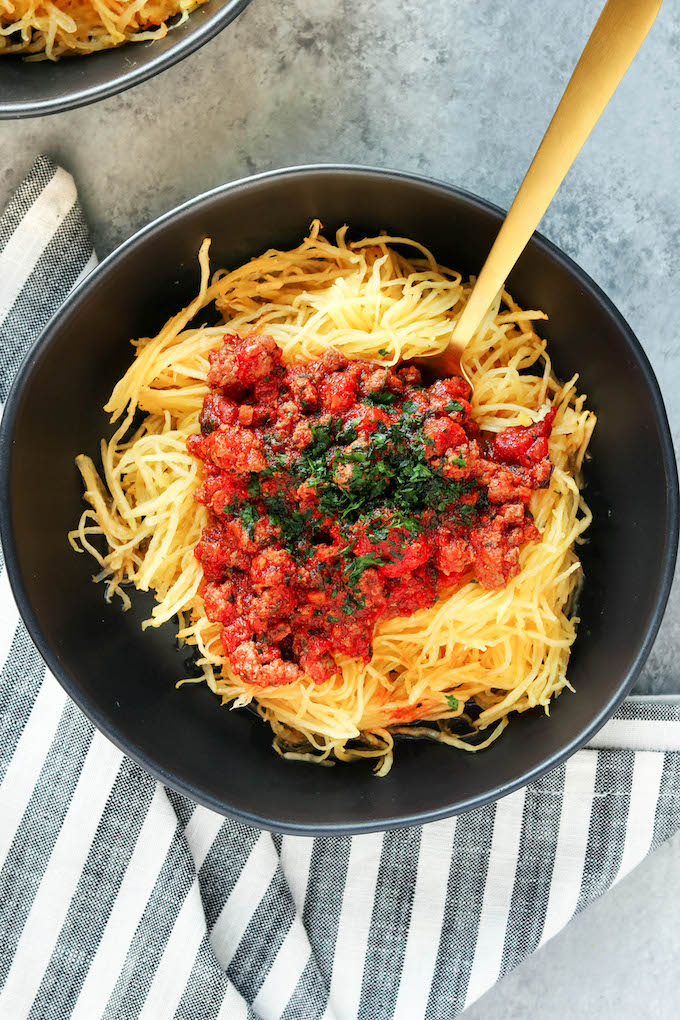 WHAT IS SPAGHETTI SQUASH?
Simply put, spaghetti squash is a vegetable that when cooked, the flesh develops threads that resemble spaghetti. It has a mild flavor somewhat reminiscent of yellow summer squash, making it a fantastic substitute for traditional pasta.
WHY SHOULD I MAKE MY OWN HOMEMADE MEATY MARINARA INSTEAD OF USING STORE-BOUGHT?
First of, it's just really really good. Secondly, when you make something from scratch, you are in control of the quantity and quality of ingredients used. This meaty marinara is full of flavor. Loaded with seasoned beef, fire roasted diced tomatoes, garlic, onions and fresh herbs. I could eat it daily, and probably will for the next bit since I made 4 different batches before declaring it perfect. Hazard of the job. I'm not mad.
IS SPAGHETTI SQUASH HEALTHY?
Spaghetti squash is loaded with nutrients and is much lower in calories and carbs than traditional spaghetti noodles.
MACROS: 1 cup contains 42 calories, 10g carbs, 1g protein, .5g of fat and 2.2g fiber.
HOW DO YOU PREPARE SPAGHETTI SQUASH SAFELY?
Use a sharp knife to "stab" the skin of the squash all over (this prevents it from blowing up in your microwave and CANNOT be skipped).
Place whole squash into the microwave for 4 minutes. This will help it to soften enough so that it can be easily sliced. No reason to risk losing a finger.
Slice the ends of the spaghetti squash so that you have a flat base and the squash can be stood up vertically.
Use a sharp knife to slice the squash in half lengthwise.
Drizzle the squash with olive oil and season liberally with salt and pepper. Roast at 425 for 35-45 minutes, or until the "spaghetti strands" are tender.
Use 2 forks to gently scrape out the flesh of the squash. Now... treat it just like it's spaghetti.
FAQ'S ABOUT SPAGHETTI SQUASH WITH MEAT SAUCE:
Is Spaghetti Squash With Meat Sauce Whole 30 compliant?
Yes! There is no reason to adjust or adapt the recipe.
For the meat sauce, can I substitute ground turkey OR skip the meat entirely?
You bet. This recipe is customizable. Use any type of protein that you like or leave it out completely, you're going to love this one either way.
Can I substitute store-bought marinara sauce for the meat sauce?
Yep. When I'm in a hurry, I like to brown some ground beef or turkey on the stove and then add the jarred marinara sauce.
What is the best brand of store-bought marinara sauce to use with spaghetti squash?
I recommend Rao's tomato basil. It has a recognizable ingredient list AND tastes great.
Can Spaghetti Squash with Meat Sauce be made ahead?
Yes! I recommend baking both the spaghetti squash and meat sauce according to recipe directions and storing them in the refrigerator separately. For the spaghetti squash, you can either remove the "spaghetti" and store it in a bowl, or just leave it in the skin of the squash.
Can You freeze spaghetti squash?
Yes, just use a fork to scrape all of the fibers from the squash and store them in an airtight freezer-friendly bag. They will keep for up to 3 months. To thaw, just allow the squash to come to room temperature. You can freeze the spaghetti squash all together or as individual portions.
Print
Spaghetti Squash with Healthy Meat Sauce
Author:

Prep Time:

20 mins

Cook Time:

40 mins

Total Time:

1 hour

Yield:

4

servings

1

x
---
2

small spaghetti squash, sliced in half lengthwise
olive oil
salt/pepper

1

sweet onion, diced

4

garlic cloves

1

lb. ground meat (beef, turkey or chicken)

½ cup

fresh basil, chopped

1

28 oz can fire roasted diced tomatoes

6

TBS tomato paste

1 ½ tsp

oregano

½ tsp

thyme

¼ cup

chopped parsley (optional)
---
Instructions
SPAGHETTI SQUASH: Heat oven to 425. Use a sharp knife to stab the squash 10-15 times. Microwave squash for 4 minutes and allow to cool.  Slice of the ends of the squash and stand it up vertically. Slice squash lengthwise. Remove seeds/strings from squash using a spoon. Lightly rub the inside of the squash with olive oil. Sprinkle with salt and pepper. Roast for 35-45 minutes or until squash is tender. Remove squash from oven and allow it to cool for about 10 minutes. Use a fork to gently scrape the sides and bottom of the squash to create "spaghetti."
HEALTHY MEAT SAUCE: Heat large skillet over medium heat. Add olive oil and allow to cook 1 minute. Add onion and garlic. Season with salt and pepper. Cook until onions begin to turn translucent, about 5 minutes. Stir frequently. Add ground meat. Season with salt and pepper. Cook until meat is no longer pink, about 8 minutes. Add basil, diced tomatoes, tomato paste, oregano and thyme. Bring mixture to a boil, and then lower heat to medium-low and allow to simmer for 20 minutes or until desired consistency is reached.  Stir to combine. Season as needed.
ASSEMBLY: Top spaghetti squash with ¼ of the meat sauce. Sprinkle with chopped parsley (optional). Serve and enjoy.
---
Notes
If you don't have time to make homemade marinara you can use store-bought. Just brown 1 lb. of meat and add a 1 jar of store-bought sauce. To give it more of a homemade taste, I like to add a little dried basil and oregano while it's warming on the stove.
Don't buy the biggest spaghetti squash. Smaller = easier to cut.
Let's Connect:
You can find Simply Sissom on Instagram where I share even more recipes (some that aren't on the blog), behind the scenes pics and videos AND tips and tricks to make healthy eating realistic for your busy family.
Did you make this recipe? If you tried the recipe, I would love to see it, and have you share! Tag me @simplysissom using the hashtag #simplysissom.
Recipes Like "Spaghetti" Squash with Meat Sauce:
Freezer-Friendly Marinara Sauce:
Clean Eating Lasagna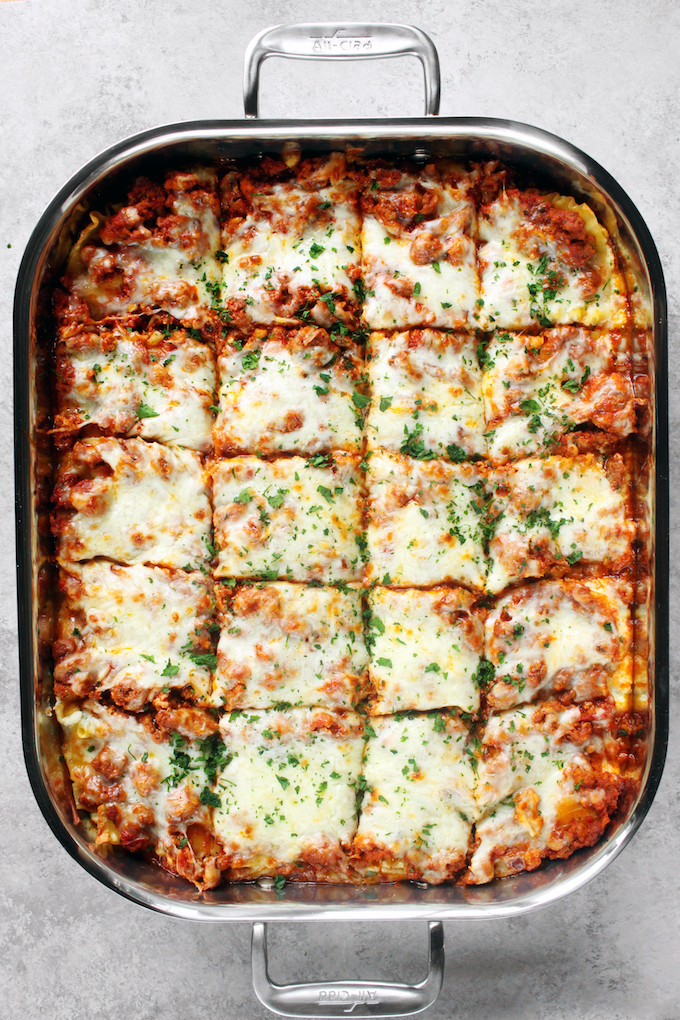 4-Ingredient Chicken Pesto Bake:
SaveSave
FREE WHOLE30 COOKBOOK
12 Family Friendly Whole30 Compliant Recipes from Simply Sissom.