Chicken Fried (CAULIFLOWER) Rice has all the flavor of take-out without any of the carbs, grains, calories or fat. Best part, it comes together in 1 pan and 15 minutes!
Pin Chicken Fried (Cauliflower) Rice for later!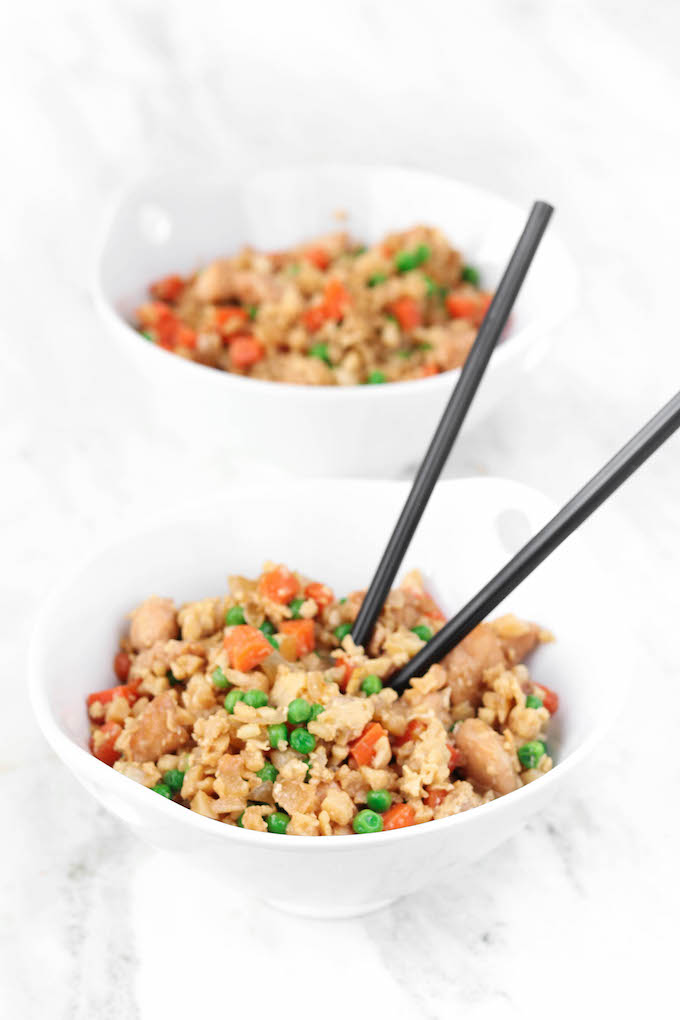 Ok, prepare yourself.. I'm starting out 2016 with a game changer.
Chicken Fried (CAULIFLOWER) Rice. Yep, you read that correctly. Fried rice that is made out of cauliflower !!!
To a Chinese-takeout junkie like myself, this recipe is divine. All the flavor and non-of the carbs, grain, calories, and fat.  You guys, I would not lie about something of such a serious nature... it is just REALLY REALLY good.
Is cauliflower the best, or is cauliflower the best? Yes to both.
But really, this fried rice is special because ... A) it's made COMPLETELY of veggies and B) you CANNOT tell that it is made COMPLETELY of veggies.
I'll admit.. there was a fair amount of skepticism on my part about this growing trend.. I mean swapping cauliflower for rice? You guys, don't think. Just do it.
My very favorite thing about this version of fried rice is that it can be table ready in 15 minutes. I ❤️ SIMPLE AND SPEEDY. It's loaded with tons of fresh veggies, tender scrambled eggs, and an extra special Asian style sauce made with a hint of toasted sesame oil, a splash of rice vinegar, a dollop of ginger  and finished off with liquid aminoes or soy sauce (chef's choice).
This is definitely one of those recipes that has me "sneaking to the refrigerator" for snacks multiple times throughout the day... please pretend that you know what I'm talking about.
Making Cauliflower rice is super simple. Rinse and pat dry cauliflower and use cheese grater to grate the cauliflower to a course texture (approximately the size of rice grains). If you are super lazy fancy you can bust out the food processor. Just fill processor with roughly chopped cauliflower and pulse until desired texture is reached.
From there, it's super simple. Dump, stir, mix, repeat.

While I absolutely LOVE Chicken Fried (CAULIFLOWER) rice, my boys are leary. Lately I have been making the recipe and dividing it into individual containers. It makes an awesome grab n' go lunch. Please tell me I'm not the only one that gets tempted to go on a Panera run if I don't have something ready to go..
Time Saving Tips and Tricks:
Prep: You can rice the cauliflower several days before you plan to make the rice. Since I am currently borderlined obsessed with this recipe and I am not the type of person that enjoys cleaning my food processor,  I  just keep LOTS of riced cauliflower in the fridge. It makes throwing this recipe together no big thing. The veggies can be pre-chopped and stored in ziplock bags. You can also remake the Asian sauce. When it's time for dinner you will be all set!
Make Ahead: Of course.. this really does taste great reheated!
Freezer: If you are feeling totally on top of life go ahead and make TONS of cauliflower rice at the same time, It can be stored in an airtight bag in the freezer (uncooked) for up to 3 months.
Chicken Fried (CAULIFLOWER) Rice Video:
Print
Chicken Fried (CAULIFLOWER) Rice
Author:

Prep Time:

10 mins

Cook Time:

15 mins

Total Time:

25 minutes

Yield:

4

servings

1

x
---
1

Tbs olive oil

3

carrots, diced

1

small onion, diced

1

lb. chicken breast, diced into

1

" cubes

5

TBS soy sauce/liquid amino, divided

1 tsp

cornstarch

3 cups

cauliflower, riced

1 cup

green peas, frozen

1 tsp

ginger, minced

1 tsp

rice vinegar

1 tsp

sesame oil

2

eggs, scrambled and cooled
---
Instructions
FOR THE FRIED RICE: Heat olive oil over medium high heat in a wok or large skillet. When oil is hot, add carrots and onions. Cook until onions are translucent and carrots begin to soften, about 5 minutes. Add cauliflower and cooke 2-3 minutes. Add peas, ginger, rice vinegar, sesame oil, and 2 TBS of soy sauce. Stir frequently. Allow mixture to cook until cauliflower is tender.
FOR THE CHICKEN: Combine raw diced chicken, cornstarch, and 3 TBS of soy sauce in a small mixing bowl. Stir to combine. Allow to marinade at least 5 minutes. In a medium skillet, over medium high heat, add the diced chicken (discard remaining marinating juices). Stir frequently. Allow chicken to cook until no longer pink, about 5-7 minutes. Set Aside.
PUTTING IT ALL TOGETHER:
Into the wok or large skillet add the cooked diced chicken and scrambled eggs. Mix to combine. Serve immediately.
---
Helpful Hints:
Liquid aminos have a stronger taste than traditional soy sauce. If using, you may want to use a little less than is stated in the recipe.
Occasionally I have found riced cauliflower at Whole Foods and Trader Joe's. It costs a little more than buying a head of cauliflower and doing the ricing yourself but, let's be honest, cleaning the food processor stinks!
If you don't have a food processor to rice the cauliflower you can use a regular box grater. The results will be the same it will just take a bit of extra time.
If you want this recipe to be vegan or vegetarian friendly just skip on the chicken and/or eggs. I have made this recipe without either ingredient and it is still delicious!
Let's Connect:
Recipes similar to Chicken Fried (CAULIFLOWER) Rice:
Veggie Loaded Chicken Pad Thai: