Thai Chopped Chicken Salad is exploding with flavors and textures. Crispy purple cabbage, Juicy Chicken, sweet carrots, crunchy peanuts and spicy peanut sauce. A make-ahead friendly lunch option.
Pin Thai Chopped Chicken Salad for later!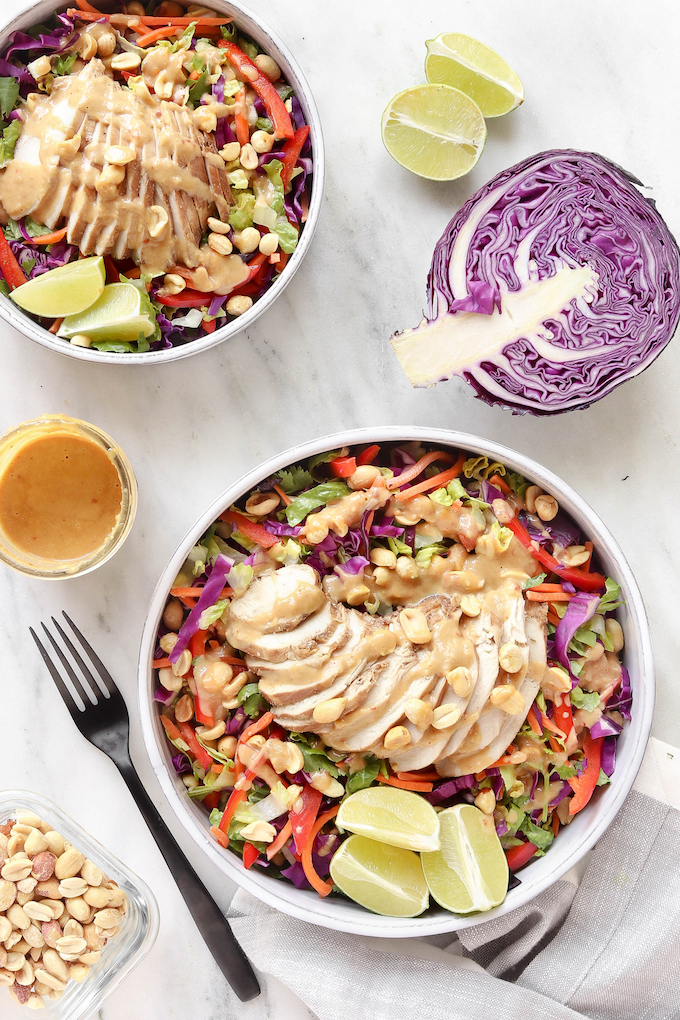 Lets talk about lunch. Basic, necessary, everyday lunch.
You know, the meal that happens right smack in the middle of the day...  after soccer camp, before speech lessons and during nap time.
I hate making lunch. I tend to start making a lunch plan when everyone is already hungry and cranky, never before. I'm trying to break this habit, but for some reason the words "plan ahead" don't exist for me in the realm of lunches. I have no problem planning elaborate dinners, grab and go breakfasts, and packing healthy snacks, but planning what's for lunch before 11:45? Crazy talk. My bad attitude towards lunch often leads to a trip through Panera, costing a whopping $25 dollars for the boys and I to eat food that is less than nutritionally ideal.
I have ordered the same salad at Panera for at least 5 years. I honestly don't even know what else is on the menu.  I have had grand intentions of making a cleaned up and cheaper version at home for at least a year, but the word Thai was intimidating. Today I faced my fears. Over and over again. The Thai peanut sauce took some trial and error, but I prevailed.  I present... my version of Thai Chopped Chicken Salad and you guys, it's really tasty!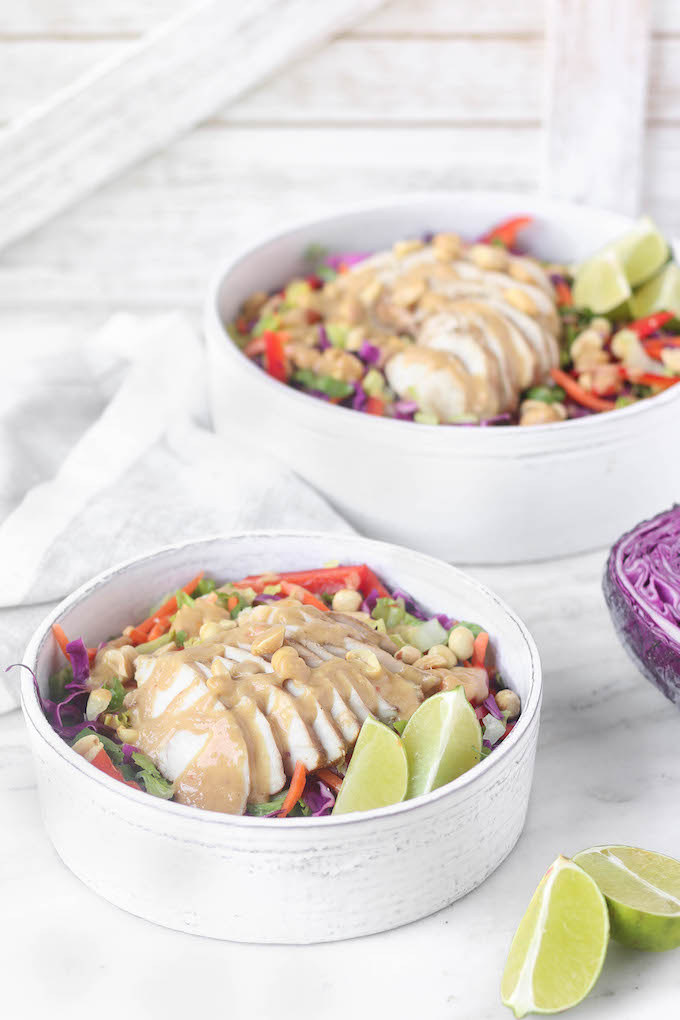 Romaine lettuce, purple cabbage, red peppers, carrots, fresh cilantro, and crunchy peanuts tossed in lime juice and drizzled with a Spicy Thai Peanut Sauce. Refined sugar and hydrogenated oil free. This salad is made of whole food ingredients! Best part .. you can put it into mason jars.. which will make you feel like a Pinteresty Domestic Divia (please say that's not just me, lol).
Mason jar salads are a bit of an art form. Seriously, you don't want to mess up the order of the ingredients or you will have a soggy mess!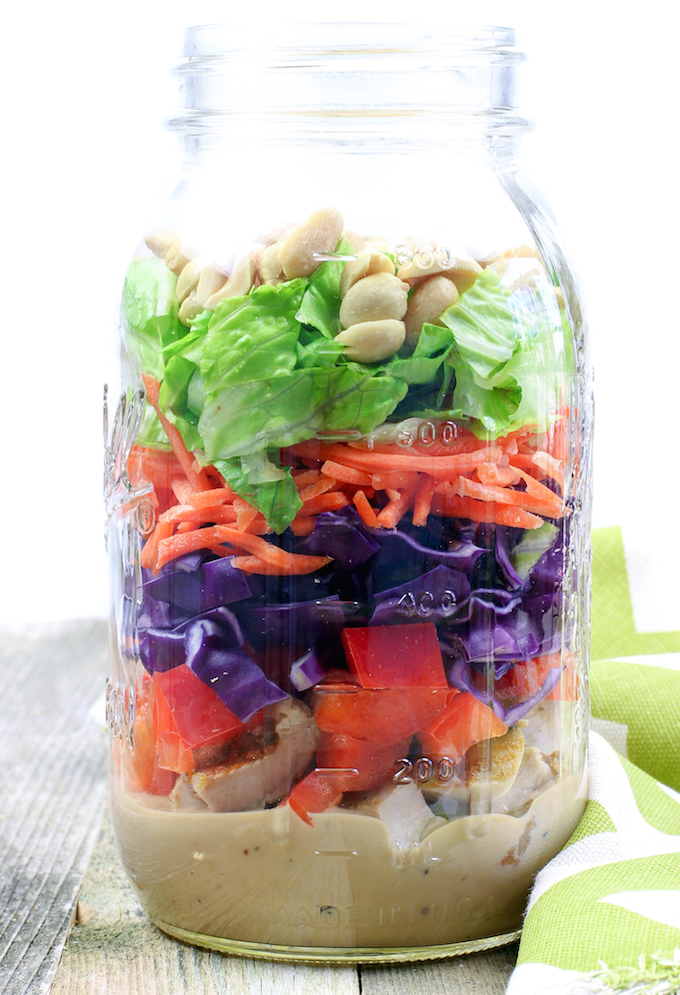 Cheat Sheet:
Dressing (thai peanut sauce)
Grains and/or protein (chicken)
Sturdy produce (peppers, cabbage, carrots)
Delicate/leafy (romaine lettuce)
Extras (peanuts)
Time Saving Tips and Tricks:
Prep: 
Thai peanut sauce can be made ahead of time in stored in the refrigerator for up to a week in an airtight container. If you notice that it has solidified because of the olive oil just remove it from the fridge and allow it to come back to room temperature. Add a little water and stir if necessary.
Veggies can be pre-chopped/shredded. I used a food processor to save myself the chopping. You could just buy a bag of pre-cut cole slaw veggies to save time.
Chicken can be pre-cooked or even left over from a previous dinner.
Make-Ahead:
Follow recipe. Assemble extra salads in mason jars as described above. It's ready when you are!
Freezer: Sorry guys, not this time!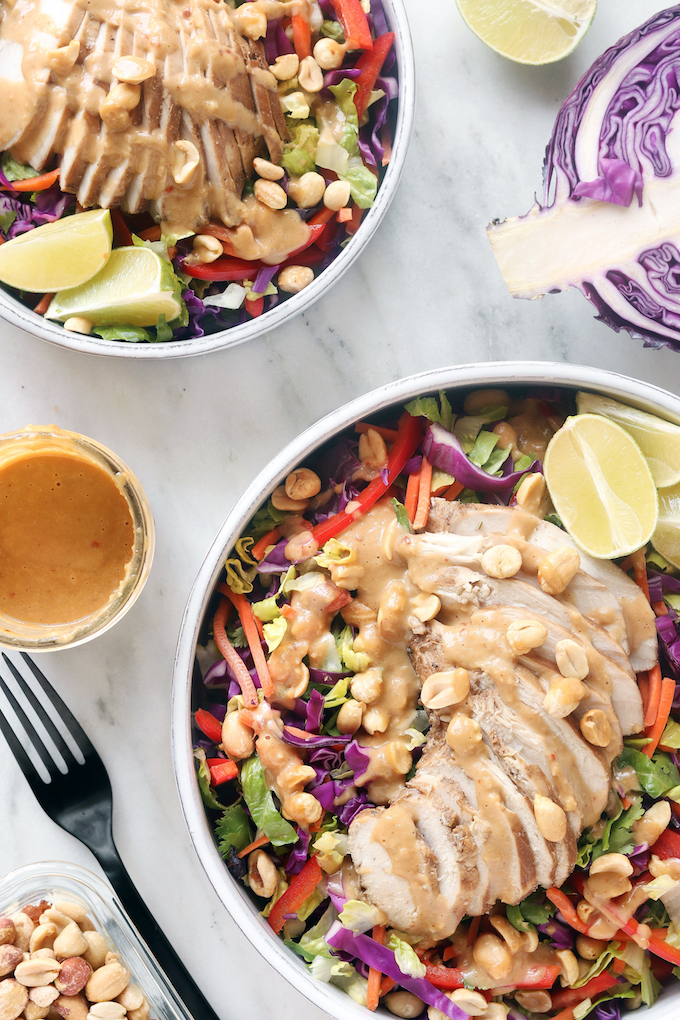 Print
📖 Recipe
Thai Chopped Chicken Salad
Author:

Prep Time:

20 mins

Total Time:

20 minutes

Yield:

2

salads

1

x

Category:

Salad
---
THAI PEANUT SAUCE:
⅓ cup

creamy peanut butter

6

TBS olive oil

¼ cup

water

2

TBS honey

4

TBS lime juice, divided

2

TBS rice vinegar

1 ½

TBS Bragg's liquid aminos (soy sauce substitute)

1

TBS ginger, minced

½

TBS garlic, minced

½ tsp

red pepper flakes, more if desired

¼ tsp

fine grain sea salt
THAI CHICKEN SALAD:
2

chicken breasts, prepared

½

head purple cabbage, shredded or thinly sliced

1

red pepper, chopped

1 cup

shredded carrots

1

small head of Romaine lettuce, shredded

¼ cup

cilantro, roughly chopped

¼ cup

peanuts, chopped
---
Instructions
THAI PEANUT SAUCE: Combine peanut butter, olive oil, water, honey, 2 TBS of lime juice, rice vinegar, liquid amino, ginger, garlic, red pepper flakes, and sea salt. In a high speed blender or food processor blend the ingredients until they are completely incorporated. Add water to achieve desired consistency.
THAI CHICKEN SALAD: In a large bowl, combine cabbage, pepper, carrots, Romaine and cilantro. Toss to mix. Divide the mixture evenly between 2 bowls. Top each bowl with prepared chicken and peanuts. Drizzle on desired amount of dressing.
THAI CHICKEN SALAD (MASON JAR/PREP AHEAD): Pour 2 TBS of thai peanut sauce into jar. Layer chicken, cabbage, red peppers, carrots, romaine lettuce, cilantro and peanuts. Seal jar. Refrigerate. Prior to eating remove jar from the refrigerator. Allow salad to come to room temperature. Squeeze remaining 2 TBS of lime juice over the contents of the jar. Shake well. Enjoy!
---
Notes
You will have extra dressing. It will keep for up to a week in the fridge and is delicious for dipping veggies and topping stir-fry!
Thai Dressing will thicken when refrigerated. Allow it to come to room temp or pop it in the microwave to loosen it up if needed.
Keywords: Salad, Thai, Chicken
Let's Connect:
Recipes Like Thai Chopped Chicken Salad:

Healthy Whole Food Chicken Salad: