Simple, flavorful Lemon Tahini Bliss Bowls are amazingly hearty with creamy avocados, perfectly roasted veggies, crispy walnuts and a zesty tahini-based dressing. A healthy plant-based meal.

Pin Lemon Tahini Bliss Bowls for later!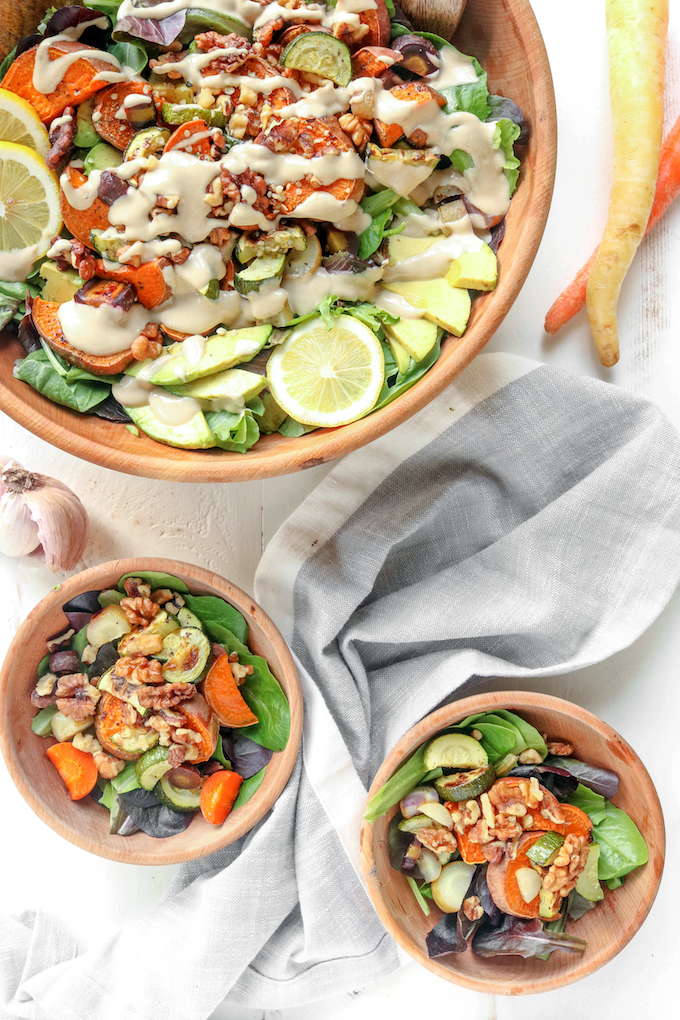 Friends, today is one of the happiest days of my Summer.
I'm for sure going to tell you why, but first... gentle reminder that this is a judgement free zone!
Ok, ready...
I just dropped my kids of for "She-Ha and Papaw Camp!" AKA... 4 DAYS Totally. Kid. Free. Now, don't get me wrong, Joe and I go on date nights and occasionally travel sans kiddos, but there is just something special about being without kids, BUT still in my own house.
I'd like to tell you that I've used the day to do super relaxing things like getting a mani/pedi followed by a massage and then reading chick lit by the pool, but I can't.  I did exercise and then take a shower where I used shampoo AND conditioner AND shaved BOTH of my legs! Craziest thing.. nobody busted in and asked me to solve a problem, questioned how much longer I'd be, or told me they were hungry. It was delightful!
I spent a small chunk of time this afternoon prepping food for weekend lunches, because the plan.. NO MORE COOKING during the best weekend ever! Lexington does a Burger week where most of the restaurants in town offer a special burger for $5.00 (it's kinda a big deal around here) so that will be the dinner plan.
For lunches, I prepped these Lemon Tahini Bliss Bowls, and you guys... I think this might be the best recipe that I have ever posted. It's super simple to throw together, prep-friendly, and with a words like "bliss bowl" in the title, you will feel healthier just for making it!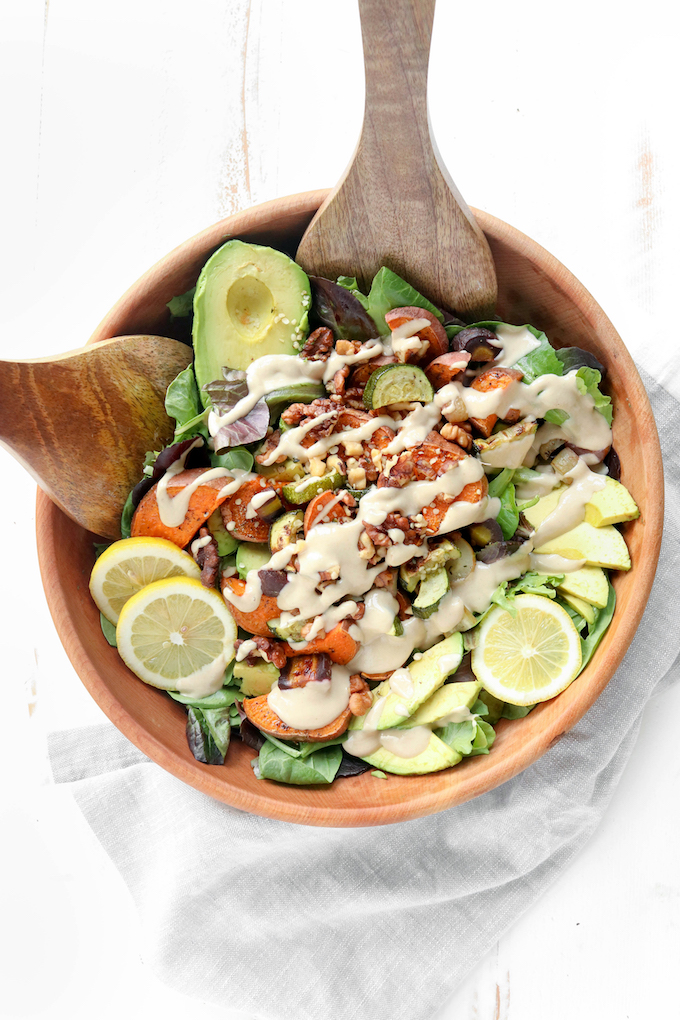 The whole concept is pretty simple. Start with a bed of your favorite greens (I used baby Romaine), top with TONS of roasted veggies and chopped avocado, and then drizzle on some lemon-tahini dressing. This recipe is Paleo compliant, Whole-30 friendly, Vegan, gluten-free and all around fabulous.
The dressing makes EVERYTHING come together and it couldn't be simpler. Just combine a scoop of tahini with fresh lemon juice and minced garlic. Add a little salt and olive oil, then give it a stir. It has the same consistency as creamy ranch dressing (my favorite), but it made from less than 5 whole-food ingredients!
Time Saving Tips and Tricks
Prep: Roasting the veggies ahead of time and making sure that your lettuce is cleaned and chopped makes throwing this recipe together really simple. The dressing can also be prepped ahead and stored in the fridge for up to 3 days (it will solidify in the fridge, just allow it to come to room temp and add a little warm water while stirring if needed).
Make Ahead: Yes! These salads are great to throw together at the beginning of the week and then enjoy throughout. I usually hold off on adding the salad dressing and avocado as they are best when added right before eating.
Freezer: Not this time! Roasted veggies don't freeze well and when I tried freezing this dressing, it separated and the flavor changed completely.
Print
---
FOR THE SALAD:
4

carrots, halved and sliced

2

zucchini, halved and sliced

3

sweet potatoes, halved and sliced

4 cups

salad greens, washed and chopped

2

avocados, peeled and chopped

½ cup

toasted walnuts

¼ cup

hemp hearts ** optional**
FOR THE DRESSING:
juice of

2

lemons

¼ cup

tahini

1

garlic clove, minced

⅛ tsp

salt

½ tsp

olive oil
---
Instructions
ROASTED VEGGIES:
Heat oven to 425. Line 2 baking sheets with parchment paper. Arrange chopped carrots, zucchini into a single layer on the first sheet and the potatoes into a single layer on the second. Drizzle all the veggies with olive oil and season with salt and pepper. Toss to coat. Roast the carrots and zucchini for 20-25 minutes or until tender. Roast the potatoes for 30-35 minutes or until tender.
DRESSING:
In a small bowl, combine lemon juice, tahini, garlic, salt and olive oil. Mix to incorporate. If too thick, add a little warm water. Set aside.
ASSEMBLE SALAD:
In each of 4 salad bowls, place 1 cup salad greens; ¼ of the potatoes, zucchini and carrots; ½ an avocado; 2 TBS toasted walnuts and sprinkle with hemp hearts (optional). Top each salad with ¼ of the lemon-tahini dressing just prior to serving.
---
Let's Be Friends:
Posts like Roasted Veggie Salad with Lemon Tahini Dressing: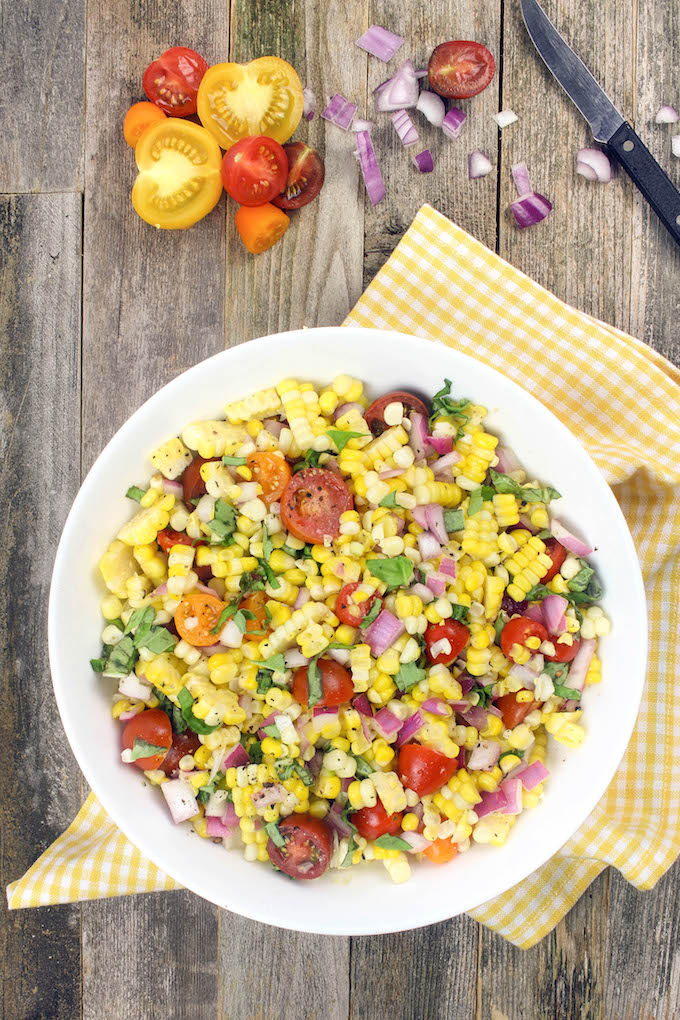 Easy Vegan Smoked Macaroni Salad: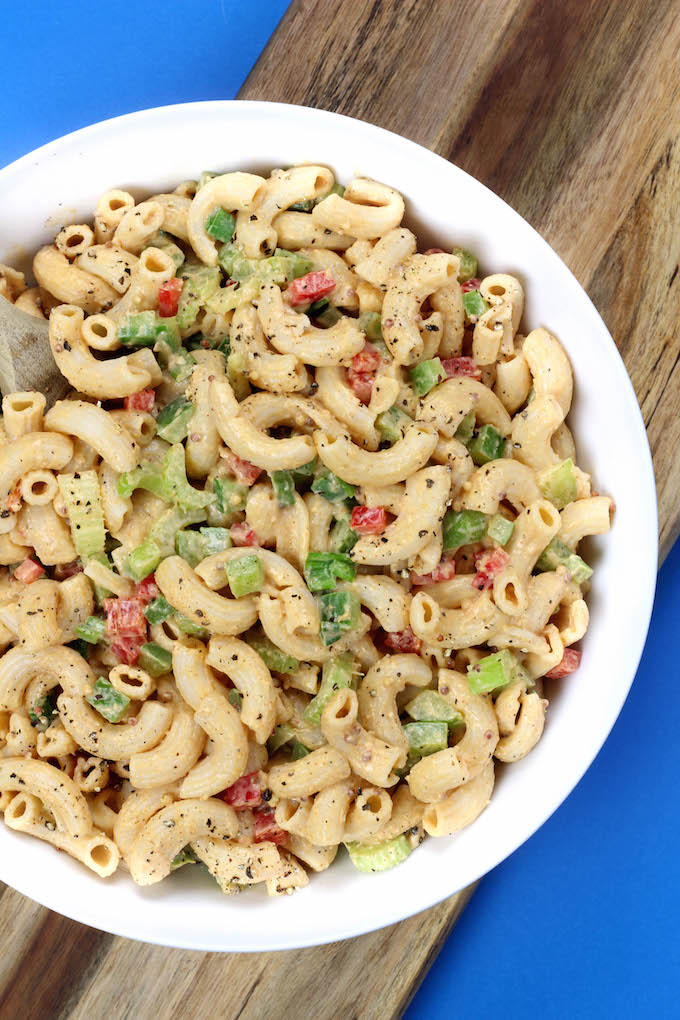 Southwestern Quinoa Salad with Roasted Red Pepper Dressing:
SaveSave
SaveSave
FREE WHOLE30 COOKBOOK
12 Family Friendly Whole30 Compliant Recipes from Simply Sissom.