Heart and Seoul Grain Bowls are packed with protein and perfect for meal prepping. A blend of quinoa, baby kale, red onion, cucumber, carrots, edamame, hard boiled eggs. Topped with homemade pumpkin seed granola and gochujang vinaigrette. Inspired by my favorite salad at The Vinaigrette Salad Kitchen.
Pin and Heart and Seoul Grain Bowls for later!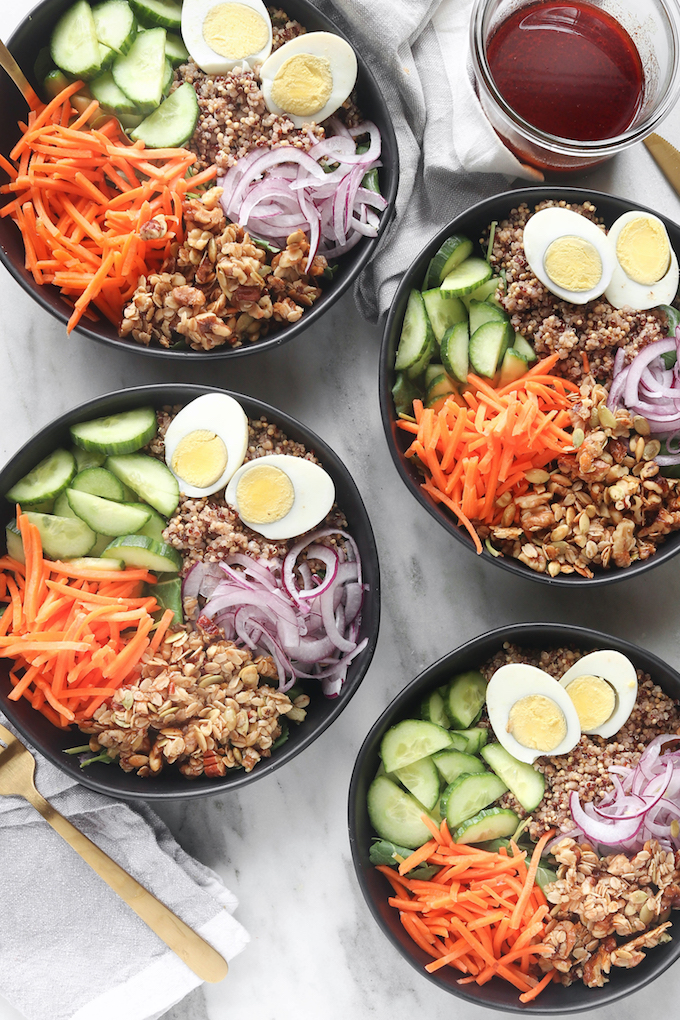 I would like to propose an idea:
This Heart and Seoul Grain Bowl becomes this week's lunch FOR YOU.
I often find that I get so caught up in packing lunches and making dinner plans for my family that I forget about preparing healthy options for myself to have throughout the day. I'm not making any crazy resolutions this year (I inevitably fail every time), but I am working on making myself and my health more of a priority.
For me, this looks like getting back to exercising on a regular basis, showering daily (<-- I have a 12 week old, no judging !!) and prepping my breakfast and lunches in advance so I have healthy options readily available when I open the fridge. Basically, my post-December-Christmas-indulging-self desperately needs to have a moment with meal prep.
And no, these Heart and Seoul Grain Bowls don't have to be meal prep - it can just be a delicious dinner situation that you whip up in no time flat. It's healthy, it's colorful, and it's mindlessly easy. You do you, okay?
Here's what I love about this recipe:
It is easy. There are lots of components, but most are pretty hands off or offer short-cut options.
It is adaptable. Meat or no meat, kale vs spinach vs Romaine.. use what you like and what you have.
The Gochujang Vinaigrette has that umami + sweet flavor profile that we all know and love.. only WITHOUT REFINED SUGAR. There are the usual suspects of soy sauce, garlic and ginger, but then traditional white sugar is swapped out for honey.
Ok, let's just state the obvious. There are quite a few elements at play here.
Veggies (kale, onion, cucumber, carrot and edamame)
Cooked grains
Hard boiled eggs
Sesame/Pumpkin Seed Granola
Gochujang Vinaigrette
And even though I'm mostly a minimalist when it comes to cooking - as in, don't have time to make more than one thing for one recipe - I'm going to encourage you to make all 5 parts happen. It's the only way that these Heart and Seoul Bowls can truly reach their full potential. Keep in mind.. this recipe is handling your lunch for the week.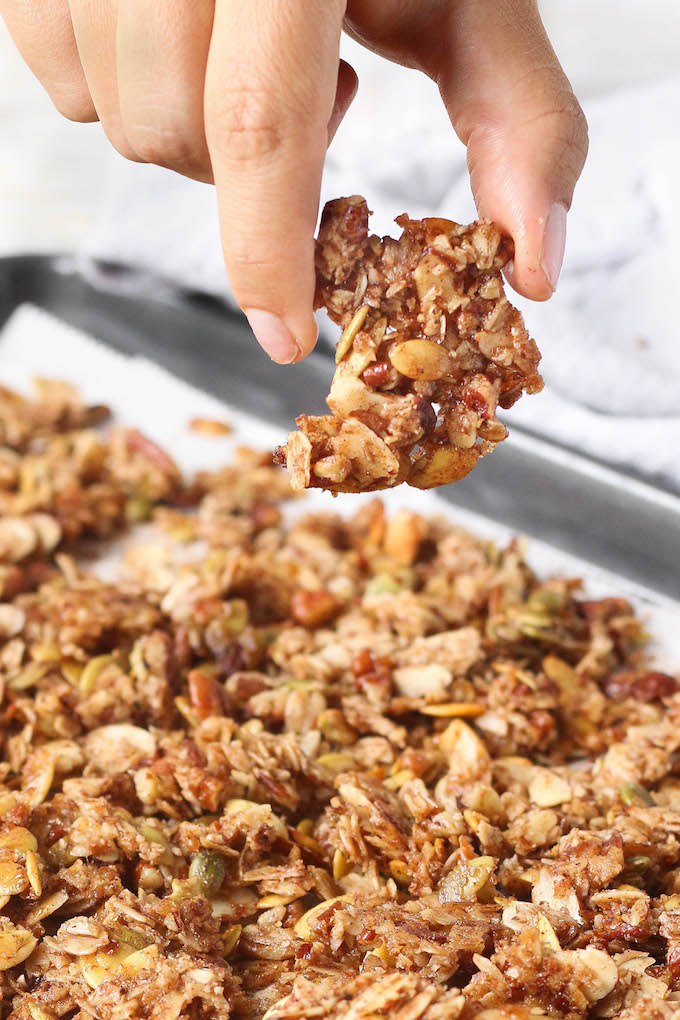 A Few Shortcut Tips/Options:
I used a mandolin to finely slice the onions and cucumber. If you don't have one, just chop.. buuuuut it def saved me some time.
Purchase baby pre-washed baby kale and pre-shredded carrots. No washing, spinning, peeling or chopping required.
Quinoa can be purchased in the freezer section. A couple minutes in the microwave and it's all set.
I used the Instant Pot to make my hard boiled eggs. If you haven't tried this.. you must. It's my favorite thing about the instant pot. The shells slide right off! Here's the tutorial I used to make mine.
If you really need to save some time you can purchase store bought granola. Just look for a version that has recognizable ingredients and doesn't have tons of sugar.
So... cut those veggies, cook those grains, boil the eggs, whip up the granola and blend up that vinaigrette.
I promised you really really tasty AND good for you recipes for January.
So far, so good.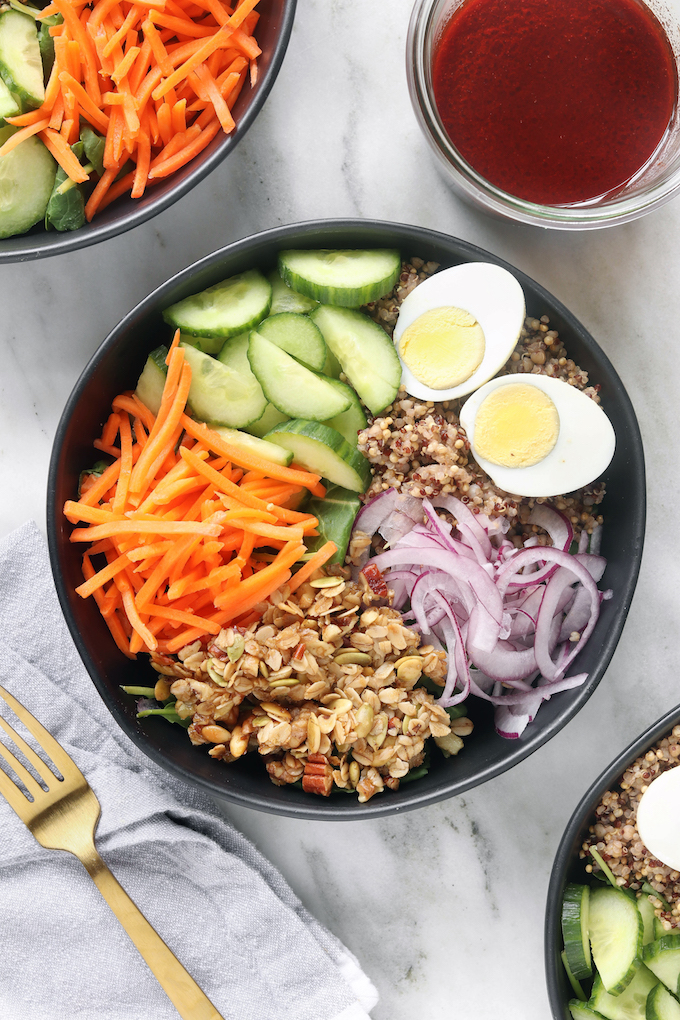 Time Saving Tips and Tricks:
Prep: All components of this recipe can be prepped ahead of time and assembled later. In fact.. I spent all day doing small jobs between naps, dirty diapers and refereeing.
Make Ahead: This recipe is perfect for meal prep/make ahead. I assembled 5 bowls (the 5th was a little scrawny) and plan to eat them throughout the week. They store well in the refrigerator.
Freezer: The quinoa and granola can be made in advance and frozen for later use. Both will last several months!R
Print
📖 Recipe
Heart and Seoul Grain Bowl
Author:

Prep Time:

30 minutes

Cook Time:

15 minutes

Total Time:

45 minutes

Yield:

4

Large Grain Bowls

1

x
---
Description
Heart and Seoul Grain Bowls are packed with protein and perfect for meal prepping. A blend of quinoa, baby kale, red onion, cucumber, carrots, edamame, hard boiled eggs. Topped with homemade pumpkin seed granola and gochujang vinaigrette.
---
For the Salad:
4 cups baby kale
2 cups quinoa, prepared
½ small onion, thinly sliced
½ english cucumber, sliced into thin half moons
1 cup shredded carrots
1 cup edamame, shelled
4 hard boiled eggs
For the Gochujang Vinaigrette:
¼ cup gochujang
2 Tbs honey
¼ cup rice vinegar
2 Tbs olive oil
2 Tbs sesame oil
¼ cup soy sauce
2 garlic cloves minced
For The Pumpkin Seed Granola:
1 ½ cups walnuts
1 cup rolled oats
¼ tsp sea salt
½ cup pepita seeds
¼ cup maple syrup
¼ cup coconut oil, melted
2 tsp vanilla extract
---
Instructions
For the Salad:
To each of 4 bowls, add  1 cup kale, ½ cup quinoa, ¼ of the sliced onions, ¼ of the sliced cucumbers, ¼ cup of shredded carrots, ¼ cup of edamame and 1 hard boiled egg.
For the Gochugang Vinaigrette:
Whisk all dressing ingredients together until fully combined.
For the Pumpkin Seed Granola:
Preheat oven to 350 degrees and line a baking sheet with parchment paper or silicone mat.
In a medium size mixing bowl combine walnuts, oats, salt, pepita seeds, maple syrup, coconut oil and vanilla extract. Use a rubber spatula to stir. Make sure all ingredients are coated in the oil/maple syrup.
Pour the granola onto prepared baking sheet and use the rubber spatula to press it into a thin layer. Bake for 12-15 minutes or until the edges are slightly browned. Remove the pan from the oven and allow the granola to cool for at least 15 minutes.
After 15 minutes, break up the granola with your hands into whatever size chunks you desire. The granola will store in an airtight container for up to a week. You will have extra. It's great for a yogurt topper, a quick snack or even with milk poured over it. Don't throw it away!
Assembly: 
Top each grain bowl with ¼ cup of pumpkin seed granola and drizzle on desired amount of gochujang vinaigrette.
---
Notes
There will be extra granola. Don't throw it away. Granola is great as an oatmeal topper, mixed with some yogurt or even as a quick grab n' go snack. It won't go to waste!
The extra gochujang vinaigrette will store in the refrigerator for up to a week (probably longer).
Let's Connect:
You can find Simply Sissom on Instagram where I share even more recipes (some that aren't on the blog), behind the scenes pics and videos AND tips and tricks to make healthy eating realistic for your busy family.
Recipes Like Heart and Seoul Grain Bowls:
Quick Korean Beef Bowls: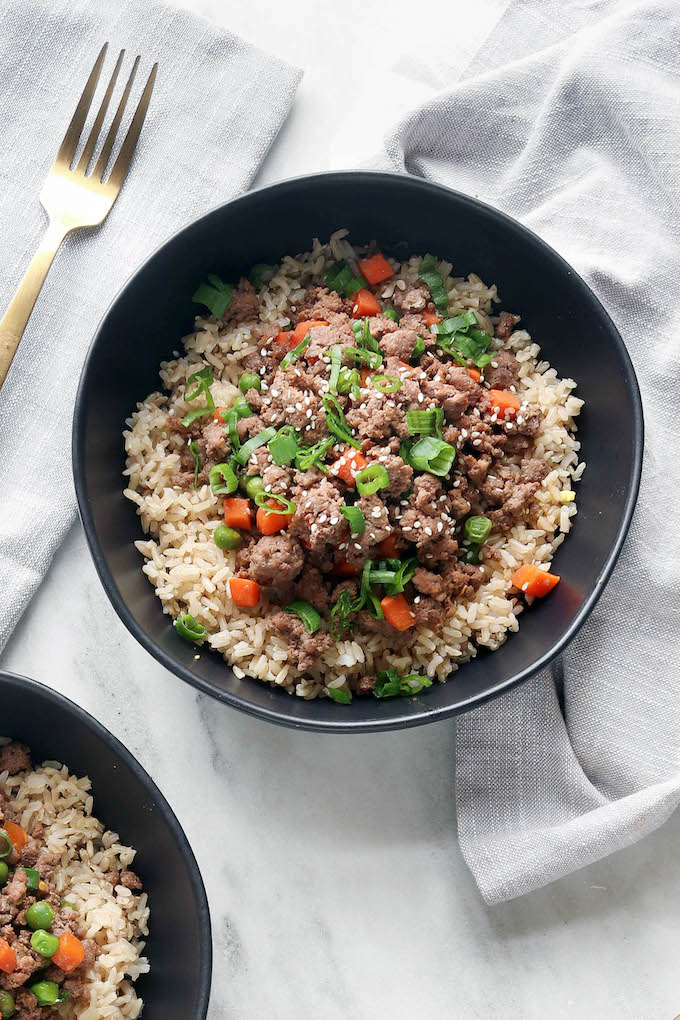 Chicken Fried Cauliflower Rice: