A no-frills, step-by-step guide to building a simple and inexpensive Charcuterie Board using ingredients that can be found at Trader Joe's. Perfect for all social occasions.
Pin How To Build A Simple + Inexpensive Trader Joe's Charcuterie Board for later!
First thing.. I'm going to level with you guys. I'm feeling pretty grown up right now. Yeah, yeah... I know, at 36 I should probably be striving to feel the exact opposite of any adjective that implies "old," but seriously, did you even get a good look at that charcuterie board up there? Fancy cheese ✔️. Swanky crackers✔️. Prosciutto + Dates ✔️. You guys, there is even FIG BUTTER. Honestly, I don't even know what that is, but when you add it to the fancy cheese and swanky crackers... good things happen.
I've never made a charcuterie board in my life. Yep, this is #1. I'm going to back the story up just a bit. If you follow @simplysissom on Instagram, you know that I have recently become OBSESSED with meal swapping (<--you can read all about it here). While my group traditionally meets with kids in tow and coffee in hand, when it was my turn to host I decided to go with a girls night theme. It's been awhile, but best I remember, WINE + SNACKS are essential to this situation. I wanted to do something that felt just a little special (even if we did only hang out for about 45 minutes on my back deck). Enter THIS charcuterie board.
I feel compelled to tell you, I can't take even 1% credit for this fancy adult-oriented appetizer. Credit to Jimmy from Trader Joe's. He found me walking aimlessly from aisle to aisle with random cheeses paired with crackers that were "far too delicate for my cheese selections." 😳. The salami in my cart was "over-powering" and I had chosen some chocolate covered almonds that "didn't pair with the wine." Jimmy was concerned. I was embarrassed (and a little amused by All. The. Rules.).
That said, I don't want you my good reader to find yourself in the same boat. For that reason, this post is going to be a little different than others posts I have read about How To Build A Charcuterie Board. I'm not going to give you vague suggestions. I'm giving specifics. Keep in mind, this info will be super helpful if you are new to preparing charcuterie boards. If you are an experienced "charcuteriest (<--it's a thing) look elsewhere. This one is for rookies!
What Is A Charcuterie Board?
A charcuterie board is a collection of cooked ingredients such as prepared meats, crackers, cheeses, nuts, dried fruits, jams, pickled vegetables, olives that are arranged on a board or platter.
How Do You Build A Charcuterie Board?
There is no right or wrong way to build a charcuterie board. The step-by-step directions explain how to make THIS particular charcuterie board. All of the ingredients were purchased from Trader Joe's, but if you don't have a local TJ's they are common enough that you should be able to purchase similar or even exact ingredients from your local grocery store.
Here's what you need:
1. Crackers: I selected 2 different options.
Trader Joe's Multigrain Pita Bite Crackers
Trader Joe's Raisin Rosemary Crisps
2. Meat: I chose prosciutto that I have used before and know to be fairly easy to separate, and a basic salami that didn't have lots of extra spices around the edges (can't have the meat overpowering the cheese + crackers).
Trader Joe's Stockmeyer Prosciutto (this can be sticky and difficult to separate without tearing. It helps if you refrigerate it until right before attempting to separate it.
Trader Joe's Salami di Parma Mild Salami
3. Cheese: This was tricky for me, I am not an expert. I went with Jimmy's suggestions and there was not a single cheese that everyone didn't enjoy. I did purposely veer away from blue cheese because I'm not a fan. That said, if you like it, you could definitely add some or serve it in place of the brie. I recommend serving a soft cheese (brie), a safe cheese/something everyone will like for sure (goat's milk) and a hard cheese (Jasper Hill Caved Aged Cheese).
Trader Joe's French Brie (Soft Cheese)
Trader Joe's Chèvre with Honey Goat's Milk Cheesegmail
Trader Joe's Jasper Hill Vault No. 5 Cave Aged Cheese (I enjoyed this, but could also be subbed out for Vermont White Cheddar Cheese)
4. Dried Fruit and Jam: I know they are ugly, but Medjool dates are SO delicious. They do contain pits, so make sure that you either warn your guests or take the work out by slicing them in half and removing the pit prior to serving. I went with Fig Butter in lieu of jam per Jimmy's suggestion.
Trader Joe's Fancy Medjool Dates
Trader Joe's Fig Butter
5. Olives and Pickled Vegetables: I chose olives that were already pitted (no time for that) and artichoke hearts that were packed in oil for a little extra flavor.
Trader Joe's Pitted, Salted Manzanilla Olives (sold in non-refrigerated individual servings - I bought 2
Trader Joe's Marinated Artichoke Hearts
6. Nuts: Any type of nut would work, but I chose to go with Marcona Almonds because they were flavored with rosemary and sea salt which made them seem a little more special.
Trader Joe's Marcona Almonds with Rosemary
7. Fresh Fruit: I went with apples because grapes + wine felt a little redundant.
Envy Apples - They don't turn brown/yellow as quickly as some other varieties when they are sliced.
Favorite Pairings From This Trader Joe's Charcuterie Board:
You can obviously enjoy the charcuterie board ingredients however you like them! That said, I was a little intimidated by the fabulousness of this spread. Here's some suggestions you can give to the guests who may be a little lost (like me).
Prosciutto + Medjool Dates: Just wrap a little prosciutto around a date. If you're feeling fancy you could even add a little goat cheese to the center.
Chevre Honey Goat Cheese + Raisin Rosemary Crackers
Multigrain Pita Bites + Jasper Hill Cheese: Adding a little fig butter to this situation only makes it taste better!
Trader Joe's Multigrain Pita Bite Crackers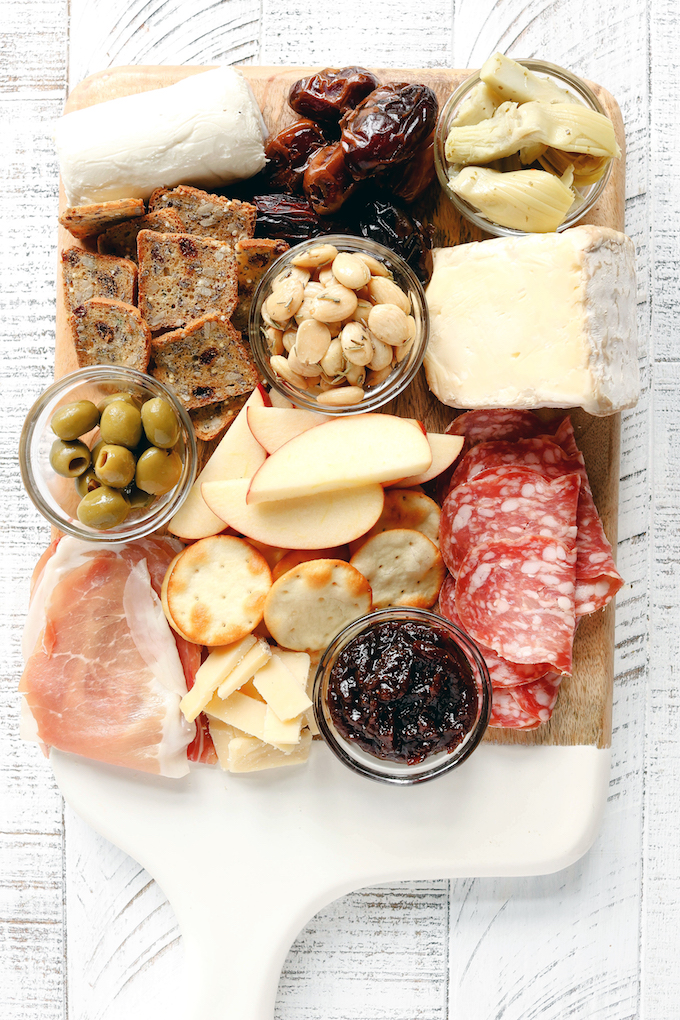 Print
How To Build A Simple + Inexpensive Trader Joe's Charcuterie Board
Author:

Prep Time:

10 minutes

Cook Time:

0 minutes

Total Time:

10 minutes

Yield:

8

servings

1

x

Category:

Appetizer

Method:

Charcuterie

Cuisine:

Unknown
---
Description
A no-frills,  step-by-step guide to building a simple and inexpensive Charcuterie Board using ingredients that can be found at Trader Joe's. Perfect for all social occasions.
---
1

Box Multigrain Pita Bite Crackers

1

Box Raisin Rosemary Crisps

1

package Stockmeyer Prosciutto

1

package Salami di Parma Mild Salami
 French Brie
Chèvre with Honey Goat's Milk Cheese
Jasper Hill Vault No. 5 Caved Aged Cheese

1

container Fancy Medjool Dates

1

jar Fig Butter

2

packages Salted Manzanilla Olives

1

jar Marinated Artichoke Hearts

1

bag Marcona Almonds with Rosemary

2

Envy apples
---
Instructions
Arrange all ingredients onto a large cutting board or wooden serving platter. Use the pictures provided in this post as a guide or get creative and make your own arrangement.
---
Notes
Make sure to pit the dates prior to arranging them on the saving platter.
Add a few cheese knives, toothpicks and/or tiny forks so that guests don't have to use their fingers.
Keywords: Trader Joes, Charcuterie, Easy, Inexpensive
Let's Be Friends:
You can find Simply Sissom on Instagram where I share even more recipes (some that aren't on the blog), behind the scenes pics and videos AND tips and tricks to make healthy eating realistic for your busy family.
Did you make this recipe? If you tried the recipe, I would love to see it and have you share! Tag me @simplysissom using the hashtag #simplysissom.
Recipes Like Trader Joe's Charcuterie Board:
Prosciutto Arugula Salad Wraps: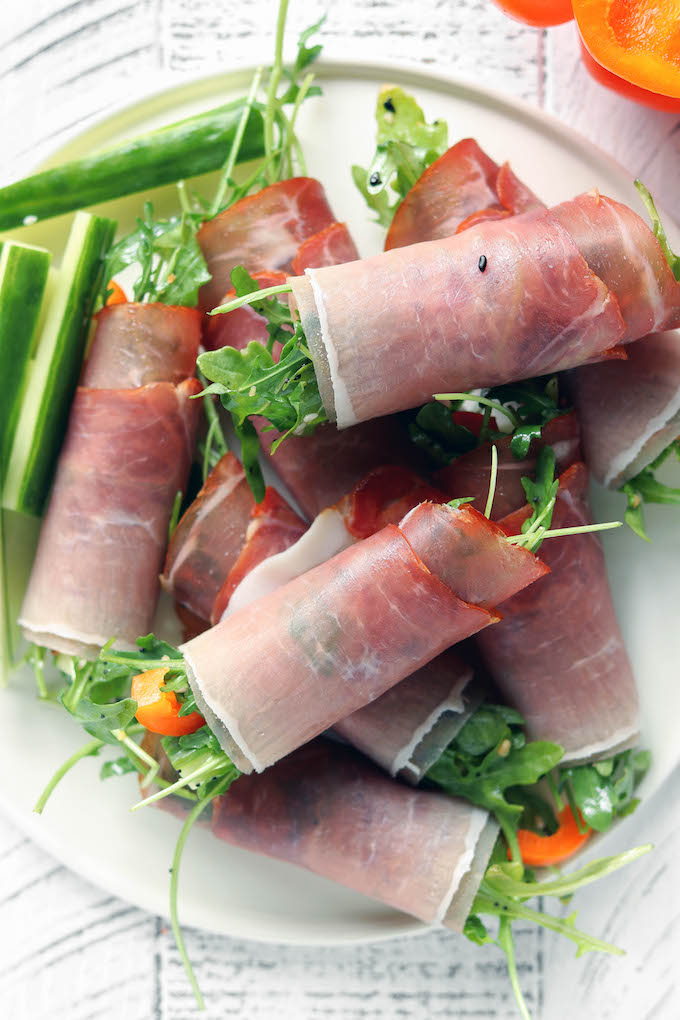 5-Ingredient Baked Brie with Cranberry Sauce:
Superfood Dark Chocolate Quinoa Bark: