A no-frills, step-by-step guide to building a simple Trader Joe's Charcuterie Board using basic easy to find ingredients. Perfect for all social occasions.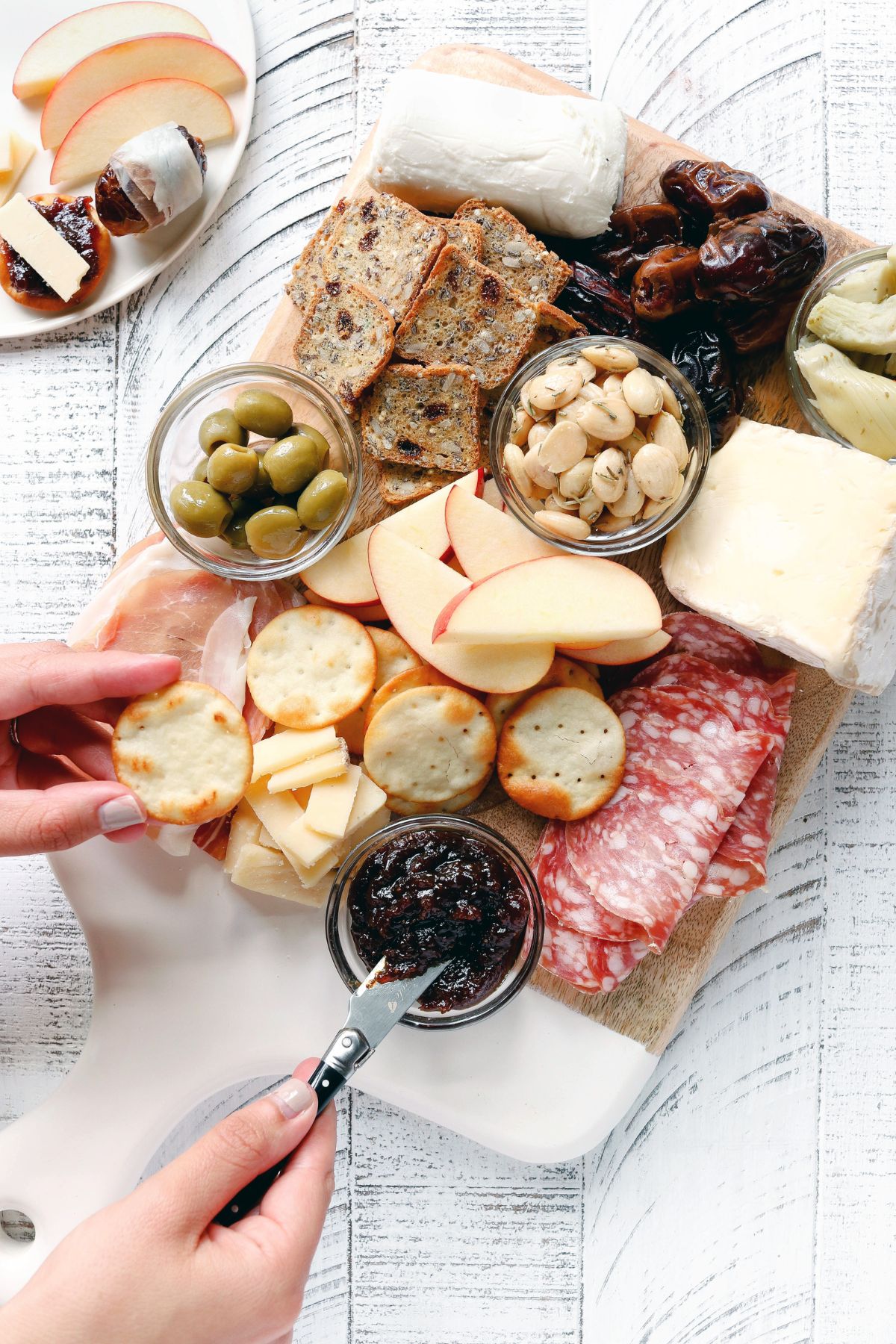 "This was my first time making a charcuterie board and using the information in this post made it so easy! Everything was delicious and easy to find in store. This charcuterie board is definitely my new go to appetizer!"

-Cheryl
Putting together a charcuterie board is not many people's favorite thing. We've all been there...standing in the speciality section along side infinite rows of cheese sorted by type, country of origin, level of sharpness, etc. etc. It's intimidating, overwhelming and most perhaps most frustratingly ...time consuming.
This post is going to be different than other "How To Build A Charcuterie Board" posts. All ingredients are purchased from Trader Joe's. There are no vague suggestions or lists of multiple ingredient options. The focus is on specifics. This recipe details exactly what to buy, where to find it, how to arrange it (with step-by-step pictures) and even a few suggestions for boards that would be perfect to serve it on.
If you are new to preparing a charcuterie board .. we've got you with this one! If you are an experienced "charcuteriest" or someone that enjoys the experience of making ALL. THE. CHOICES, look elsewhere. This one is for rookies, and we promise you ... everyone is going to love it!
Jump to:
🧀 Ingredients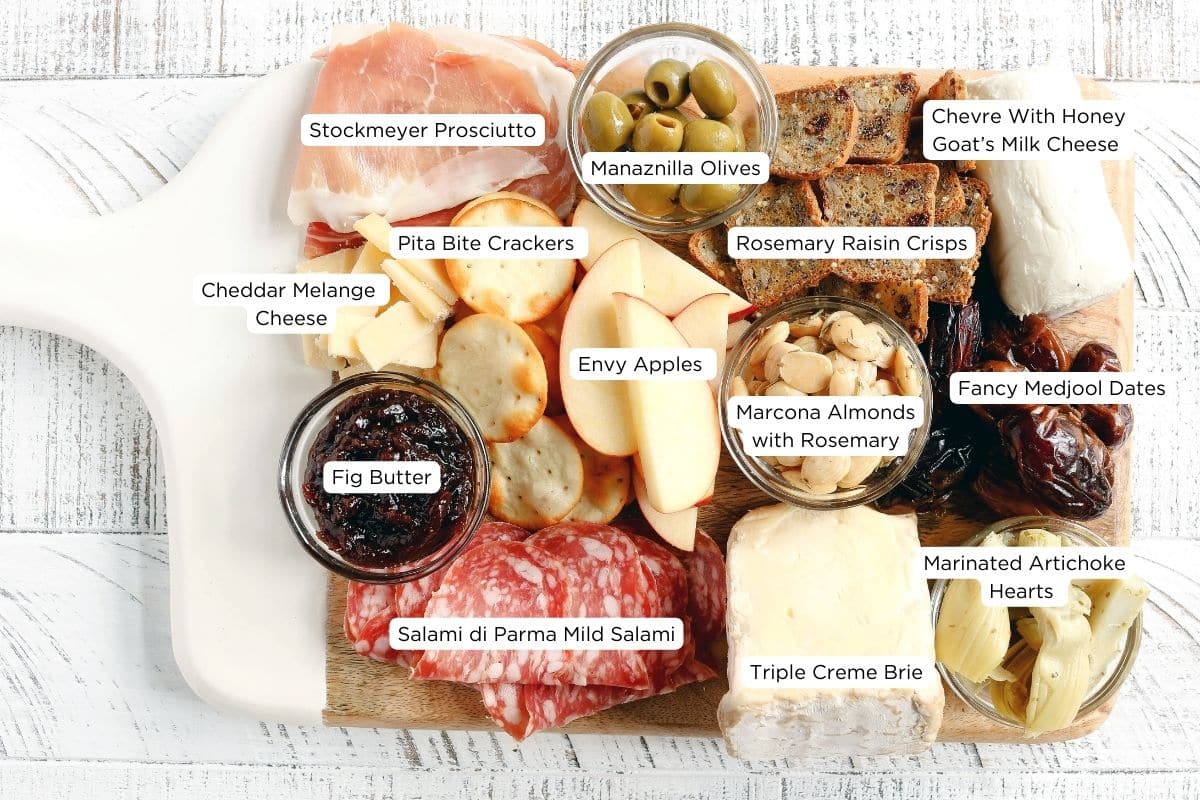 Meats and Cheeses: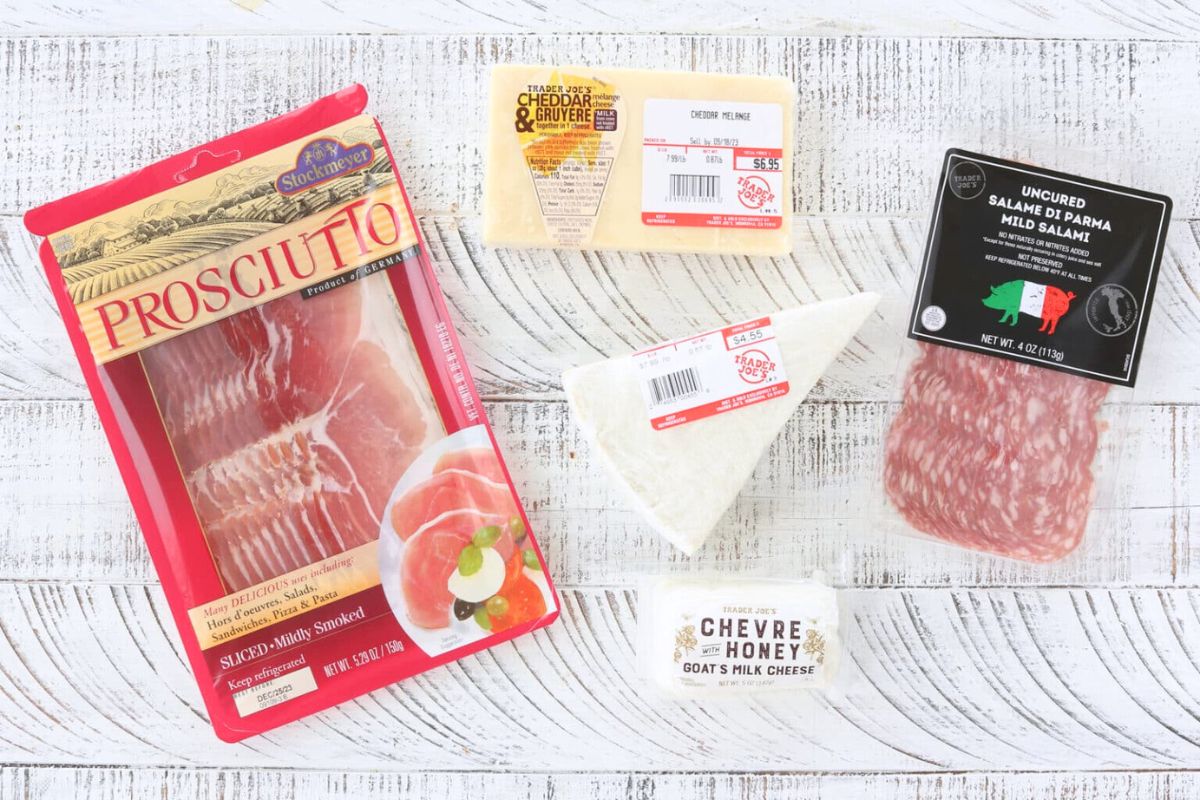 Meats:
1 package Stockmeyer Prosciutto
1 package Salami di Parma Mild Salami
Cheeses:
Triple Creme Brie Cheese
Chèvre with Honey Goat's Milk Cheese
Cheddar Melange Cheese & Gruyere
Non-Refrigerated Items:
Crackers:
Pita Bite Crackers - versatile option that pairs well with all meats and cheeses
Raisin Rosemary Crisps - unique flavor profile that works well with goat cheese and fig butter
Fruits:
Fancy Medjool Dates - already pitted, an easy addition to any charcuterie board
Fig Butter - a sweet spread that perfectly compliments the brie and goat cheese
Envy Apples - don't brown as quickly as other varieties
Marinated:
Salted Manzanilla Olives - no refrigeration required and sold in single use packages
Marinated Artichoke Hearts - the perfect partner for specialty cheeses and smoked meats
Nuts:
Marcona Almonds with Rosemary - a fun twist on traditional salted almonds
*** See recipe card for specific amounts
🔪 Equipment
Likely you have everything you need on hand. The board depicted in this post is 10"x14" and serves 4-6 people easily. The board shown in this post is no longer available. We have linked some options below that are similarly sized.
Cutting Boards/Charcuterie Trays:
Glass Prep Bowls:
📒Instructions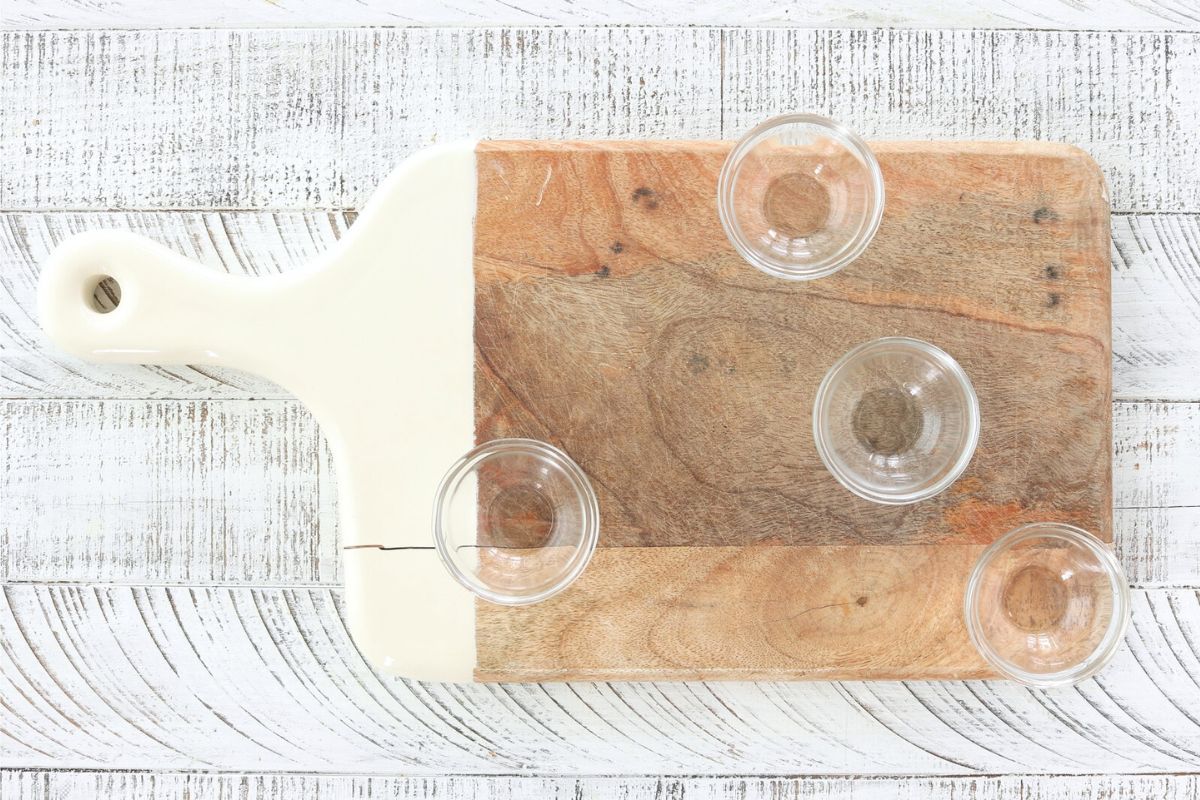 Step 1: Select your board. The charcuterie board shown on this post is on a 10"x14" board and is perfect for serving 4-6 people. You can absolutely use a board up to double this size and still have enough ingredients to fill the larger board completely.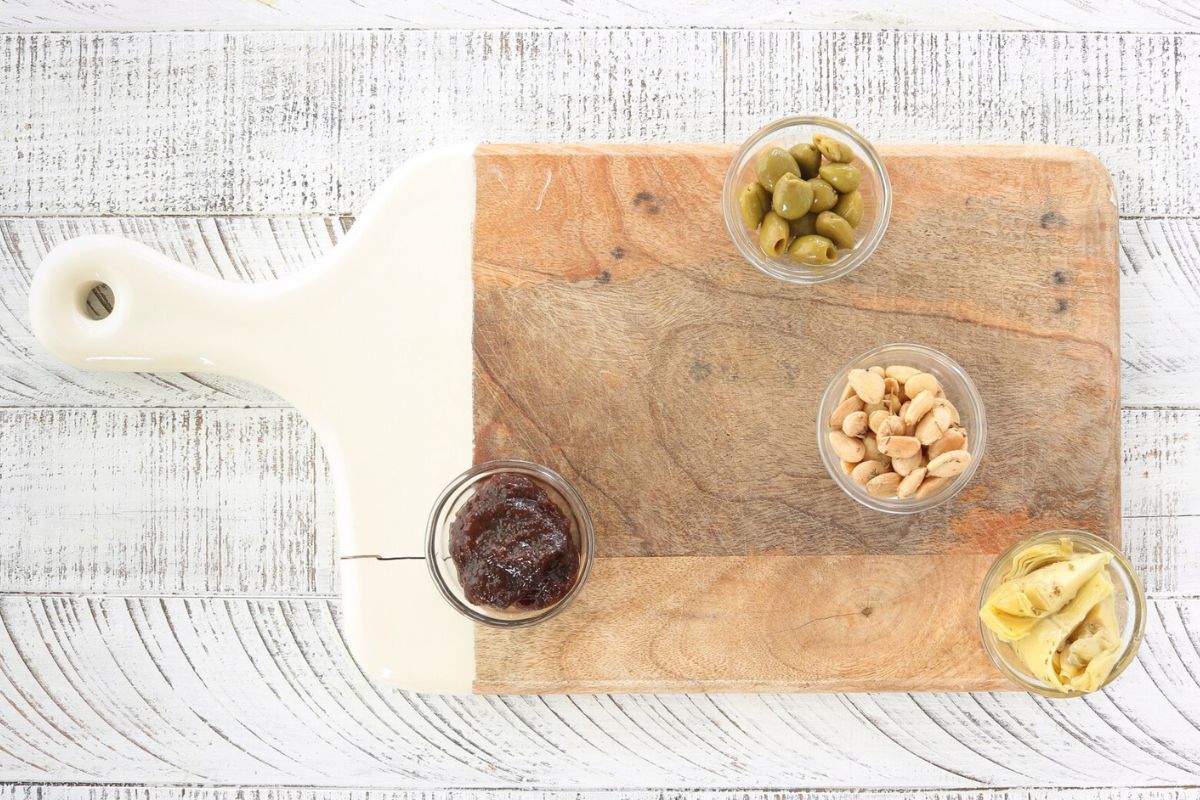 Step 2: Arrange 4 glass bowls onto your serving board. Use the image above for reference. The bowls pictured are 3.5" in diameter. Place each ingredient (olives, almonds, fig butter and artichoke hearts) into their own empty bowl.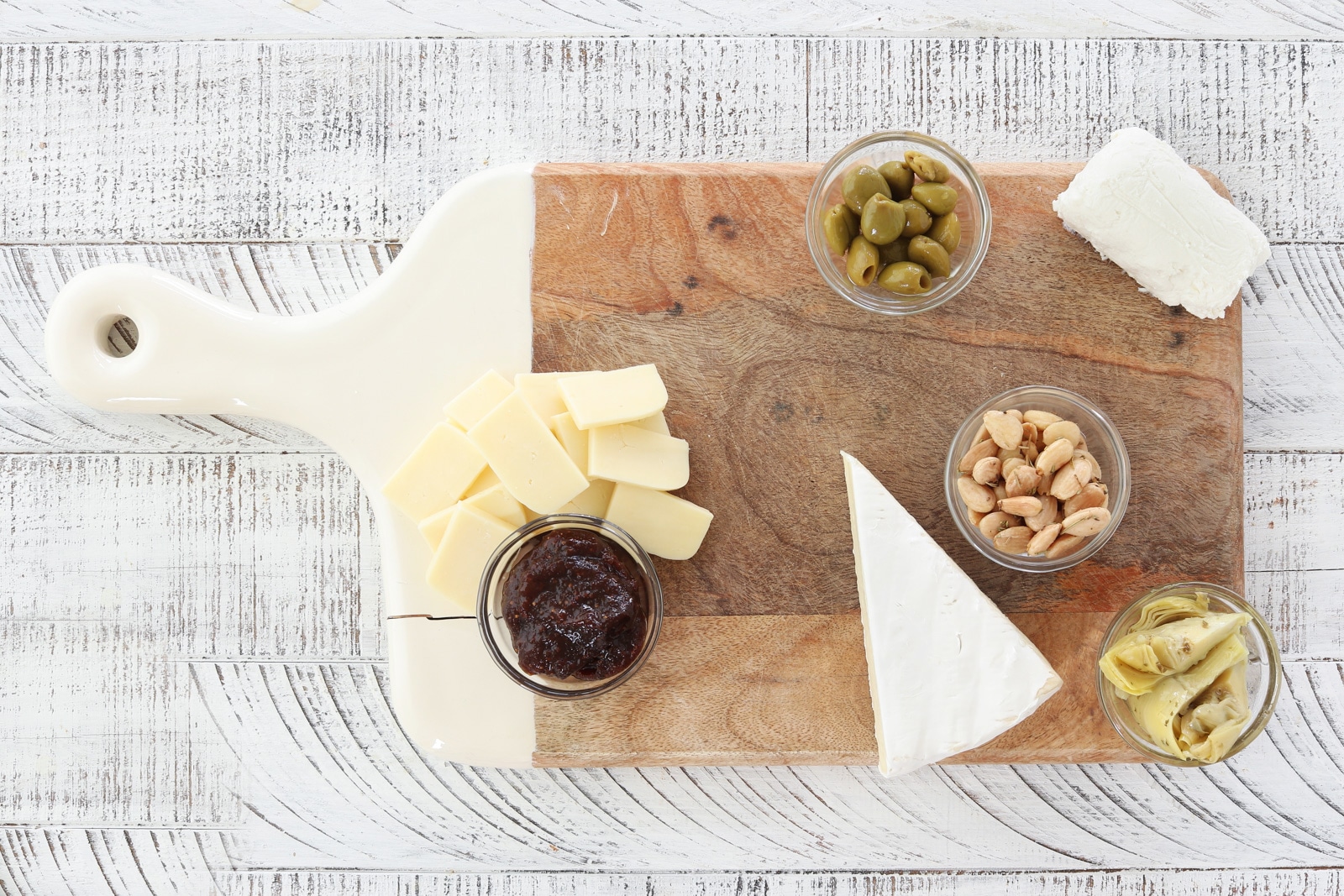 Step 3: Place the 3 assorted cheeses onto the board. The Goat's Milk Cheese and Triple Creme Brie can just be unwrapped and placed as is. The Cheddar Melange will need to sliced into bite size pieces.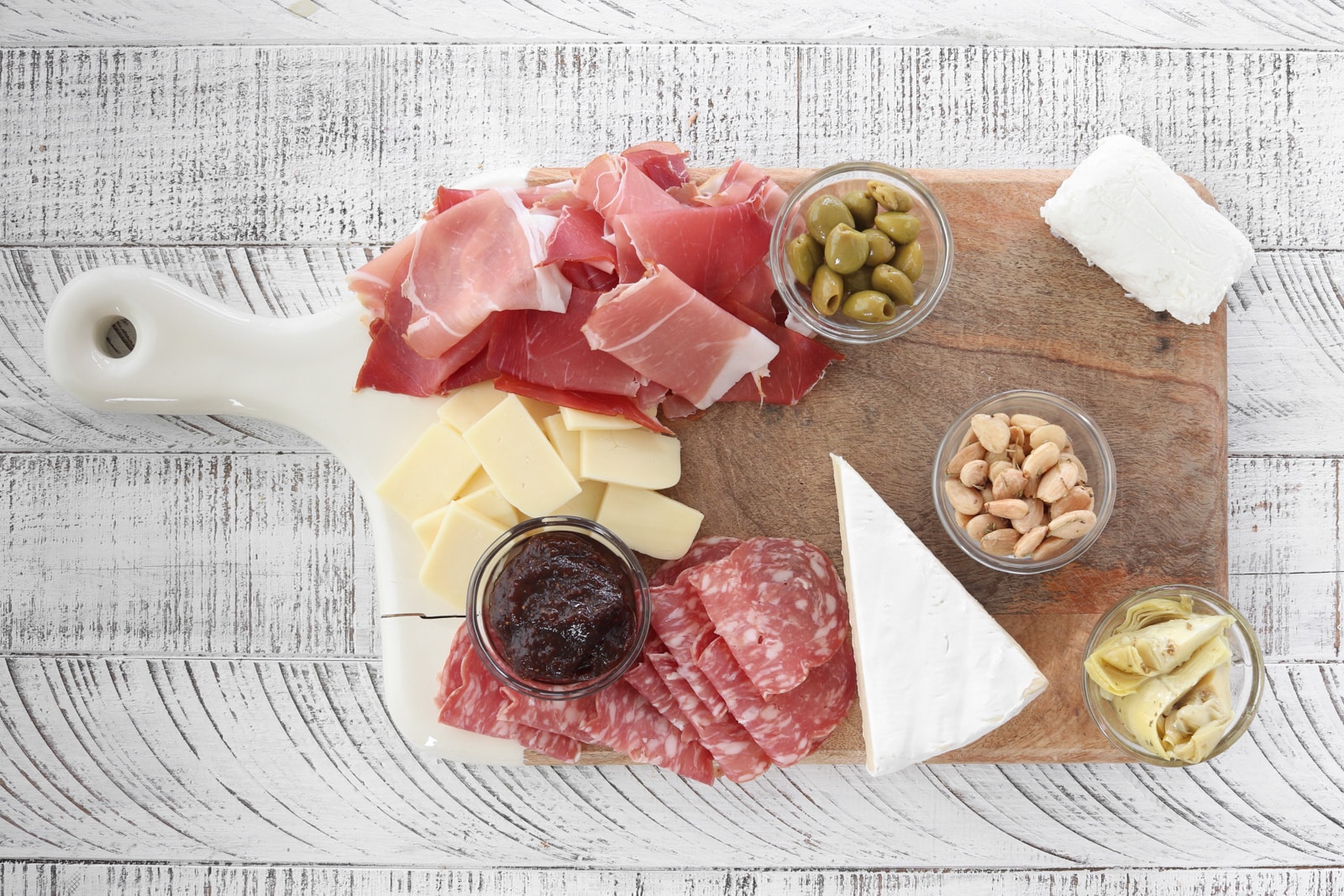 Step 4: Arrange the meats onto the board. Refrigerate the prosciutto until right before you place it on board. This helps it separate more easily. It can be sticky and difficult to work with.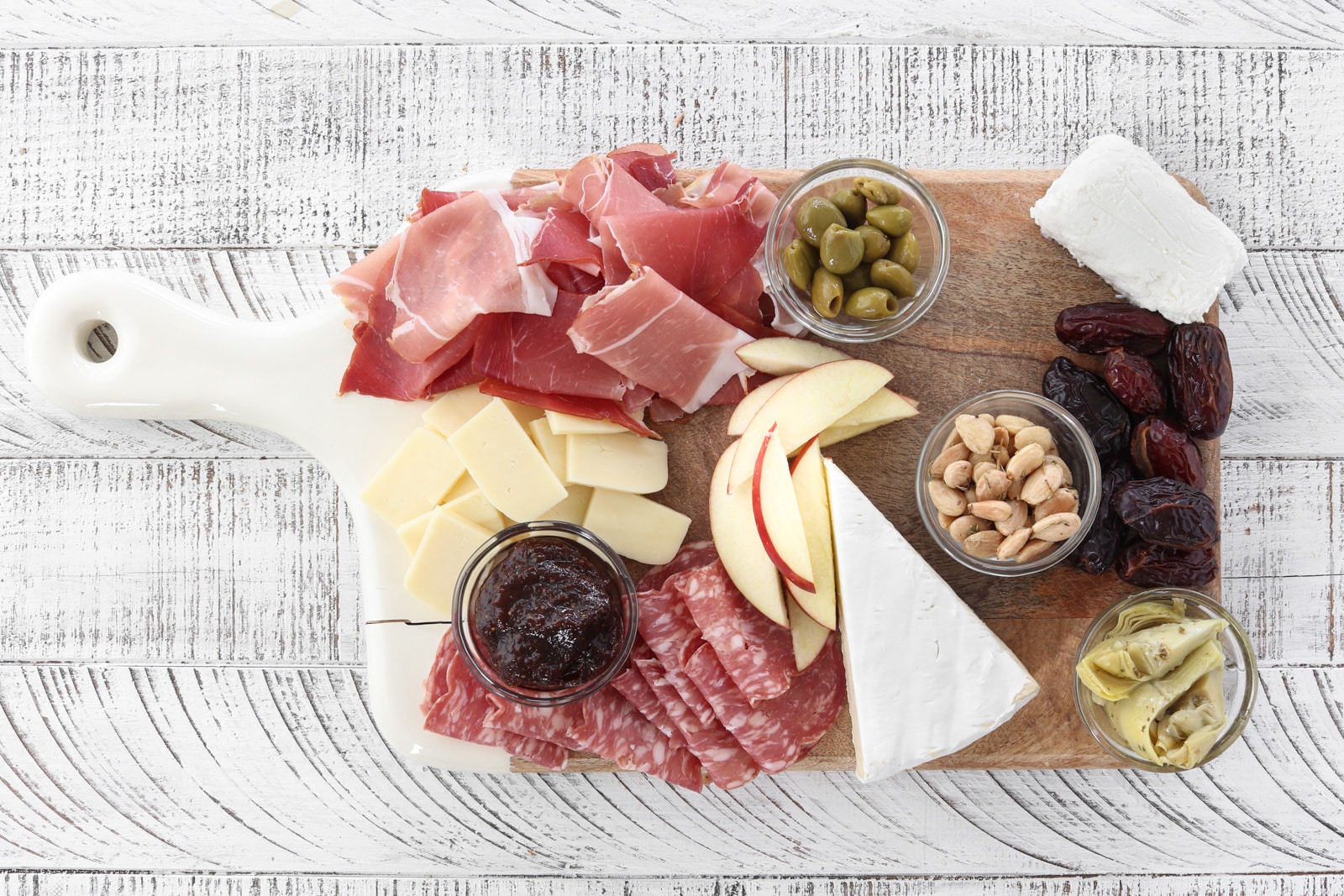 Step 5: Place the fruit onto the board. The Medjool dates from Trader Joe's are already pitted, so there is no prep work required. Arrange them on the edge of the board between the goat cheese and artichokes. Slice the envy apples and arrange them beside the almonds.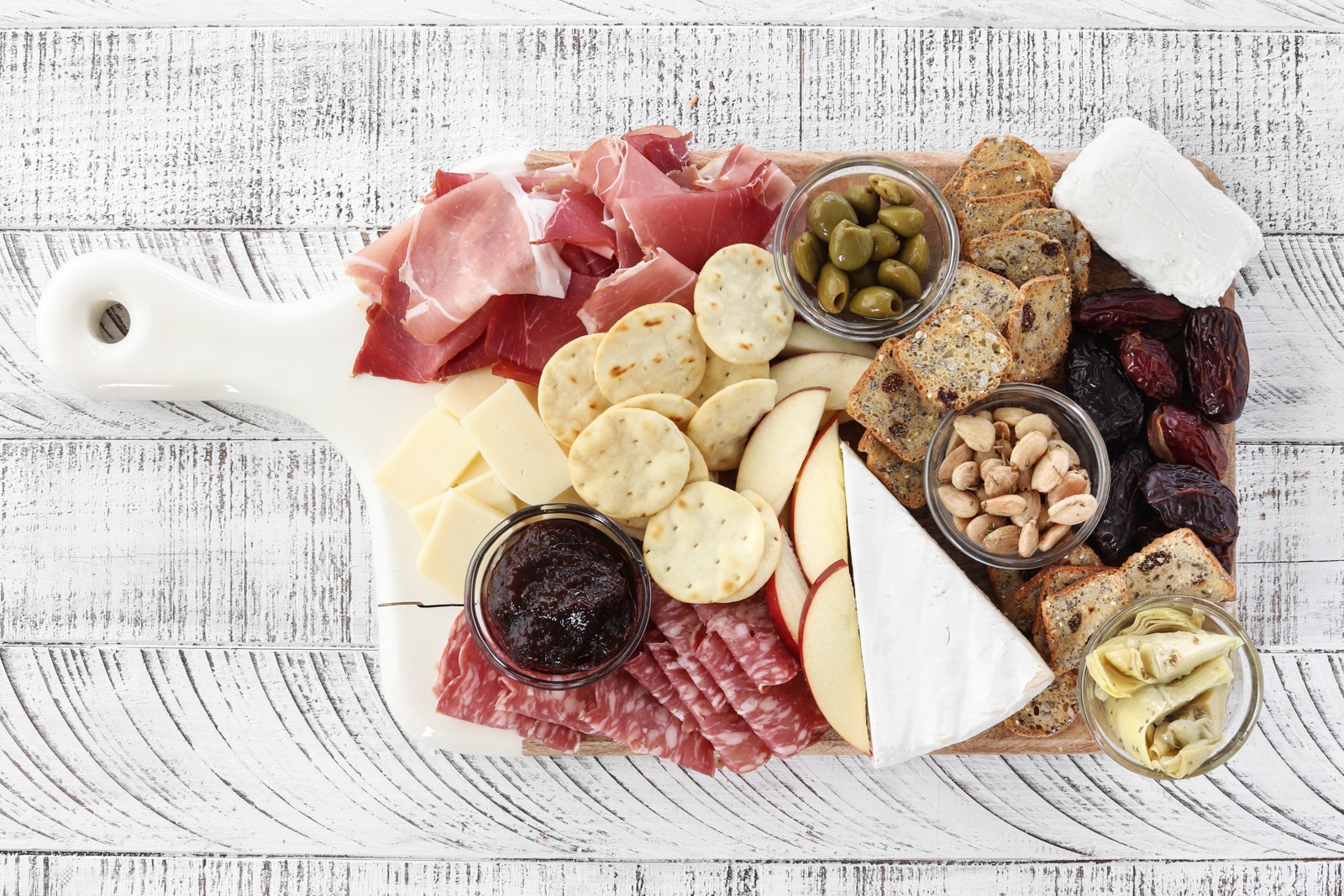 Step 6: Fill in gaps with your crackers. The Rosemary Raisin Crisps pair well with the goat cheese so I like to place them together on the board. The pita bites work with both the Cheddar Melange and the Brie so I like to place them between the two options.
⇉ Best Trader Joe's Charcuterie Board Pairings:
Some things just go together. Here are a few of our favorite combos from this Trader Joe's spread.
Prosciutto + Medjool Dates: Wrap a piece of prosciutto around a date. If you're feeling fancy, you could even add a little goat cheese.
Chevre Honey Goat Cheese + Raisin Rosemary Crackers - it's a match.
Pita Bites + Brie: Adding a little fig butter to this situation only makes it better.
Pita Crackers + Cheddar Melange + Salami - a classic bite everyone will love.
❄️ Storage & Leftovers
The board pictured will easily feed 4-6 people with leftovers of all ingredients other than the meats. You can opt to refill your board as needed OR extra ingredients can be saved in the fridge or pantry. Ingredients other than the smoked meats may have enough leftovers to create the same board a second or even third time.
Refrigerator: Extra meats, cheeses, olives, open fig butter, dates and open artichokes should all be carefully wrapped placed in fridge.
Pantry: Extra crackers and nuts can be stored in airtight bags or containers.
Discard: Uneaten apple slices should be discarded.
❓FAQ
Are all items in this post currently available at Trader Joe's?

Yes, this post is updated frequently and all items listed are sold at Trader Joe's as of Fall 2023.
What is the total cost of this Trader Joe's Charcuterie Board?

Total cost will vary from person to person depending on the weight of your cheese, local grocery pricing and sales. That said, Trade Joe's is one of the best stores to purchase affordable ingredients for a charcuterie board.
Print
📖 Recipe
A Simple Trader Joe's Charcuterie Board
Author:

Prep Time:

10 minutes

Cook Time:

0 minutes

Total Time:

10 minutes

Yield:

8

servings

1

x

Category:

Appetizer

Method:

Charcuterie

Cuisine:

American
---
Description
A no-frills,  step-by-step guide to building a simple and inexpensive Charcuterie Board using ingredients that can be found at Trader Joe's. Perfect for all social occasions.
---
1

Box Pita Bite Crackers

1

Box Raisin Rosemary Crisps

1

package Stockmeyer Prosciutto

1

package Salami di Parma Mild Salami
 Triple Creme Brie 
Chèvre with Honey Goat's Milk Cheese
Cheddar Melange Cheese & Gruyere

1

containerFancy Medjool Dates

1

jar Fig Butter

2

packages Salted Manzanilla Olives

1

jar Marinated Artichoke Hearts

1

bag Marcona Almonds with Rosemary

1

-

2

Envy apples
---
Instructions
Arrange all ingredients onto a large cutting board or wooden serving platter. Use the pictures provided in this post as a guide or get creative and make your own arrangement.
---
Notes
Add a few cheese knives, toothpicks and/or tiny forks so that guests don't have to use their fingers.
The board in this post is 10"x14" and will easily feed 4-6 people with enough of most ingredients remaining to recreate the board a second time. If feeding a large crowd, buy double the meat recommended  and use a larger board. 
Keywords: Trader Joes, Charcuterie, Easy, Inexpensive
➕ More Recipes