Easy, 8-ingredient cheesy Lightened Up Jalapeño Popper Dip with just the right amount of spice. The perfect 5-minute throw together dip for any get together.
Pin Jalapeno Popper Dip for later!
Welcome to the official Christmas season friends!
We've arrived in this very happy, very busy December place and It. Is. Good. I'm holiday baking like Mrs. Claus over here, while Joe wrangles the Christmas lights (he's gone full-on Clark Griswold) into submission.
And our social calendar, well... let's just say that we have no shortage of Christmas Festivities to attend (some more exciting than others😉).
A constant for each and every gathering? Gotta bring a dish. And you guys.. I've got a good one for you. Yeah, yeah... it tastes great and all that, BUT most importantly, it throws together in about 5 minutes, only uses 8 ingredients AND it can be prepared ahead. It's a real-life Christmas miracle!
Lightened Up Jalapeño Popper Dip with the perfect amount of spice and ALL the creamy goodness? That's where we're headed today.
This is my ultimate favorite party dip of all time, and you can find the original recipe All. Over. The. Internet. This Lightened Up Jalapeño Popper Dip is just a little different... no mayo (**gasp**) AND not one person is going to notice.
To be clear, I'm not selling this as low-calorie, BUT the original recipe calls for 1 cup of mayonnaise. (AKA... 1,500 calories and 154 grams of fat) and this recipe eliminates all of it and replaces it with.... (drum roll)... Yogurt.
And Yet,  it's still creamy, delicious, spicy and totally holiday-gathering worthy.
This Lightened Up Jalapeño Popper Dip is so basic WHICH IS THE WHOLE AMAZING POINT.
You dump the ingredients into a bowl, mix them up and throw on a simple 3-ingredient topping which will turn an amazing golden-brown when baked.
Voila. More time to spend picking out your Christmas Party Ensemble.
Time Saving Tips and Tricks
Prep: The entire dip can be assembled 1-2 days in advance. Just follow recipe directions, but DON"T bake. Instead, cover with plastic wrap and store in the refrigerator. To heat, allow dip to come to room temperature on the counter and then follow recipe baking instructions.
Make Ahead: Yep! Although I think this dip is best served fresh, nobody is going to complain about eating leftovers. You can serve cold or pop the dish bake into the oven at 350 until warmed through.
Freezer: Unfortunately.... not this time. When I tried freezing and reheating this dip the texture just wasn't the same.
Print
Jalapeño Popper Dip
Author:

Prep Time:

5 mins

Cook Time:

20 mins

Total Time:

25 minutes
---
Description
Easy, 8-ingredient cheesy jalapeño dip with just the right amount of spice. The perfect 5-minute throw together dip for any get together.
---
(2) 8 oz packages cream cheese

1 cup

whole milk yogurt

½ cup

shredded cheddar cheese

½ cup

shredded parmesan, divided
(1) 4 oz. can diced jalepenos
(1) 4 oz. can chopped green chilis

½ cup

seasoned bread crumbs

1

TBS olive oil
corn chips and veggies for serving
---
Instructions
In a large bowl, beat the cream cheese, yogurt, cheddar, chilis, jalapeño peppers, and ¼ cup of parmesan cheese until blended. Spoon into an uncreased baking dish.
In a small bowl, combine the bread crumbs, oil and remaining parmesan cheese. Stir until incorporated. Sprinkle over cheese mixture.
Bake, uncovered for 20-25 minutes or until the bread crumbs are golden brown.
Serve with tortilla chips and/or sliced veggies.
---
Notes
Since the yogurt is replacing mayonnaise, I recommend using yogurt made with Whole Milk. I like using Stonyfield's Grassfed Organic Whole Milk Yogurt. (<-- not sponsored)
Make sure to check your cream cheese ingredients. Different brands are made with different stuff. I used Whole Food's 365 brand.
Let's Connect:
Posts like Jalapeño Popper Dip:
Crockpot Spinach and Artichoke Dip: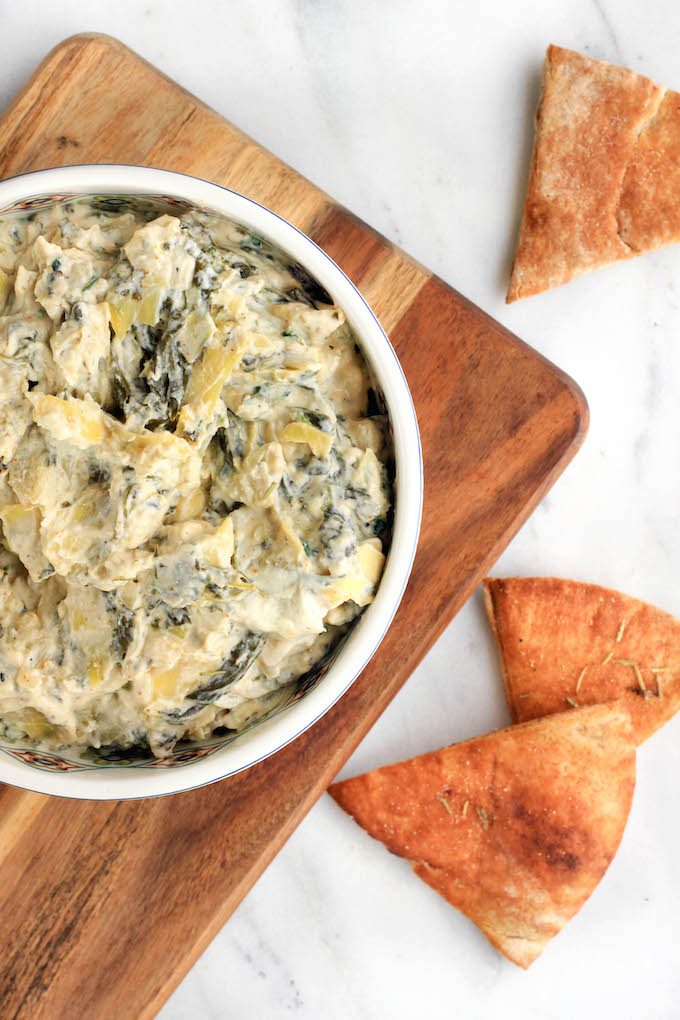 Fresh Asparagus with Curry Dip:

Super Simple 5-Minute Guacamole
SaveSave
SaveSave