Simple Carrot Cake Overnight Oats infused with a subtle maple-cinnamon flavor and studded with raisins, roasted pecans and sweet carrots.
Pin Carrot Cake Overnight Oats for later!
Going back and updating old recipes is one of my favorite things. I like seeing how much I've grown as a photographer and in some cases, I stumble upon stories that I've forgotten about. This Carrot Cake overnight oat post, well.. it took me down memory lane to a time when our morning routine only required 1 child make it to school and it seems that I couldn't even get that right!
The pictures for this post have been updated and the recipes has been tweaked, but I have chosen to leave the copy in tact. Enjoy!
These carrot cake overnight oats that you are looking at, well.. they are the absolute ONLY thing that I have done right today.
They're sweet, they're filling, they're loaded with all the good for you stuff, soooo.. please tell me that makes up for dropping your son off at Kindergarten while sporting 7 year old plaid pajama bottoms, messy bed-head and your husbands socks (sans shoes)?? Just to be clear, when I say "dropping off" I am not referring to simply running him through the car line. I'm talking get out, cross the parking lot, walk to door drop off. The full shebang. Apparently that's what happens to those who arrive at 7:46 in leu of 7:45. Zero grace-period.
Nope, today really hasn't been too great.
I haven't even gotten to the part where I realized that today is the birthday of Dr. Seuess. In case you were unaware, when you have a 6 year old child, this is VERY important.
Also note, when it is Dr. Seuss's birthday you are NOT to send your child to school wearing perfectly matched clothing, but instead.. a mismatched "Seuss-like" ensemble. I'm not sure of the actual instructions or theme because I never got the memo, but as I walked Cooper through the parking lot anxiously avoiding eye contact with ANYBODY.. it became apparent that his cute little blue polo and jeans were not a stellar choice for today's momentous occasion.
Before I continue, let's just get this out in the open. Yes, I know I should not have left the house without REAL pants on. Yes, had I been on time, I could have dropped him from the car line. Yes, I am aware that driving without shoes is a No-No. And finally, yes, I am 100% positive Mrs. Boutcher sent a note with full details on how one should dress to properly celebrate Dr. Seuss.
Buuuuut... I made Cooper carrot cake overnight oats for breakfast, so I'm still a good mom, right???
Overnight oats are one of those fads that came and went a LONG time ago. You know, the culottes of the food world. What I can't get my mind around is why in the world people have stopped singing their praises. They. Are. Amazing. Throw a few ingredients into a bowl, let it hang out overnight and breakfast is good to go. You don't even have to heat them if you don't want to. There are TONS of recipes on the web for all varieties of these guys and quite honestly, I have probably tried most of them. For me, this carrot cake version takes the prize. It's sweet, it's savory and best of all.. it's loaded with secret veggies your kids won't even notice (just skip the part where you sprinkle them on the top and make your oats all fancy and Pinterest-worthy).
Time Saving Tips and Tricks:
Prep: There really isn't any need to prep these.. they are SO simple!
Make Ahead: Overnight oats take a little time. Ideally they should sit overnight (hence their name), but they are definitely edible after 3 hours.
Freezer: Sorry guys. Not this time.
Print
Carrot Cake Overnight Oats
Author:

Prep Time:

5 mins

Total Time:

5 minutes

Yield:

4

servings

1

x

Category:

breakfast
---
Description
Simple Carrot Cake Overnight Oats infused with a subtle maple-cinnamon flavor and studded with golden raisins, roasted pecans and sweet carrots.
---
2 cups

old fashioned oats

1 cup

carrot, grated

¼ cup

raisins

2

TBS pecans, chopped

1 tsp

cinnamon

2 cups

milk (any type works)

2

-

3

TBS maple syrup

1 tsp

vanilla
OPTIONAL TOPPINGS: almond butter, pecans, carrots and raisins
---
Instructions
In a medium sized mixing bowl, combine oats, carrots, raisins, pecans, cinnamon, milk, maple syrup and vanilla. Mix until fully combined. Cover with plastic wrap or fitted lid and place in the refrigerator overnight (minimum 3 hours).
Remove overnight oats from fridge, stir and add desired toppings (optional). Oats can be served cold, room temperature or warmed.
---
Notes
For vegan or dairy-free, sub almond or oat milk.
If you would prefer to make the overnight oats in the actual containers that you plan to eat them from, just add ¼ of each ingredient listed to 4 mason jars, secure the lid, shake and refrigerate.
Purchase Old Fashioned Rolled Oats, Quick Oats will turn to a mushy mess!
Let's Connect:
You can find Simply Sissom on Instagram where I share even more recipes (some that aren't on the blog), behind the scenes pics and videos AND tips and tricks to make healthy eating realistic for your busy family.
Recipes Like Carrot cake overnight oats:
Cherry + Vanilla Baked Oatmeal Cups: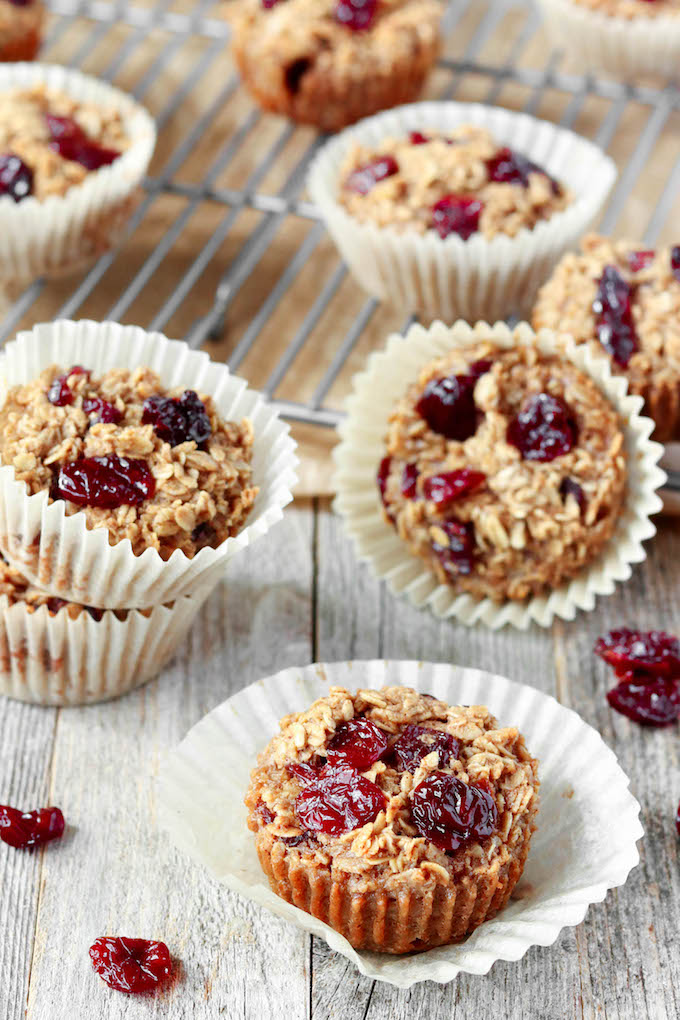 1-Bowl Peanut Butter Oatmeal Breakfast Cookies: