Simple tips and tricks to teach you how to Meal Prep Freezer Smoothie Packs. Make them in advance, and enjoy them for the week, or even the whole month!
Pin How to Meal Prep Freezer Smoothie Packs for later!
This post is a part of Smoothie Week. To get ALL the recipes + tricks and tips for how to meal prep freezer smoothie packs.. download the guide HERE.
Once upon a time, I paid exorbitant amounts of money for smoothies that were delivered to my house on dry ice and in disposable cups. The idea.. dump the contents of the cup into the blender, add liquid base, blend, pour back into cup. The smoothies contained all kinds of exotic ingredients and boasted HUGE health benefits. The cost of said smoothies, well... let's just say that once Joe got the monthly credit card statement, this fairy tale ended rather abruptly. Until today that is...
I honestly don't know why I didn't think of this sooner. I recreated them. Yep, made my very own fancy smoothies. They are every bit as delicious, exotic and convenient as my subscription smoothie service.
Ok, that's not true. I'm waaaaaay too lazy to search out the exotic ingredients AND prepping a month's worth of these guys takes about an hour that the million dollar smoothies did not require, BUT... once you get them assembled they are every bit as fantastic, promise.
You're going to LOVE this.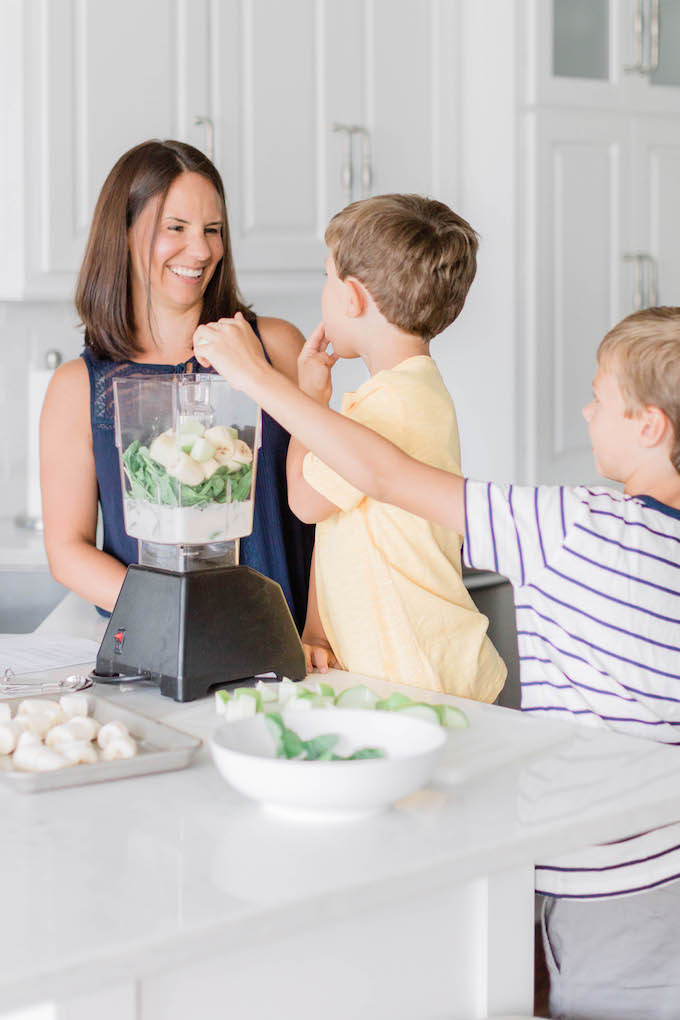 SHORTCUTS:
STEP BY STEP GUIDE: HOW TO MEAL PREP FREEZER SMOOTHIE FREEZER PACKS
Step 1: Pick Your Favorite Recipe
There are 8,000,000 different smoothies out there. Some are good, some not so much. I'm going to share my favorite 5 with you. If you're new to smoothies start here and then once you get a feel for what you like and what you don't.. you can branch out on your own!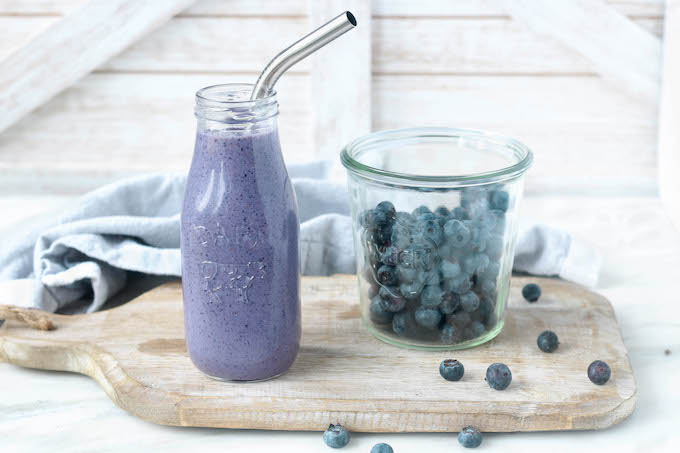 Step 2: Choose A Storage System.
3 Smoothie Freezable Smoothie Container Options:
PROS and CONS of Each Smoothie Container Option:
Freezer Safe Disposable Cups: Pros - sturdy enough to hold up in freezer without cracking and come with lids (which is always nice for an "on the go" situation). Disposable if desired. Cons - They are a bit pricy ($17.99). I wash and reuse them. Thus far, I have used them through 3 rounds of smoothie making.
Mason Jars: Pros - Reusable, inexpensive and freezer friendly. Cons - Not disposable, breakable.
Ziploc Freezer Bags: Pros - Inexpensive, great for limited freezer space. Cons - You can not drink the smoothie from the bag, you will have to dirty a kitchen cup, not reusable.
Step 3: Turn your smoothie recipe into a freezer smoothie pack recipe.
Determine the liquid base. Every smoothie recipe has a liquid that serves as a base. You DO NOT add the liquid base to a smoothie pack. It will cause the smoothie ingredients to become an ice chunk, and will not be blendable.
Remove yogurt. Not all smoothies contain yogurt, but if a recipe does, I like to add it as I blend instead of in the smoothie pack. Often the yogurt is included in the recipe for texture purposes.
Example: How To Create A Smoothie Pack Recipe.
Below are the ingredients for The BEST Green Smoothie. Almond milk has been highlighted red because it will not be added to my smoothie freezer packs. Instead, I will add it when I blend. There is no yogurt in the recipe, so I did not need to make any additional modifications.
Ingredients:

1 cup almond milk

, 1 cup leafy greens, 1 banana, 2-3 ice cube, 1 TBS peanut butter, 1 TBS chia seeds, ¼ teaspoon vanilla extract, pinch of ground cinnamon.
Step 4: Prep Your Ingredients.
Decide how many smoothie packs you would like to make. I usually make 20 at a time.
Bust out your multiplication skills and determine how much of each ingredient will be needed.
Wash, peel, chop, etc. Don't forget to set out all the non-produce ingredients as well. You will need measuring cups and spoons. Make sure that everything is ready to go before you start assembling.
Helpful Hint.. frozen greens, fruits and veggies get a bad wrap. Often fresh local and/or organic produce isn't available in the Winter months. Using pre-chopped organic fruits can be a huge time and money saver.
Step 5: Assemble your meal prep freezer smoothie packs.
Use the recipe you for your freezer smoothie packs that you created in Step 3 for reference.
Assemble your smoothie packs. Make sure that smoothies are packed tightly (air = freezer burn). If you are using cups or mason jars, add extra greens if needed to fill empty space.
Step 6: Label Smoothie Containers.
How you go about doing this will vary depending on your container. Labels should contain the date the smoothie was assembled and blending instructions. If you are making one of the recipes from this post, you can use the labels that I created by clicking HERE. My labels can be printed on THESE AVERY LABELS or on printer paper and attached with packing tape.
FAQ's: Freezer Smoothie Packs
What type of Blender is best for making smoothies?
I use a Blendtec High Speed Blender. I bought it refurbished on the Blendtec website and saved about $100.
How do I avoid my smoothie ingredients getting stuck inside the mason jars or cups?
Before blending, thaw the cups on the counter for a few minutes or run them under some warm water. This will help the jar to empty easier.
Can you make smoothies from freezer smoothie packs if you don't have a high speed blender?
Yes! You just have to make a few modifications. A high speed blender can handle ingredients like a frozen banana, but you will want to chop your fruits and veggies into smaller more manageable pieces.
Can I blend my smoothies the night before?
Yes. I do this on mornings that I know that there will be sleeping kids in the house when I blend my smoothie. It's so loud! Blend your smoothie according to recipe directions and store it in the refrigerator covered. You may notice some separation (just stir), but it will still taste great.
Can you store pre-blended smoothies in the freezer?
You can! I like to lay a small piece of plastic wrap over the top and then seal with a lid. To thaw, just place the frozen smoothie into the refrigerator the night before. Some separation will occur, just stir well.
My Favorite Smoothie Essentials:
Recommended High Speed Blender:
Recommended Budget Blender:
My Favorite Freezable Smoothie Containers:
Accessories: