The Best Green Smoothie (for beginners) is a cool, creamy, sweet vegan smoothie with banana, peanut butter, kale, chia seeds, cinnamon and almond milk. 
Pin The Best Green Smoothie (for beginners) for later!
This smoothie is a part of Smoothie Week 2018. To get ALL the recipes + tricks and tips for batch prepping make ahead smoothies.. download the guide HERE.
Green Smoothies.. they're "all the rage."  Anybody who's EVER opened Instagram knows that. They're full of nutrients, high in fiber and make you glow from the inside out... yada yada yada.
I'm going to level with you, in general, I don't care for them. They can be bitter, taste "earthy" (<-- if you've tried a bad one you know what I mean) and perhaps most off putting.. they are very very green. Yeah, throwing a salad into my blender and drinking it, well.. the thought just never did much for me.
The first time I made a green smoothie, I felt healthier for just purchasing all those swanky ingredients. Hemp hearts, chia seeds, flax, baby kale, spinach leaves.. I just knew drinking green smoothies was going to change everything. I was going to compete in a Tough Mudder, run marathons and most definitely become the next American Ninja (<--yep, legitimate dream?).
The fact that I find Tough Mudder obstacles terrifying, that I have never run more than a 5K and that I can't even climb halfway up a rope.. NOT A PROBLEM. With Green Smoothies in my life.. ANYTHING was going to be possible. After all, they are made almost entirely of superfoods!
You guys, I made one smoothie. It. Tasted. Awful. The spinach and kale rotted in the crisper drawer of my refrigerator, and along with it, my dreams of fitness domination.
Until I tried.. THIS GREEN SMOOTHIE.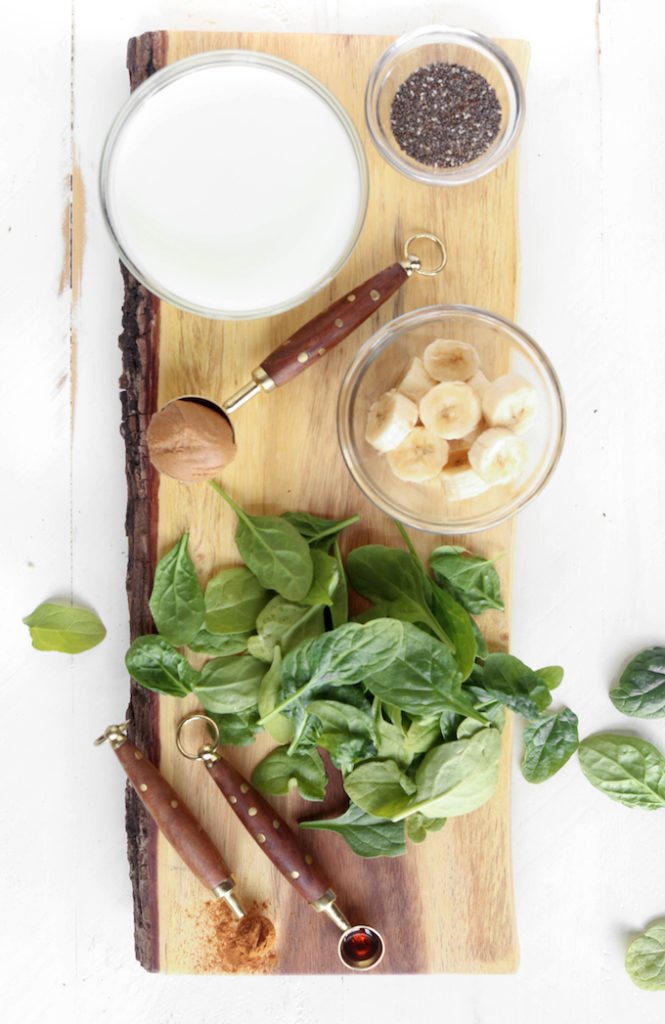 The ingredients are basic, affordable and simple to find. No hunting down unicorn blood and moon dust. Because in all honesty.. I don't have the time, patience or budget for that. Just milk (almond if you're feeling fancy), bananas, baby spinach or kale, vanilla, cinnamon, any nut or seed butter you like, and chia seeds (which can be left out if you don't have them on hand).
I know, I know.. I didn't solve the whole "I don't want to drink salad" issue. BUT, it is honestly mind boggling how many greens can be hidden within cold creamy goodness.
This smoothie is PERFECT for a beginner. It's sweet, peanut-buttery and LOADED with good for you stuff that you can't even taste.
There are BILLIONS of green smoothie recipes on the web.
This week, I tried LOTS of them.
This one is the BEST, and... my kids like it.
Let's get specific about the health benefits of THIS green smoothie.
Almond Milk: First of all, it's SO rich and creamy?. It's heart healthy, containing no cholesterol or saturated fat. It's also low in sodium and high in healthy fats which helps prevent high blood pressure and heart disease.
Kale/Spinach Greens: Greens ares low in calories, high in fiber and don't contain any fat. They aid in digestion, improve complexion are filled with many nutrients and vitamins.
Banana: Bananas contain lots of nutrients (think potassium, B6 and vitamin C). They help to moderate blood sugar levels, improve digestive health, contain antioxidants (keep ya young), and help keep you feeling full. 
Almond Butter: Almonds contain lots of healthy fats, fiber, protein, magnesium and vitamin E. They lower blood sugar levels, reduce blood pressure and lower cholesterol. They also keep you full which can help with weight loss. Since almonds are the sole ingredient in almond butter.. the benefits apply!
Chia Seeds: Chia Seeds deliver a massive amount of nutrients with few calories. They are loaded with antioxidants and high in quality protein. They are also high in omega-3 fatty acids (it contains more than salmon gram for gram).
Time Saving Tips and Tricks:
Prep: The bananas MUST be frozen for this smoothie. I like to purchase 1 bunch of bananas, peel them, wrap them in plastic and store them in the freezer. This way, when I need a banana that is frozen I'm good to go.
Make Ahead: Smoothies will keep overnight in the refrigerator when sealed in a mason jar. This is perfect if you don't want to run the blender in the morning and wake up the household!
Freezer:  The classic green monster smoothie can be assembled as a smoothie pack and stored for up to a month in the refrigerator. I usually make 5-10 at a time. Keep in mind that each bag will make 2 servings. Directions: In a gallon Ziplock bag add kale, banana (broken into pieces), ice cubes, nut butter of choice, chia/flax seeds, vanilla, and cinnamon. Using a permanent marker label the bag "Beginner Green Smoothie" and write the date. Remove all air, and seal the bag. When you are ready for a smoothie, dump the bag into your blender. Add 1 cup of almond milk and a splash of vanilla. Hit Blend. Done.
Print
The Best Green Smoothie (V, GF)
Author:

Prep Time:

5 mins

Total Time:

5 minutes

Yield:

2

smoothies

1

x
---
1 cup

almond milk (or other milk)

1 cup

 baby kale or spinach leaves

1

frozen banana, roughly chopped

2

-

3

ice cubes

1

TBS almond butter or peanut butter

1

TBS of pure chia seeds

¼ tsp

pure vanilla extract (eliminate for Whole30)
Pinch of ground cinnamon
---
Instructions
Add all ingredients to blender and blend until combined.
---
Helpful Hints:
If you are new to green smoothies you may not adore the taste of kale.  Try using spinach... it tastes better. Once you begin to drink green smoothies consistently you can make the switch to Kale if you are feeling ambitious.
I like to use almond milk to make my smoothies. It gives them a rich creaminess that I like. If you don't have any sitting around you can definitely swap it out for the milk of your choosing.
A good blender is important if making smoothies is going to become a regular thing in your life. The Top brands are Vitamix and Blendtec. I have used both, but prefer (and own) the Blendtec. It isn't as tall so it stores much easier and I like that it has presets like "smoothie" and "soup" so I can blend with the touch of a button. I purchased mine refurbished (because they are EXPENSIVE). It's not as gross as it sounds. Only the insides of the blender are "used," the pitcher, blade  and lid are sealed in plastic and completely brand new. You can find Refurbished Blendtec Blenders HERE.
To make this smoothie Whole30 compliant, opt for almond milk and butter. You will also need to eliminate the  vanilla extract.
My Favorite Smoothie Essentials:
Favorite High Speed Blender:
Containers/Freezer Storage:
Accessories:
Let's Connect:
Other Smoothie Recipes You Might Like: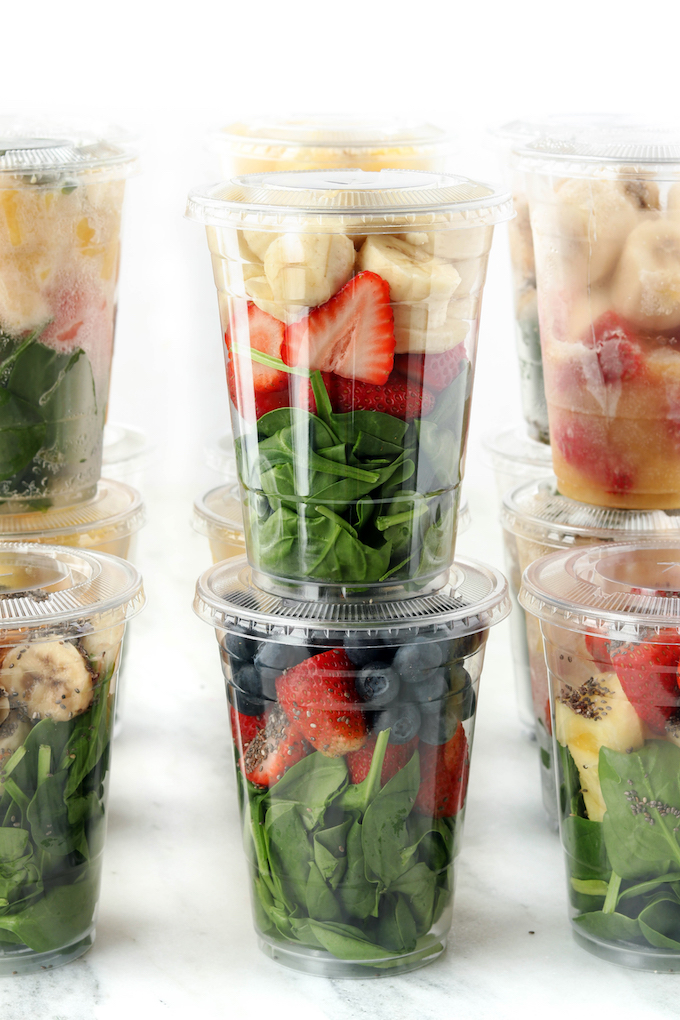 Wild Blueberry Banana Smoothies: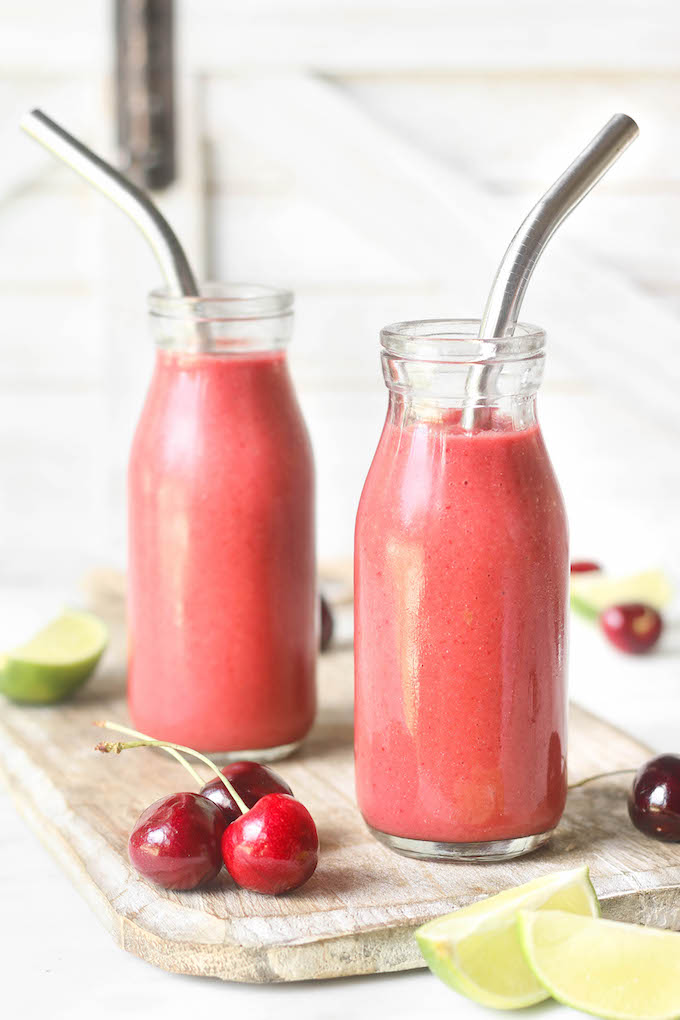 Simple Strawberry Banana Smoothie: