Green Yogi Juice is a tangy, sweet juice with a hint of ginger and a mild fruity flavor.  Now, you can juice without a juicer!
Pin Green Yogi Juice for later!
My relationship with "juicing" has been tumultuous in the past.
It went a little something like this.. I ate all the Chinese, doughnuts, pizza, etc. that I wanted annnnnnnnd then, JUICE. For days. As a rule, if I "binged" one night I had to "juice" for 3 days. Pretty sick huh?
My most extreme "Juice Cleanse" took place exactly 12 days before my sister's wedding. I was the maid of honor. In true early-20-something fashion, I hadn't made the time to go down and get measured for my dress. My sister (and Mom) had nagged and nagged and nagged, but I couldn't be bothered. Long story short, I told them I took care of it, didn't get measured, and ordered the dress in what I thought was my size.
FUN FACT: Jordan's Bridesmaids dresses were sized based on a couture size chart (AKA.. it was at least 2 sizes too small). The wedding was 3 weeks away.
I wan't too concerned.. I high-tailed it to a seamstress, sure that she could let the dress out enough that I wouldn't have to walk down the aisle with my dress half zipped.
FUN FACT 2: Letting a dress out 2 sizes requires lots of extra fabric. Jordan's Bridesmaids dresses did not have lots of extra fabric.
At this point, I was fairly certain that my Mom, Sister or both were going to kill me. Soooo, I did what any rational person would have done. For 12 days, I ate nothing. Instead I exclusively drank juice and coffee and told everyone I was "juicing."
On wedding day, I was irritable, headachy, weak, and had terrible cramping in my stomach, buuuut the dress zipped.
Aaaannnd then, 5 days later, it didn't.
Looking back, I now see that I used the term "juicing" to justify disordered eating. It took me 8 more years to learn that when you take drastic measure and lose weight quickly, it comes back just as fast.  In fact, "Juicing" and extreme dieting are exactly why I struggled in a cycle of yo-yo dieting, binge eating and body images for so long. I lost and regained the same 15 pounds for 15 years.
My approach to juicing is now so much different than it used to be. I no longer do drastic cleanses where I consume only juice for days. I do however enjoy adding green juice to my diet on a weekly if not daily basis. You know, balance.
This Green Yogi Juice is my absolute favorite! I've been embarrassingly honest with you already, so why stop now.. I have never actually made green yogi juice post-yoga, buuuut I love the idea of it. Seems like it would make you feel all healthy and spa day-ish, don't you think?
This juice is jammed packed with nutrients to support your body, and it can be made ahead of time to fit into your busy schedule (although it's actually super simple to make).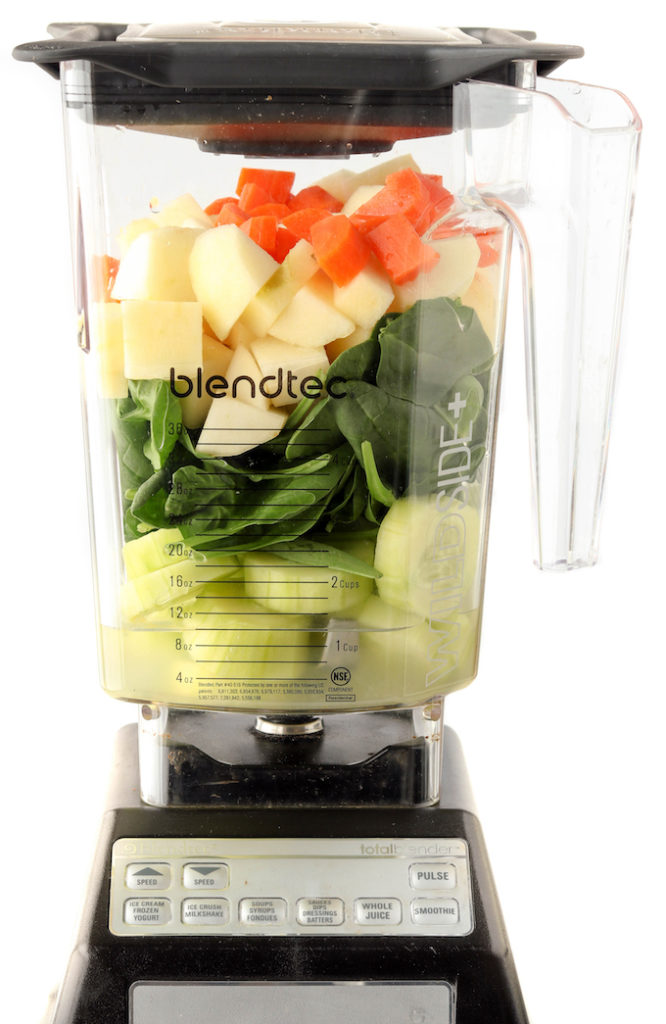 Green Yogi Juice Nutritional Benefits:
Cucumber:  Hydration, flushes toxins, great for skin, loaded with vitamins.
Spinach: Protein, Fiber, Vitamins (TONS of them), cancer-prevention, lowers blood pressure, bone health, promotes regularity, great for skin.
Apple: Antioxidants, fiber, cancer fighting, heart disease prevention
Pear: Iron, potassium, folic acid, Vitamin A and C
Lemon Juice: vitamin C, B-6, great for skin, kidney stone prevention, support weight loss, digestive aid, cancer-prevention, potassium, P-H balancing
Ginger: anti-inflammatory, lowers blood pressure, heart disease prevention, digestive aid, reduces menstrual pain, lowers cholesterol, cancer-prevention, improved brain-function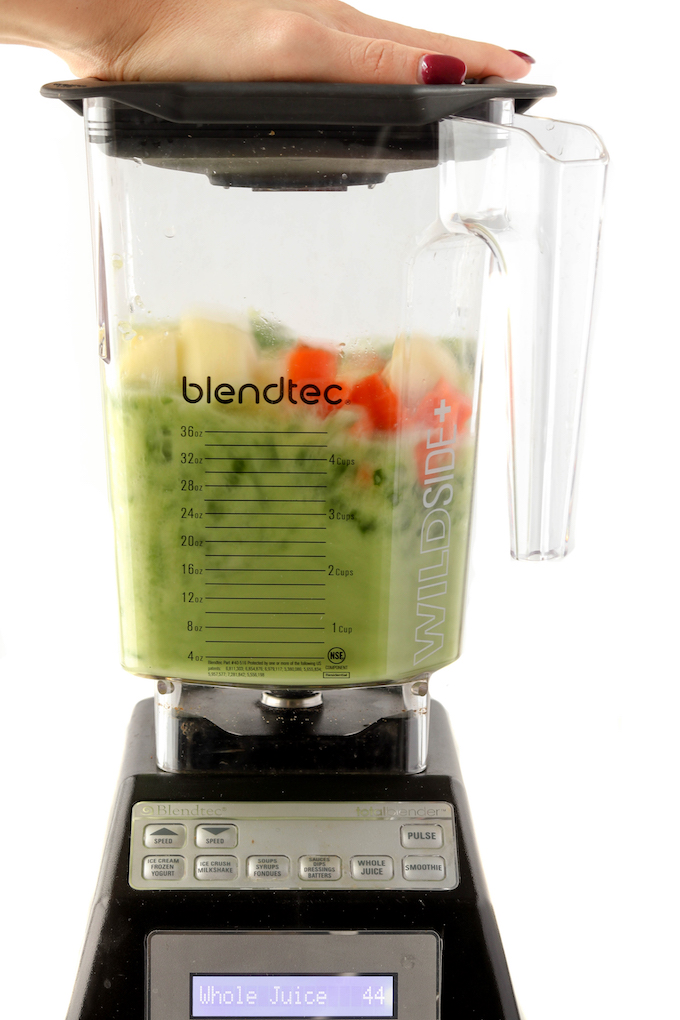 Time Saving Tips and Tricks:
Prep: I like to keep the ingredients for this juice prepped in my refrigerator. It makes throwing it together super simple. The most time-consuming part of this juice is peeling the apples, cucumbers, and pear. S000,  if you already have that done... making the juice is really a breeze!
Make Ahead: Any juice that you do not drink immediately can be stored in the refrigerator in a mason jar for 2-3 days.
Freezer: Yep. One of my favorite things to do with leftover juice is to freeze it in popsicle molds for my kiddos. I've actually bribed them to eat all the dinner so that they can have a "Green Yogi" pop. You could also freeze the juice in a freezable mason jar (fill to the top so there is no room for air). Allow to come to room temp and enjoy!
Print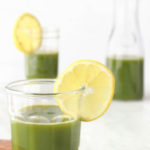 Juice Without A Juicer: Green Yogi Juice
Author:

Prep Time:

10 mins

Total Time:

10 minutes

Yield:

2

servings

1

x
---
Description
Green Yogi Juice is a tangy, sweet juice with a hint of ginger and a mild fruity flavor.  Now, you can juice without a juicer!
---
1

cucumber, peeled and roughly chopped

1 cup

baby spinach, rinsed and de-stemmed

1

apple, cored, peeled and roughly chopped

1

ripe pear, cored, peeled and roughly chopped

1

carrot, peeled and chopped
Juice of

1

lemon
** ½ teaspoon minced ginger (optional)
---
Instructions
In a high speed blender, combine all of the ingredients with a ½ cup of water and blend until smooth.
Place a straining bag inside of a large mason jar or bowl. Pour juice into bag. Gently squeeze straining bag. Discard the pulp. Enjoy.
---
 Helpful Hints:
You will need a high-speed blender for this to work. These can be a bit pricey. I use a Refurbished Blendtec Blender. I know, I know.. that sounds gross, but refurbished isn't the same thing as "used." They repair the insides and then give you brand new casing on the base and a completely unused jar and lid. It looks brand new.  I saved over $100.00.  (Note: this is not an affiliate link, just trying to be helpful!).
Ginger can be hard to find sometimes, you can purchase minced ginger in the Asian aisle of most grocery stores. It isn't as flavorful, but will work fine for making juice!!
You could substitute Kale for the spinach used in this recipe, but I have found that spinach has a more neutral flavor and in all honesty is just a healthy as kale.
I like the juice with the ginger added, with that said.. my family prefers it without.
Let's Connect:
More recipes like Juice Without A Juicer: Green Yogi Juice:
Whole-Food Chocolate Breakfast Shake: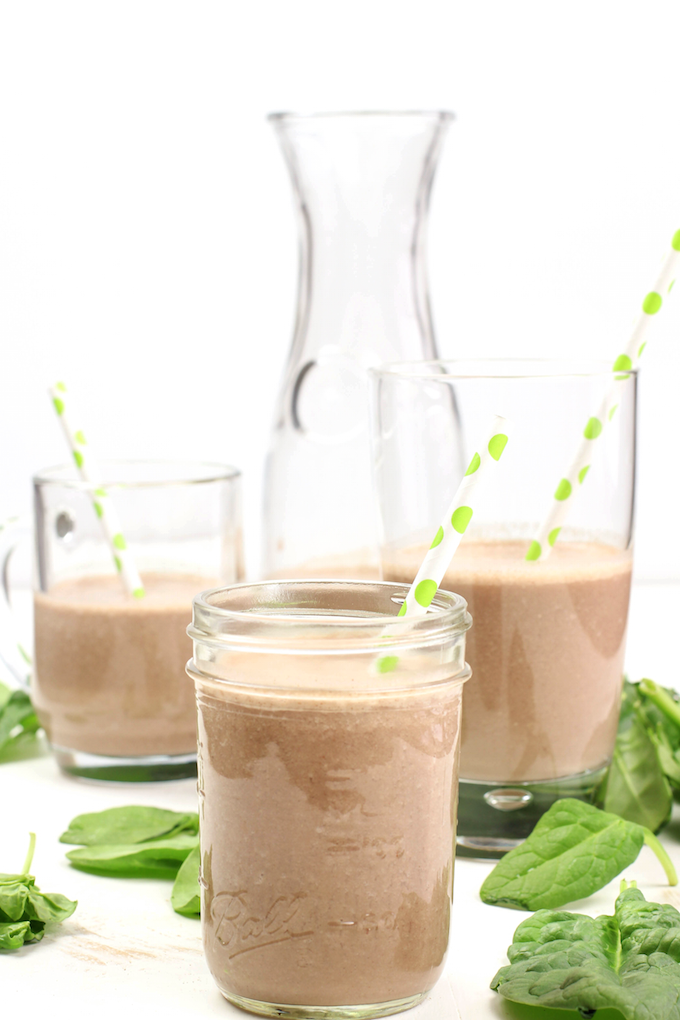 SaveSave
FREE WHOLE30 COOKBOOK
12 Family Friendly Whole30 Compliant Recipes from Simply Sissom.