Peanut Butter Cup Protein Smoothie - A creamy chocolate shake made with almond milk, protein powder, unsweetened cocoa and peanut butter powder.
Pin Peanut Butter Cup Protein Smoothie for later!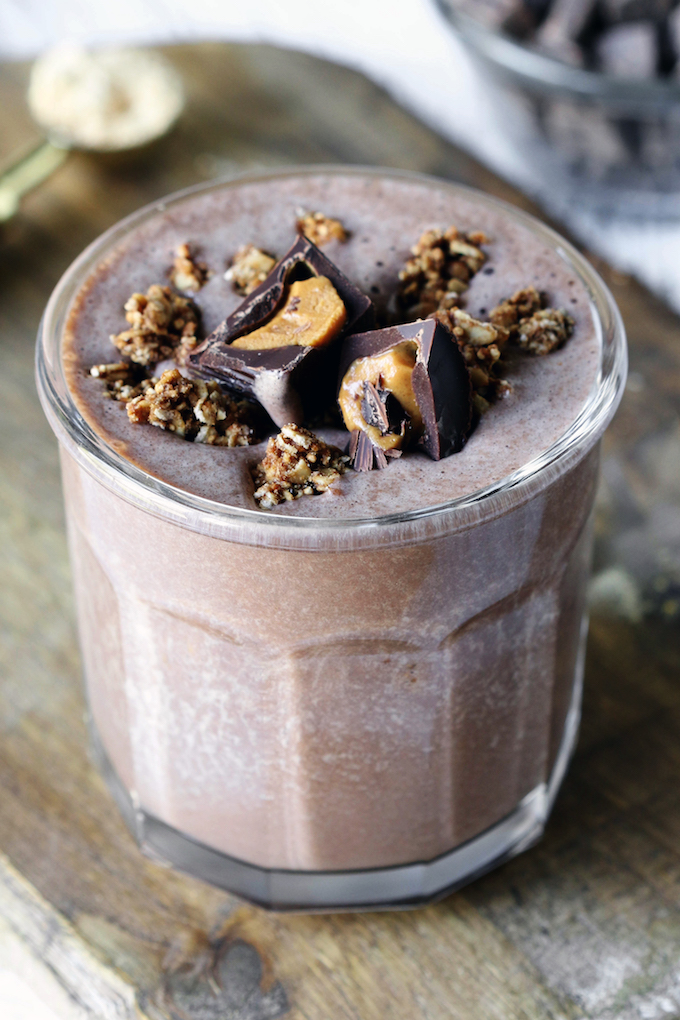 It's rare that I share a recipe that includes protein powder. It's not that I'm opposed. Protein powders vary so much from brand to brand that making a one size fits all recipe is next to impossible.
I'm sharing this Peanut Butter Cup Protein Smoothie today because, well.. I've had one every day for a week. I've talked a bit here on the blog about the fact that I've been doing a program called Faster Way To Fat Loss for the last several months. FWTFL follows a real food approach AND doesn't make me feel deprived, therefore I've actually been able to stick with it, eat the same foods that I feed my family and most importantly, avoid hunger.
I'm not going to bore you with the specifics of the diet, but bottom line.. I often need something that's low fat and protein packed. This recipe is my go-to. I also use it when I'm really craving something sweet. It looks decadent, but actually boasts an impressive 195 calories, 7g of fat, and 24g of protein (you've just got to skip on the peanut butter cup and granola topping).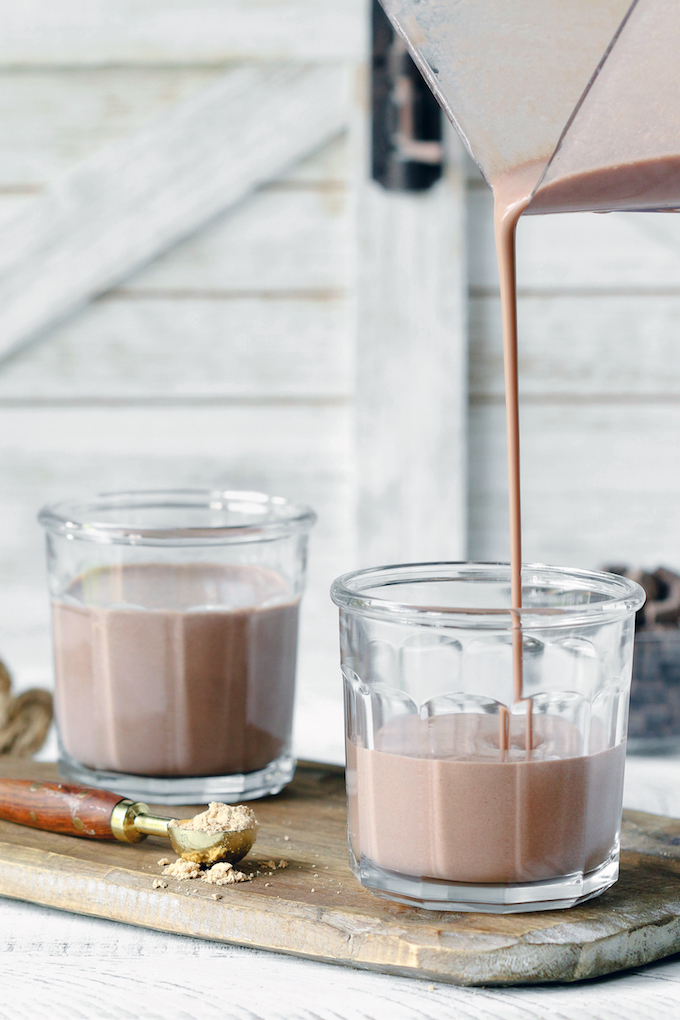 My favorite flavor combination has always been some form of chocolate + peanut butter. Let's be serious, they were made for each other.
This recipe has three very good things going for it:
It requires just 8-ingredients and 5 minutes to make.
It's relatively healthy.
It tastes about as close to a real milk shake as a protein shake can get.
Since making this for the first time a week or so back, it's been my go-to afternoon pick-me-up on the daily - it's seriously that delicious. You can easily add more or less cocoa and peanut butter powder to achieve your ideal flavor combination and thickness. Also, if you aren't trying to keep your smoothie carbs down, you could definitely throw in ½ of a banana for a little bit of added creaminess.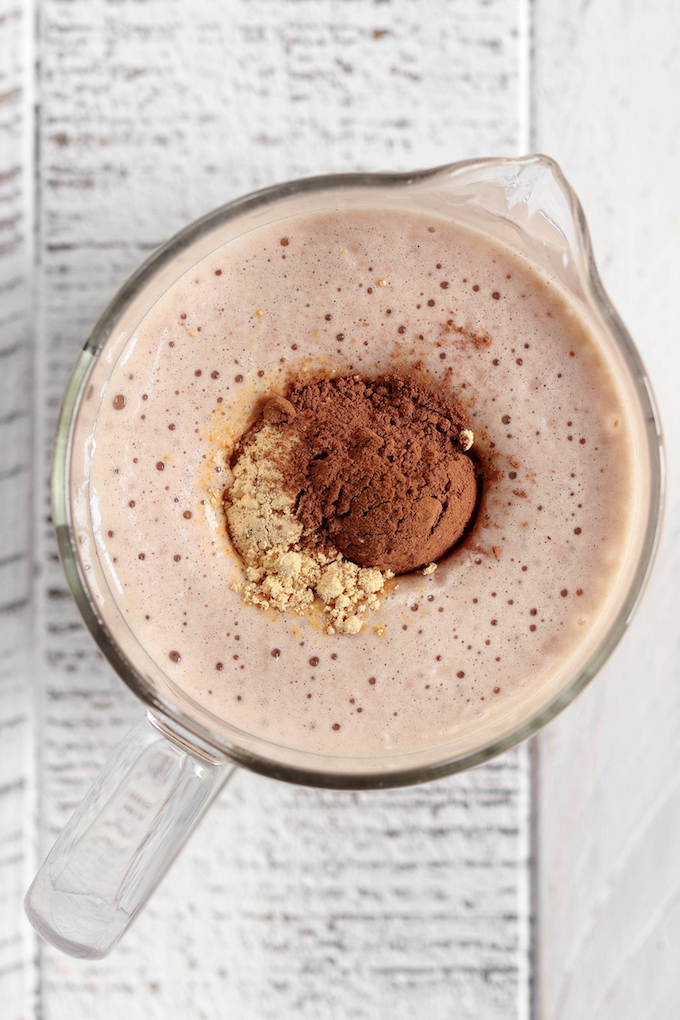 There's a secret to achieving the rich peanut butter cup flavor that this protein smoothie boasts...you've got to mix in the cocoa and peanut butter powder LAST and BY HAND. No blending allowed. I don't know why it tastes better this way. Don't ask questions, just trust. It takes what could be considered a watery protein shake and up levels it up to milkshake status.
Gotta do a little real talk for a minute. As I mentioned above, protein powders are NOT created equal and writing a recipe that uses it can be tricky. They thicken differently, have varying flavor profiles and are made from an assortment of ingredients. I use Beverly protein (not because I know it to be the best, but because it's what Joe buys). I created this recipe using just that. Keep in mind that unless you are using the same chocolate protein powder as me, our results may be different. If your shake is too thick, add milk. If it's too thin, throw in some banana or a bit more peanut butter powder. Think of the recipe as more of a starting point. Tweak it till you love it!
Peanut Butter Cup Protein Smoothie Video:
Time Saving Tips and Tricks:
Prep: Since there is no chopping required, there really isn't any need to do any prep work for this smoothie. It comes together really quickly.
Make-Ahead: I'm going to level with you.. it just doesn't taste as good. the ice-creamy chunks are my favorite part and they melt in the refrigerator. That said.. if you are trying to avoid waking a baby with the blender, or are just really short on time in the mornings, it's not terrible. You could leave it in the fridge overnight and use it as a grab-n-go option.
Freezer: Unfortunately, this one doesn't work well in the freezer. It just turns into a solid block of ice.
Print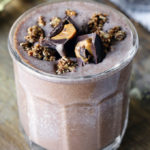 Peanut Butter Cup Protein Smoothie
Author:

Prep Time:

5 minutes

Cook Time:

0 minutes

Total Time:

5 minutes

Yield:

1

large smoothie

1

x
---
8 oz

. almond milk

1

scoop (32g) chocolate protein powder (I used Beverly)

¾

dropper of liquid Stevia

1 tsp

. vanilla

¼ tsp

. arrowroot powder (to thicken)

160g

of ice (about

10

-

12

cubes)

½

Tbs. peanut butter powder

½

Tbs. unsweetened cocoa powder
---
Instructions
Add almond milk, protein powder, Stevia, vanilla, arrowroot powder and ice to the jar of your blender. Blend on low until ice chunks are about the size of marbles and then increase the speed of blending. Blend until ingredients are smooth and creamy.
Pour the blended smoothie into a large insulated cup (gotta keep it cold!). Top the smoothie with the peanut butter and cocoa powder. Stir the powders into the smoothie until completely absorbed. Enjoy!
---
Notes
I use a Blendtec high-speed blender. If you don't have a high quality blender, you may have trouble achieving a totally smooth result.
This smoothie is best served immediately. If it is left out, it begins to separate and the ice melts causing the texture to change.
Keep in mind all protein powders are different. This recipe is a starting point, you may have to tweak it to work with your specific protein powder.
Let's Connect:
You can find Simply Sissom on Instagram where I share even more recipes (some that aren't on the blog), behind the scenes pics and videos AND tips and tricks to make healthy eating realistic for your busy family.
Recipes Like Peanut Butter Cup Protein Smoothie: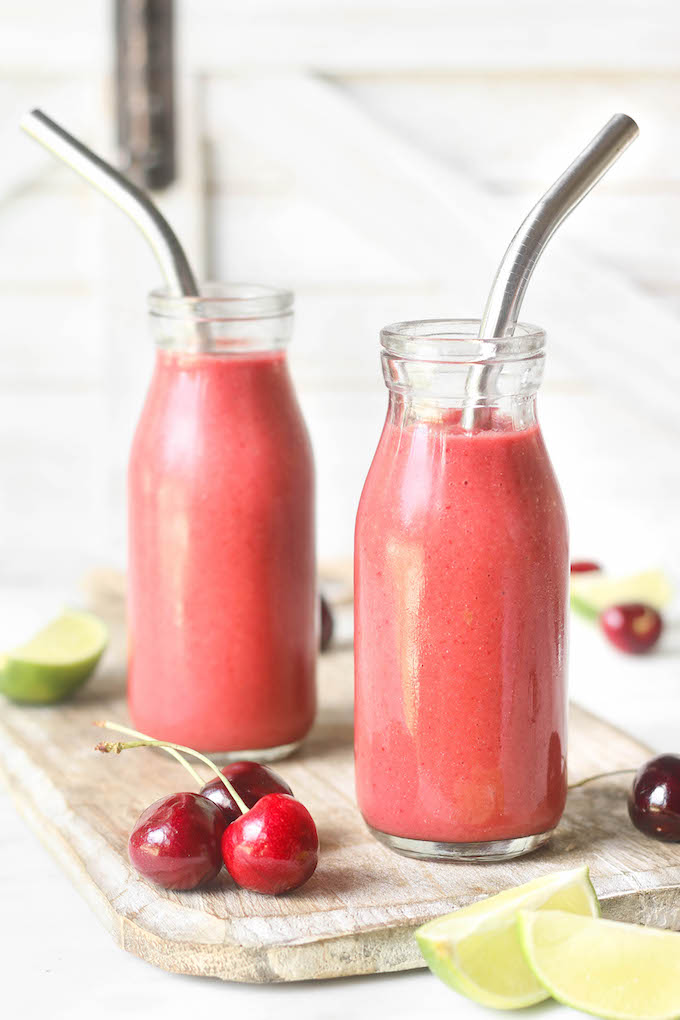 Wild Blueberry Banana Smoothie: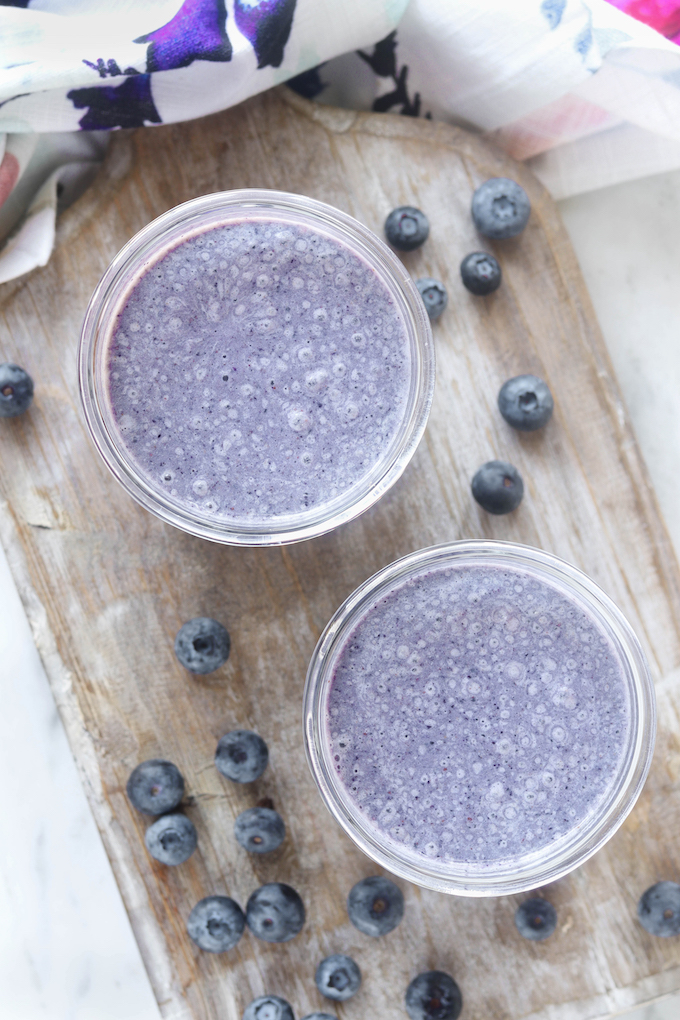 The Best Green Smoothie (for beginners):