Tart, refreshing, nutritious Cherry Limeade Smoothie with peaches, cherries, lime juice, chia seeds and milk. Loaded with 5 whole-food ingredients and ready in just 5 minutes!
Pin Cherry Limeade Smoothie for later!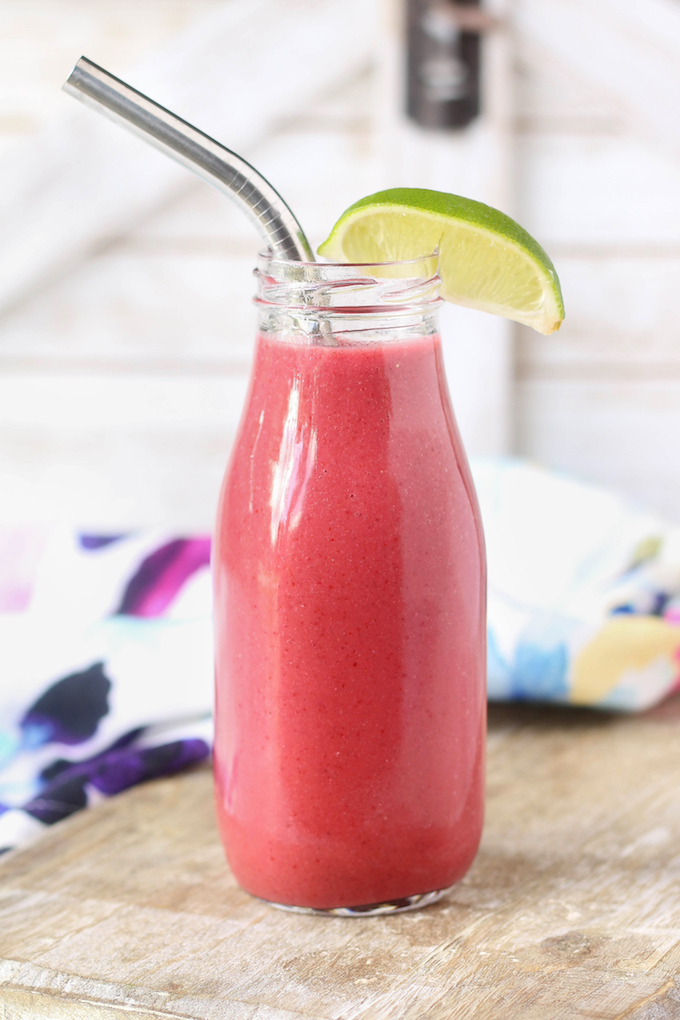 This smoothie is a part of Smoothie Week 2018. To get ALL the recipes + tricks and tips for batch prepping make ahead smoothies.. download the guide HERE.
Smoothie Week 2018: Day #2 has arrived and this Cherry Limeade Smoothie is a  REAAALLLY good one! In fact, I should probably note.. this one is Coop's (my 7 year old's) fav.
If you missed Day #1's recipe for Wild Blueberry Banana Smoothies... you can get the recipe here OR download the FREE Smoothie Week 2018 Guide/recipes by clicking here.
We are currently deep into the Summer season and my breakfast game has been in a bit of a rut lately. Smoothie week gave me the push I needed to up my efforts on creating some new recipes that are fresh, nutritious, delicious, simple.
Introducing the Cherry Limeade Smoothie.
In the blender we've got ripe peaches, juicy cherries, lime juice, chia seeds and almond milk (because it's our fav, but you can use whatever type of milk you prefer). The fruit combo gives this smoothie a tang similar to lemonade and you guys... I'm here for it!
Here's what your eyes will behold when the blender works it magic. I mean seriously, how great is that color?
Let's take a minute and talk about all the Good. For. You. Things. happening in this Cherry Limeade Smoothie situation..
Peaches: Peaches are low in calories, and contain no saturated fats. They are also a rich provider of vitamin A, beta-carotene and vitamin C.
Cherries: Cherries are a perfect source of antioxidants. These cellular body guards slow down aging and help ward off chronic illnesses—including heart disease, cancer, Alzheimer's, and diabetes.
Lime:  This guy may seem pretty ordinary, but it's actually a powerhouse of nutrition that's bursting with both vitamin C and MORE antioxidants.
Chia Seeds: Chia Seeds deliver a massive amount of nutrients with few calories. They are loaded with antioxidants (are you seeing a theme here??) and high in quality protein. They are also high in omega-3 fatty acids (it contains more than salmon gram for gram).
Almond Milk: First of all, it's SO rich and creamy!  It's heart healthy, containing no cholesterol or saturated fat. It's also low in sodium and high in healthy fats which helps prevent high blood pressure and heart disease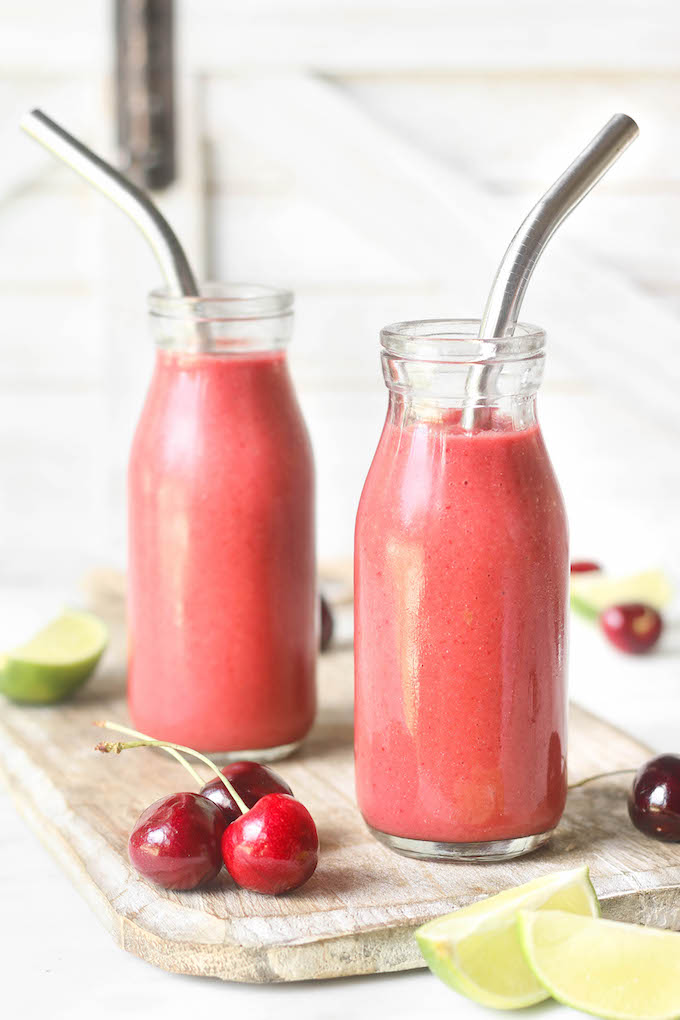 Cherry Limeade Smoothies don't have to be eaten for breakfast, but they do in fact have this magnetic pull on your taste buds. Just know.. no issue is going to be made of it if you need to snack on one of these guys mid-afternoon as well, okay? This is a safe zone for obsessive smoothie behavior.
Time Saving Tips and Tricks
Prep: I love prepping make-ahead smoothie packs for this recipe. Just gather your smoothie cups/containers or bags and write the date and "Cherry Limeade Smoothie" on the front. Add peaches, cherries, lime juice and chia seeds to each smoothie container. Before sealing, make sure you squeeze out as much air as possible (if using a bag). Seal and place in the freezer for later use. To blend, just add your smoothie contents +½-3/4 cup of milk to the blender.
Make Ahead: Smoothies will keep overnight in the refrigerator when sealed in a mason jar. This is perfect if you don't want to run the blender in the morning and wake up the household! They may separate a bit, just mix them back together!
Freezer: Blended smoothies can be stored in the freezer for up to a month in an airtight and freezer safe container. I like to use mason jars for this. To thaw, just remove from freezer the freezer and into the refrigerator overnight. Separation will occur, just stir well.
Print
Cherry Limeade Smoothie
Author:

Prep Time:

5 mins

Cook Time:

0 mins

Total Time:

5 minutes

Yield:

2

smoothies

1

x

Category:

Smoothies

Method:

Blender

Cuisine:

Breakfast
---
Description
Tart, refreshing, nutritious Cherry Limeade Smoothie with peaches, cherries, lime juice, chia seeds and milk. Loaded with 5 whole-food ingredients and ready in just 5 minutes!
---
1

ripe peach, sliced OR

¾ cups

frozen peaches

¾ cup

cherries, pitted (fresh or frozen)

½

-

1

lime, juiced

½

Tbs chia seeds

½

-

¾

cup milk of choice
---
Instructions
Line a baking sheet with parchment paper. Evenly spread out peaches and cherries. Place into freezer until frozen, about 2 hours. NOTE: If using pre-packaged frozen fruit you can skip this step.
Add all ingredients to the blender. Blend until fully combined.
---
Notes
As I mentioned above.. this Cherry Limeade Smoothie is tart. If it's too much for you, add up to a ½ Tbs of honey to sweeten it up!
Keywords: Smoothie, Cherry, Lime, Blender, Make Ahead
My Favorite Smoothie Essentials:
Favorite High Speed Blender:
Containers/Freezer Storage:
Accessories:
Let's Connect: 
Posts like Cherry Limeade Smoothie:
Wild Blueberry Banana Smoothie:

The Best Green Smoothie:

How To Batch Prep Grab and Go Smoothies: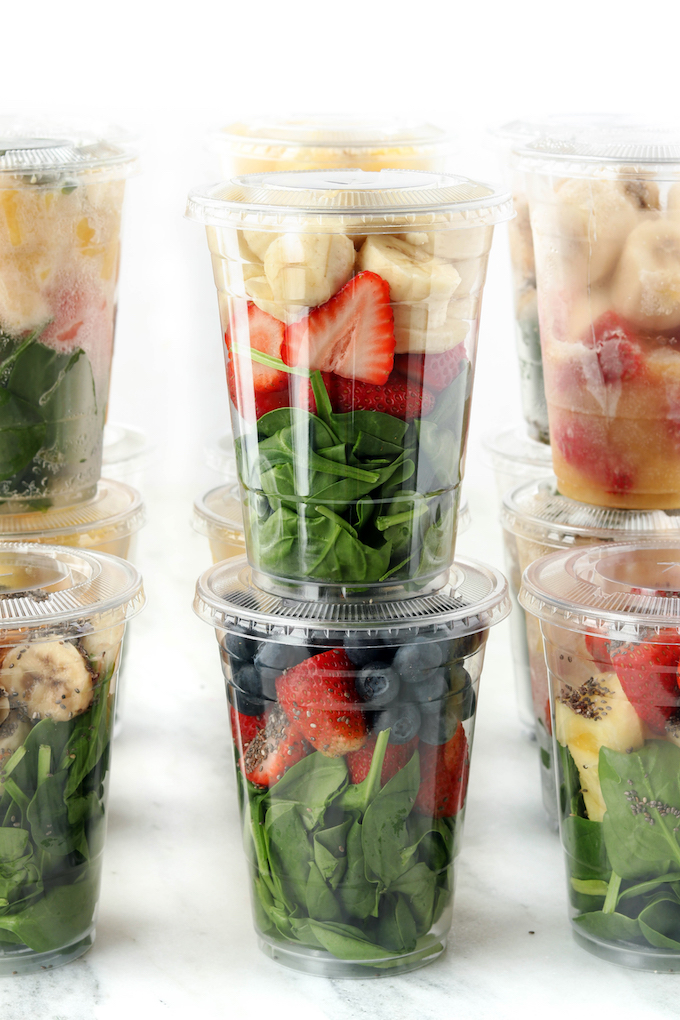 SaveSave
SaveSave