Creamy, nutritious Wild Blueberry Banana Smoothie with almond butter, chia, hemp hearts, flax and milk. Loaded with 7 whole-food ingredients and ready in just 5 minutes!
Pin Wild Blueberry Banana Smoothie for later!
This smoothie is a part of Smoothie Week 2018. To get ALL the recipes + tricks and tips for batch prepping make ahead smoothies.. download the guide HERE.
It's finally here!!!
You guys.. I've been preparing for this week for the last month. I've got videos, FREE downloads, giveaways, new recipes and more!!
It's smoothie week here at Simply Sissom and I for one could NOT be any more excited about it!
So let's start with the basics..
I will be posting DAILY this week. 4 Brand new smoothie recipes + 1 oldie but goodie.
I created a NEW FREE RESOURCE. Smoothie Week 2018: A Complete Guide to Batch Prepping Make Ahead Smoothies. You can download it for FREE by clicking on the link.
Tons of Instagram behind the scenes videos and recipe tutorials. If you don't already follow Simply Sissom on Insta.. what are you waiting for????
Ok... so now that you have the details. Let's talk about Smoothie Week 2018's first featured smoothie. This Wild Blueberry Banana Smoothie is my current favorite (wanted to start things out strong). Make it in 5 minutes OR batch-prep LOTS to keep breakfast simple and healthy all week long! Specific batch-prepping directions can be found in the Smoothie Week 2018 Guide.
This smoothie is loaded with TONS of real food ingredients that will keep you full and satisfied all morning (or afternoon) long! Let's take a closer look...
Blueberries:  One cup of blueberries provides 24 percent of a person recommended daily allowance of vitamin C. In addition blueberries can help heart health, bone strength, skin health, blood pressure and diabetes management.
Nut Butter: Nut Butters contain lots of healthy fats, fiber, protein, magnesium and vitamin E. They lower blood sugar levels, reduce blood pressure and lower cholesterol. They also keep you full which can help with weight loss.
Chia Seeds: Chia Seeds deliver a massive amount of nutrients with few calories. They are loaded with antioxidants and high in quality protein. They are also high in omega-3 fatty acids (it contains more than salmon gram for gram).
Hemp Hearts: Excellent source of essential fatty acids including Omega 3, 6 and GLA in the perfect balance.
Ground Flax Seed: Omega-3 essential fatty acids, "good" fats that have been shown to have heart-healthy effects. Each tablespoon of ground flaxseed contains about 1.8 grams of plant omega-3s.
Banana: Bananas contain lots of nutrients (think potassium, B6 and vitamin C). They help to moderate blood sugar levels, improve digestive health, contain antioxidants (keep ya young), and help keep you feeling full.
Milk of choice (I like almond): First of all, it's SO rich and creamy!  It's heart healthy, containing no cholesterol or saturated fat. It's also low in sodium and high in healthy fats which helps prevent high blood pressure and heart disease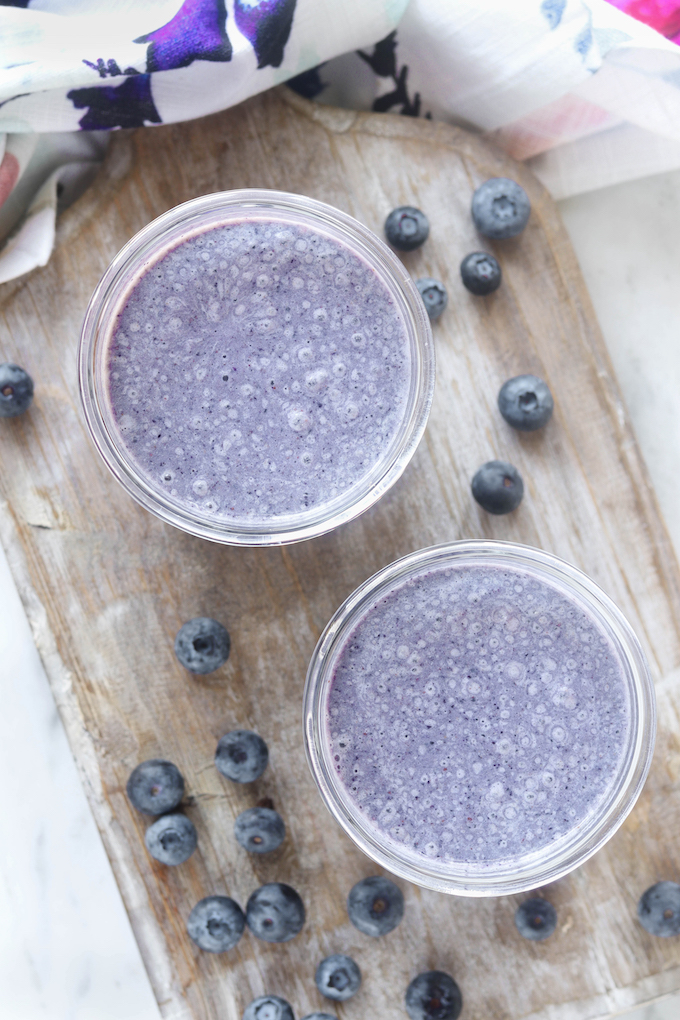 Time Saving Tips and Tricks:
Prep: I love prepping make-ahead smoothie packs for this recipe. Just gather your smoothie cups/containers or bags and write the date and "Wild Blueberry Banana Smoothie" on the front. Add 1 cup of blueberries, 1 Tbs nut butter, 1 teaspoon chia seeds, 1 teaspoon hemp seeds and 1 teaspoon flax to each smoothie container. Before sealing, make sure you squeeze out as much as possible (if using a bag). Seal and place in the freezer for later use.  To blend, just add your smoothie contents +1 cup of milk and 1 banana broken into large pieces.
Make Ahead: Smoothies will keep overnight in the refrigerator when sealed in a mason jar. This is perfect if you don't want to run the blender in the morning and wake up the household! They may separate a bit, just mix them back together!
Freezer: Blended smoothies can be stored in the freezer for up to a month in an airtight and freezer safe container. I like to use mason jars for this. To thaw, just remove from freezer the freezer and into the refrigerator overnight. Separation will occur, just stir well.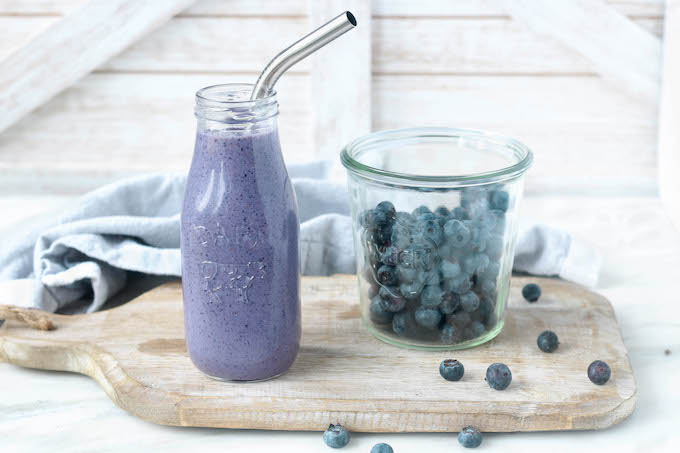 Print
Wild Blueberry Banana Smoothie
Author:

Prep Time:

5 mins

Cook Time:

o mins

Total Time:

2 hours 5 minutes

Yield:

2

smoothies

1

x

Category:

Smoothie

Method:

Blender

Cuisine:

Breakfast
---
Description
Creamy, nutritious Wild Blueberry Banana Smoothie with almond butter, chia, hemp hearts, flax and milk. Loaded with 7 whole-food ingredients and ready in just 5 minutes!
---
1 cup

blueberries

1

Tbs nut butter

1 tsp

chia

1 tsp

hemp seeds

1 tsp

flax seends

1

banana, broken into large chunks

1 cup

milk of choice
---
Instructions
Add all ingredients to blender. Blend until smooth and fully incorporated.
---
Notes
Banana does NOT need to be frozen.
Chia, flax and/or hemp hearts can be removed without changing the taste of the smoothie. You will just lose some of the "nutritional bang."
Keywords: smoothie, blueberry, make ahead
My Favorite Smoothie Essentials:
Favorite High Speed Blender:
Containers/Freezer Storage:
Accessories:
Let's Connect:
Posts Like Wild Blueberry Banana Smoothie:
Real Food Chocolate "Milkshake"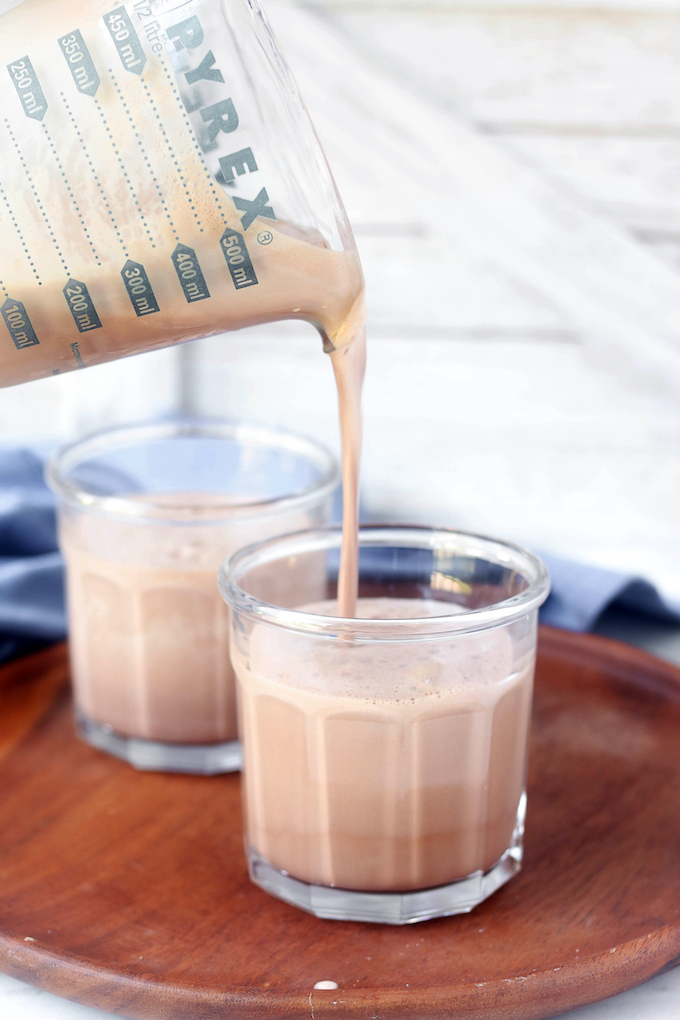 How to Batch Prep Grab and Go Smoothies: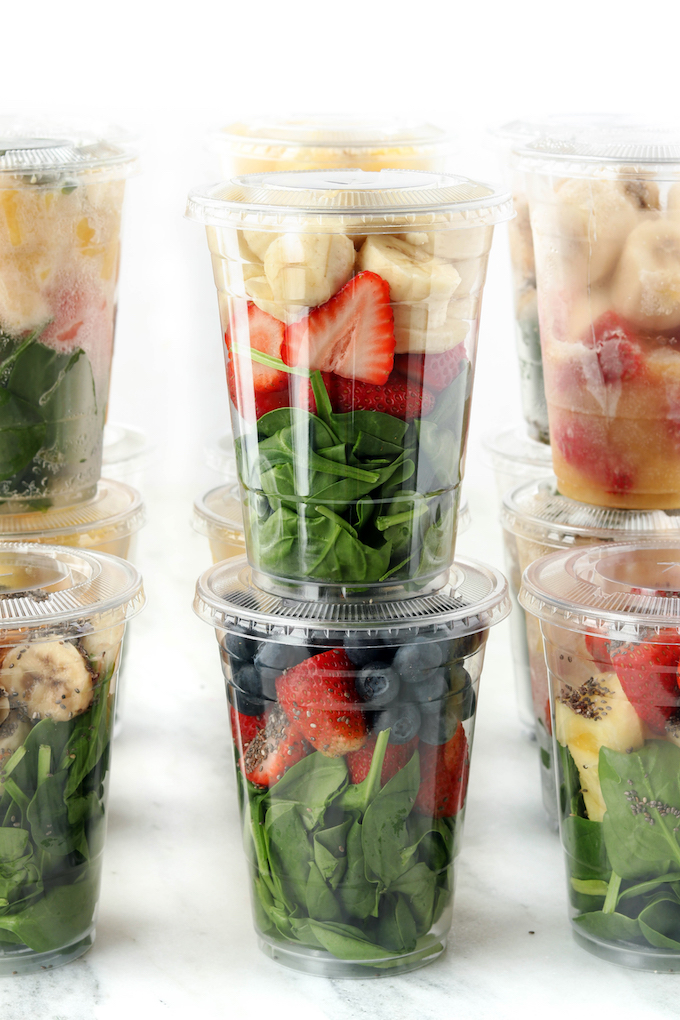 SaveSave