Freezer-Friendly Baked Egg Cups require 8 ingredients and 30 minutes time. A flavorful, healthy breakfast with whole grain bread, homemade healthy turkey sausage and melty Vermont cheddar cheese.
Pin Freezer Friendly Baked Egg Cups for later!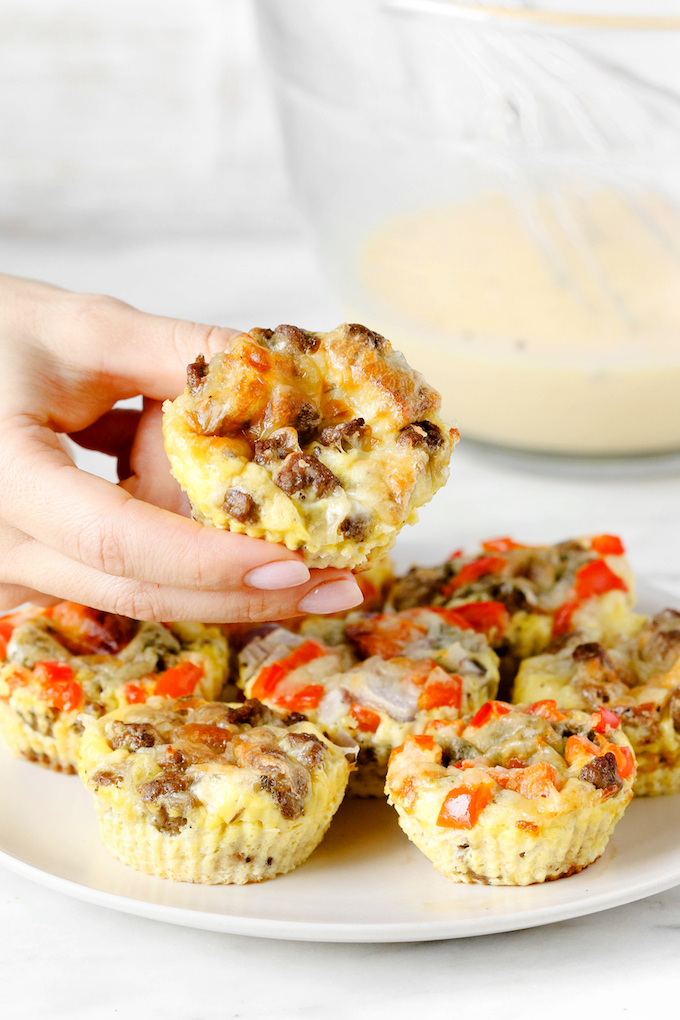 Lightening fast and fancy... ummmm, yes please!!!
These Baked Egg Cups are super simple. You know, the kind of recipe that you will use over and over because, well.... they take very little effort. This recipe is more of a starting point than an actual recipe. Don't like oregano, use parsley. Want to add in some veggies? Peppers, tomatoes, onion, spinach.. it will all taste delightful. Sometimes I even like to add a dollop of pesto or ricotta cheese. You can't mess these guys up. Think omelet baked in muffin tins.. seriously, how adorable is that?
With the start of school approaching I've been all about simple-no-cooking-in-the-morning-freezer-friendly-type-recipes. I'm going to level with you. I'm not at my best on school mornings. I am THAT MOM. You know, the one that they make memes about. Messy bedhead, yoga pants, last night's make-up, hiding in the car at drop off praying that nobody walks up to my car window to say hello. Friends, I struggle. To those of you who pop out of bed at the crack of dawn, bathe yourself and your children and leave the house with everybody wearing 2 matching socks and sporting impeccably combed hair ... this recipe isn't for you.
This one is for all my fellow mama's who haven't quite mastered turning on the stove in the morning, but at bare minimum want to send their kids off to school with a nutritious breakfast that they can feel good about. Matching socks and impeccable grooming.. well, it's a work in progress 🤷🏻‍♀️.
What Are Baked Egg Cups?
Baked Egg Cups are the breakfast solution that you've been dreaming about. Simple to throw together, made from basic ingredients and easily customizable (AKA.. picky kid friendly). They are baked in a muffin tin so they are individually portioned and as an added bonus, they are freezer-friendly as well!
Are There Variations of Baked Egg Cups I Can Try?
For Sure! The recipe included on this post can be thought of as a base recipe. I make it exactly as written for my boys. For Joe and I, sometimes I add extra veggies like spinach, red pepper, onion, etc. You can use egg whites or keep the yolks, add different varieties of cheeses, and sauces. If you like it.. throw it in!
How Do You Make Baked Egg Cups?
First: Line a muffin tin with silicone liners (don't try to spray or use paper wrappers... you will make a mess).
Next: Add a little bread, cheese and sausage (+ any extra veggies you want to throw in) to the bottom of each muffin cup.
Then: Mix up some milk + eggs + seasoning and fill up each muffin cup about ¾ of the way.
Finally: Bake until firm and golden.
Freezer- Friendly Baked Egg Cups VIDEO:
FAQ'S About Freezer-Friendly Baked Egg Cups:
ARE BAKED EGG CUPS HEALTHY?
The fast answer, it depends. They can contain a lot of fat and funky ingredients if you aren't careful. When a recipe is as simple as this one, you want to cook with high-quality items. Pay particular attention to your breakfast sausage. A turkey or chicken sausage will contain less calories and fat than a traditional pork sausage.
CAN BAKED EGG CUPS BE FROZEN?
Yes! It's part of the reason that I love them so much. Follow recipe directions. Then, allow egg cups to cool completely. Arrange on a baking sheet, and freezer for 1-2 hours or until frozen through. Remove egg cups from baking sheet and place them in a large labeled ziplock bag. Store in the freezer for 1-2 months. To thaw the egg cups place them in the refrigerator the night before they are needed. In the morning, warm them in the oven or microwave.
I EAT LOW-CARB, CAN I LEAVE THE BREAD OUT OF BAKED EGG CUPS?
Yes! The egg cups aren't as portable (the bread thickens the base), but you can eliminate the bread without ruining the taste.
CAN BAKED EGG CUPS BE ASSEMBLED (NOT BAKED) AHEAD OF TIME?
Yes! Follow the recipe, but don't bake. Instead, store the muffin tin covered in the refrigerator. In the morning, allow it to come to room temperature before following normal baking directions.
CAN YOU SUBSTITUTE EGG WHITES WHEN MAKING BAKED EGG CUPS?
Yes! This recipe is so easy to customize. If you don't want to use the yolk, you can substitute 1 cup of egg whites or egg white substitution instead.
WHERE CAN I BUY SILICONE LINERS?
Silicone liners are essential for this recipe. Don't try to make it without. They are very inexpensive and can be purchased HERE on Amazon (<--affiliate link).You'll use them all the time.. I promise!
Print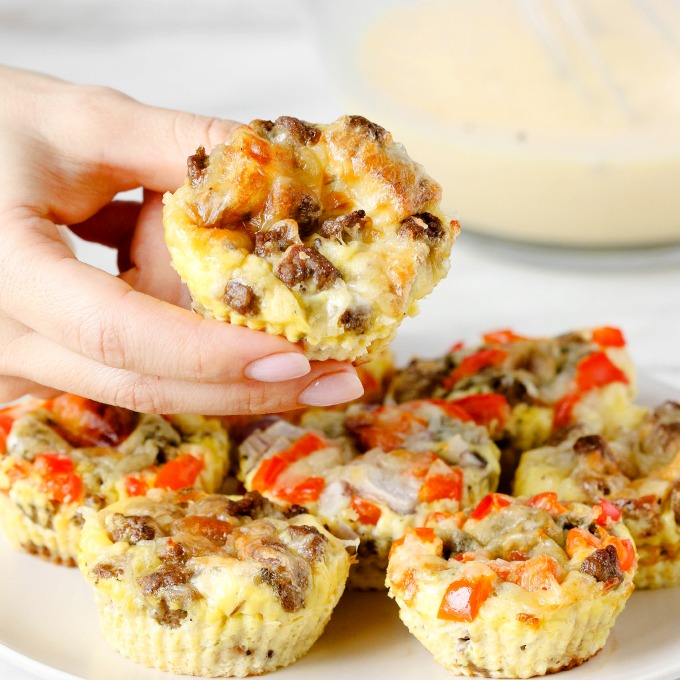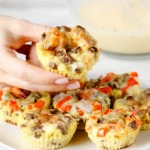 Freezer Friendly Baked Egg Cups
Author:

Prep Time:

5 mins

Cook Time:

30 mins

Total Time:

35 minutes

Yield:

15

egg muffins

1

x
---
8

eggs

1 ½ cups

milk

1 tsp

salt

½ tsp

pepper

1 tsp

oregano

3

pieces whole wheat bread, chopped into 1 ½ inch pieces

4 oz

. vermont cheddar cheese, grated

½

lb. turkey sausage (cooked according to package directions)
---
Instructions
Heat oven to 350 degrees, and line the cups of a muffin pan with 12 silicone muffin liners.
Place 3-4 bread pieces at the bottom of each muffin cup. Top with a scoop of sausage and a generous sprinkle of grated cheddar.
In a medium bowl, mix eggs, milk, salt, pepper and oregano. Whisk until yolks are fully incorporated. Evenly pour egg mixture into lined muffin tin cups. Leave a little room at the top, the eggs will rise.
Bake for 25-30 minutes. I like to broil them the last 1-2 minutes so that the cheese is golden and bubbly.
---
Notes
If you want to throw in some veggies, go for it! No need to sautéed or cook, just add them into the egg cup!
Let's Be Friends:
You can find Simply Sissom on Instagram where I share even more recipes (some that aren't on the blog), behind the scenes pics and videos AND tips and tricks to make healthy eating realistic for your busy family.
Recipes Like Baked Egg Cups:
Peanut Butter and Jelly Energy Balls:
Make Ahead Fruit and Yogurt Parfaits: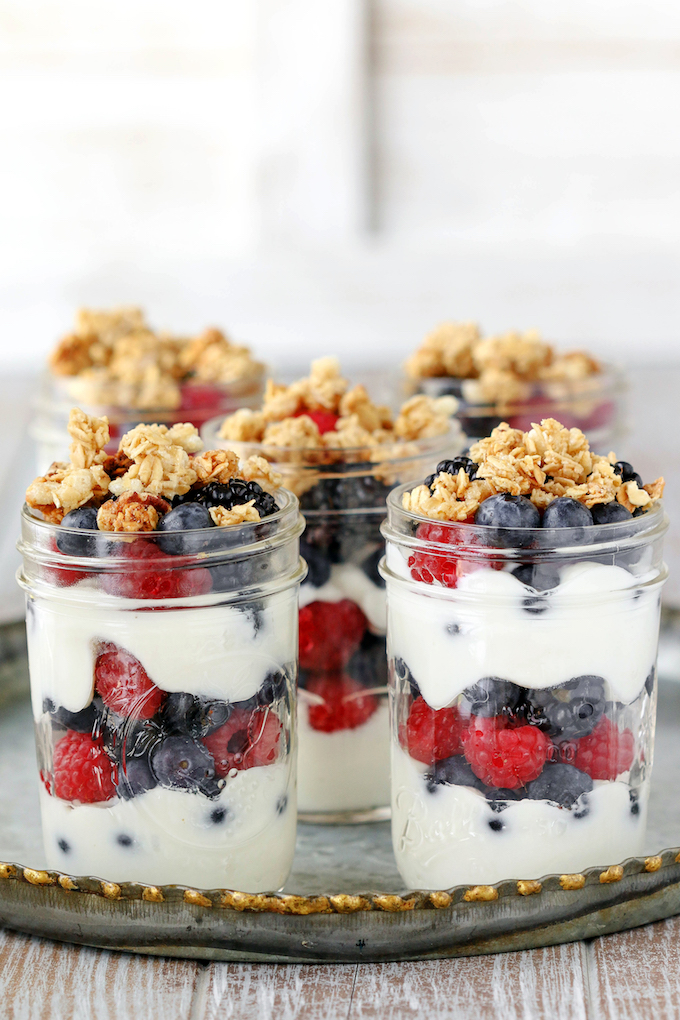 Cherry + Vanilla Baked Oatmeal Cups: