Deviled Egg Salad is simple to make requiring just basic pantry ingredients and 10 minutes prep. A fun twist on the traditional classic and a perfect make-ahead lunch option.
Pin Deviled Egg Salad for later!
The fact that I'm posting an egg salad recipe 3 days post Easter is pretty good indicator of how this week is going for me. Cruz has discovered "stranger-danger" and suffice it to day the the world is a scary place for him right now unless he's taking it in from my left hip (i.e. - writing + photographs are tough right now).
A good food blogger, well she would have posted this recipe 1-week BEFORE Easter so that you, my good reader would have had the opportunity to purchase ingredients AND avoid either throwing away the 9-dozen boiled eggs your children so diligently created OR you creating a different variation of egg salad.
I could be upset that I'm once again "late on this one," but I'm going to take the glass half full approach and just acknowledge that I now have a 362 day jump on the Post-Easter-Deviled-Egg-Salad recipe that everyone is going to be making NEXT YEAR! The fact that I'm so ahead of schedule, well these are strange and alarming times😜.
NOTE: The mayo in this picture doesn't look white and creamy because I used a mayo with clean ingredients and an avocado oil base. It is a little runnier than regular mayo and separates when not refrigerated.
I'm not sure why egg salad is a recipe that has been relegated to Spring time in my mind. We have hard boiled eggs in our refrigerator 90% of the time. It's not because I don't love it - I actually do love egg salad. More because around Easter time I feel a little pressure from Instagram and some of my favorite food bloggers who are currently posting carrot infused desserts and all things egg-y. Eggs seem to be on every crevice of the internet.
This Deviled Egg Salad -absolutely. I'm there for it, all day every day. But regular egg salad? Well, I'm going to level with you, I find it a little bland.
Today I'm here to tell you - I've leveled up the concept of egg salad game to include Deviled Egg Salad - and oh my. IT WILL NOT DISAPPOINT. It's smooth, zippy and delightful.
I'm anti-bland in all foods in my life, so I went waaaaay heavy on the smoked paprika, and I also got a little aggressive with the dill addition because dill tastes like pickles and pickles well.. they taste like all the best parts of Spring. Trust, it's a solid decision.
All in all I ended up with an egg salad situation that is very next level if I do say so myself. Just enough "egg-salady-ness" that it's still recognizable, but more "zip" for those of you who are like me and need a little extra flavor in your life.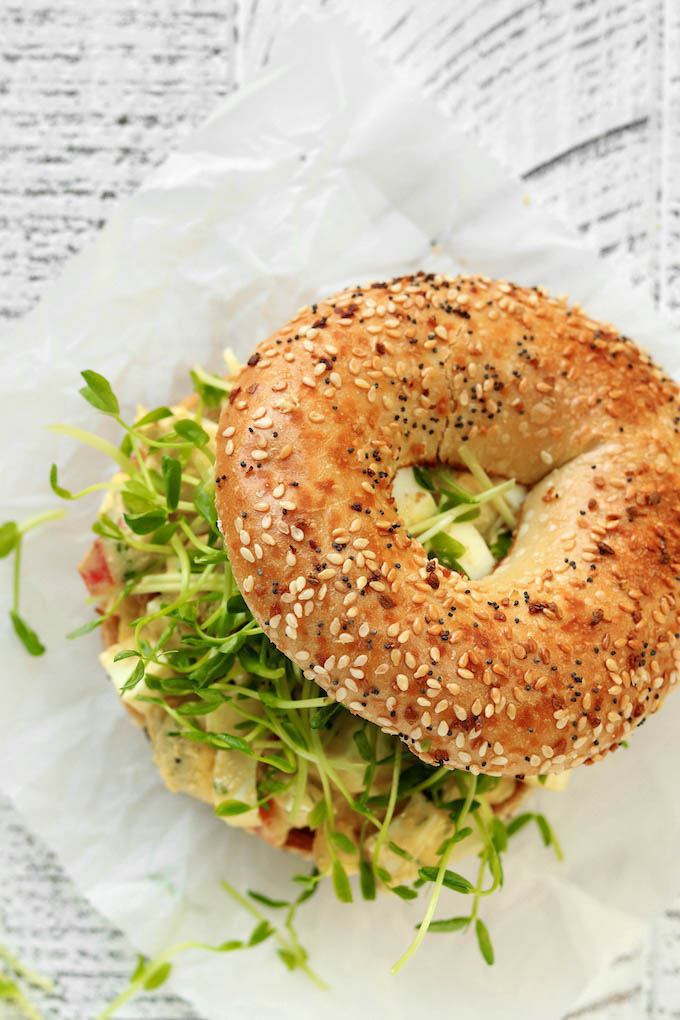 My goal of this Spring is to make some really great, really fresh recipes. That sounds obvious, and it is. But in my mind, I'm viewing these Spring recipes as recipes I'd feel super, super solid recommending to you as a weekly meal-time staple.
This is one of those recipes. ❤️
Time Saving Tips and Tricks:
Prep: Hard boiling the eggs ahead of time will make throwing this salad together really quick. Hard boiled eggs can be stored in the fridge for 4-5 days (at least).
Make Ahead:This Deviled Egg Salad is a perfect make ahead option. I like to double the recipe, use half for dinner for the family, and then use the leftovers as a quick lunch throughout the week.
Freezer: Nope, not this time.
Print
---
Description
Deviled Egg Salad is simple to make requiring just basic pantry ingredients and 10 minutes prep. A fun twist on the traditional classic and a perfect make-ahead lunch option. 
---
6

hard boiled eggs, peeled and chopped

2 ½

Tbs. mayonnaise

½

Tbs. dijon mustard

1 tsp

. pickle juice

½

Tbs. fresh dill

½

Tbs. diced onion

½

Tbs. diced red pepper

⅛ tsp

. smoked paprika

¼ tsp

. salt

⅛ tsp

. black pepper
---
Instructions
Combine all the ingredients and refrigerate until ready to eat.
---
Notes
I used primal kitchen Avocado Oil Mayonnaise.  It uses real-food ingredients and no artificial colors or additives. I like that the ingredients are all recognizable.
Let's Connect:
You can find Simply Sissom on Instagram where I share even more recipes (some that aren't on the blog), behind the scenes pics and videos AND tips and tricks to make healthy eating realistic for your busy family.
Recipes Like Deviled Egg Salad: