Simple, 30-minute Whole Grain Chicken Noodle Soup (with a higher-protein option) -it's a simple, healthy, back-to-basics meal.
Pin Whole Grain Chicken Noodle Soup for later!
It's  that time of year when I dress myself in cozy oversized sweaters, scarves and 2-3 pairs of thick wooly socks depending on how much clean laundry is available (and that's just when I'm inside). I've abandoned smoothies entirely for All. The. Coffee. and traded in my daily salad for warm hearty bowls of soup. Since this blog is highly affected by my whims and desires, I have the perfect simple, dead-of-Winter-appropriate-recipe for you.
Whole Grain Chicken Noodle soup, and not the kind that comes from a can... Your Mama's gonna be so proud!
This recipe is for you, hungry reader who's life is completely nuts right now, who has a hard time finding the time to cook even though you LOVE the concept of homemade meals and family dinners, the one who opens the fridge each morning praying to find a healthy grab n' go type situation to pack in everyones lunches only to find NOTHING.
I get you, because I am you.
This soup is FLEXIBLE.. do your chopping early in the day. Bake the chicken while the kids are napping. Or.. prep everything the night before. Then.. when you are good and ready, head into the kitchen and calmly throw the prepped ingredients into the pot, turn up the heat and soak up all the delicious smells and the feelings of domestic domination (<-- too much??).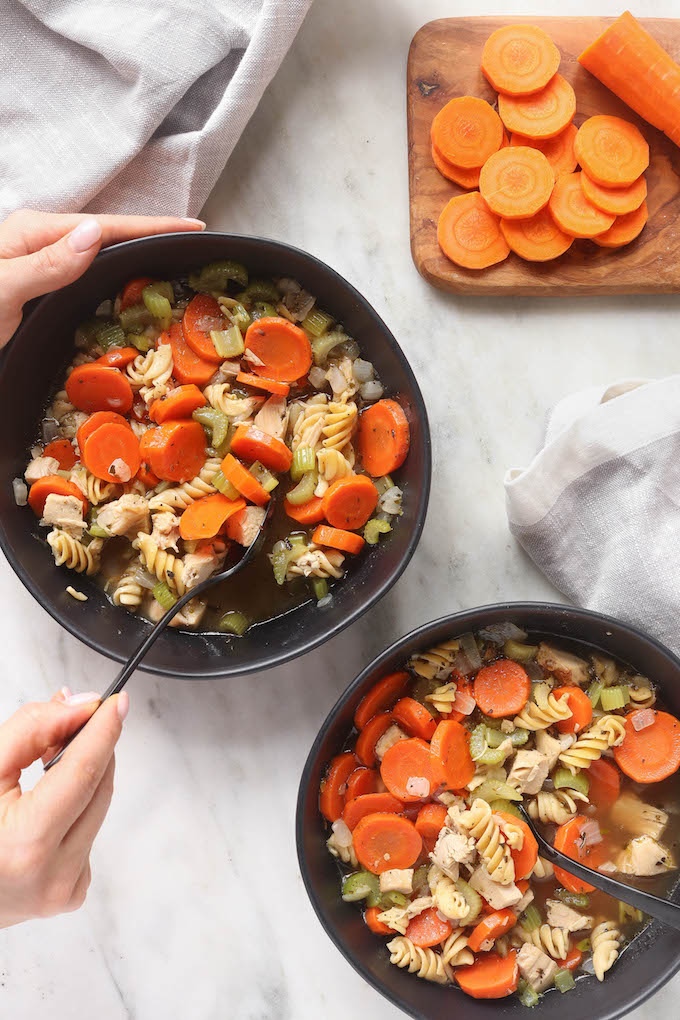 Here are some of my favorite things about this Chicken Noodle Soup
The noodles are made from chickpeas! Wait, wait, wait! Don't leave. I just discovered Banza pasta (<--Not sponsored)) and you guys.. it's gluten-free AND has almost double the protein and fiber of normal pasta. It also has way less carbs. My kids didn't even notice the swap.  If you can't get on the chickpea pasta train.. no problem (I had questions too), just swap it out for a whole-grain noodle.
10-Ingredients, that's it. Ok, I didn't count the salt and pepper.. don't be mad.
Make Ahead and Freezer Friendly. 
It's loaded with veggies.  It has approximately double the amount that it's traditional counterparts do.
It's easy. Basic ingredients, quick prep-time and several helpful short-cut options (I share them in the NOTES section of the recipe).
Time Saving Tips and Tricks:
Prep: Celery, onion, carrots, garlic and chicken breast can be prepped ahead of time making throwing this soup together really simple. To prep chicken breast, coat 2-3 chicken breasts (depending on size) with a thin layer of olive oil and season with salt and pepper. Bake at 350 until chicken is cooked through, about 30-35 minutes. Or... use a rotisserie chicken!
Make Ahead: This soup is a perfect make ahead meal. In fact, I think it tastes even better after a day or 2 when the flavors have had the chance to hang out, mingle and get acquainted with one another.
Freezer: This is a perfect recipe to double. Personally I could eat chicken noodle soup every night of the week, but around the 3rd time in a row that I serve it for dinner I get accused of getting lazy. Freeze half the batch in a freezer safe container, pull it out later, and be SNEAKY lazy:)
Print
📖 Recipe
Author:

Prep Time:

15 mins

Cook Time:

20 mins

Total Time:

35 minutes

Yield:

6

servings

1

x
---
Description
Simple, 30-minute Whole Grain Chicken Noodle Soup -it's a simple, healthy, back-to-basics meal.
---
1

TBS olive oil

3

large garlic cloves, minced

1 ½ cups

chopped celery

½ cup

chopped onion

5 cups

chicken broth

1 ½ cups

chopped cooked chicken breast

1 cup

100% whole wheat noodles OR chickpea noodles (uncooked) - I used BANZA Rotini

1 ½ cups

carrots, chopped

½ tsp

basil

½ tsp

oregano
salt and pepper to taste
---
Instructions
In a large soup pot over medium heat, add butter and garlic. Stir frequently until butter is melted and garlic becomes fragrant, about 1-2 minutes. Add celery and onion. Continue cooking until onions become translucent, about 5 minutes.
To the pot, add chicken broth, chicken, noodles, carrots, basil, oregano, salt and pepper. Bring to a boil. Then reduce heat and simmer for 20 minutes.
---
Notes
I always recommend making your own chicken broth/stock. It gives you control of the quantity and quality of ingredients included. Making your own is fairly simple. I love this recipe for Slow Cooker Chicken Bone Broth.
A few Optional Short Cuts: 

Store-Bought Rotisserie Chicken - Super moist and saves you from cooking!
Frozen diced onions - they really taste great and who wants to cut onions?
LET'S CONNECT:
You can  find Simply Sissom on Instagram where I share even more recipes (some that aren't on the blog), behind the scenes pics and videos AND tips and tricks to make healthy eating realistic for your busy family.
Recipes Like Whole Grain Chicken Noodle Soup:
Slow Cooker Chicken and Wild Rice Soup:
Thick and Chunky Vegetable Soup: