Hearty, 1-bowl White Chicken Chili has seasoned chicken, white beans, tons veggies and a creamy cornmeal base. Perfect served with a shredded Vermont White Cheddar, guacamole and corn chips.
Making this white bean turkey Chili was my sole Sunday accomplishment, unless you count binge watching The Good Wife on Netflix.. which I could make a case for, season 3 ✅. So. Good.
After a full Saturday packed with endless activities and commitments.. an afternoon of laziness is acceptable, right??? Please say yes.
Don't get me wrong, our Saturday was awesome.. until it wasn't.
After a full day of soccer games, and birthday partying we left a family dinner at my sister's house around 10:00 PM in a "BLAZE OF GLORY." AKA .. 2 wailing children, each thrown over one of Joe's shoulders. Yep, definitely should have made a graceful exit about 15 minutes earlier, but there were adults there, and we were talking, alone, while the children played beautifully together. I think I speak for all parents when I say, these types of situations MUST be taken advantage of. Always. Without exception.
If you want to get technical (which in this case I think that we definitely should), I actually made 2 ENTIRE dinners (+ extra for the freezer) on Sunday in addition to catching up my Netflix Queue.
You see, I believe that chili should only be made in hugely large batches. I doubled the recipe (ensuring that I don't have to make dinner tomorrow) and still had tons left for the freezer. I freeze it in single portions (mason jars work really well). It's awesome for school lunches or a last minute dinner. This could definitely come in handy in the future.. The Good Wife does have 7 seasons!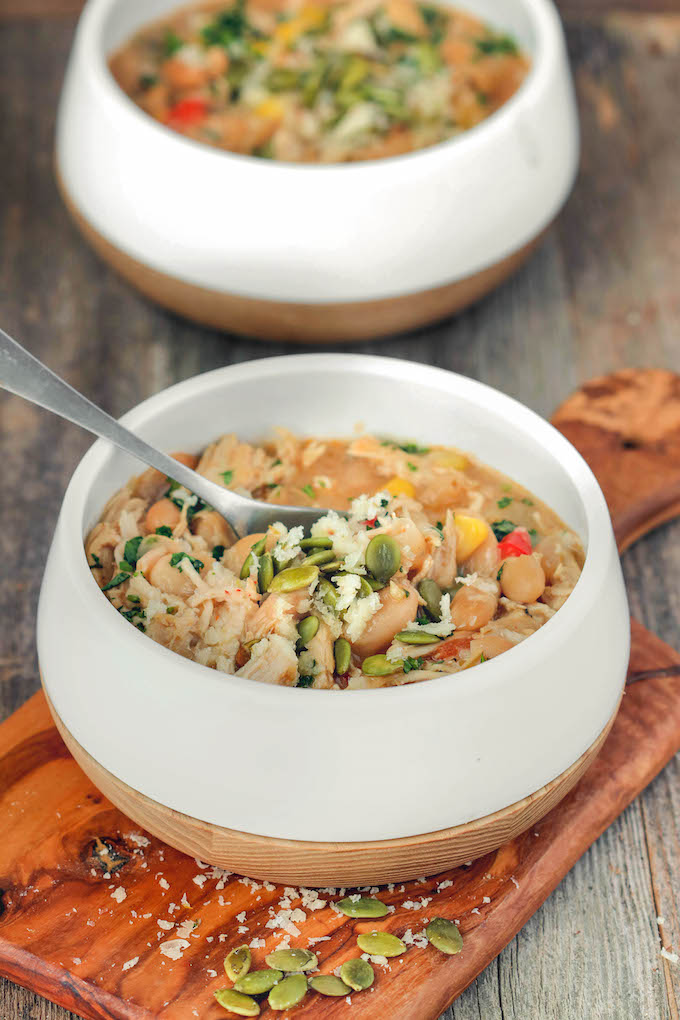 Time Saving Tips and Tricks:
Prep: CHOP YOUR VEGGIES before you start making the chili. You can do this 1-3 days in advance. Just store in the fridge in an airtight  Ziplock bag.
Make Ahead: YES! This chili only gets better with age (to a point.. then it's just nasty?.. use judgement).
Freezer: This is a perfect recipe to double. Personally I could eat chili every night of the week, but around the 3rd time in a row that I serve it for dinner I get accused of getting lazy. Freeze half the batch in a freezer safe container, pull it out later, and be SNEAKY lazy:)
Video:
Print
📖 Recipe
White Chicken Chili
Author:

Prep Time:

20 mins

Cook Time:

40 mins

Total Time:

1 hour

Yield:

6

servings

1

x
---
¾ cup

whole milk

¼ Cup

Corn Starch

2

TBS butter

1

yellow onion

4

garlic cloves, minced

1

red pepper, diced

4 cups

shredded chicken

2

15 oz. cans of white beans (I used Butter Beans and Great Northern Beans)

5

-

6

Cups of Chicken Broth

1 ½

TBS Cumin

¾ tsp

Paprika

½ tsp

Cayenne Pepper

1 cup

frozen sweet corn
Salt and Pepper to taste
---
Instructions
In a small bowl, combine milk and corn starch. Set aside.
In a large soup pot, heat butter over medium heat. Add butter. When butter is melted completely, add onion, garlic and red pepper. Cook for 8-10 minutes or until onions are translucent. Stir frequently.
To the pot, add chicken, chicken broth (start with 5 cups and add more if needed),beans, cumin, paprika, and cayenne pepper. Let simmer for about 20 minutes.
Add the milk/cornstarch mixture and frozen corn. Cook an additional 10 minutes or until soup is desired consistency. The longer you cook, the thicker it will get.
---
Helpful Hints:
I strongly recommend that you prep all of your veggies prior to beginning this recipe. Get the hard part over with.
If you want a spicier version of this chili add a can of green chilies.
When possible purchase organic ground turkey (I find mine at Whole Foods or Kroger).
Nutrition Information:
Let's Connect:
Similar to White Chicken Chili:
1o Healthy Whole Food Crockpot Recipes:
Slow Cooker Chicken and Wild Rice Soup:
Thick and Chunky Vegetable Soup: