A step-by-step  guide to making nutrient rich, Whole30 compliant bone broth in your slow cooker or Instant Pot.
Pin Slow Cooker Chicken Broth for later!
Okay, here we goooooooooo!
Whole30 January.
It's here and I AM READY!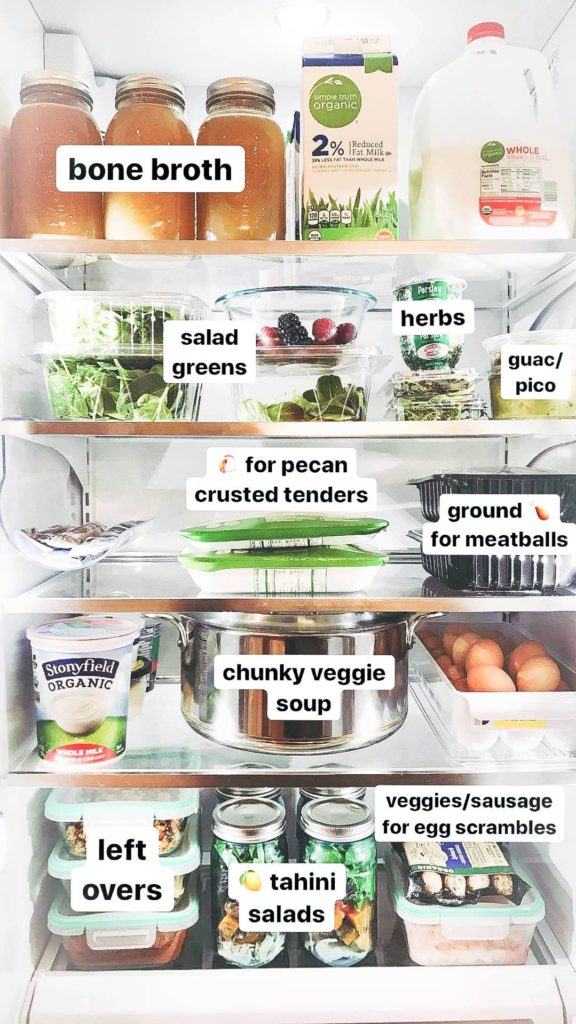 I want to take just a minute and address the elephant in the room... NOOOOOOO, my fridge does not always look like this. In fact, it is highly likely that it never will again. That said, with today being day #1 of #simplysissomwhole30, a stocked fridge is making this whole challenge So. Much. Simpler. You can check out my Whole30 meal plan and get the recipes HERE.
When eating well involves:
delicious soups (made with slow cooker chicken bone broth)
fancy salads
TONS of roasted veggies
simple approachable recipes
I. Am. All. In.
You guys.. this slow cooker chicken bone broth! It takes homemade soups to the next level. I made some chunky veggie soup (subbed sausage for the black beans) and I gotta tell you, there's nothing "diet-y" feeling about it.
This recipe is super flexible. Crockpot, Stovetop, Instant Pot... cook's choice. It makes zero difference. It's my favorite kind of recipe. You know.. the kind where there aren't any super strict rules.
I really don't think that we could have picked a better recipe to kick the year off with because this one, it's a staple. Annnnnnd it's definitely NOT just for people doing Whole30.
The whole process couldn't be any more simple (and the recipe is the same no matter how you plan to cook it). In a nutshell, dump in All. The. Things. and then add water. You will spend 10 minutes tops with hands on prep for this one.
I know, I know... you're wondering what the catch is. Well, there is an itty-bitty one.  This one takes time AND a little bit of planning. Since the recipe requires a chicken carcass, you've gotta make a whole chicken (or cheat and grab a hot one from the grocery, nobody is judging!!).  I like to cook the chicken, pull off the meat, shred it for salads throughout the week AND then get to making broth.
As for the recipe, well.. it's definitely more of a suggestion. DO NOT get bogged down because you don't have exactly 3 celery stalks and 2 onions. I provided specifics ONLY because when I'm making I recipe I like to have them. You can use anything. I keep a plastic bag in my freezer full of veggie scraps accumulated over the week (leafy parts of celery, uneaten carrot sticks, tops of red peppers,  onion halves) and use these to make my weekly broth. You can't mess this one up and it's a great way to get rid of partially used herbs and veggies.
HINT: There is no need to thaw frozen veggie parts before throwing them in.
Time Saving Tips and Tricks:
Prep: To get a jump start on this recipe, you can cook/shred a whole chicken (bones can be saved in the freezer for up to a few weeks). Take the time to save veggie scraps throughout the week. These can be thrown into the same bag with the chicken bones.
Make Ahead: Yes! There is always a jar of Slow Cooker Chicken Bone Broth hanging out in my refrigerator. It will keep for 3-4 days safely.
Freezer: You bet. Broth can either be frozen in freezer-safe mason jars or zipper bags. I like using mason jars because they have measurements on the side, but it freezer space is a concern the bags work great too. When freezing in bags, lay flat until frozen through. You can then stack multiple bags on top of one another!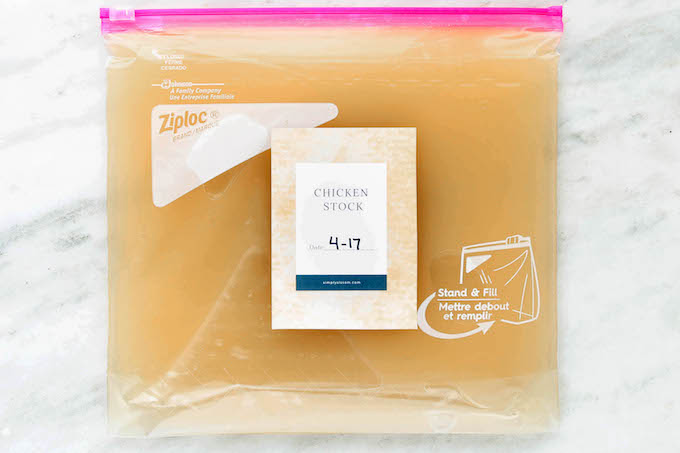 Print
Slow Cooker Chicken Bone Broth
Author:

Prep Time:

10 mins

Cook Time:

12-24 hours

Total Time:

18 minute

Yield:

10 cups

1

x
---
Carcass from

3

-

4

lb. whole chicken

3

carrots, roughly chopped (I peel them)

3

celery stalks, leafy green part can be included

2

onions, peeled and roughly chopped

5

-

6

sprigs of fresh thyme (sub out any fresh herbs you have on hand)

2 ½

Tbs of apple cider vinegar

15

whole peppercorns

1 tsp

salt
---
Instructions
COOKING INSTRUCTIONS: select desired method
STOVETOP: Combine all ingredients in a large stockpot. Add enough water to cover veggies and bring to a rapid boil.  Once water is boiling, reduce heat and simmer on the stovetop (covered)for 12-24 hours.
SLOW COOKER: Combine all ingredients into the bowl of a slow cooker. Add enough water to cover veggies. Set crockpot to low for 10-12 hours.
INSTANT POT: Combine all ingrediens into the bowl of an Instant Pot. Add enough water to cover veggies. Set pressure to high and cook for 120 minutes. Allow the steam to release naturally (aka.. don't touch pot until the little red button goes down).
STRAINING INSTRUCTIONS:
Strain the broth through a fine mesh strainer (I like the ones that have hooks on the edges) over a large bowl with a pour spout. Discard the solids. Transfer broth to multiple containers/bags. Allow broth to cool completely before freezing or refrigerating. Before using broth, use a spoon to scrape the fat from the top.
---
Notes
I made this recipe LIVE in the Simply Sissom Community Private FB Group this week. You can check it out HERE.
You can ALWAYS add more water if needed!
Let's Connect:
If you give this Slow Cooker Chicken Bone Broth a try, let me know! Leave a comment and rate it, and don't forget to take a picture and tag it #simplysissom on Instagram so I can see! Your photos make my day!
Recipes like Slow Cooker Chicken Bone Broth:
1 Pot Sausage, Spinach and Potato Stew: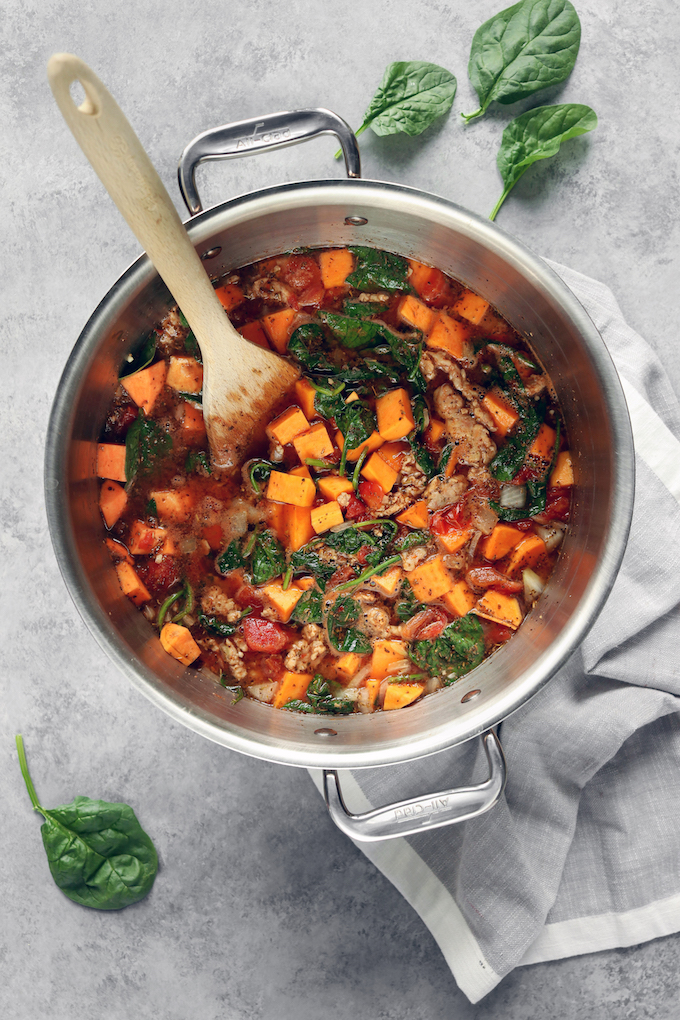 SaveSave
FREE WHOLE30 COOKBOOK
12 Family Friendly Whole30 Compliant Recipes from Simply Sissom.