Slow Cooker Chicken and Wild Rice Soup is simple to make, requiring less than 10 ingredients and very little hands on prep. A hearty and comforting soup that's perfect for Fall and Winter.
Pin Chicken and Wild Rice Soup for later!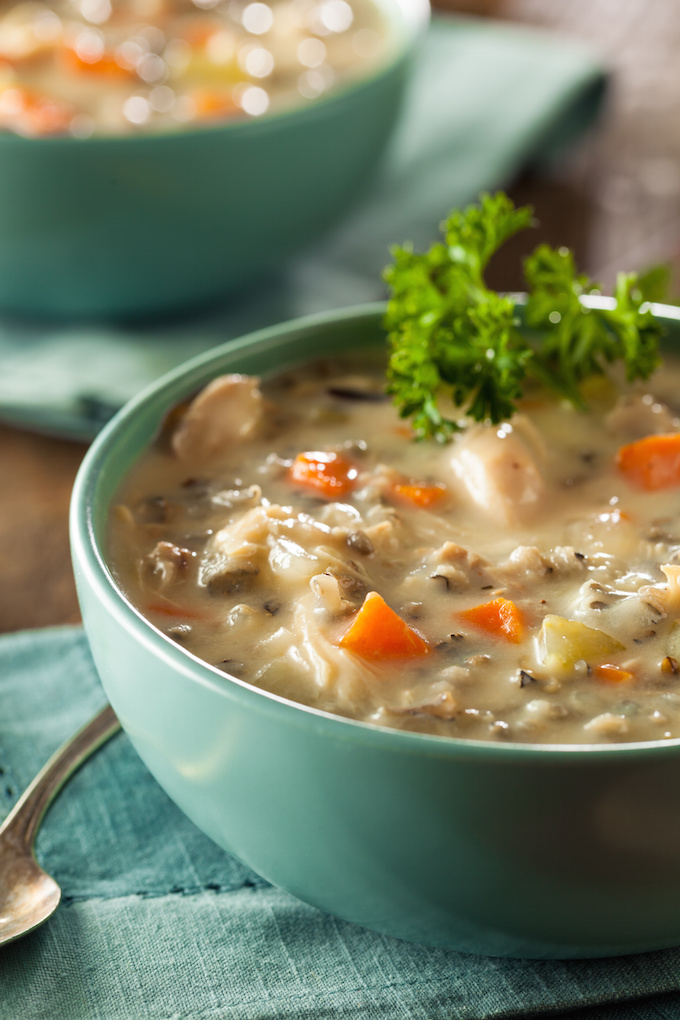 It's November 6th.. yesterday was 70 degrees, sunny and delightful.  I worked out, folded ALL the laundry (mostly so I could watch Hallmark Christmas movies guilt free), prepped food and enjoyed Sunday dinner with the family at my Dad's house. Good stuff.
Today, well.. today is gray, cold and windy. My accomplishments include typing this post and finishing up the Hallmark movies from yesterday (sans laundry). That's it.  You guys, I'm not built for Winter. Blustery weather renders me lazy, ineffective and extremely appreciative of my slow cooker. Cause dinner, well... it's 3:00 and I haven't even been to the store.
Good or bad, my personality is all or nothing. SO.. when I'm feeling energized, organized and on-top-of -life I've got to take advantage. That's why I like (and push) meal prepping. Yesterday afternoon I threw together this Slow Cooker Chicken and Wild Rice soup and it's just hanging in the refrigerator, and today... well, I'm grateful.
Soup is one of my absolute favorite things to incorporate into my weekly meal prep. It's freezable, tastes even better after being refrigerated and most importantly.. it can involve just throwing All. The. Things. into the slow cooker.
Translation: life just got got easy and I'm going to go and watch another Hallmark movie now while my dinner heats itself up in a large kitchen appliance sans my time and attention.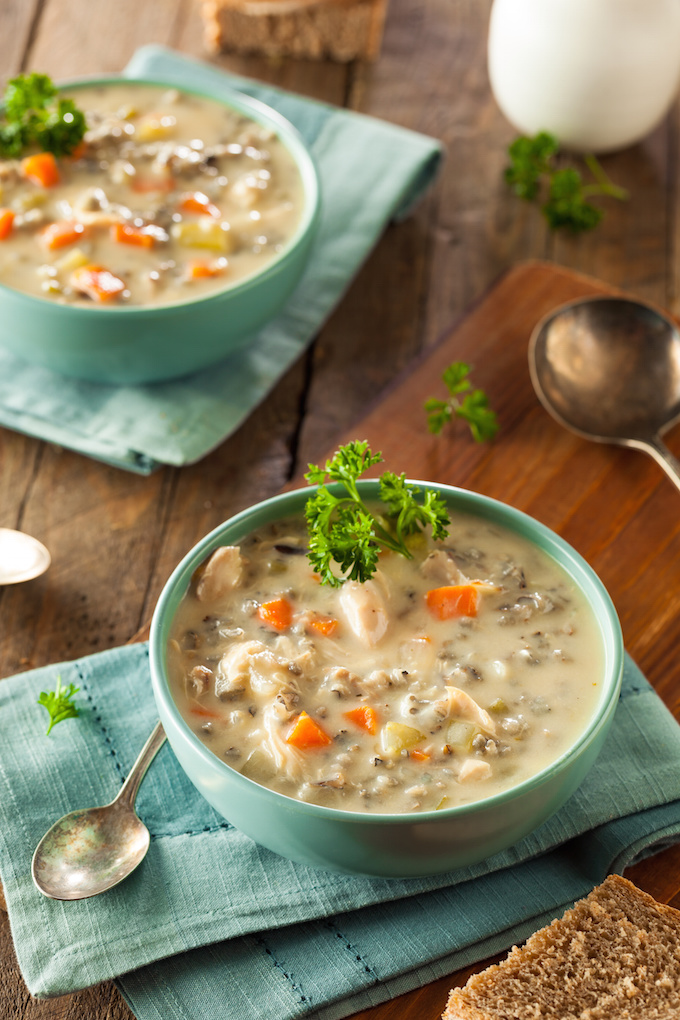 Time Saving Tips and Tricks:
Prep: This recipe is SO simple that there really isn't a lot of prep to be done. If you are just really itching to get a jump start on it you can chop the onions, celery and carrots and store them in the refrigerator in a ziplock bag. Or.. you can buy mirepoix (fancy way of saying cut up onions, celery, and carrots) at your local grocery store in the produce section.
Make Ahead: Of course.. it's a slow cooker recipe! You are going to be kinda devastated if you don't plan this one out a bit. This soup tastes delicious on the 2nd, 3rd, 4th day... etc. Isn't soup the greatest?
Freezer: Soups were practically invented so that we could freeze them in cute little individually portioned mason jars. I like to double this recipe, serve ½ and save/freeze the rest. Ladle desired amount of soup into freezable mason jars or airtight zipper bags (whatever sizes work for you) and pop em in the freezer. To thaw, remove jar from the freezer and heat over the stove until warm and steamy.
Print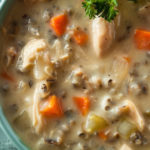 Slow Cooker Chicken and Wild Rice Soup
Author:

Prep Time:

5 mins

Cook Time:

7 hours

Total Time:

7 hours 5 minutes

Yield:

8

servings

1

x
---
1.5

lbs. chicken breasts
salt and pepper

1 cup

uncooked wild rice

2 cups

mirepoix (diced celery, carrots, and onions)

6 cups

chicken broth

½ tsp

thyme

½ tsp

rosemary

2

bay leaves

12

dashes of hot sauce (more or less to taste)

½ cup

butter

¾ cup

flour

2 cups

whole milk + up to 2 cups additional
fresh parsley (for garnish, optional)
---
Instructions
Season raw chicken breast with salt and pepper to taste. Place chicken into slow cooker.
To the slow cooker, add wild rice, mirepoix, chicken broth, thyme, rosemary, bay leaves and hot sauce.  Cover and cook on low for 7 hours. The chicken should no longer be pink and the rice should be tender.
Remove chicken breast from the slow cooker and shred with 2 forks. Return the shredded chicken to the crockpot.
Melt butter in a saucepan over medium heat. Whisk in flour until lightly browned, about 1 minute. Whisk in 2 cups of milk, and cook, whisking constantly, until slightly thickened, about 4-5 minutes; season with salt and pepper to taste.
Stir milk mixture into the slow cooker. If the soup is too thick, add more milk or water as needed until desired consistency is reached.
Serve immediately, garnished with parsley if desired.
---
Notes
The amount of milk added at the end of the recipe will vary based on desired thickness.
Mirepoix is a combination of onions, celery and carrots. Many stores carry it pre-chopped. You can also make your own by combining ¾ cups carrots, ¾ cup onions and ½ cup of celery.
Helpful Hints:
As mentioned above, you can purchase mirepoix pre chopped. It doesn't save you a TON of time, but hey, some days you just need to save 5 minutes.
Chicken should be purchased organic when possible.
Make sure that you do not purchase instant wild rice.. it will be mush by the time you get it out of the crockpot.
Let's Be Friends:
Posts Like Slow Cooker Chicken and Wild Rice Soup:
1-Pot Sausage, Spinach and Potato Stew:

Thick and Chunky Vegetable Soup: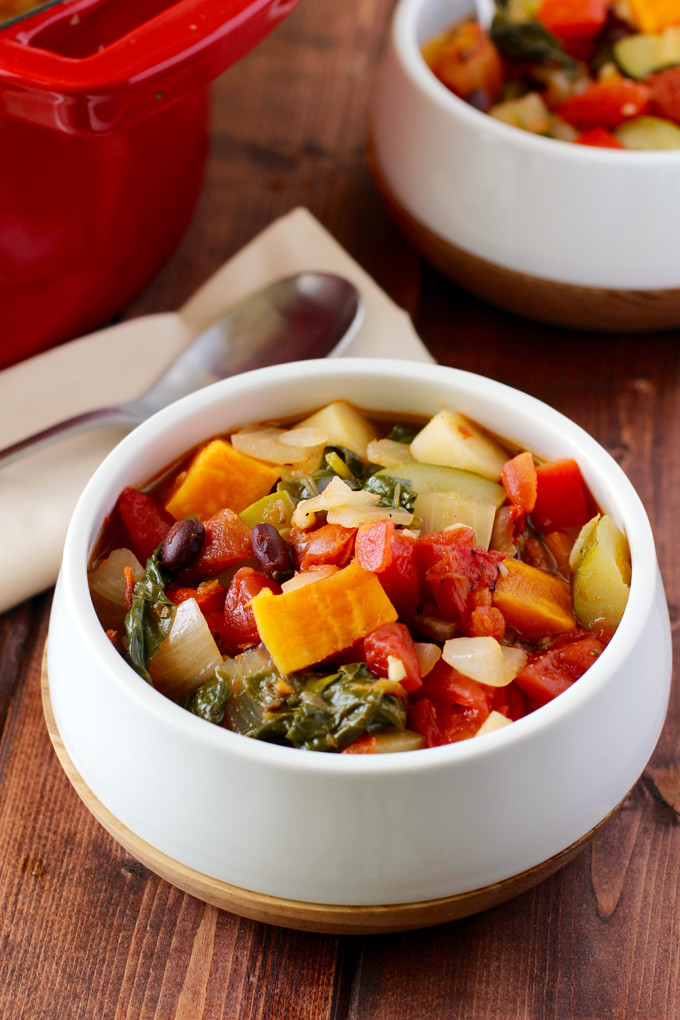 SaveSave