10- ingredient Quick and Easy Turkey Chili with kidney beans, red peppers and onions. Spicy, simple and satisfying.
Pin Quick and Easy Turkey Chili for later!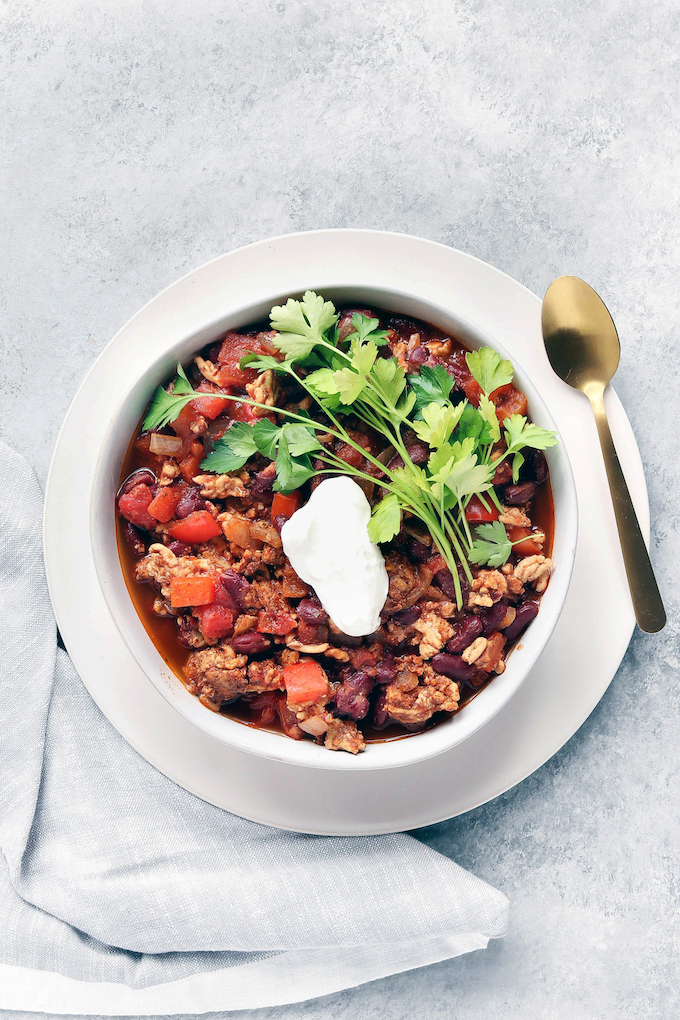 Yes.. I'm aware that it's March.
Yes, I'm aware that mid-march isn't a typical time to bust out a turkey chili recipe.
Buuuut you guys.. it's snowing. And I 'm not talking about spitting a few scattered flakes from the sky. I'm talking 8", icy-roads and school cancellations.  Why is this even my life? I grow more and more convinced each year that I in fact DO NOT belong in a city with seasons. I was clearly meant to reside in somewhere topical.
So here's the deal...
Throughout this snowy week, I've been a little, well... A LOT OBSESSED with this Quick and Easy Turkey Chili.
It's hearty, chunky, warm and has just the right amount of zip. Combine that with All. The. Tex. Mex. Toppings. and you'll find yourself giddy in the best chili-loving-way possible.
I know, I know... I have a bad habit of getting overly excited about all the recipes I share (<-- nice way of saying I can be a touch dramatic when it comes to food), but seriously... I've made this Quick and Easy Chili 3 times.. count' em... 1,2,3. Sooooo, that's a total of 15 servings of chili eaten by yours truly over the past couple of weeks. Obsessed.
This chili really couldn't be easier to throw together. I like to prep all the ingredients first (chop veggies, open cans, etc.) because once this recipe gets going it moves really fast. It's a dump and stir type of situation.
You could definitely serve it for dinner, but my favorite thing to do is to portion it into 5 separate containers and know that I have a warm-n-comforting meal ready to go each day of the week. Like I said, this has literally been my lunch everyday.  I'm not mad about it.
The recipe is flexible. Don't have dark red chili beans? Use black beans instead. Flavor more important to you than calories? Make it with beef instead of turkey. Want an extra kick? Throw in some jalapeños. You get the idea.
Top it with whatever your heart desires. My personal favorite is some plain yogurt and chopped cilantro, BUT you do you. There is no wrong way to make this happen. So what are you waiting for? Run, don't walk. Do this!!!!
Time Saving Tips and Tricks
Prep: Cut the veggies ahead of time. Once this recipe gets going it moves fast! You can prepare the vegetables 2-3 days before you are ready to make the chili and store them in the refrigerator in a ziplock bag.
Make Ahead: The chili only gets better after sitting in the refrigerator for a day or two. I usually make a big pot on Monday and eat it for lunch throughout the week. It's nice to have a healthy option that doesn't require me to do anything other than warm it up.
Freezer: Feeling really on top of it? Double the recipe and freeze half for later. I have used smaller ziplock bags to freeze individual portions and larger bags to freeze family size amounts. Both work fine. When you are ready to eat your chili, just pull it from the freezer and warm in a pot on the stove.
Print
Quick and Easy Turkey Chili
---
Description
10-ingredient Quick and Easy Turkey Chili with kidney beans, red peppers and onions. Spicy, simple and satisfying.
---
1

Tbs olive oil

1

yellow onion, chopped

1

red pepper, chopped
salt and pepper

4

garlic cloves, minced

1

lb. ground turkey

3

Tbs chili powder

2 tsp

cumin

1 ½ tsp

dried oregano

1

28 oz. can fire roasted diced tomatoes
2 (15 oz) cans dark red kidney beans, rinsed and drained
avocado, cilantro and diced onion to garnish
---
Instructions
Place olive oil in a large pot and heat over medium-high.
Add in onion, red pepper and season with salt and pepper. Sauté for 5 minutes, stirring often. Next, add in the garlic and continue sautéing for an additional minute.
To the pot, add ground turkey and break up the meat in the pot. Cook until no longer pink, about 5 minutes.
Next, add chili powder, cumin, oregano and 1 teaspoon of salt.
Add diced tomatoes and kidney beans. Bring the ingredients to a boil, then reduce heat and simmer for 15-20 minutes.
Taste and adjust seasonings as needed.
Garnish with avocado, cilantro and diced onion. Serve immediately or divide into individual meal prep containers for a quick lunch option throughout the week.
---
Let's Connect: 
Prep-Ahead recipes are my all time favorite! Join the BRAND NEW Simply Sissom Community Private FB Group and let's meal prep together! Each week I share an exclusive recipe in the group via FB Live that is REALLY simple and make-ahead friendly. Join us!
Interested in more Whole30 meal prep ideas? Follow Simply Sissom on Instagram. I share all my meal plans and behind the scenes prep session videos on Instagram stories.
Want to prep 5 whole-food meals for a family of 4 in just 45 minutes? Check out my new program, Savvy Mama Meal Prep: Quick and Easy. Use code SMMP50 to save 50%.
Posts like Quick and Easy Turkey Chili
Thick and Chunky Vegetable Soup:
Whole Grain Chicken Noodle Soup:
SaveSave