Healthy, nutritious, Detox Lentil Soup made in the crockpot with simple ingredients. Thick and filling, it's the perfect addition to a real food reset! #vegan #glutenfree
Pin Crockpot Detox Lentil Soup for later!
A new year is a funny thing. If someone offered me a recipe for Detox soup in November, well.. you could forget about it. January strikes,  annnnndd I just couldn't get a pot of it going in my kitchen quickly enough. Please tell me I'm not the only one who is completely swayed by the idyllic photos, grandiose promises and super healthy recipes that fill my social media feed this time a year??
For me, the desire for healthy whole-food recipes is stronger than ever right now. Yes.. it's partly the whole "new year new you" thing, but mostly.. I just ate A. LOT. in December and it didn't feel good. It's a pretty good sign that you overindulged when you actually start craving salad and steamed veggies. Seriously  you guys, carbs, chocolate and ham dominated me this holiday season.
So, since this blog is a reflection of what I am making in my real life kitchen, today, detox soup.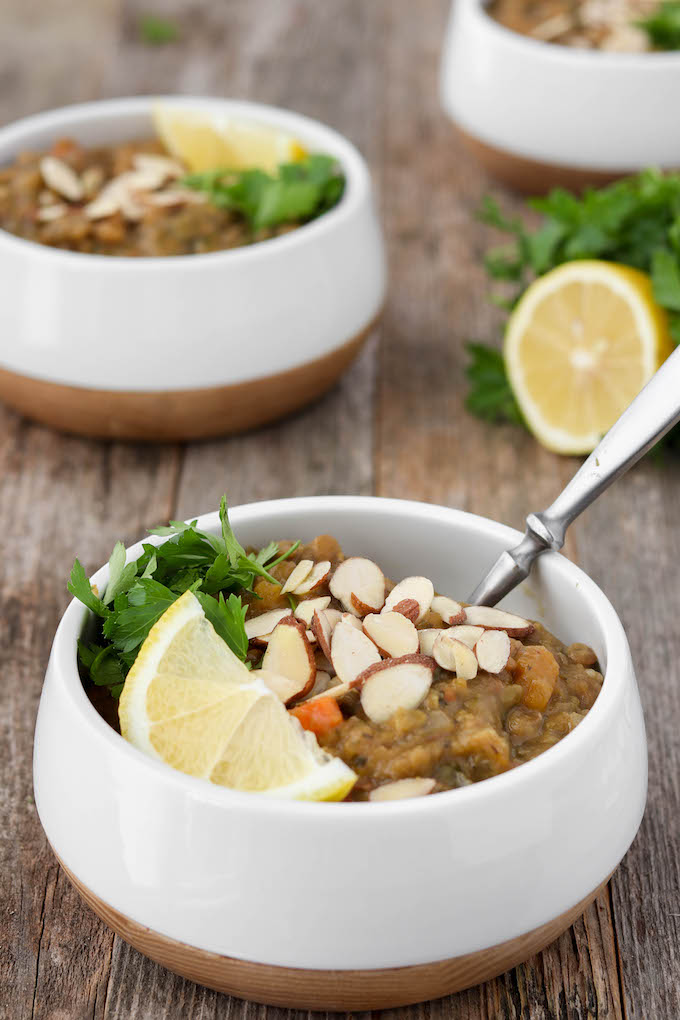 Couple things that I love about detox lentil soup... 
CROCKPOT
Basic ingredients. Ok ok, you may not have lentils or green peas hanging around your kitchen, but they are super easy to find and really inexpensive.
It's loaded with good for you stuff. Tons of veggies, beans, healthy fats and a whopping 17 grams of protein per serving!!
There's only one drawback..
Let's face it, this soup's not going to be winning any beauty contests in the near future. In fact, I think it's fair to say that it has a remarkable resemblance to dog food. Buuuuuuut, me and you, we're not the type of people to judge based on looks right??? You guys, it's good, but I want to keep things real, because that's the type of friends we are.. it's not the same as eating thick creamy potato soup or melty cheesy french onion. Manage your expectations... It's DETOX soup. With that said, if you are trying to fit in the veggies and take a step back from all the chocolate, carbs and ham.. well, this is a great first step!
Time Saving Tips and Tricks:
Prep: You can definitely pre-chop the veggies for this recipe. In fact, I recommend it. Makes throwing the soup together a total breeze.
Make Ahead: Yes! This soup actually tastes better after hanging out in the fridge for a few day... must be some weird science thing! I like to portion the leftovers out into single servings and use them for lunches throughout the week.
Freezer: Yep, this recipes is a triple threat! I use small freezable mason jars and freeze the soup in individual portions. To thaw, just allow to come to room temperature and then heat on stove or in the microwave.
Print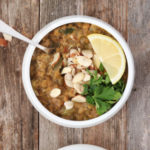 Crockpot Detox Lentil Soup
Author:

Prep Time:

20 mins

Cook Time:

6 hours

Total Time:

6 hours 20 minutes

Yield:

8

servings

1

x
---
Description
Healthy, nutritious, Detox Lentil Soup made in the crockpot with simple ingredients. Thick and filling, it's the perfect addition to a real food reset!
---
2 cups

butternut squash (peeled and cubed)

3 cups

carrots

2 cups

potatoes (chopped)

3 cups

celery (chopped)

1 cup

lentils

¾ cup

split green peas

1

onion, chopped

6

cloves garlic, chopped

8 cups

vegetable or chicken broth (more if needed)

2 tsp

herbs de provence

1 tsp

salt

3

handfuls baby spinach (destemmed)

1 cup

parsley (chopped)

2

TBS olive oil
---
Instructions
Place squash, carrots, potatoes, celery, lentils, green peas, onion, garlic, broth herbs de provence and salt into a slow cooker. Cook on high for 5-6 hours or low for 7-8.
Place 4 cups of cooked soup into a blender with 2 TBS of olive oil. Pulse until almost smooth. Add blender contents back into the soup.
Stir in spinach and parsley. Turn off heat and allow spinach to wilt. Season with salt and pepper.
---
Helpful Hints:
This recipe was adapted from Pinch of Yum's The Best Crockpot Detox Lentil Soup, which is ABSOLUTELY delicious! The original recipe called for a half cup of olive oil, I reduced it to 2 TBS (which saves about 100 calories per serving), doubled the veggies,  upped the garlic and swapped out spinach for kale. I also didn't add sherry or lemon juice because, well.. I forgot and it was still amazing!
I personally find butternut squash to be one of those things that is worth paying a little extra to purchase pre-chopped.. just saying!
Nutrition Information:
Let's Connect:
Recipes Like Crockpot Detox Lentil Soup: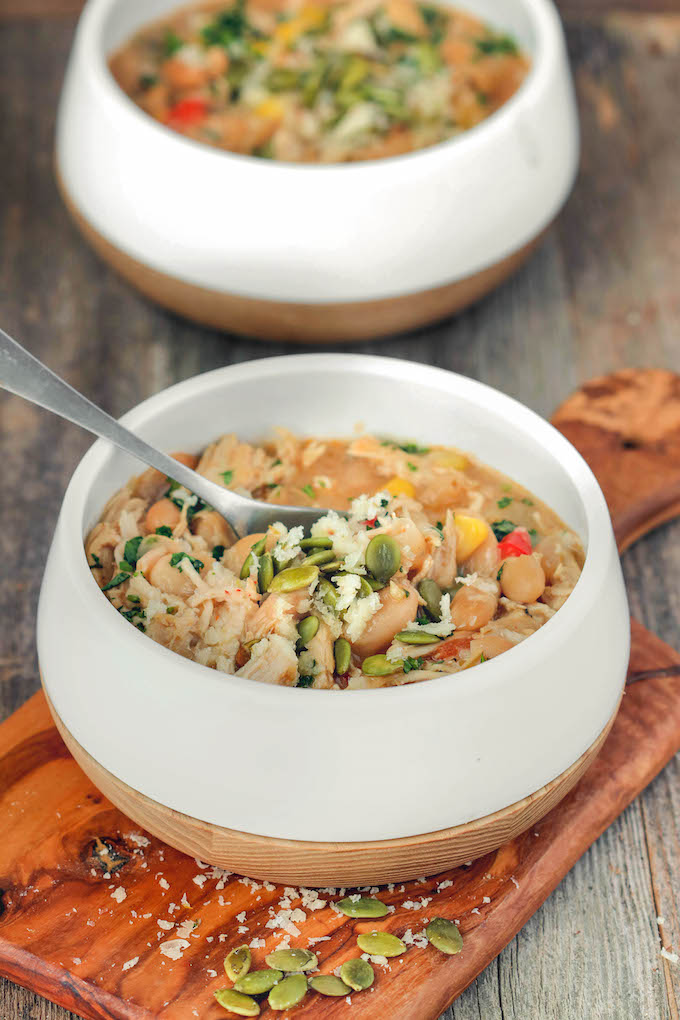 Whole Grain Chicken Noodle Soup: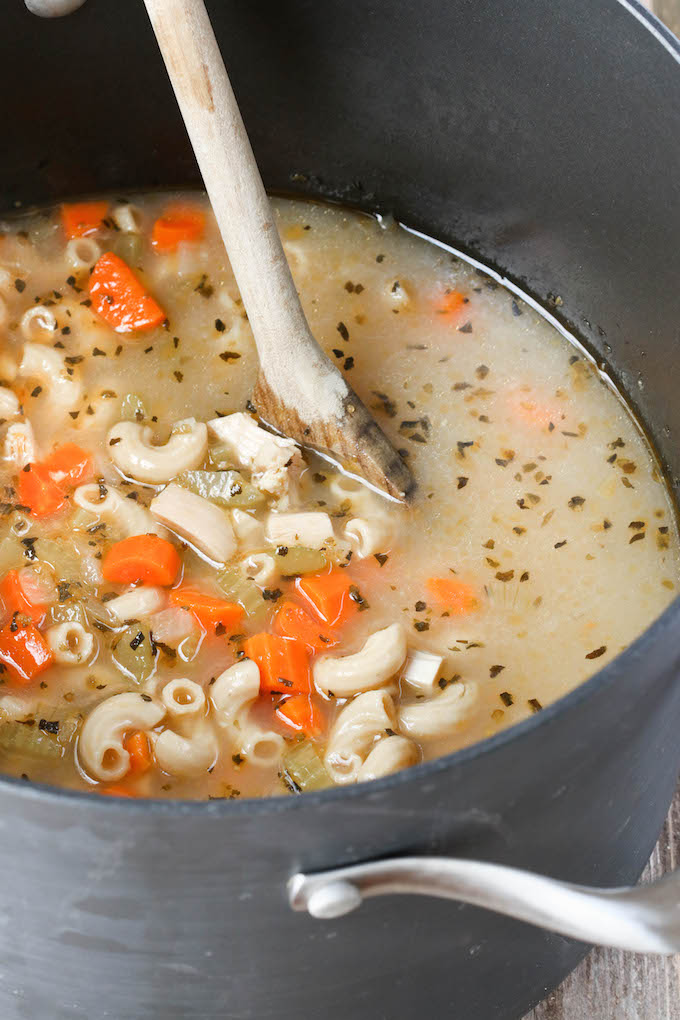 Thick and Chunky Vegetable Soup: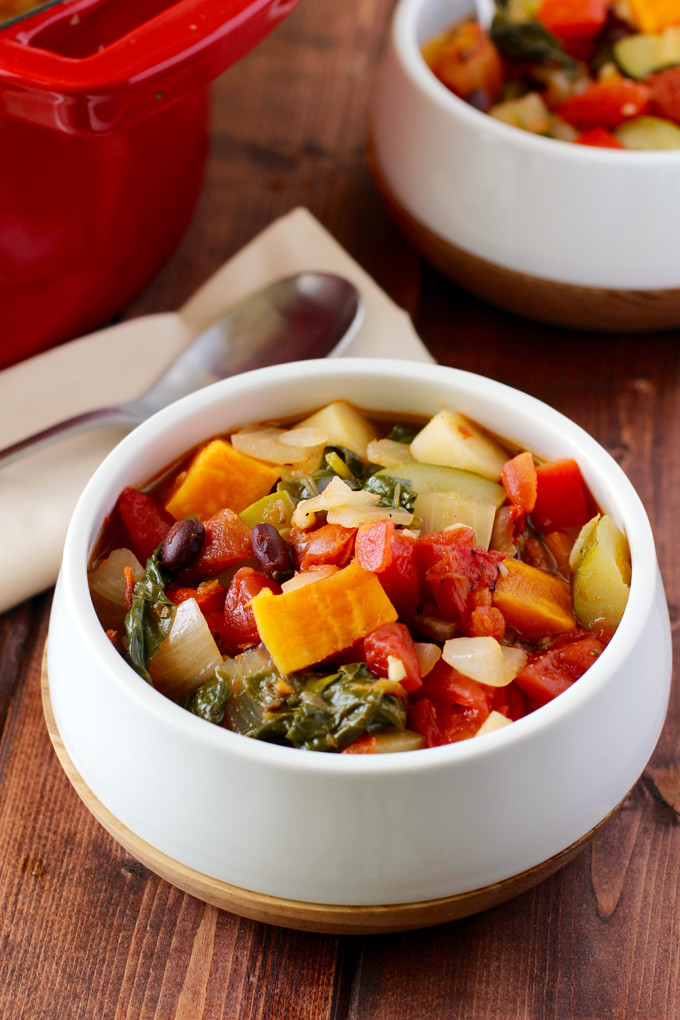 FREE: GRAB N" GO BREAKFAST EBOOK
10 Make-Ahead,Whole Food Breakfast Recipes to help mornings go a little smoother and maybe even get you a little bit of extra sleep!