Simple 30 Minute Veggie Loaded Chicken Pad Thai. Less salt and oil, quadruple the amount of veggies and NO funky ingredients.
Pin Veggie Loaded Chicken Pad Thai for later!
As I've mentioned a few times, with a never ending kitchen renovation and 2 boys prone to boredom and in need of LOTS of attention hanging at home for the Summer, I'm taking it easy in the kitchen lately. And when I say taking it easy, I don't mean coming up with 1-2 creative recipes per week instead of 4, I mean taking it easy as in NOT COOKING ANYTHING that can't double as dinner.
REALITY: We're getting the hang of Summer. I've found a babysitter that is going to help out with the boys a bit so I can work.
REALITY: I am told that as of next week,  the kitchen will be finished.
REALITY: The pre-made freezer meals I stocked up on prior to the start of Summer are officially GONE.
Sooooo, last night. I cooked. Like really cooked. Pots, pans, chopping, the whole bit. And if I'm being completely honest, it feels like a huge personal and professional WIN.
 The result, this Veggie Loaded Chicken Pad Thai,  and well.. it's really good friends.
This recipe is a redo of a Pad Thai that I posted to the blog circa 2015. AKA.. one of my first posts ever. Apparently in the year 2015, I was into channeling my inner Martha Stewart (a phase that has come and gone). The original recipe was intense, time consuming and in all honesty, not something that ANYBODY trying to throw together a quick healthy meal would even consider. You guys, it had 22 ingredients, required massive amounts of chopping and contained obscure ingredients that required a trip to a grocery store specializing in ethnic foods.
Not surprisingly.. I haven't made it since I posted it (and my guess, you didn't either).
But today, I redeem myself. Because this Pad Thai recipe is So. Much. Simpler. Less chopping, prep ahead optional, and while Pad Thai requires a few ingredients that you may not have hanging out it your pantry, I cut it from 6 CRAZY things that can't be pronounced to 1. I'm claiming it as VICTORY.
Veggie Loaded Chicken Pad Thai is made with brown rice noodles (trying to keep things whole-food friendly around here), tons of carrots and sugar snap peas (because throwing in  All. The. Veggies. negates All. The. Noodles), a super simple-delicious Pad Thai sauce that you just shake up in a jar,  and crunchy peanuts that add just the right amount of texture. The whole thing is finished off with 2 scrambled eggs that make a whole creamy perfection thing happen.
Time Saving Tips and Tricks
Prep: This recipe is perfect for doing a little prep. The recipe is divided into 2 sections "prep" and "cooking/assembly." All prep can be done up to a day in advance.
Make Ahead: Ummm left-over Pad-Thai cold from the refrigerator… YES!!!
Print
Veggie Loaded Chicken Pad Thai
Author:

Prep Time:

45 mins

Cook Time:

25 mins

Total Time:

1 hour 10 minutes

Yield:

6

servings

1

x
---
1

TBS Tamarind Paste

⅓ cup

warm water

5 cups

sugar snap peas (snipped and de-stringed)

8 oz

mung bean sprouts

1 ½ cups

carrots, julienned

4

cloves of garlic

1

lb. chicken boneless chicken breast

1 tsp

. cornstarch

3

TBS soy sauce or liquid aminos

2

TBS fish sauce

1 ½ tsp

chili sauce

4 oz

. brown rice pad thai noodles

2

TBS olive oil, divided
peanuts (for garnish)
---
Instructions
Prep:
In small mason jar with lid, combine 1 TBS Tamarind Paste with ⅓ cup of warm water. Set aside.
Thinly Slice Chicken on a diagonal. In medium mixing bowl, combine cornstarch and soy sauce/liquid aminos. Mix until smooth. Add meat to bowl. Toss until chicken is coated. Set aside.
To the mason jar with tamarind paste and water, add  fish sauce, and chili paste. Whisk until fully combined. Set aside.
Fill a medium sized mixing bowl with warm water. Add rice noodles. Set aside.
Cooking/Assembly:
Heat 1 TBS of olive oil over medium high heat in a wok. Add marinated chicken. Sauté until no longer pink, about 3-4 minutes depending on thickness. Remove from pan onto a plate.
Add eggs to Wok, scramble. Remove from pan onto plate (you can set them on top of chicken).
Add 1 TBS of olive oil and garlic to the work. Stir for 1 minute. Add veggies. Sauté until tender crisp, about 12 minutes).
Add pad thai sauce from the mason jar. Continue to cook veggies for 5 minutes.
Add noodles to the pan. Cover and allow the noodles and veggies to steam for 5 minutes. Remove lid. Add the eggs and chicken to the mixture. Stir. Cook an additional 1-2 minutes.
Garnish with chopped peanuts if desired.
---
Notes
Make sure to check the cooking instructions when you purchase. Look for some that require soaking in warm water, NOT boiling.
Tamarind paste and Chili Sauce can be a little difficult to find. I purchased mine at Whole Foods. Both were located in the Asian aisle.
Liquid Aminos can be substituted for soy sauce if desired.
Snipping and de-stringing peas is the worst. To save time I recommend purchasing peas that are ready to go. It costs a little extra but saves A TON of time.
Julienning carrots can also be time consuming. I often just throw in some store-bought shredded carrots instead of spending the time.
Let's Be Friends:
Posts like Veggie Loaded Chicken Pad Thai: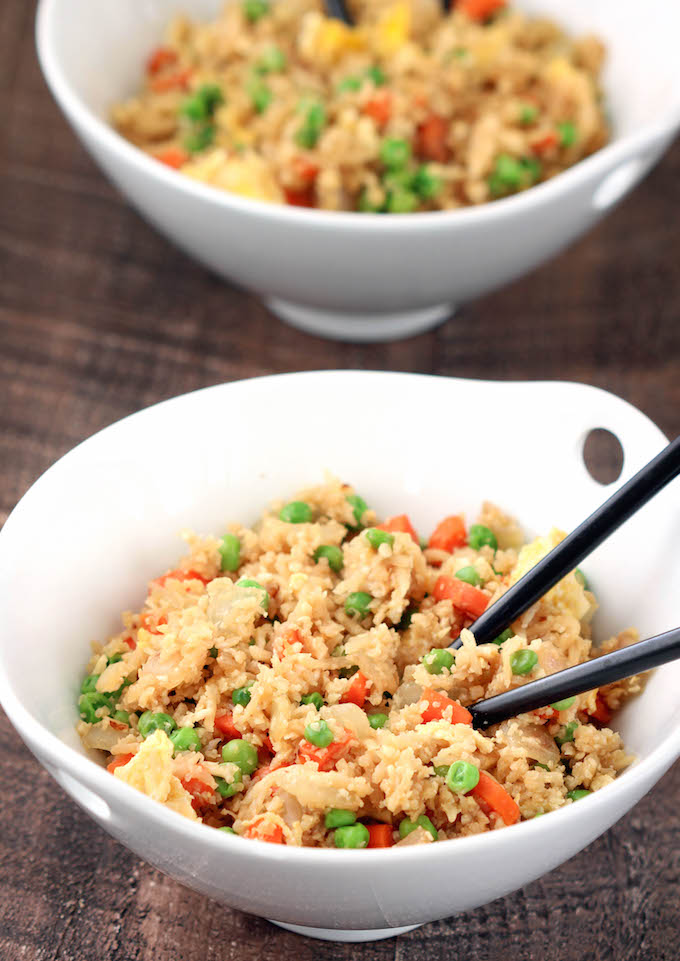 Crispy Orange Chicken Rice Bowls:

Lightened Chicken Tikka Masala: