Asian Rice Noodle Salad - quick and simple recipe from the new 100 Days of Real Food: Fast and Fabulous cookbook.
Announcement Time!
Lisa Leaks of 100 Days of Real Food (as if that even needed to be said) releases her Brand. New. Cookbook. into the world on This. Very. Day.
I'm going to try to keep myself from going overboard on how much I love it.
A few reasons why it's so fantastic.
Every recipe is made with real food ingredients.
Fast and Fabulous (title) says it all.. all 100 recipes are QUICK and EASY.
It has lunchbox recipes and ideas... for grownups and kids (my lunch packing skills need some inspiration these days).
Seasonal meal plans with shopping lists.. I LOVE when somebody else does the work of planning for me.
Lisa's cookbook is 100% for US. It's not a fancy food-snob type situation. No, no. It's called 100 Days of Real Food: Fast and Fabulous because the recipes are just that.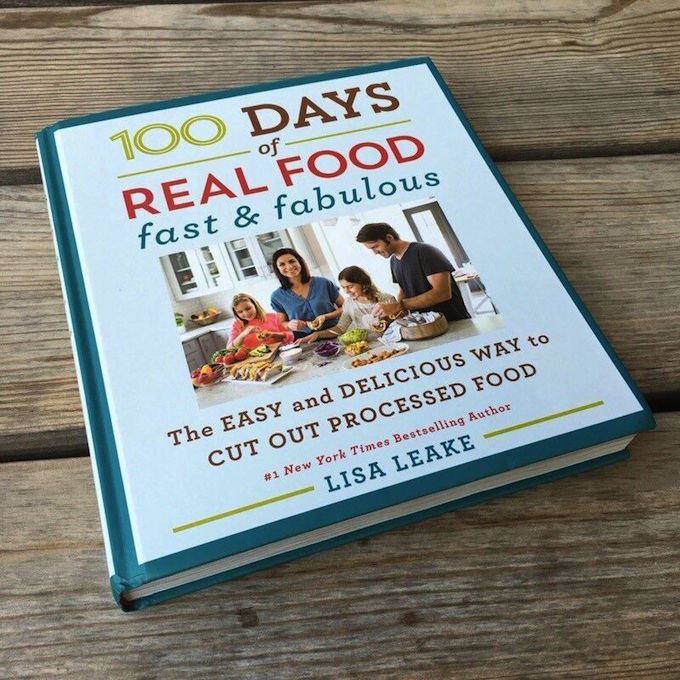 This Asian Rice Noodle Salad is the first recipe that I made from the book and it was every bit as delicious as I expected it to be. It's packed with loads of veggies, Asian flavors (obviously) and crunchy peanuts. I served it for dinner last night and plan to use the leftovers in lunch boxes for the rest of the week (it made TONS).
It really was simple to make. Toss veggies, peanuts, asian rice noodles and cilantro into a bowl and then top it with this delicious Asian style dressing. Since the recipe calls for rice noodles (which cook in about 5 minutes) I was able to throw together the entire recipe in about 20 minutes.
I've shared a recipe for Asian Noodle Salad one other time (which is delicious) but I cut All. The. Veggies. This time around I followed Lisa's recommendation and used a bag of cole slaw mix in place of spending an exorbitant amount of time chopping. This is EXACTLY the type of shortcuts that you find throughout this cookbook. Simple little tips to make life a little bit easier.
Summary: The cookbook is a conglomeration of the two very best things in kitchen life - > simple + whole-food.
That makes my soul happy.
You can (and should) purchase 100 Days of Real Food: Fast and Fabulous immediately. You can purchase hard copy or eBook by clicking (affiliate link --->) here.
Time Saving Tips and Tricks:
Prep: Since you are using Lisa's cole-slaw mix shortcut.. there really isn't much of a need to do any prepping. You could make the dressing 1-2 days ahead of time if you wanted to, but I found that I could easily throw it together while the noodles were cooking.
Make Ahead: This noodle salad tastes great as a make-ahead dish. It got a little dry in the fridge, but I just made a little mixture of ½ soy sauce, ½ water and drizzled it on top. Once I mixed it in.. the salad was as fresh as the day I made it.
Freezer: Sorry guys, not this time ?.
Print
Asian Rice Noodle Salad
Author:

Prep Time:

15 mins

Cook Time:

5 mins

Total Time:

20 minutes

Yield:

6

servings

1

x
---
Description
Asian Rice Noodle Salad - quick and simple recipe from the new 100 Days of Real Food: Fast and Fabulous cookbook.
---
One

8

-ounce box Asian brown rice (whole-grain) noodles

¼ cup

soy sauce (preferably reduced-sodium)

1 tablespoon

rice vinegar

2 teaspoons

fresh lime juice (from

½

lime)

2 teaspoons

honey

2 teaspoons

toasted sesame oil

1 teaspoon

minced fresh ginger

1

garlic clove, minced

¾ cup

fresh cilantro leaves, chopped

¾ cup

chopped salted, dry-roasted peanuts or cashews

2 ½ cups

coleslaw mix (shredded green and red cabbage plus carrots, found in the produce aisle)
Red pepper flakes (optional)
---
Instructions
Cook the noodles according to the package directions. Drain and set aside in a large bowl to cool (a few minutes in the freezer can help!). Cut the noodles up a bit with kitchen shears or a knife to make them easier to toss.
In a small bowl, whisk together the soy sauce, vinegar, lime juice, honey, sesame oil, ginger, and garlic.
Add the sauce, cilantro, peanuts, and slaw mix to the bowl with the noodles and toss until well combined. If desired, sprinkle in red pepper flakes to taste. Serve at room temperature or refrigerate for later.
---
Helpful Hints:
Asian Brown Rice noodles can be hard to find, I mine at Whole Foods. You could also order them online if you plan ahead. Make sure to get your rice noodles in the Asian section. Spaghetti shaped rice noodles that are designed for Italian pasta dishes don't work nearly as well.
Let's Connect:
Recipes Like Asian Rice Noodle Salad:
Thai Chopped Chicken Salad: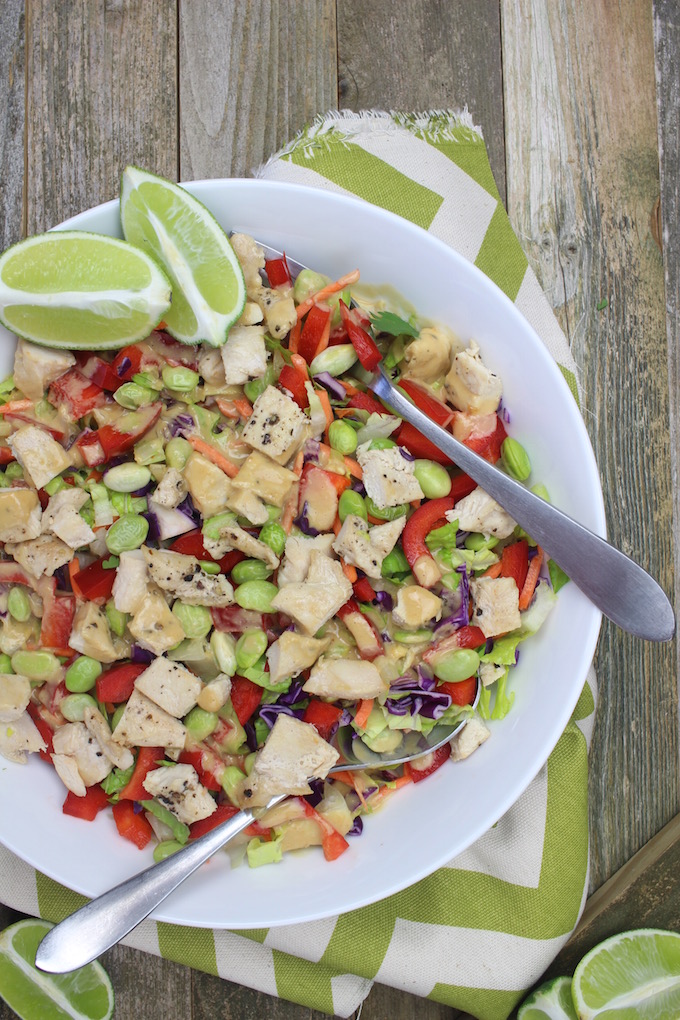 Asian Noodle Salad: