An amazing, light summer dish inspired by California Pizza Kitchen: 30-minute Grilled Veggie Salad with Balsamic-Dijon Dressing! #vegan #makeahead #copycat
Worlds BEST salad. Period.  The get-the grill, buy-all-the-produce, salad days of Summer are upon us and I for one couldn't be more excited about it!
Warm balsamic-dijon vinaigrette!
Grilled corn and squash and bell peppers and egg-plant!
Herbs and garlic and Asian inspired marinade!
You guys, gangs all there. Like absolutely everything you could ever want in a salad mixed up together making all of your Summer dreams come true.  Best party.. this recipe is healthy healthy healthy but still tastes good. Gotta keep our core values intact.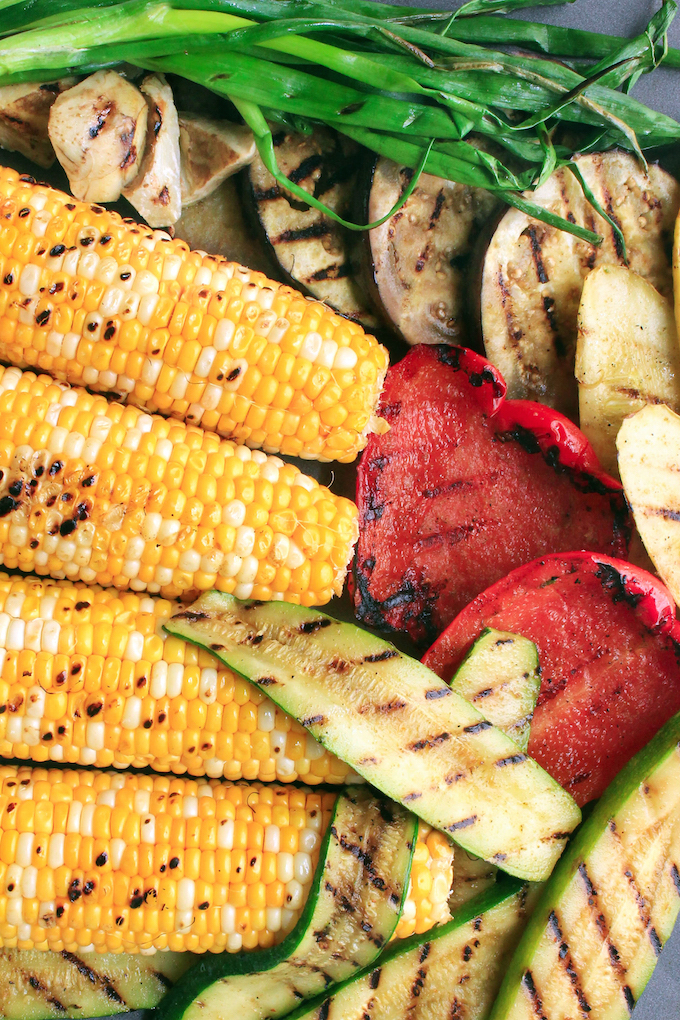 The inspiration for this salad came from the most unlikely of sources.. California Pizza Kitchen. Recently Joe and I visited Vegas. You guys.. with all the millions and millions and millions of swanky dining options run by celebrity chefs and super important people.. I made Joe eat at California Pizza Kitchen .. TWICE. Why? THIS salad. I had never been.. and seriously.. it is my new favorite restaurant on earth. Nope.. I definitely don't fall into the category of "foodie."
I knew I had to recreate it. Lexington doesn't have CPK and this salad, well.. I need it in my life.
The concept is pretty simple. Fresh crunchy romaine lettuce, topped with All. The. Veggies. (marinated and grilled of course) tossed in a warm creamy balsamic-dijon dressing. Oh yeah.. there's chunks of avocado too, because.. California style!!
Time Saving Tips and Tricks:
Prep: There is A LOT of prepping involved in this recipe so getting a jump start on it is always a good idea. Veggies can be chopped and stored in a labeled Ziplock© bag in the refrigerator and the marinade and balsamic-dijon mustard will keep in the refrigerator for up to a week so go ahead and get it made!
Make-Ahead: These grilled veggie salads are FANTASTIC for making ahead. Just follow recipe directions but omit adding the balsamic dressing .. it should be put onto the salad right before serving to avoid soggy lettuce.
Freezer: The salad definitely isn't freezer friendly.. what salad is??? Buuutt.. on the positive side, the corn DEFINITELY is.  I like to make a little extra. It's nice to have fresh grilled corn on hand in the freezer (I get that's an oxymoron... but you guys.. it will still taste fresh even in the dead of winter!).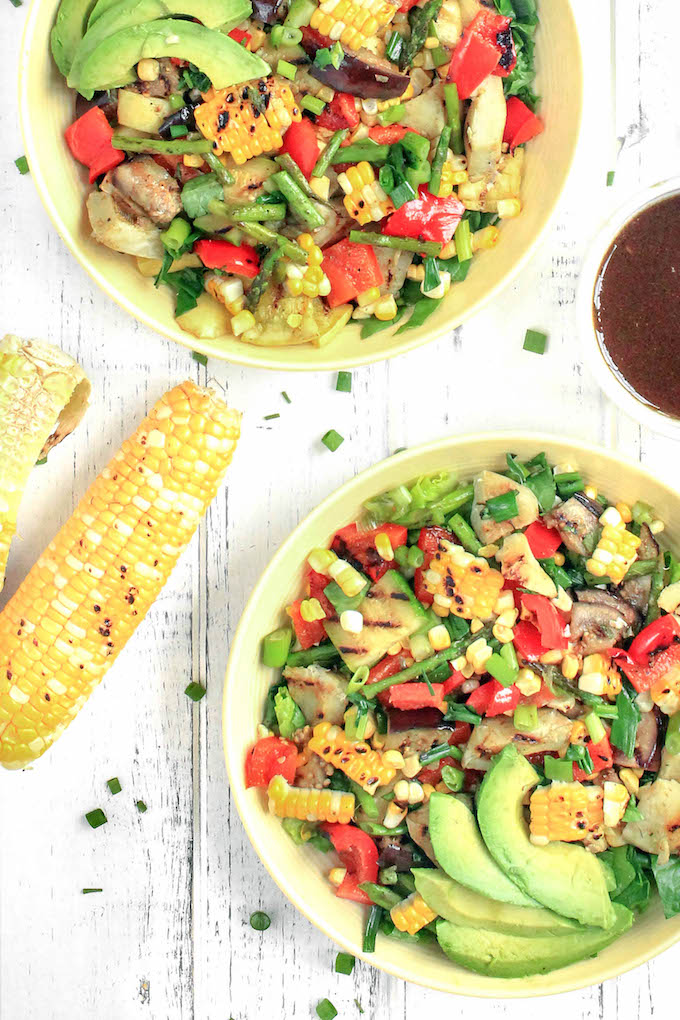 Print
Grilled Veggie Salad with Balsamic-Dijon Dressing
Author:

Prep Time:

30 mins

Cook Time:

20 mins

Total Time:

50 minutes

Yield:

4

large salads

1

x
---
1 ¼ cup

olive oil, divided

6

TBS liquid aminos

3 tsp

cumin

2 tsp

garlic powder
pinch of cayenne pepper (optional)

1

bunch green onions, chopped

1

eggplant, chopped

2

bell peppers, chopped

1

bunch asparagus, chopped

2

small yellow squash, chopped

2

small zucchini, chopped

12 oz

artichoke hearts

⅓ cup

balsamic vinegar

2

TBS dijon mustard

1

TBS honey
salt and pepper to taste

4

heads romaine lettuce (

3

if they are large), chopped

1

avocado, chopped
---
Instructions
VEGGIE MARINADE: In a small bowl, combine ¾ cup of olive oil, liquid aminos, cumin, garlic powder and a pinch of cayenne pepper (optional). Whisk to combine.
GRILLED VEGGIES: Place chopped veggies into a large bowl. Pour marinade over chopped veggies. Toss to ensure that all veggies are coated. Refrigerate for a minimum of 30 minutes. Heat greased grill pan or outdoor grill to medium-high heat. Grill veggies in batches until tender crisp (cooking times will vary). Set grilled veggies aside.
DRESSING: In a medium bowl, combine balsamic vinegar, ½ cup of olive oil, dijon mustard, honey and salt and pepper to taste. Whisk to combine.
ASSEMBLY: Place ¼ of chopped romaine in each of 4 bowls. Top with ¼ of grilled veggies and chopped avocado. Toss with balsamic-dijon dressing. (NOTE: you will likely have leftover balsamic dressing, store in fridge in a sealed container).
---
Helpful Hints:
I grilled my veggies indoors on a grill pan. During nap tim. Don't do that. You guys.. it get's REALLY REALLY REALLY smoky. Smokey = fire detector alarms. Fire detector alarms = screaming children. Seriously, if you are going to be grilling the veggies in the house, make sure that you open LOTS of windows and doors.
Don't skip on this salad because you don't like eggplant or you can't find fresh artichokes.. it's a flexible type situation. Use what you like (and have on hand) skip what you don't. Want to add something.. add it! You can't mess this one up.
Let's Connect:
Other Yummy Salads You Might Like: