Easy Vegan Smoked Macaroni Salad requires 1 bowl, 30 minutes and is mayo free! #glutenfree #vegan #wholefood
I have a tendency to over think things. Annnnnnd... food blogging only exaggerates this issue.
For example.. that one time I posted that recipe for Butternut Squash Roasted Rissoto, was substituting a vegetable for cheese actually necessary? Actually, yes. That was a terrible example.
My over-eager inner food blogger loves creating recipes, adding ingredients and most importantly making secretly healthy things that don't seem healthy at all (like this Easy Vegan Smoked Macaroni Salad). I often find myself tweaking recipes that should just be well enough left alone. Simple. Not messed with. I mean does it really matter whether or not brownies are baked with oat or almond flour?
Let's be real for a minute.. I have a whole food blog. This translates to me following other whole-food bloggers, reading whole-food cookbooks, pinning whole-food recipes... you get the idea. I am definitely one sided in the types of recipes that I expose myself to. This weekend I was watching Damaris Phillips' from the Food Network  (love her?) cook a meal that looked AMAZING!!! Downside, they all contained processed ingredients, hydrogenated oils and/or refined sugar. Annnnd, the recipes for this week's blog posts were determined. I have challenged myself to re-create ALL 3 recipes using whole-food friendly ingredients.
First up.. my take on Damaris Phillips' Smoked Macaroni Salad. SPOILER ALERT - it definitely won't disappoint.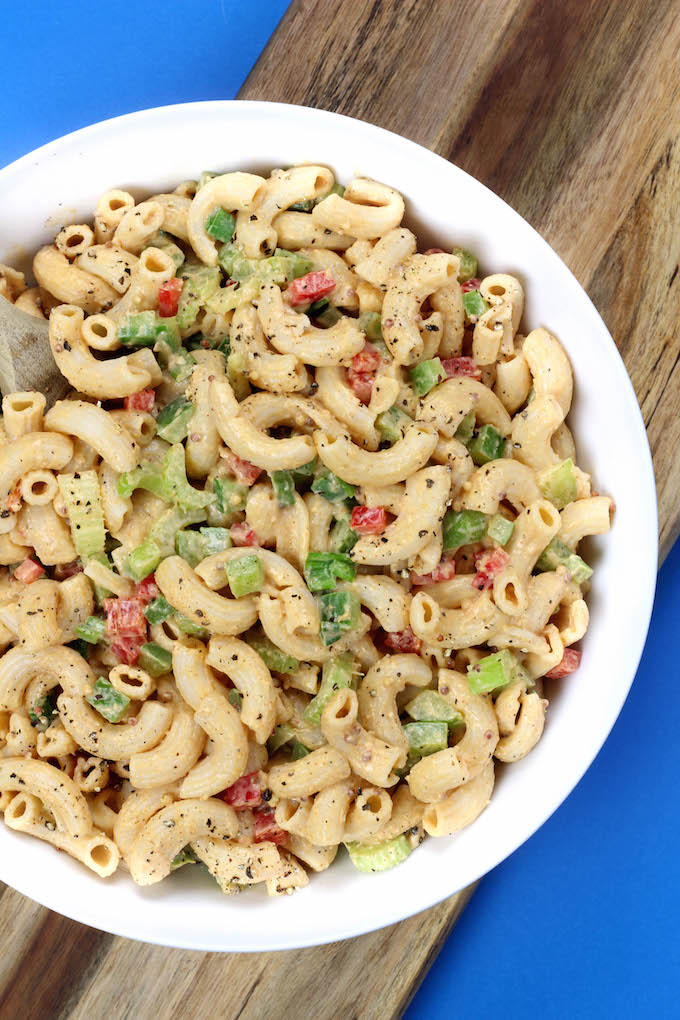 Okay. So here's the breakdown of the changes that I made:
Traditional elbow macaroni was subbed out for brown rice pasta (whole-grain and gluten free)
The original recipe was loaded with mayo.. I eliminated it and replaced it with a combo of plain hummus mixed with a little lemon juice to mimic the texture of mayonnaise (you won't even notice)
Damaris' recipe called for a bit of bourbon. Since it is my sincere hope that my children will eat this for dinner tonight I skipped this ingredient (just seemed like the right thing to do?)
I added a green and a red bell pepper to up the veggie content.
I avoid liquid smoke.. there are too many questions floating around about the safety of consuming it. Since this is "Smoky" macaroni salad I added some smoked paprika in it's place.
You guys, the result was better than I imagined. This salad is creamy like a traditional macaroni salad, smoky.. just like intended, and comes together in 1 bowl and 30 minutes. Added bonus, you can serve it in tiny mason jars because.. well, why wouldn't you?
Time Saving Tips and Tricks:
Prep: To get a jump start on this dish you can pre-chop the veggies. You could also prepare the dressing. Follow step 2 of the recipe instructions, but don't add dressing to the macaroni. Instead, cover with plastic wrap and store in the fridge for 1-2 days or until you are ready to complete the dish.
Make Ahead: Yes! This dish is perfect for backyard bbq's, picnics and potlucks! It becomes more flavorful when prepared the night before. Because the hummus has a different texture than the mayonnaise you will notice that when you remove the salad from the refrigerator it will be a bit clumpy. No worries! Allow it to come to room temperature, drizzle it with a bit of olive oil and give it a little toss. Good to go!
Freezer: Sorry.. not this time:( On the positive.. this recipe is so simple that it really isn't necessary!
Print
Easy Vegan Smoked Macaroni Salad
Author:

Prep Time:

10 mins

Cook Time:

10 mins

Total Time:

20 minutes

Yield:

10

servings

1

x
---
Kosher Salt

2

TBS olive oil

1

lb whole wheat elbow macaroni (use brown rice pasta for glu

ten

free)

1

red pepper, finely diced

1

green pepper, finely diced

4

stalks celery, finely diced

1 ½ cup

plain hummus

2 tsp

. smoked paprika

1

lemon, juiced

5

TBS apple cider vinegar

3

TBS whole grain mustard

2

TBS honey

2 tsp

. salt

1 tsp

. black pepper

½ tsp

. - 1 tsp. liquid aminos

½ cup

green onion
---
Instructions
Bring a large pot of heavily salted water and 2 TBS of olive oil to a boil. Cook pasta according to package directions for al dente. Drain pasta and add to a large bowl. Add the peppers and celery and toss to combine.
In a medium bowl, combine the hummus and paprika. Stir to combine. Add remaining lemon juice, apple cider vinegar, whole grain mustard, honey, salt, pepper and liquid aminos. Stir until smooth, then add to the macaroni. Taste and adjust seasoning as needed.
Refrigerate for 1-3 hours to allow the flavors to meld. Garnish with green onions before serving.
---
Helpful Hints:
Liquid Aminos are becoming more popular, hence.. they are becoming easier to find. However, they are a bit pricey. You can definitely sub regular soy sauce if it is more convenient.
I used brown rice pasta for the first time when testing this recipe! It was delicious! I didn't notice any problems with texture and it was a nice change from whole wheat pasta. I used Tinkyada Brown Rice Pasta -Elbow Macaroni.
Make sure that you select SMOKED paprika.. it is different than sweet paprika.
Let's Connect:
Looking for more healthy whole-food recipes? Check out Simply Sissom on Pinterest. If you like it, follow! New pins are added daily from my favorite bloggers from around the web!
As always, if you try out this recipe, let me know! Leave a comment, rate it, and don't forget to tag a picture #simplysissom Instagram or Twitter . I'd love to see what you come up with?
Other Recipe "Make-Overs" You Might Enjoy: