A step-by-step to making a Cauliflower Pizza Crust that is crispy and won't fall apart. Simple to make, requiring just 7 ingredients and 10 minutes prep time.
Pin Simple Cauliflower Pizza Crust for later!
One bite and I knew... this recipe is a game changer.
You guys know the deal.. I have a thing for secretly healthy things that don't seem healthy. Aaaannndddd so, I most definitely did make pizza crust out of cauliflower. With cauliflower, as in that bland white vegetable.
Yep, I did that. Yep, I know I'm not the first person (in fact, I'm pretty sure this situation has been going down since 2012). Buuuut .. Mind. Blown.
Just stop for a second and think about this: you, sitting on the couch, wrapped in a snuggly blanket, binge watching Dead To Me on Netflix (because isn't everyone), with a slice of of crispy thin crust pizza topped with an assortment of all your favorite things. This is the scenario that my post bedtime dreams are made of.
Based on my excitement level for this pizza crust, I'm sure you assume that it's a super difficult recipe that only a domestic goddess could successfully pull off.. not the case.
In fact.. I've got shortcuts. Really Really Really great shortcuts.
NO food processor, NO blender, NO grating cauliflower, NO dirty appliance. Just NO, NO, NO.
If I'm to be expected to eat pizza crust that is made from a vegetable, it's gotta be convenient. Because, well.. in all honesty, I don't have the self-discipline to skip ordering the pizza AND to spend 8 hours grating cauliflower into tiny rice shaped pieces.
So here's the deal. We're going to use frozen riced cauliflower. It's available pretty much everywhere in the freezer-section and it works ridiculously well with this recipe. In fact, I like the final result better using frozen than fresh.
I'm going to level with you, because, that's the kind of friends that we are. You are not going to bite into this pizza and think wow.. "this tastes just like "regular" pizza crust. Manage your expectations, it's CAULIFLOWER. Aaannnddd... while this pizza definitely crisps up and is heartier than most cauliflower crusts I've tried, the texture still doesn't get as crispy as pizza made with flour based dough. Sooo, don't go all gang buster with the toppings.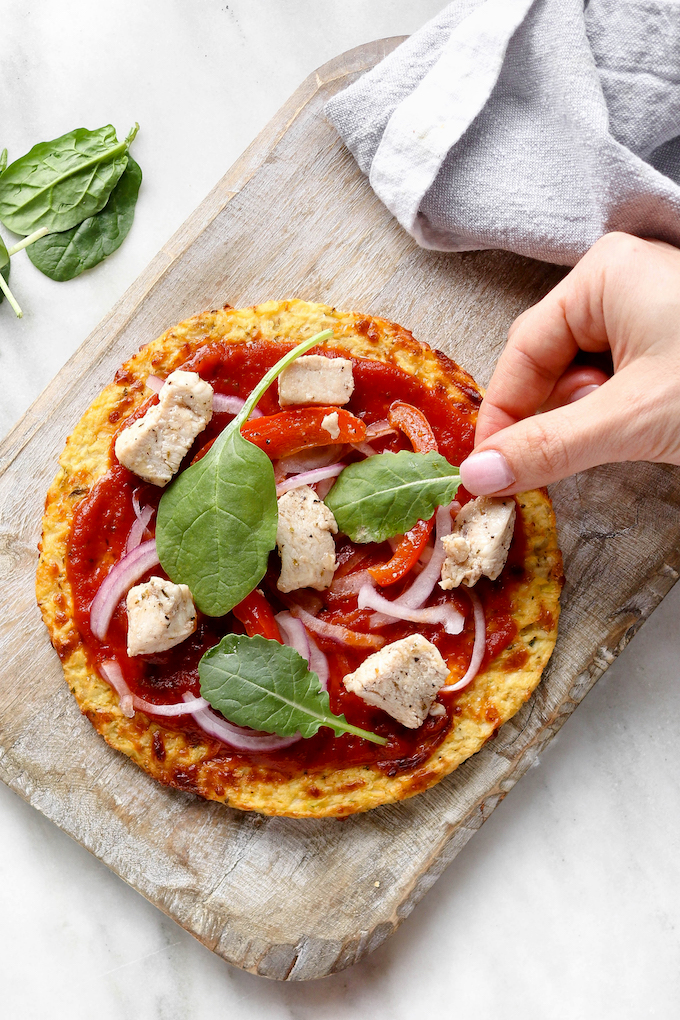 What Is Cauliflower Pizza Crust?
Cauliflower Pizza Crust is a flour-free, low-carb pizza dough option that is made from riced cauliflower, mozzarella, parmesan, egg and spices.
How Do You Make Cauliflower Pizza Crust? (Step-by-Step Directions)
Prepare cauliflower according to package directions.
SQUEEZE out the water.
Mix the ingredients.
Shape the dough.
Bake until golden brown.
Frequently Asked Questions About Cauliflower Pizza Crust:
Is Cauliflower PIzza Crust Healthy?
Honest answer, it depends. Cauliflower pizza crust can be deceiving. The main ingredient is a vegetable, but the addition of eggs and cheese can potentially add a lot of fat and calories if you aren't conscientious. This recipe has 215 calories, 7g F, 16 C and an impressive 25g of protein.
Can I use store-bought riced cauliflower?
You bet. In fact, I don't find this recipe to be worth the trouble otherwise. You can use either fresh or frozen, but in my opinion, frozen is the way to go.
How do I make Cauliflower Pizza Crust crispy?
For crispy cauliflower pizza crust it is important that you squeeze ALL THE LIQUID from the cauliflower rice. Once you think you've squeezed enough, do it again. Soggy cauliflower makes soggy crust. It is also important that you flip the pizza crust halfway through baking to ensure that it cooks evenly and completely.
Is Cauliflower Pizza Crust a Keto Friendly option?
A ketogenic diet is a very low carb, high fat diet. The substitution of cauliflower for flour reduces the carbs and the addition of the cheese adds fat, making this a perfect keto-friendly option.
Can Cauliflower Pizza Crust be made ahead?
Cauliflower pizza crust can be prepped and baked ahead of time. When you are ready for pizza night, just add your toppings and pop them under the broiler for about 5 minutes or until toppings are warm and cheese is bubbly. Store prepped pizza crusts in the refrigerator for up to 2 days when wrapped in plastic.
Can Cauliflower Pizza Crust be frozen?
These crusts are great for freezing. Place the cooked pizza crust onto a baking sheet freeze for 1-2 hours or until the crust is completely frozen through. Wrap in plastic wrap. Store in the freezer for up to 3 months.
How To Make Simple Cauliflower Pizza Crust: Step-by-step VIDEO:
Print
📖 Recipe
Simple Cauliflower Pizza Crust
Author:

Prep Time:

10 mins

Cook Time:

30 mins

Total Time:

40 minutes

Yield:

7

" pizza crust

1

x
---
1

12 oz. bag frozen riced cauliflower

⅓ cup

shredded mozzarella

1

Tbs. grated parmesan cheese

1

egg

¼ tsp

garlic powder

¼ tsp

oregano

¼ tsp

salt
---
Instructions
Preheat oven to 400 degrees.
Microwave riced cauliflower according to package directions. Place drained cauliflower into a milk bag (you could also use a cheese cloth or clean dish towel). Squeeze out ALL excess water. When you think you've squeezed enough, squeeze more. This is an important step.. if you don't get the water out you will get a soggy crust.
 In a medium sized mixing bowl, combine drained cauliflower, mozzarella, parmesan, egg, garlic powder, oregano and salt. Stir until fully combined.
Dump the dough out onto a baking sheet or pizza stone lined with parchment paper (to prevent sticking) and form into a circle that is about 6"-7" in circumference. Keep the dough about ¼" - ½" thick.
Bake for 20-25 minutes or until dry and golden brown. Use the parchment paper to flip the crust over, and bake again until the other side is nice and dry, about 5-10 minutes more.
Add your favorite toppings to the crust and return to the pizza to the oven for 5-10 minutes, just until cheese is melted and bubbly.

 
---
Helpful Hints:
In case you are wondering what a milk bag is and where in the world you find one... CLICK HERE.
Let's Connect:
You can find Simply Sissom on Instagram where I share even more recipes (some that aren't on the blog), behind the scenes pics and videos AND tips and tricks to make healthy eating realistic for your busy family.
Recipes Like Simple Cauliflower Pizza Crust:
Spiced Balsamic Chicken Marinade: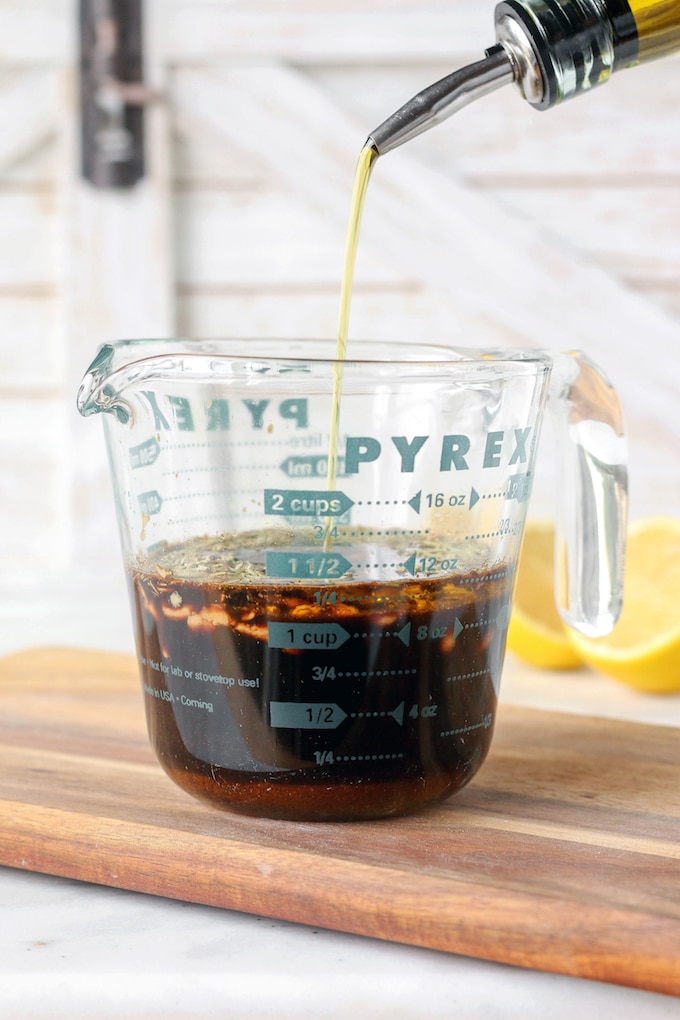 Easy Oven Baked Parmesan Chicken:
Easy Instant Pot BBQ Pulled Chicken: