Crispy Blueberry Matcha Granola Bars are simple, requiring just 30 minutes. Made with blueberries, matcha powder, almonds, rolled oats and puffed rice. So simple. So Delicious. #vegan #gluten-free #superfood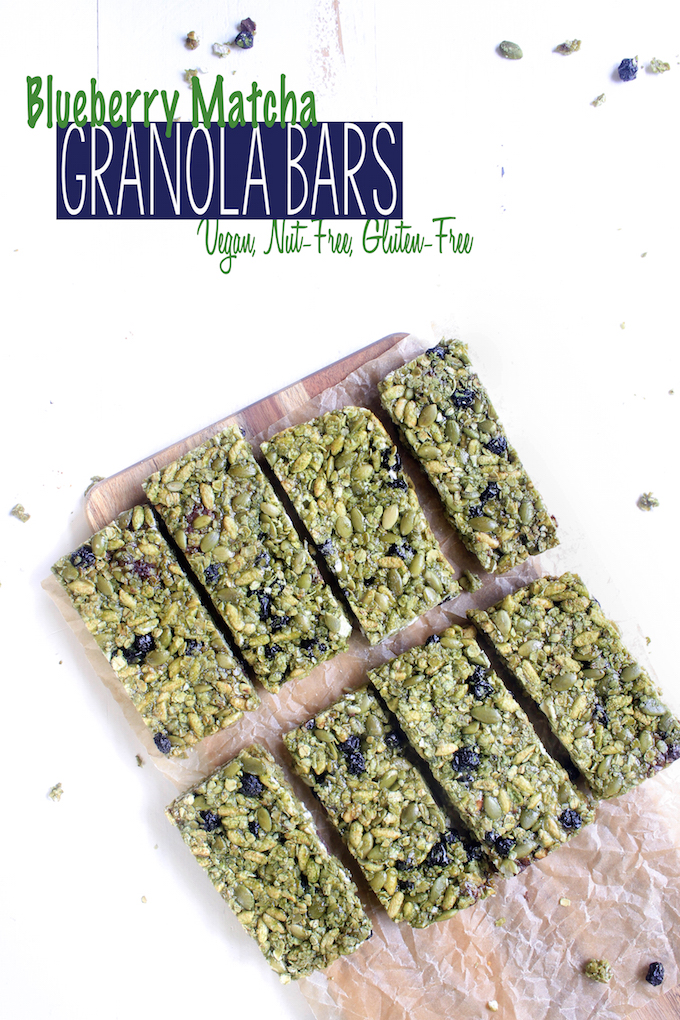 This recipe was adapted from My New Roots - "Matcha Green Granola Bars"
Ok, let's just get it out there. These bars are green. Not like a pretty Spring shade of green either.. green like the hulk, the grinch and a few other things that I CANNOT mention in a post about food that I want you to actually prepare and eat.
I get it, they aren't pretty. But you and me, we're not the type of people to judge based on outward appearance, right?
You guys, these bars may not be lookers but Oh. My. They. Are. Good. It's salty meets sweet with a few superfoods thrown in for good measure and let's face it, you can't go wrong with that combo.
My favorite thing about these bars is that they are full of good for you stuff! You've got blueberries and matcha providing tons of antioxidants (think eternal youth and disease free living) and almonds and pepita showing up with tons of protein (aka.. stay full longer).
Let's talk a bit more about matcha shall we?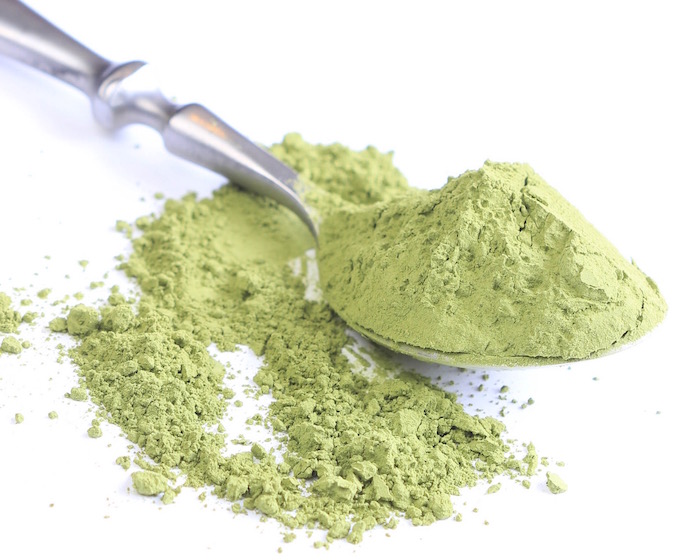 I'm not going to get all "Sciencey"  on you. It's not my thing. But in short,
Matcha = Green Bars. Green Bars = Energy/Focus.
If you are looking for info a little more specific than that.. check out THIS ARTICLE ABOUT MATCHA.
Friends, you have no idea how much I need energy and focus these days? .. so, if eating a delicious (visually unappealing) bar made with an ingredient that can do that for me, well.. bring on the green!
Time Saving Tips and Tricks:
Prep: Making homemade granola bars is definitely not as convenient as store bought, and my family goes through bars! To save time I always make a double batch of the dry ingredients. I use half to make the bars and save the other half in a storage container that I keep in my pantry. When I am ready to make bars again I just have to deal with the wet ingredients and then I'm good to go! It takes 5 minutes. If you are feeling really ambitious make more than 1 backup!
Make Ahead: These bars are perfect for a make ahead situation. Bake according to directions and wrap each individual bar in plastic wrap. Store in the refrigerator for up to a week.. but I bet they won't last that long!
Freezer: Blueberry Matcha Granola Bars will last in the freezer for up to 3 months. To freeze, cook according to directions and allow the bars to cool. Arrange them into a single layer on a baking sheet and place the baking sheet in the freezer for 1-2 hours or until they are frozen through. Remove bars from freezer and wrap each individual bar in plastic wrap. That's it! Just allow the bars a few minutes to come to room temperature before eating.
Print
Blueberry Matcha Granola Bars
Author:

Prep Time:

15 mins

Cook Time:

12 mins

Total Time:

27 minutes

Yield:

12

bars

1

x
---
2 cups

quick oats, gluten-free if desired

½ cup

pepita seeds, roasted and salted

½ cup

sliced almonds, roasted and salted

1 ½ cups

unsweetened puffed rice cereal

½ cup

dried blueberries

¼ tsp

. salt

1 Tbsp

. matcha green tea powder

⅓ cup

brown rice syrup

3 Tbsp

.maple syrup

½ cup

tahini

2 Tbsp

. coconut oil

1 tsp

. vanilla extract
---
Instructions
Heat oven to 325 degrees. Spray and line (with parchment paper) a 9x13" brownie pan.
In a large mixing bowl, combine oats, pumpkins seeds, almonds, rice cereal, blueberries, salt and matcha powder.
In a sauce pot, over medium heat combine rice syrup, maple syrup, tahini, coconut oil and vanilla. Whisk frequently until mixture is fully combined and warmed through. Do not overcook.
Pour the liquid ingredients into the large mixing bowl with the dry ingredients. Use a rubber spatula and stir to combine.
Pour mixture into prepared 9x13" pan. Use rubber spatula (or your fingers) to press the mixture firmly into the pan. Make sure to pay special attention to the corners.
Bake bars for 12-15 minutes (until edges begin to turn golden brown) and then remove from oven. The bars will be squishy.
Allow bars to chill in the refrigerator for 1-2 hours or until firm.
Remove bars from pan and slice into desired size. Serve and enjoy!
---
Helpful Hints:
Matcha Powder is expensive, so you want to make sure get quality. Make sure to check the country of origin, it is generally accepted that the highest quality matcha comes from Japan. The matcha should also be a vibrant green (the greener the better!) and very fine textured (similar to the feel of eye shadow).   Don't feel like researching? I use  Organic Evolution Organic Matcha and it's good stuff!
When you purchase dried blueberries make sure that the only listed ingredient is blueberries. Sometimes brands sneak in additives (aka.. sugar).
Puffed Rice is not the same thing as Rice Krispies?. I found mine in the cereal aisle. It is whole grain an the only listed ingredient is brown rice.
Brown rice syrup is a natural sugar alternative made from, well.. brown rice. It doesn't contain fructose. I found mine at Whole Foods in the peanut butter aisle.
If you are looking for a "nut free version" simply eliminate the almonds and replace them with additional pepita or sunflower seeds.
Not feeling matcha? Full disclosure.. I haven't tried it, but I suspect cocoa powder would be delicious as well!
LET'S CONNECT:
Other Granola Bar Recipes You Might Like:

Cherry Cashew Granola Bars: