Chunky Pumpkin Spice Granola is simple to make, requiring just 8 ingredients. Loaded with toasted oats, pecans, sliced almonds and pepita seeds. Naturally sweetened with maple syrup.
Pin this Chunky Pumpkin Spice Granola for later!

Clearly I have a thing for Pumpkin, (Exhibit A, B and C).
I know, I know... I should cool it with the pumpkin and you know, make real food. The kind that my family can actually eat for dinner.
Buuuuut... Fall. Baking.  It just makes you feel so domestic. Not to mention,  it makes your house smell delicious. Plus, let's be completely serious, nobody will be complaining about all the pumpkin-y baked things hanging all around the house. Hey,  it's a 1 month 3 month season, ya gotta take full advantage!
This Chunky Pumpkin Spice Granola in all of it's sweet, crumbly, crunchy glory is a great substitute for it's store-bought counterpart. Most pre-packaged granola options are loaded with all sorts of sugars, flavorings and heavily-processed and refined oils.
Granola is the type of food that that reminds you how important checking the label is when you purchase ready-made food. The packaging often advertises all sorts of health "benefits", but the ingredient list isn't always as amazing as the claim. If you go store-bought, make sure to purchase an option with a short ingredient list that is filled with simple pronounceable ingredients that you could find in your pantry at home. These options do exist. In fact, stores are bringing in more and more real-food convenience options constantly. That said, granola can be pricy (and rightfully so... quality nuts, seeds, etc. are pricy). For this reason, I prefer to make my own when I have the time and this pumpkin spice variety is the epitome of all the cozy Fall feelings baking.
It's deceivingly simple (seriously, I threw this together in about 5 minutes) and inarguably more cost effective. Added bonus.. baking granola makes your house smell AMAZING! It can keep in the freezer for a good amount of time, although it typically doesn't hang around long enough to warrant fancy storage techniques!
Time Saving Tips and Tricks:
Prep: The dry ingredients can be mixed weeks in advance. When making the granola save yourself time and double the dry ingredients. Use half and store the rest in a sealed container in the pantry. When you are ready to make granola again you just have to add the wet ingredients, mix it all up and bake.
Make Ahead: Granola will keep 1-2 weeks in a sealed container. If refrigerated you can get a little extra time. It is perfect to have on hand for snacks, yogurt parfaits, muffin toppings, etc.
Freezer: Pumpkin spice granola is the perfect quintessential freezer food. Double the batch. Use half and store the rest in a sealed ziplock bag in the freezer. It will safely store for 1-3 months. Bust it out in January, when pumpkin season is just a distant fond memory.
Print
Chunky Pumpkin Spice Granola
Author:

Prep Time:

5 minutes

Cook Time:

15 minutes

Total Time:

20 minutes

Yield:

3 cups

1

x

Category:

Breakfast

Method:

Oven

Cuisine:

Fall Baking
---
1 cup

pecans

1 cup

rolled oats (gluten-free if necessary)

½ tsp

sea salt

½ cup

sliced almonds

½ cup

pepita seeds

⅓ cup

maple syrup

⅓ cup

coconut oil, melted

2 tsp

pumpkin pie spice
---
Instructions
Preheat the oven to 350 degrees and line a rimmed baking sheet with parchment paper.
In a food processor, pulse the pecans until they are broken up, but not the texture of flour. Add the oats and salt and pulse 10-15 times.
Transfer the oat mixture into a medium bowl and stir in the almonds and pepita seeds. Add maple syrup and pumpkin pie spice. Stir until combined. Add the coconut oil. Stir.
Pour the granola onto parchment paper lined baking sheet. Press into a thin layer making sure that there are no holes where the parchment paper shows. It will look like a sheet of granola bars. This is what makes it chunky.
Bake 12-15 minutes, until the edges are slightly browned. Remove the pan from the oven and let it cool for at least 15 minutes.
After 15 minutes are up, break up the granola with your hands into whatever size chunks you desire. If the bottom of the granola is still moist, flip the pieces and allow it to cool additional time. Store it in an airtight container for two to three weeks.
---
Notes
Don't go out and buy pecans specifically for the recipe, use what you have (other than peanuts). Walnuts, almonds, cashews.. it's all great!
Coconut oil can be solid or liquid depending on it's temperature. If yours is in solid form, pop it into the microwave or onto the stove for a bit and it will liquify.
Let's Be Friends:
Similar Recipes: Pumpkin Spice Granola: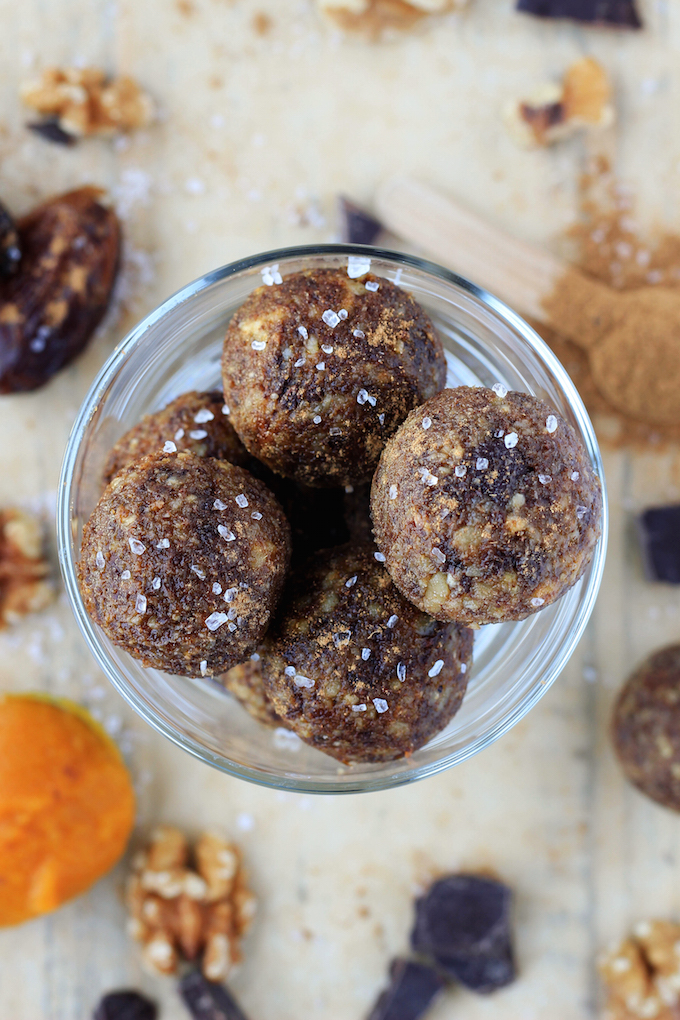 1-Bowl Peanut Butter Chocolate Chunk Breakfast Cookies: