Almond Butter and Blueberry Cookies, a burst of blueberry paired with almond butter that's reminiscent of your favorite childhood lunch.
Pin Almond Butter and Blueberry Cookies for later!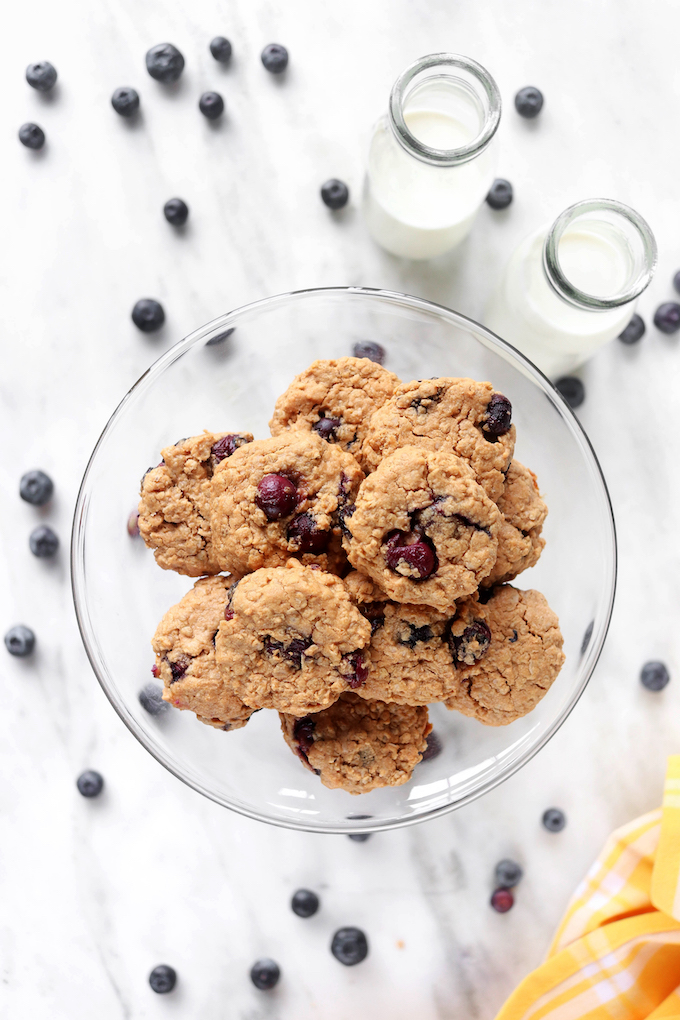 Almond Butter + Blueberries? I know, I know.. it sounds a little strange, but you guys ... it's a match.
Today,  a cookie version of a childhood classic, peanut butter and jelly (only now NO PEANUTS in lunches allowed, sooooo Almond Butter) meets granola bar and YES...  it's as wholesome and oat-y and yummy of a situation as it appears to be. Consider me hooked.
There are many things that I love about these cookies. Let's name a few...
Make Ahead and Freezer-Friendly
Made with 6 Basic Ingredients
1 Bowl + 5 minutes prep
Gluten-free, Dairy-Free and Vegan
Most importantly.. my kids like them!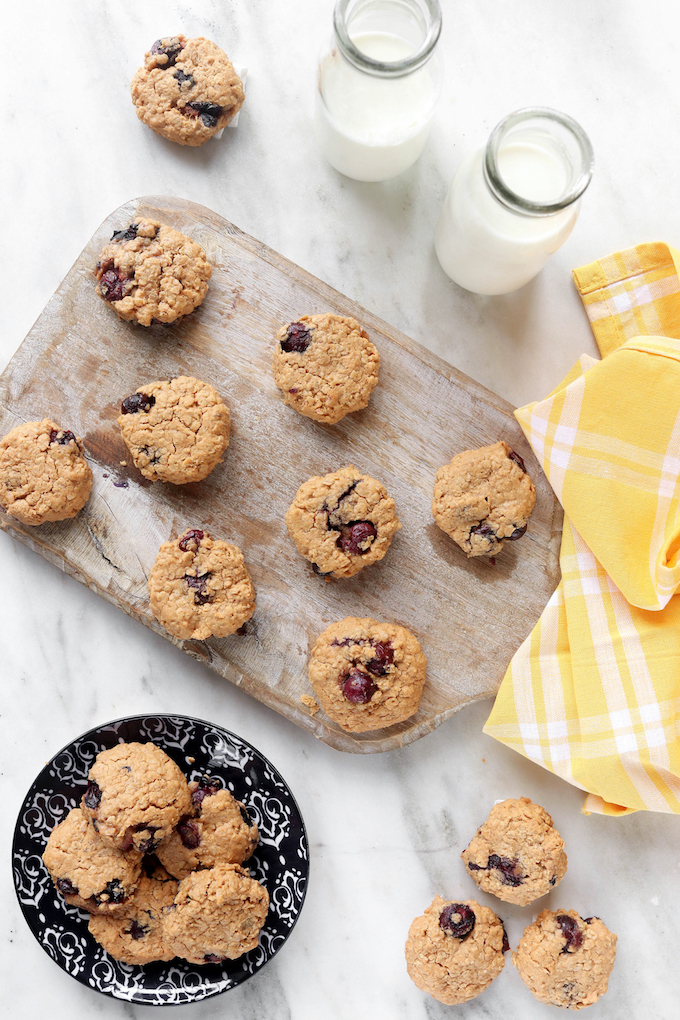 I debated calling these cookies Almond Butter and Blueberry BREAKFAST cookies, buuuuut  the term breakfast is limiting AND these cookies should not be relegated to one meal per day. They are a perfect snacking situation (loaded with fiber and protein) AND work really well when you're trying to curb a late night sugar craving (<--I can vouch).
One last thing I NEED to say about these little guys. They are customizable. Not sure about the blueberry + almond butter situation, that's fine.. I wasn't either. Ease yourself in with almond butter + Chocolate chip. It really doesn't get more classic than that. Use gluten-free oats if needed, sub in honey for the maple syrup if you're not vegan, and you guys.. subbing out peanut butter for the almond butter is pretty darn delicious. Use what you have. Use what you like. Just make sure that these breakfast cookies happen!
Time Saving Tips and Tricks:
Prep: This recipe is so simple that prepping ahead isn't necessary.
Make Ahead: You bet! Follow recipe directions and then stored cooled cookies in a covered container in the refrigerator for up to 5 days. These don't keep well on the counter.. refrigerate!
Freezer: Yep. Follow recipe directions. Once cookies have cooled, arrange them on a baking tray and pop it into the freezer for 2-3 hours or until the cookies are frozen through. Once the cookies are frozen you can transfer them to a clear zipper bag that's dated and labeled. Cookies will keep in the freezer for a month or longer.
Almond Butter and Blueberry Cookie VIDEO:
Print
📖 Recipe
Almond Butter and Blueberry Cookies
Prep Time:

10 mins

Cook Time:

10 mins

Total Time:

20 minutes

Yield:

16

cookies

1

x
---
Description
Almond Butter and Blueberry Cookies, a burst of blueberry paired with almond butter that's reminiscent of your favorite childhood lunch.
---
1 cup

natural almond butter

2

TBS coconut oil

5

TBS real maple syrup

1 ¼ cup

rolled oats

¼ tsp

baking soda
sea salt, if needed

¾ cup

fresh blueberries
---
Instructions
Preheat the oven to 350 and line a baking sheet with parchment paper.
In a medium bowl, stir the almond butter, coconut oil, and maple syrup together; if you almond butter is unsalted, add a pinch of salt. Stir in the oats and baking soda. Carefully fold in the blueberries. Do your best to keep them whole and not squish them.
Scoop up a tablespoon of dough, roll it into a ball, place it on the parchment paper, and press it down gently with your hand to flatten it a little. Continue placing the cookies on the sheet. They won't spread much, so you can put them pretty close together. Bake the cookies for 10 minutes and then check on them. They should still be slightly soft and doughy to the touch. If they're not there yet, you can bake them a minute or two longer, but you don't want to over bake these or they will be crumbly.
They'll be pretty fragile straight out of the oven, so let them set for a minute and then carefully transfer them to a wire rack (if you have one). Let them cool for at least 10 minutes longer. Be patient and don't touch!
---
Notes
These cookies work best with fresh blueberries, not frozen. If you can't find fresh.. sub in dark chocolate chunks. Everyone will be JUST FINE with that!
This recipe NEEDS all-natural almond butter. You know, the kind that has oil on top of it. The only ingredient should be almonds. If you use a different type, your cookies will be crumbly as the consistency between big brand almond butter and natural almond butter is very different.
If your school/child is not affected by a peanut allergy, these are also great when made with peanut butter!
LET'S CONNECT:
You can  find Simply Sissom on Instagram where I share even more recipes (some that aren't on the blog), behind the scenes pics and videos AND tips and tricks to make healthy eating realistic for your busy family.
Posts like Almond Butter and Blueberry Cookies: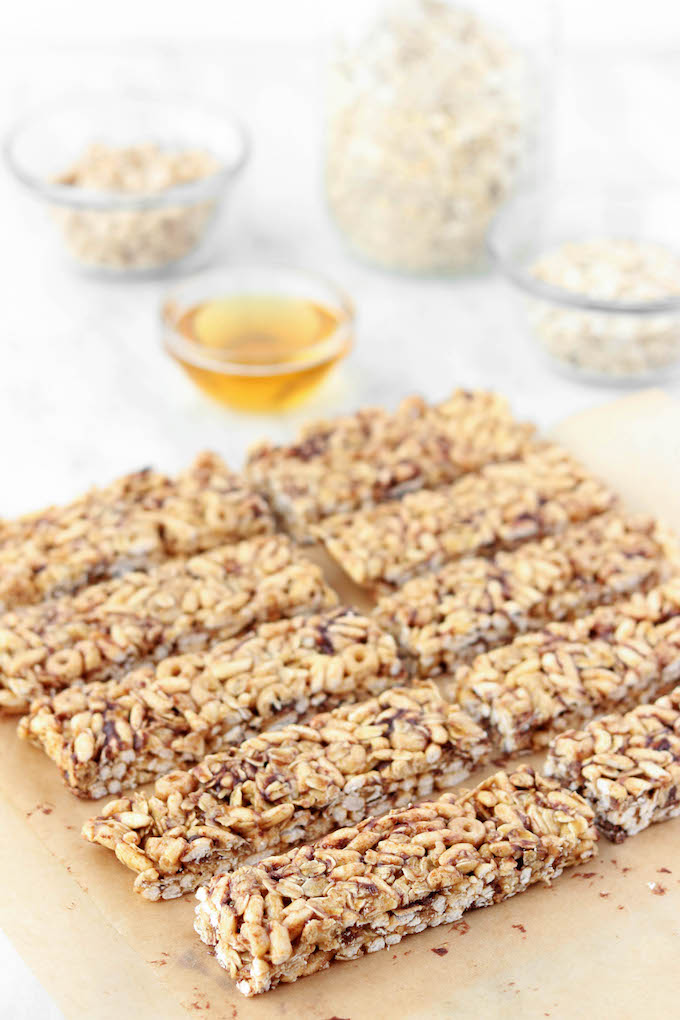 Chocolate Chip Cookie Energy Balls: