These BBQ Burger  Stuffed Peppers topped with parsley, melty mozzarella, and toasted bread crumbs are making Mondays everywhere a little less BLAH!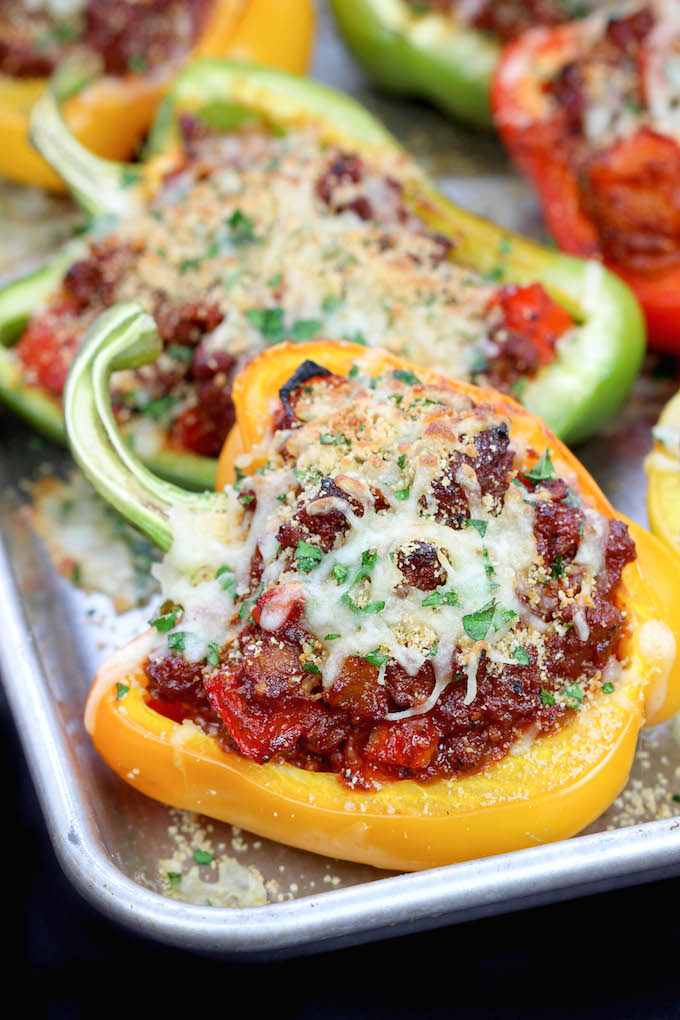 As a rule, I am not a fan of Mondays. Mainly due to the fact that Joe goes back to work. You see, Joe's the fun Dad. When he's home there is lego building, roller-coaster riding (don't even ask), wrestling, matchbox car racing, and who knows what else. Of course, I do those things too, but somehow it's just better with Dad.
Best part, while all of these exciting endeavors are going on.. I get a little TIME. Not the kind of time that allows me to make the weekly grocery shopping trip or head to the mall in search of jeans that actually fit, but enough time to run a simple little errand or drive to Starbucks for a coffee without being missed. You know, the types of things that people do without thought in their pre diaper, car seat, tiny shoes and dirty diaper worlds. If there is one thing that having children will make you appreciate, it's that alone time is sacred.
Sooo, I'll be the first to admit.. I start grieving the the end of the weekend before it actually ends.
Here's a tip I've discovered...
If you don't have to cook dinner, Monday sucks less.
This weekend while Joe and the boys were bonding over testing out our new snowblower, I had the kitchen to myself. Yep, no angry toddler, no bickering, no wanting, no refusing, no questions. Just me and The Dixie Chicks (<-- yep, still love em) cooking.
You guys, this is how Monday dinner was meant to be prepared.. Not. On. Monday.
The result of this impromptu kitchen session..  these BBQ Burger Stuffed Peppers, which are quite fantastic.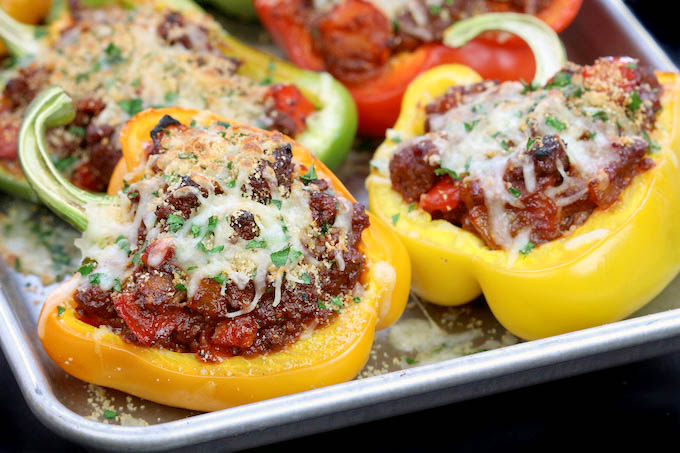 So what I did here was all pretty simple. I cooked up some beef and made my own version of BBQ sauce (healthy of course) with some tomato sauce, red wine vinegar, honey, and a little spicy  steak seasoning for a bit of kick. You simmer the sauce with ground beef, onion, carrots, and red peppers,  and it's like your mom just made a good old bbq burger for you. Top these babies off with a bit of melty mozzarella, toasted bread crumbs, and a hint of parsley.. well, Monday doesn't suck anymore as much ?.
Time Saving Tips and Tricks:
Prep: These peppers are the perfect prep food. Follow the recipe as written all the way to step 4...  but DON"T BAKE! Instead, cover the baking tray with plastic wrap and store in the refrigerator until dinner time! Just remove the plastic wrap and pop the tray into the oven according to the recipe. They may need to bake closer to 25 minutes since they aren't starting out at room temp. Keep and eye on em!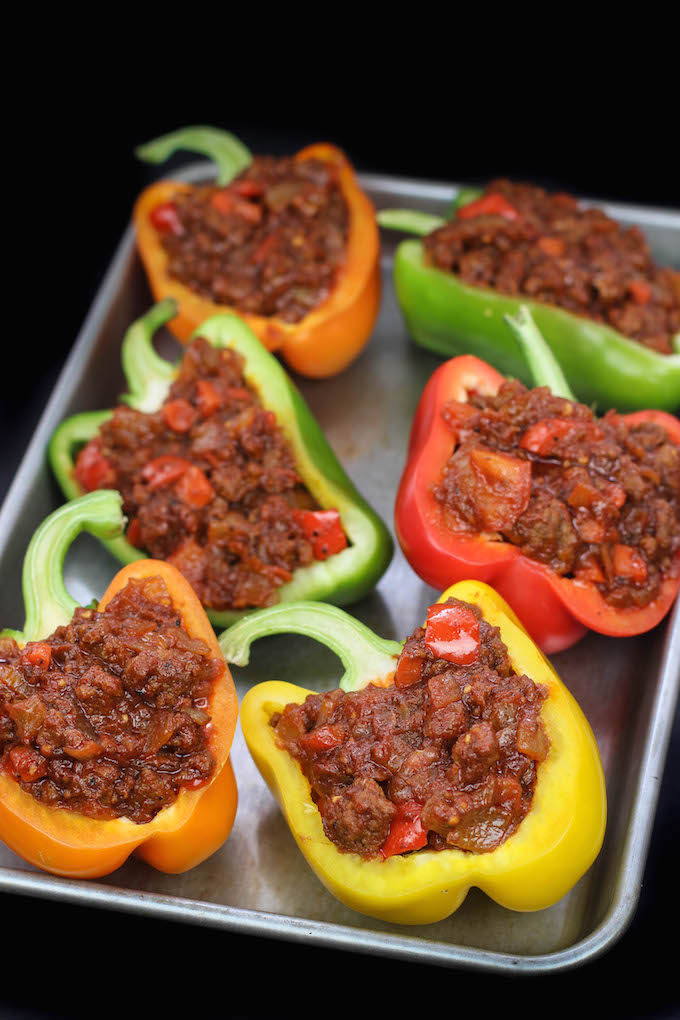 Make Ahead: I always want to provide helpful advice. You CAN make these peppers ahead (baked and all). They are delicious reheated. However, they aren't pretty. They get kinda wrinkly and dilapidated. If you are making them for your weekly lunches.. this is perfect. If you are hosting a dinner party... definitely better to go the prep route.
Freezer: YES! To accomplish this, follow the prep directions exactly... until the part about covering them in plastic wrap and  storing them in the refrigerator. Instead, use the plastic wrap to individually wrap each pepper, place them in a large container, and store them in the freezer! When you are ready to serve, simply allow them to thaw overnight in the refrigerator and then bake according to recipe directions. They could possibly go straight from the freezer to the oven with an extended baking time, but I haven't tried this method. If you do, let me know how it goes in the comments below!
Print
BBQ Burger Stuffed Bell Peppers - Freezable
Author:

Prep Time:

25 mins

Cook Time:

50 mins

Total Time:

1 hour 15 minutes

Yield:

6

pepper halves

1

x
---
1

TBS olive oil

2

medium carrots,peeled and diced

1

medium onion, diced

1

small red pepper, diced

1

lb of ground beef (organic and grass-fed recommended)

1

TBS homemade steak seasoning

¼ cup

honey

1

TBS red wine vinegar

12 oz

tomato sauce

2

TBS of tomato paste

3

bell peppers, halved lengthwise and de-seeded

½ cup

mozzarella cheese, shredded

3

TBS bread crumbs

3

TBS parsley, chopped
---
Instructions
Heat oven to 350 degrees.
In a large skillet, heat 1 TBS of olive oil over medium heat. To the skillet, add carrots, onion, and red pepper. Allow veggies to cook until tender, about 7 minutes. Stir frequently.
When veggies are tender, and onions begin to caramelize, add the ground beef, steak seasoning, and honey. Stir to combine. Allow mixture to continue cooking until beef is no longer pink.
Add red wine vinegar, tomato sauce, and tomato paste to the skillet. Stir to combine. Bring mixture to a boil, and then reduce heat to medium low. Simmer until the sauce thickens, 20 - 30 minute.
When meat mixture reaches desired consistency (you want it thick), spoon ⅙ into each of the halved peppers. Arrange on a baking tray and place in oven for 20 minutes, or until peppers are tender.
In a small mixing bowl combine mozzarella, bread crumbs and parsley. Stir to combine. Set aside.
Remove baking tray from the oven. Set oven to broil. Sprinkle each pepper with cheese/breadcrumb mixture. Return the baking tray to the oven to broil until cheese is melted and the bread crumbs are golden.
Remove peppers from oven. Allow to cool 5 minutes. Serve and enjoy.
---
Helpful Hints:
To make this recipe gluten-free, skip the breadcrumbs or use a gluten free version.
Wrap the pepper stems with aluminum foil to avoid blackening them (this is for presentation only). If you're target audience isn't into presentation... don't waste the time!
I like to make my own steak seasoning. It allows me to control the quality and quantity of ingredients used. I like

THIS

recipe.
Organic grass-fed beef can be really greasy. This adds more liquid and may cause your meat mixture to take longer than 20-30 minutes to thicken. Don't stress, it will! If you want to use grass-fed beef but cut down on the greasy factor you can brown the meat separately from the peppers, carrots and onions. Once the meat has browned, drain it and then add it into the skillet with the veggies.